Date: Saturday 4th May 2019, 7.45pm
Live on Sky Sports

Venue: St. James' Park

Conditions: Tumultuous







Newcastle United

Liverpool

2 - 3

Teams
13 mins Perhaps the simplest of their 87 PL goals this season put Liverpool ahead; Virgil Van Dijk having the freedom of St. James' Park to run into the box and head home a free kick from the right taken by Trent Alexander-Arnold. The PFA player's player of the year really couldn't miss. 0-1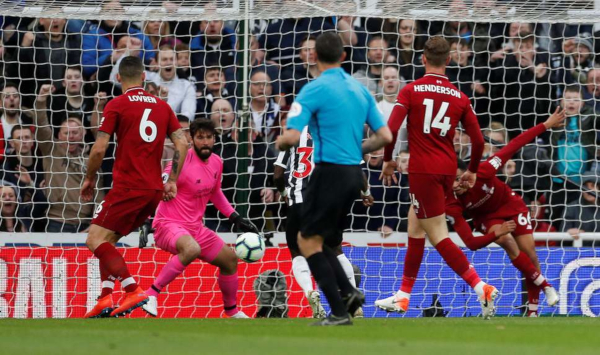 20 mins Spanish duo Javier Manquillo and Ayoze Perez combined towards the right hand side of the Liverpool area and the full back sent over a cross that was just too high for Salomon Rondon but fell nicely to Matt Ritchie.

He fizzed it back across edge of the six yard box for Rondon to scoop the ball goalwards, only for Alexander Arnold to deliberately handball it. As players and crowd alike began to appeal for the penalty, the round was belted into the Leazes End net from close range by Christian Atsu. 1-1

28 mins The visitors attacked down their right flank and Daniel Sturridge was hemmed in near the corner flag by two Newcastle players before a neat back heel found Alexander-Arnold. His swooping cross was feathered home by Mo Salah, who put just enough power on his shot for it to elude the outstretched arms of Martin Dubravka. 1-2

Half time: Newcastle 1 Liverpool 2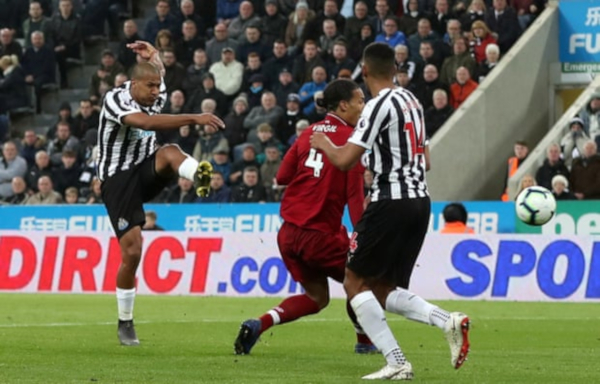 54 mins Ki's flag kick from the South West corner was weakly headed out by Gini Wijnaldum, but Manquillo nodded to back into the path of Salomon Rondon. Without further ado he smashed it beyond the motionless Alisson to reach double figures in the league for the season. 2-2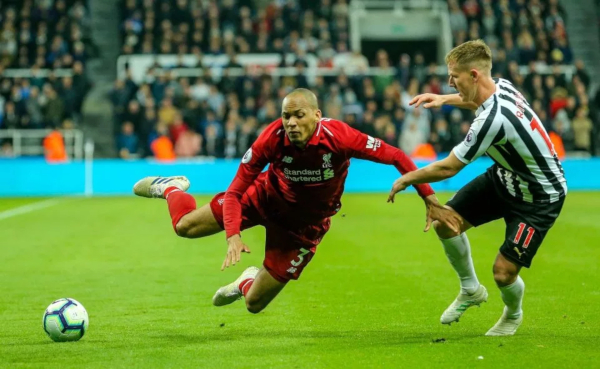 May the fourth be with you: Star wors and the phantom menace
86 mins Ritchie tracked Fabinho towards the East Stand and there was some contact between the two players before the £40m signing stepped away from his marker and collapsed in a heap to the derision of home fans and the rage of Ritchie, as the linesman was conned into raising his flag.

On the instruction of Van Dijk in the box, the original set piece was altered to an in-swinger that substitute Xherdan Shaqiri delivered perfectly for fellow replacement Divock Origi to out-jump Lascelles and flick the ball home from close range. 2-3

Full time: Newcastle 2 Liverpool 3

Rafa:
"I'm really proud because it was a difficult game against a very good team but the players gave everything. The fans appreciate that and were behind the team, we couldn't ask for more.
"We made a few mistakes at set pieces but in terms of effort and desire we did quite well. We are trying to make sure we don't make so many mistakes. I don't know about the third goal but the first two we can do much better.
"We have been quite consistent, working really hard as a team and as a unit, staying very compact. It was a great performance from us.
"This game was special, I have a relationship with both sets of fans. It's always special when you do well and have to go around and see smiles on the fans' faces, it's emotional but really good at the same time.

"We have had and will have conversations over the next couple of weeks [about my future] and see where we are.

"It's so simple, you have the potential, you can feel the potential and the passion of the fans and what it means to them.

"We have to compete with the teams that are around us but it's not easy. I am really proud and pleased because we stayed up, but I'd like to compete for something more.

"Hopefully we can go closer and match the ambition of the fans."

NUFC statement, Sunday:

Newcastle United would like to thank the vast majority of supporters in attendance at St. Jamesí Park on Saturday evening for creating a fantastic atmosphere.
Unfortunately, despite restricting match ticket sales to existing members and reminding fans that visiting supporters were not permitted in home areas, a number of Liverpool fans did obtain and use tickets initially held by Newcastle United fans.
We can confirm that standard tickets were only sold by the club to existing Newcastle United members and no general admission tickets were sold to Liverpool supporters by Newcastle United beyond the visitorsí usual allocation.
As is policy for all matches, supporters of both home and away clubs are welcome in hospitality areas at St. James' Park. However, club colours are prohibited and guests supporting the visiting club are asked to behave appropriately or risk facing ejection.
The safety and security of all supporters is of paramount importance and club stewards, with the support of the police, did endeavour to eject any visiting fans from home and hospitality areas when outbreaks of disorder did regrettably occur.
We can confirm that 22 individuals were ejected from St. Jamesí Park on Saturday evening, with seven arrests made.
We will be reviewing supporter feedback and CCTV and we will be taking action against any supporter who sold or passed on tickets to Liverpool fans.
We remind supporters that selling or passing their tickets to other individuals is against ticket terms and conditions and may be a criminal offence.
While the stadium is monitored closely, any supporter who feels threatened or witnesses any instances of abuse or disorder at St. James' Park is encouraged to speak to their nearest steward or police officer.
Alternatively, supporters can text 'HELP' followed by their seat location and details of the incident to 60070.

Jurgen Klopp said:

"What can I say? It is just brilliant. It is like a fairytale. You can say whatever you want about me, I donít play Divock enough, (Xherdan) Shaqiri enough and then I make this decision Ė itís great. That they do it. I love it. It was really a big moment.

"There is a lot to talk about; we could talk about football tonight, we could talk purely about showing real heart, showing real passion and showing real desire. It was just brilliant. Newcastle showed it as well, unbelievable - they gave us a proper game.
"I think in our situation with all the circumstances around, some people probably expected us to show a bit of nerves and the boys didnít. It was just a difficult game for difficult reasons.
"Of course, playing three days ago it was most intense, running-wise we had the highest number of kilometres in Barcelona and then three days later we come to Newcastle and this is obviously not a friendly game tonight.

"The style of play of Newcastle is not really to defend with tactical moves, it is just a long ball, Rondon is fighting for it and then you wait for the decision of the ref, foul or no foul. If itís no foul you have to carry on and if it is a foul, it is a free-kick in either direction.

"That means you cannot do it with a proper formation, you have to do it with legs, with runs and stuff like that - and that makes it even more intense, thatís why it makes sense to keep the ball. Thatís what we tried a lot of times, we did it really well in a lot of moments.

"I liked the body language, always when we passed the ball around, but around the first goal it was not that good because you keep the ball, but not for keeping it but for creating a situation or a gap or a passing option.

"In that moment, all of a sudden because the intention was not right, we were under a bit of pressure. We played a not-so-good pass to Ali, a long ball, it comes back, 1-1. I liked the reaction of the boys, I didnít see any major concerns apart from we conceded a goal, which is not cool.
"Our goals were wonderful. The first goal, Pete Krawietz and Greg and James, our analysts, what they do around set-pieces is unbelievable. It is really nice to see. Having Virgil van Dijk completely free in the box is pretty rare, it was a wonderful routine.

"We scored a second one, nice cross again from Trent and Mo is there. But then they scored their goal and then it is not too long to go anymore, we have to sub Mo, not cool. We have fresh players on the bench, try to have an impact - and they had (an impact). It was a wonderful free-kick from Shaq and sensational header from Divock and we win the game. We are now qualified for the league final (last game), which is brilliant.
"(Origi was) so crucial. What can I say? It is just brilliant, it is like a fairy tale. You can say whatever you want about me - they donít play often enough, Shaqiri not often enough. I make this decision. It is great that they do it, I love it. That was really a big moment.
"I accepted long ago that we do everything, absolutely everything, the boys throw whatever they have on the pitch, so that means whether we are champion or not, it is destiny. We do everything and we cannot do more - can you get more than 94 points? Can you get more in all the other stuff? Not really.

"The boys tried everything, even in the draws, they tried everything to win the games. It is all good. We tried to have influence, so it was clear it didnít happen for a while with set-pieces, thatís true. We didnít have them, so in this moment we had one and we used it. I really think it was deserved.
"Yes, they came a bit up after 2-2, it is normal. (Newcastle) had no game three days ago, we had a game, so itís absolutely normal. I really loved how calm the boys still were. The calmness was always interrupted by a long ball for Rondon and then itís chaos!

"The ball coming down, you have to collect it or not. On the other side, how many quick re-starts did we have with Robbo on the left side? It is just incredible. When Ali had the ball and threw it there, nobody reacted as quickly as Robbo and Ali. Wow, what a race, what a game that was.
"The boys showed in each second they really wanted to win it. We knew what we had to do and the boys did it in a very difficult game. Credit to Newcastle, that was, wow... any people who doubt or whatever that teams donít play for anything anymore, or maybe are halfway on the beach already, they were really the opposite.

"Is there any history between Newcastle and Liverpool that I donít know about? The atmosphere was like there was something that happened in the past. The boys, again, were ready to face it, ready to deal with it and thatís brilliant."
Newcastle failed to win their season-closing home game for the first time in six seasons, since a 0-1 loss to Arsenal back in May 2013.
Before that win over Cardiff in 2014, we'd endured a seven game winless run in our closing SJP fixture since beating Chelsea 1-0 in May 2006.

Closing home game results - PL era:
2018/19 Liverpool lost 2-3
2017/18 Chelsea won 3-0
2016/17 Barnsley won 3-0 (Championship)
2015/16 Spurs won 5-1
2014/15 West Ham won 2-0
2013/14 Cardiff City won 3-0
2012/13 Arsenal lost 0-1
2011/12 Manchester City lost 0-2
2010/11 West Bromwich Albion drew 3-3
2009/10 Ipswich Town drew 2-2 (Championship)
2008/09 Fulham lost 0-1
2007/08 Chelsea lost 0-2
2006/07 Blackburn Rovers lost 0-2
2005/06 Chelsea won 1-0
2004/05 Chelsea drew 1-1
2003/04 Wolves drew 1-1
2002/03 Birmingham City won 1-0
2001/02 West Ham won 3-1
2000/01 Aston Villa won 3-0
1999/00 Arsenal won 4-2
1998/99 Blackburn Rovers drew 1-1
1997/98 Chelsea won 3-1
1996/97 Nottingham Forest won 5-0
1995/96 Spurs drew 1-1
1994/95 Crystal Palace won 3-2
1993/94 Arsenal won 2-0
The Magpies ended the season with ten home defeats in the Premier League, one more than their previous worst PL total of nine (set in 2012/13). However they were able to avoid equalling their all-time worst return of 11.

A final tally of 24 goals netted in the PL on home territory is three more than in 2017/18, that total of 21 our lowest previous total.

This season's Leazes / Gallowgate home scoring split in the PL was 11 to 13, while the first half / second half home goal count was 10 to 14.

Salomon Rondon's goal took him to double figures in the PL, the first time he's achieved that in his career. The Venezuelan is one behind Ayoze Perez, meaning United have two strikers notching double figures in the PL for the first time since Demba Ba and Papiss Cisse in 2011/12.

Christian Atsu scored his first PL goal of the season, having managed two in 2017/18.
Liverpool left SJP maintaining their record of just a solitary PL defeat this season in 37 games - at Manchester City in early January - and extending a run of successive league victories to eight.

This was their first victory at SJP in five attempts since a 6-0 win in April 2013. Six years on, a trio of players were involved in today's success: messrs Sturridge and Henderson starting both games, while Jonjo Shelvey sat on the bench for us today but was an 85th minute substitute for Liverpool in 2013. And there was a fourth person involved in both: Andre bloody Marriner.

It remains to be seen whether Antonio Barreca gets a run out at Craven Cottage next week, but the on-loan player has failed to make a single appearance at SJP during his time as a Magpie.

Reds @ SJP - Premier League era:
2018/19: Lost 2-3 Atsu, Rondon
2017/18: Drew 1-1 Joselu
2015/16: Won 2-0 og(Skrtel), Wijnaldum
2014/15: Won 1-0 Perez
2013/14: Drew 2-2 Cabaye, Dummett
2012/13: Lost 0-6
2011/12: Won 2-0 Cisse 2
2010/11: Won 3-1 Nolan, Barton, Carroll
2008/09: Lost 1-5 Edgar
2007/08: Lost 0-3
2006/07: Won 2-1 Martins, Solano(pen)
2005/06: Lost 1-3 Ameobi
2004/05: Won 1-0 Robert
2003/04: Drew 1-1 Shearer (pen)
2002/03: Won 1-0 Robert
2001/02: Lost 0-2
2000/01: Won 2-1 Solano, Dyer
1999/00: Drew 2-2 Shearer, Ferguson
1998/99: Lost 1-4 Guivarc'h
1997/98: Lost 0-2 (LC)
1997/98: Lost 1-2 Watson
1996/97: Drew 1-1 Shearer
1995/96: Won 2-1 Ferdinand, Watson
1994/95: Drew 1-1 Lee
1993/94: Won 3-0 Cole 3

Waffle
In stark contrast to some of the unwatchable games endured at Gallowgate this season, Newcastle's final home fixture was something of a minor classic. Sub-plots abounded, goals and controversy were evident in abundance and the raucous atmosphere verged on the volcanic throughout.

If this is how it ends here for Rafa Benitez, then that's one hell of a way to bow out.

Echoes of the first of our famous 4-3 Anfield games in April 1996 were clear; be it Mo Salah taking the part of Robbie Fowler or Salomon Rondon emulating Sir Les. Sadly though, injury deprived us of Miguel Almiron attempting to understudy David Ginola.

It wasn't quite a 90th minute goal that eventually beat us, but one almost expected to see Rafa slumped over an advertising hoarding as his side were dealt a mortal blow in the closing stages.

Of course the biggest difference 23 years on was that we were just the supporting cast tonight, unlike 1996 this wasn't a summit meeting; nothing more than pride was at stake for Newcastle.

Regardless of that, what used to be called a cup tie atmosphere before cups were devalued was evident from the time that the massive fan-funded surfer was unveiled across the Gallowgate End.

The fervour of the crowd was as much due to the lateness of the hour as to the importance of the game to the visitors and consequent infiltration of home sections. While recriminations over ticket distribution rumble on though, the scheduling of this game has to be questioned.

Some games have early starts due to the threat of disorder; this one was almost willfully arranged to ensure that people were both fuelled up and pumped up. Sky call the shots and the fans drink them: Saturday night's all right for fighting apparently, along with a lack of public transport.

What those present and tuning in across the galaxy witnessed was both memorable and agonising: Newcastle showing enormous spirit and skill, but also highlighting their own defensive shortcomings.

Trailing to an early header by Van Dijk, United were soon level when Atsu cracked in a loose ball from close range before some Perez trickery saw him hit the goal frame. Another lapse at the back then allowed the visitors to regain the lead, but the hosts replied again when Rondon hammered home.

Just as the see-saw encounter seemed to have tipped in our favour though with Salah stretchered off following an accidental collision with Dubravka, Liverpool won it after some blatant cheating.

A free-kick wrongly awarded four minutes from time for Fabinho's dive and the goal that resulted gave the Red three points they barely deserved on a night when United more than matched them.

While Rafa rightly praised the commitment and effort of his players, he was doubtless less enchanted to have conceded another two headed goals. No less than 15 of the 48 we've let in this season were scored in this way - the highest in the division - no amount of coaching has cured this as yet.

Sadly for us, Klopp's side lead the way in scoring headers in the Premier League this season and were in no mood to pass up tonight's gift-wrapped opportunities.

Regardless of the scoreline, this was a night to be proud of after another fine performance. Whether it's the end of an era is still open to question; as well as the unresolved managerial situation, the futures of up to half of the squad remain up in the air - a full XI not involved tonight expected to be elsewhere by next August, not to mention those in the side on loan or looking to move on.

As it was that night in 1996 (and 45 years to the day that we lost to Liverpool at Wembley), full time brought mixed emotions for those of a black and white persuasion. Pride, uncertainty, defiance.

Typical Newcastle.

Biffa/Niall