Date: Sunday 11th August 2019, 2.00pm
Live on Sky Sports

Venue: St. James' Park

Conditions: Disunited

Admission: Cheapest seats were £39

Programme: £3

Newcastle

Arsenal

0 - 1

Teams
Half time: Magpies 0 Gunners 0
58 mins Paul Dummett's attempted pass from a central position out to newly-arrived substitute Jetro Willems, was cut out by the galloping Ainsley Maitland-Niles.

His fine ball into the home area from the right flank dropped between Jamaal Lascelles and Fabian Schar for Pierre-Emerick Aubameyang, who took a touch before defly flicking his side ahead from seven yards out. 0-1

Full time: Magpies 0 Gunners 1
Steve Bruce said:

"We were OK first half and unfortunately against a good team we've gifted them a goal, which is never easy to recover from. We left ourselves a bit exposed then but overall, I was pleased because there wasn't anything in it.

"I can't remember playing against Arsenal and the goalkeeper has had so little to do but unfortunately, we've made a mistake which has cost us.
"We had little half chances where you need it to fall in the box for you and we stuck at it. The players couldn't give us anything else, they were terrific until the very end. I'm just disappointed we've conceded a bad goal and they are rightly disappointed in the dressing room.
"What disappointed me was we gave it away too cheaply at times and had one or two warnings in the first half but got back and cleared it.

"We were inches away in the first half: hitting the post (through Shelvey) and Joelinton's header flashed just wide.

"I didnít think we used Joelinton as well as we could have. We can work on that and get the service into him a bit quicker and get more balls into the box. I couldnít fault their workrate, endeavour and attitude.

"(Jonjo) Shelvey had a knock. We donít think itís too serious - weíll see tomorrow but thatís why it (the substitution) happened.

"Jonjo was injured. Ki was not injured, just not part of the squad. (Paul) Dummett had a knock and (Jamaal) Lascelles wasnít feeling too great.

"(There was) A lack of communication with him (Jetro Willems). We wanted to play Matt Ritchie inside. He played there for two minutes until we got the information to him."

Unai Emery said:

"It's a very good three points.

"We played a very solid game and controlled the game, but we can improve more because, in the first half, for example, we lost a few balls in the middle and gifted them some chances.

"The second half was quite similar but we scored and that was a very important victory for our confidence because we played with some young players to give them a chance to improve, to give them minutes with us and I think competitive action is important."

About Reiss Nelson and fellow 19 year-old Joe Willock:

"They deserved it from pre-season. Matteo Guendouzi also played a very solid game in the middle.

"We need to work and play with every player. We need to give them chances and confidence but take every game seriously like we are doing.

"For us, we need to continue. We have some injuries, some players out and I want to have a big competitive squad for every match, and I think we are going to need that.

"Nicolas Pepe came one week ago and physically he needs to get his best fitness to be ready to play 100 per cent for 90 minutes. Today, 20 minutes is good for him. It's the first 20 minutes for Pepe and Martinelli.

"After that we could play with one striker or with two with Lacazette. Aubameyang can play in a front three on the wing, on the right or the left, or as a striker as he did against Newcastle.

"We can control the ball and we can give 10 chances to score. We want to do that and keep the balance defensively. We want to be strong but not lose the capacity offensive game plan.

"David Luiz did pre-season with another team and he is OK to play physically, but he only trained completely with us yesterday. On Friday, he did 30 minutes with us.

"Last year we lost our first away game at Chelsea but we won our next few games away from home. The team need to be serious and strong also in the balance between defence and offense.

"Ceballos is in the middle because he came before Pepe, but he got an injury and he stopped training. But he needs to know the Premier League, so today was important for him and for us.

"The players can take that confidence to play in our style and next week we are going to play at home, where we finished with two bad results and lost our opportunity to be in the top four.

"We missed out at home where we were very, very strong. This year I want us to be strong at home and our first challenge is next week against Burnley."


Steve Bruce followed Rafa Benitez (lost 0-1), Steve McClaren (drew 2-2) and John Carver (drew 3-3) in failing to win their first game in charge of the club. The last manager to collect three points on his debut was Alan Pardew (3-1 at home to Liverpool in December 2010).

There were debuts for Joelinton, Jetro Willems and Allan Saint-Maximin, increasing the total number of players fielded by Newcastle in the Premier League to 234. Fellow new boy Emi Krafth was an unused substitute.

The Magpies have now failed to win their opening home league game in the Premier League or the Championship since defeating Spurs 2-1 at SJP in August 2012.

Of the seven games since that success, they drew two and lost the other five:

2013/14

West Ham drew 0-0
2014/15

Manchester City lost 0-2
2015/16

Southampton drew 2-2
2016/17

Huddersfield Town lost 1-2
2017/18
Spurs lost 0-2

2018/19

Spurs lost 1-2
2019/20 Arsenal lost 0-1

Arsenal @ SJP - PL era:

2019/20: Lost 0-1
2018/19: Lost 1-2 Clark
2017/18: Won 2-1 Perez, Ritchie
2015/16: Lost 0-1
2014/15: Lost 1-2 Sissoko
2013/14: Lost 0-1
2012/13: Lost 0-1
2011/12: Drew 0-0
2010/11: Drew 4-4 Barton 2, Best, Tiote
2010/11: Lost 0-4 (LC)
2008/09: Lost 1-3 Martins
2007/08: Drew 1-1 S.Taylor
2006/07: Drew 0-0
2005/06: Won 1-0 Solano
2004/05: Lost 0-1
2003/04: Drew 0-0
2002/03: Drew 1-1 Robert
2001/02: Drew 1-1 Robert (FAC)
2001/02: Lost 0-2
2000/01: Drew 0-0
1999/00: Won 4-2 Speed 2, Shearer, Griffin
1998/99: Drew 1-1 Hamann
1997/98: Lost 0-1
1996/97: Lost 1-2 Shearer
1995/96: Won 2-0 Ginola, Ferdinand
1994/95: Won 1-0 Beardsley
1993/94: Won 2-0 Cole, Beardsley
Waffle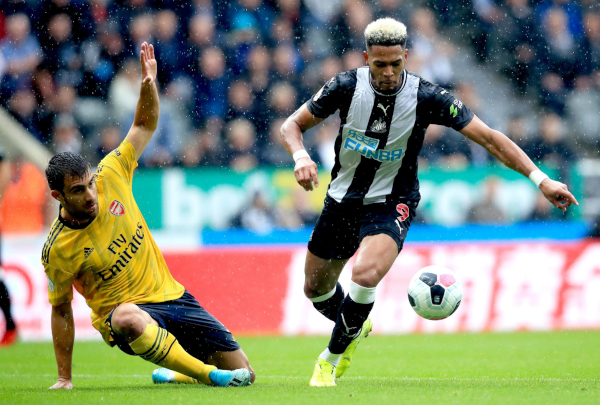 From the sun-baked shores of the Thames to rain-soaked Tyneside. May to August; 90 days of uncertainty, purgatory, blood-letting, in-fighting, or just business as usual at this madhouse.

Somewhere in the middle of losing our manager and two top scorers and enduring another phantom takeover, we made a few signings and broke the transfer record for the second time in 2019.

However even that latter feat failed to lift the prevailing mood of annoyance and disillusionment round these parts. Prevailing is the key word there; if it's a thankless task to categorise a fanbase within which every possible standpoint and level can be found, then uniting it is a virtual impossibility.

The divisive PR war from the departure of Rafa Benitez continues; a comment about leopards not changing their spots on his own website provoking a diatribe attributed to CEO Lee Charnley in the match programme and conveniently leaked to journalists in time to make the papers.

Regardless of the rights and wrongs of Rafa's exit, someone had to replace him and to the delight of some and dismay of others, it proved to be Steve Bruce. Having quit Hull City amid fan unrest and owner disputes after returning them to the top flight in 2016, it genuinely does seem that he has a feeling of unfinished business here by knowingly stepping into a similarly militant atmosphere.

The threat of a fan boycott may have only partially materialised, but the attendance of 47,635 was still the smallest home league gate since April 2016. Those that were there made very little noise as they saw an adequate performance in the first 45 minutes, before things steadily went down the drain after the break.

Seven of the side that started Rafa's final game last season were retained, fit-again duo Miguel Almiron and Sean Longstaff returning, Javier Manquillo recalled and Joelinton debuting.

Another three new faces began on the bench, with Jetro Willems and Allan Saint-Maximin introduced after the interval, while Emil Krafth remained unused. There was no place in the party however for the unfit Andy Carroll, while the similarly gammy Dwight Gayle completed his delayed suspension.

There was a sense that an Arsenal side lacking a clutch of players and with a stronger-looking bench than starting lineup were in a similar state of transition to ourselves and by no means impregnable. If there was a time to play them it was probably now, rather than in six or seven weeks' time.

The greasy conditions and referee Martin Atkinson's evident desire to let play continue wherever possible helped the game develop and an encouraging period of play from the home side around the 20 minute mark proved to be our most coherent period of the game.

A dangerous cross from Matt Ritchie on the left saw Joelinton head just wide, Almiron was booked after tumbling in the area and a lethal volley from Jonjo Shelvey was deflected onto the goal frame.

At the other end, Pierre-Emerick Aubameyang was denied by Martin Dubravka before an ambitious long-range strike from Almiron sailed high into the Leazes End.

Within ten minutes of the second half starting, Shelvey was replaced by Willems - a change due to injury rather than tactics - and some initial confusion over positions remained when Dummett's pass out to the newly-arrived substitute was stolen by Ainsley Maitland-Niles.

His fine ball into the Newcastle box found Aubameyang and last season's joint Premier League top scorer did the rest.

Our attempts at equalising were anything but impressive, the hosts becoming increasingly disheartened and dishevelled. Any semblance of a formation was long gone by the end.

A glaring inability to release the final ball and a general lack of composure and discipline saw the Arsenal goal remain virtually untested - a ball slung across the box by Saint-Maximin within seconds of his arrival and Dubravka's free kick hoisted into the box rare moments of excitement.

There was no lack of effort during this narrow defeat, but much of it was random and wasted. To say there's room for considerable improvement is beyond question, but it could have been worse.

Disappointment at the scoreline was tempered by a certain relief that the game was over and life post-Benitez had at least got underway, albeit in a ragged and uneven fashion. This has got to start somewhere.

In terms of the squad, the seemingly inevitable delays in concluding meant that recruits were still working out how to find the training ground, never mind their new colleagues. However that's hardly something that's unique to this club.

Concerns over the quality of those purchases and an apparent underspend when including the sale of Ayoze Perez are perfectly valid. Every transfer is a risk though: Bruce's predecessor hardly had an unblemished record in that department.

Perhaps unexpectedly, the bulk of those who excelled at the business end of last season remain - something that raises questions about the universal popularity of Rafa in the dressing room.

Whether the Head Coach has the ability to organise the players effectively of course remains the great imponderable, but you'd like to think that three years of input from Rafa and his staff made a positive impression on them and Lascelles and Dummett etc can actually retain that knowledge.

Add in successful if flawed returns from injury for Almiron and Sean Longstaff plus an acceptable introduction to the Premier League for our new number 9 and it's not all doom and gloom just yet.

Defeats at Norwich and Spurs though would give added energy to protests that are currently centred on the owner and see them spread towards the bloke picking the team. It'll be a brief honeymoon.

Walking back down Gallowgate after an opening day home defeat harbouring thoughts of the "long season awaits" variety is sadly anything but a unique experience.

For an example of that, look no further than the Championship defeat by Huddersfield Town in 2017, after which we spoke of needing "a significant uplift". And recollections of our very first Premier League game back in 1993 - a 0-1 loss to Spurs - centre round how helpless we looked.

Biffa