Date: Tuesday 21st January 2020, 7.30pm

Venue: Goodison Park

Conditions: Outlandish







Everton

Newcastle

2 - 2

Teams
30 mins A fortuitous flick of the leg by Dominic Calvert-Lewin fell for Bernard who was able to lob the ball forward to Moise Kean. The Italian forward had time and space to fire a low shot home from just in front of the penalty spot at the Gwladys Street End. 0-1

Half time: Toffees 1 Magpies 0

54 mins Digne had time to pick his pass and once Jamaal Lascelles had gone to ground in a failed attempt to block, Calvert-Lewin had the easy task of placing a curling effort beyond Dubravka. 0-2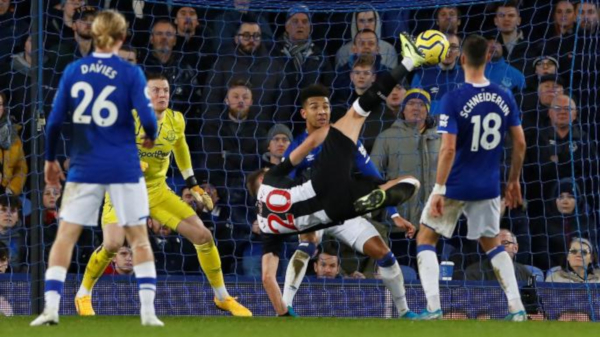 90+4 mins Matt Ritchie's right wing corner was helped on Pickford straight to Fabian Schar and he hit a decent volley that looped up off Lascelles for Florian Lejeune to execute a fabulous scissor kick into the corner of the net from six yards out. 1-2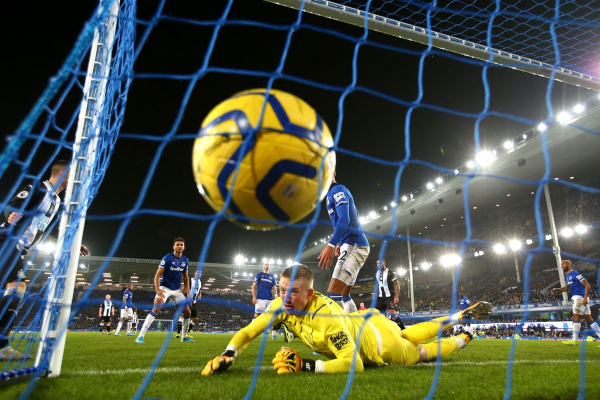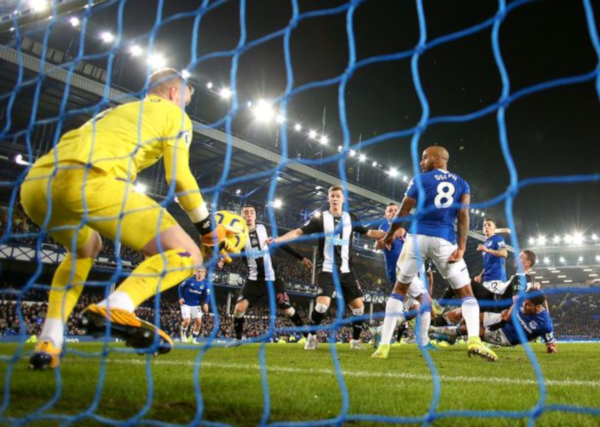 90+5 mins A free-kick in the centre circle was taken short by Matty Longstaff and pumped into the box by Ritchie. It reached Federico Fernandez on the right, whose fierce shot from a tight angle struck the near post. The ball fell for Hayden and he cracked a left-footed shot towards goal that was headed away as far as Florian Lejeune who hooked the ball back on target.

That was juggled by Pickford seemingly on the line before Emil Krafth tried to force it back towards goal. In the confusion, referee Simon Hooper pointed to his watch that had told him the ball had crossed the line, sparking wild celebrations and a furious mackem 'keeper who took out his frustrations on the ball and his defenders.

Complete comedy gold with an additional layer of mirth added by viewing TV footage, when it becomes evident that home fans behind the goal start celebrating when the referee blows his whistle, mistakenly believing that Hooper was indicating full time. He wasn't. 2-2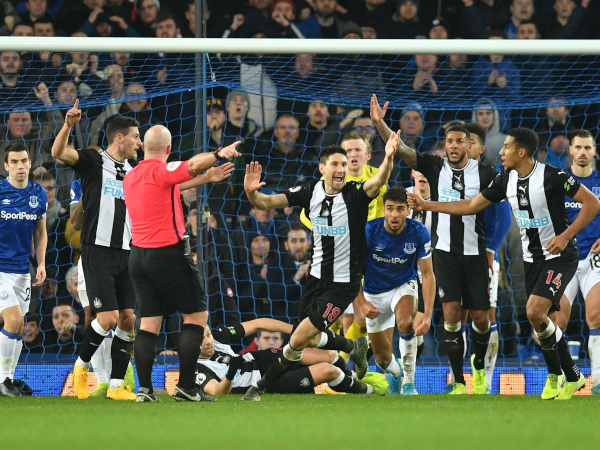 Full time: Toffees 2 Magpies 2
Steve Bruce said:

"It's quite remarkable. I can't fault the players for their endeavour. Joelinton was struggling after 50 minutes; I nearly put a centre-half up front.
"We keep showing determination. We were a tired team tonight but we found a bit of energy from somewhere.

"When we scored Mike Dean said there are 40 seconds left - and you're thinking 'can we score in 40 seconds?' We rode our luck certainly but they never gave up.
"There is a good spirit and attitude in this team - we looked tired but we played people out of position. We didn't have much coming off the bench in terms of forward players but the attitude was fantastic.
"It's a wacky game that's for sure - but it's great. It just shows you shouldn't leave a game early.
"Joelinton was struggling with an injury and we had no strikers. I didnít want to put Jonjo (Shelvey) on because he wasnít right. Iím asking people to play out of position but they stuck at it.

"If anyone deserved two goals itís Flo with the problems heís had in his Newcastle career.

"I couldnít play (Allan) Saint-Maximin after seeing him yesterday so we left him behind. We hope heís available for Saturday.

"Andy Carroll, DeAndre Yedlin and Nabil Bentaleb should be available (for Oxford) too."


Carlo Ancelotti said:

"Sometimes in football that can happen, sometimes you have to accept this.

"The fact is we played really well, the result is not what we wanted but the performance can give us confidence for the next games. The players are really sad at this moment, but I told them I have more experience than them.

"I've lost a Champions League final after leading 3-0 [with AC Milan against Liverpool] so it can happen sometimes. Until the first goal, no-one thought Newcastle could draw the game.

"We played really well, we deserved to win but we have to accept the result. We could stay more focused on set pieces, but the team played a fantastic game for 90 minutes. We are disappointed but we are pleased with the performance.
ďI said to my players that sometimes it can happen. It is unusual to concede two goals in two minutes when the performance was at the top, in my opinion, and for this reason I look forward.

"If we are able to play like this, I think we will win most of our games. We had good balance, we tried to press forward. (Fabian) Delph and (Morgan) Schneiderlin did a fantastic job. I have nothing to say to my players because they did really well.

"We could stay more focused in the final minutes but they are really little things. We were punished too much after that performance.Ē
About goalscorer Kean:

"He worked hard, he pressed forward, what I asked, he did. He has to improve, because he's young, he has to improve technically and tactically, but he's on the right way."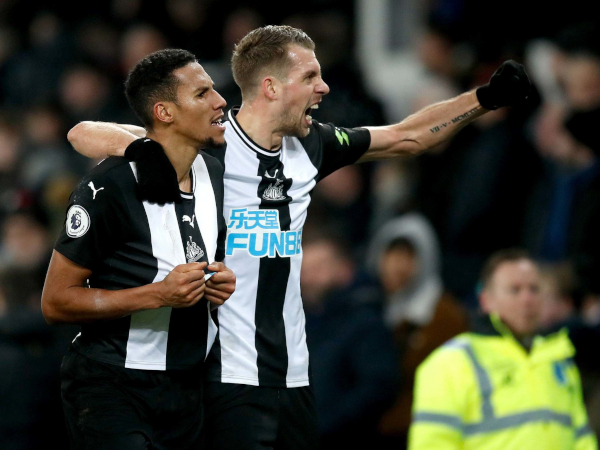 United are now unbeaten in their last five league and cup games since losing on New Years Day - their best run of form since a nine match sequence between February and March 2017.

Before tonight:

Florian Lejeune had never scored for the Magpies.
Newcastle had never scored twice in second half added time in any of their PL fixtures*.
No Newcastle substitute had scored in the PL this season - the only side not to have done so.

All of those things have now come to pass....


* We managed to do that as recently as September 2016 in the Championship, when Yoan Gouffran (90+5) and Dwight Gayle (90+6) netted in a 4-3 home victory over Norwich City. On the pitch at that point then and tonight were messrs Lascelles, Ritchie and Hayden.

Lejeune's brace means that United have scored 12 goals in their 12 PL away games this season, which is equal to their entire return on the road in the 2015/16 campaign - our lowest PL tally.

The last player before Florian to net more than once in a PL away game was Dwight Gayle, who got both goals in a 2-2 draw at Bournemouth in February 2018.

Lejeune becomes our 150th different PL scorer and the 22nd to have been born in France.

His brace also increases the amount of PL goals scored this season so far by our defenders to 12 from 24 registered (Lejeune 2, Clark 2, Fernandez 2, Schar 2, Willems 2, Lascelles 1, Yedlin 1). Strictly speaking that's 13 as Hayden was playing as a defender when scoring versus Chelsea.

Lejeune's goals also ended a run of Toon goals scored at the other end of Goodison Park. Since Hatem Ben Arfa's belter here at the Gwladys Street End in 2010, all six of our goals had come in front of the opposite Park End. Until tonight.

Sub doubles:

Although the manner in which this game unfolded was slightly different, Lejeune's feat mirrored that of Demba Ba at Goodison Park back in September 2012. Trailing 0-1 at half time, Ba arrived from the bench and had netted within five minutes. Everton then thought they'd won it with a second goal on 88 minutes - only for Ba to equalise for the second time on 90 minutes.

Fast forward to December 2014 and Papiss Cisse took to the field at SJP early in the second half, with his side drawing 0-0 with Chelsea. It ended 2-1 to Newcastle and he scored both goals.

Aleksander Mitrovic also helped himself to a second half brace following his introduction as a substitute away at Norwich City in April 2016 - although we lost 2-3.

In terms of going one better, Craig Bellamy's three-goal salvo against Brentford at SJP in the League Cup back in September 2001 is well worth a mention, appearing in the 90th minute with the tie poised at 1-1 and completing a 12 minute treble during extra time.

On the bench tonight for the second time in a competitive senior game was defender Liam Gibson, selected as cover at left back following his return from a loan spell at League Two Grimsby Town. He had appeared once as an unused sub versus West Bromwich Albion back in February 2016.

Liam's younger brother Lewis was an unused substitute for Everton away at West Ham last weekend, but was omitted from their replacements here tonight.

PS: Jordan Pickford "celebrated" his 100th Premier League start by gifting us both goals. Ta!

His contribution to this game evoked memories of last season's meeting with the Toffees at SJP, when he came from two goals down to win with a deliciously late and offside goal.

It was another disaster for Pickford who had been allowed to stay on and save a Matt Ritchie penalty by referee Lee Mason despite looking like a red card certainty. The Magpie hater flapped and bottled it big-style that day as well.....

Toon at Goodison - Premier League era:
2019/20 Drew 2-2 Lejeune 2
2018/19 Drew 1-1 Rondon
2017/18 Lost 0-1
2015/16 Lost 0-3
2014/15 Lost 0-3
2013/14 Lost 2-3 Cabaye, Remy
2012/13 Drew 2-2 Ba 2
2011/12 Lost 1-3 og(Hibbert)
2010/11 Won 1-0 Ben Arfa
2008/09 Drew 2-2 Taylor, Duff
2007/08 Lost 1-3 Owen (pen)
2006/07 Lost 0-3
2005/06 Lost 0-1
2004/05 Lost 0-2
2003/04 Drew 2-2 Shearer (2 pens)
2002/03 Lost 1-2 Robert
2001/02 Won 3-1 Bellamy, Solano, Acuna
2000/01 Drew 1-1 og(Unsworth)
1999/00 Won 2-0 Hughes, Dyer
1998/99 Lost 0-1
1997/98 Drew 0-0
1997/98 Won 1-0 Rush (FAC)
1996/97 Lost 0-2
1995/96 Won 3-1 Ferdinand, Lee, Kitson
1994/95 Lost 0-1 (FAC)
1994/95 Lost 0-2
1993/94 Won 2-0 Cole, Beardsley

Having added the following to Saturday's match report, we didn't expect to be updating and reposting it quite as quickly as this, but hey ho:
The late show: Latest recorded NUFC goals in last decade:
(only goals later than 90+3 are recorded)
2016/17 Dwight Gayle v Norwich City (h) 90+6 (Ch)
2011/12 Yohan Cabaye v Blackburn Rovers (a) 90+6 (LC)

2019/20 Florian Lejeune v Everton (a) 90+5 (PL)
2016/17 Yoan Gouffran v Norwich City (h) 90+5 (Ch)
2013/14 Yohan Cabaye v West Ham (a) 90+5 (PL)

2019/20 Florian Lejeune v Everton (a) 90+4 (PL)
2019/20 Isaac Hayden v Chelsea (h) 90+4 (PL)
2018/19 Matt Ritchie v Bournemouth (a) 90+4 (PL)
2013/14 Papiss Cisse v Palace (h) 90+4 (PL)
2013/14 Sammy Ameobi v Morecambe (a) 90+4 (LC)
2012/13 Papiss Cisse v Fulham (h) 90+4 (PL)
2012/13 Papiss Cisse v Anji (h) 90+4 (EL)
2011/12 Jonas Gutierrez v Blackburn (h) 90+4 (FA)
2011/12 Papiss Cisse v Chelsea (a) 90+4 (PL)
2010/11 Fabricio Coloccini v Wigan (h) 90+4 (PL)
(Goals scored in added time were routinely recorded as 90 minutes until the proliferation of online statistics, meaning that it's impossible to compile accurate lists earlier than 2009).
Waffle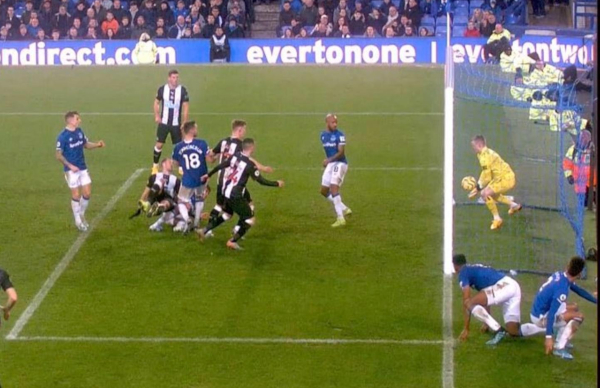 Line of duty
For 90 minutes at Goodison Park on Tuesday night, Newcastle were lethargic, unimaginative and incapable of posing any threat whatsoever to the hosts - or their goalkeeper.

Fortunate to be just two goals behind, the rigours of recent weeks looked to have finally caught up with a weakened and weary Magpies side and a substitute's bench padded out with two reserves.

What followed during added time though was nothing short of incredible; substitute Florian Lejeune hooking in what looked to be nothing more than a 94th minute consolation - before the same player shot goalwards following an almighty scramble just 60 seconds later.

Jordan Pickford duly stopped the effort, but crucially, the Toffees custodian had positioned himself behind his own goal line and by the time the ball got to him, United had an equaliser and the most unlikely of points.

While visiting players and fans celebrated, it was a case of short arms and long faces for the much maligned mackem and his manager, who made three needless replacements with victory apparently beyond doubt and succeeded in unbalancing an Everton side who were cruising to victory.

Much was made of the 94th minute goal by which Newcastle defeated Chelsea last Saturday, but although tonight's extra time exertions only brought one point rather than three, this was a far higher level of logic-defying madness.

Of the side that ended our last game, all but Allan Saint-Maximin were on the field at kick-off here; Isaac Hayden continuing at right full back rather than Emil Krafth. It was more a case of strike farce than strike force for United though; the fitful Atsu no more a threat than Joelinton (although Steve Bruce was adamant post-match that the number 9 again wasn't fit).

That left the hopelessly outnumbered Miguel Almiron to plough a lone furrow, receiving minimal assistance from a midfield that was repeatedly bypassed by the home side - Nabil Bentaleb hasn't arrived a moment too soon.

Having earlier failed to connect with a tempting cross, Moise Keane got off the mark for his club on the half hour. And that lead was doubled nine minutes into the second period, when Dominic Calvert-Lewin supplied a routine finish after a Lucas Digne pass wasn't dealt with.

Further home goals could have followed, while United failed to register a shot on target until late on, by which time a trio of defenders had come from the bench.

Krafth arrived at right back as Hayden reverted to midfield and Fabian Schar took up a central role: our tactic presumably to confuse Everton by fielding a team comprised almost entirely of false 9s....

Bewilderingly, those changes (allied to Everton's three swaps) resulted in some belated forays into the final third of the field, but it wasn't until Matt Ritchie's 94th minute corner that they posed any credible threat, aside from a relatively innocuous first half header from Joelinton.

That corner was poorly punched away by Pickford under pressure from Florian Lejeune, falling to Schar who promptly volleyed it goalwards - the ball ricocheting off Fabian Delph for Lejeune to steer an overhead kick from six yards into the bottom corner of the Gwladys Street net.

102 seconds later, another set piece - this time a free kick in the centre circle - allowed Newcastle to get the ball back into the Everton box, courtesy of another Ritchie delivery.

Federico Fernandez found space on the right side of the area and his shot from almost on the byline rebounded back off the goal frame to Hayden, who promptly smashed it back goalwards.

That effort struck the head of a home player inside the six yard box and fell perfectly for Lejeune to hoof it forwards: Pickford fleetingly getting his hands on the ball before dropping to his knees and blocking what two Krafth efforts from point blank range.

At that point however, goal line technology intervened and referee Simon Hooper indicated that he'd received a message on his watch that the ball had already crossed the line via Lejeune's effort.

The awful sightlines of the away section at the opposite end of the ground delayed the reaction to that decision from the Toon fans, until the delighted players began running en masse towards them - although nobody knew or cared who had scored (our shout was Pickford own goal).

Within seconds the full time whistle had sounded and those players were back across with their followers, most of them hurling their shirts into the crowd.

While paying tribute to the vital contributions of Pickford, it's also worth mentioning that the added time that ultimately cost Everton so dearly was in part due to the extended celebrations that Calvert-Lewin and his team mates indulged in following his goal.

Calvert-Lewin's needless lunge on the newly-arrived Krafth out by the touchline also saw the clock stopped, as did a VAR call in the wake of the Everton striker seemingly elbowing Jamaal Lascelles and then gesturing provocatively towards the Newcastle defender.

While Everton were careless and presumptuous in equal measure though, how Newcastle gained a point here despite playing quite dreadfully for 90 minutes is beyond us - the latest bizarre instalment of a season that now almost routinely defies common sense.

It's no exaggeration to say that the recent antics of Steve Bruce's side are making that daft Goal! movie look like it was actually a documentary....you couldn't write this.

To inject a little bit of reality to proceedings though, our next league outing follows the closure of the current transfer window, which follows a cup tie that will be watched by a larger crowd than gathered here tonight at this dump. By the time Norwich come to Gallowgate, we'll know exactly what we have available to us through the remaining 14 games.....and it's looking dicey.

It's one thing for Bruce to say that he'll only sign players if they improve his squad, but with Gayle, Carroll and Muto all affected by injury, Joelinton ineffective (and supposedly with fitness issues) and no scorers to import from the U23s, surely signing anyone resembling a striker would boost us?

Our unexpected and inexplicable habit of collecting points without attacking confuses matters, but underneath it things are little changed - we're trying to make do and mend as usual.

Biffa