Date: Saturday 22nd February 2020, 3.00pm

Venue: Selhurst Park

Conditions: Dispirited

Programme: £3.50

Crystal Palace

Newcastle

1 - 0

Teams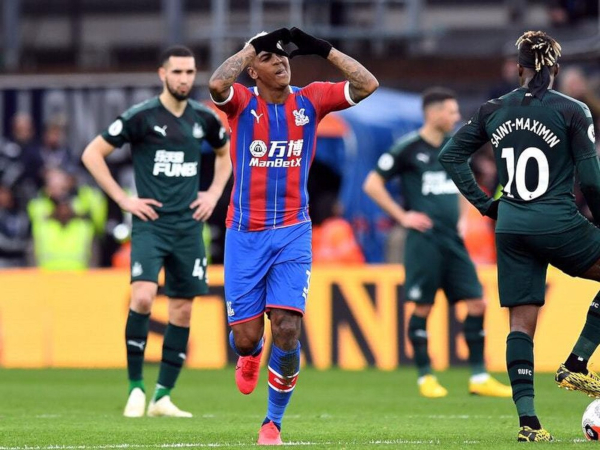 44 mins Fabian Schar fouled Jordan Ayew to give away a free-kick 25-yards out on the right side of the pitch and Patrick van Aanholt simply thumped it over the wall and into the far corner of the Holmesdale Road End goal.

Although replays prompted some suggestions that Martin Dubravka wasn't positioned properly, the power and accuracy of the dead ball strike beat his despairing dive fair and square. 0-1

Half time: Eagles 1 Magpies 0
Full time: Eagles 1 Magpies 0
Steve Bruce (whose post-match words were a re-run of those after Arsenal):

"The better team won.

"We have had decent possession, but we gave the ball away too cheaply especially when in good areas.
"We didn't ask questions, maybe it is a time to change - we have to score to win a game.

"It was difficult with the conditions, but we have no complaints saying the better team won.

"I couldnít fault their effort and their attitude for it. Weíve had enough possession but, in the final third again, the final ball - weíve found it a big struggle again.

"Thatís the third game now where we havenít scored a goal. We have to be better in the final third. Thatís been our Achilles heel all season.

"We played Joelinton wide for a bit of the game today and itís something we can look at - whether itís a change in shape or personnel... Iíll make a decision over the next few days.

"They are a big, physical team and we struggled with that. Their main threat in the first half was from corners and the goalkeeperís made two great saves.

"We canít take their support - which is quite unique - for granted. We havenít given them enough to shout about. Yes, we were willing and worked hard but we didnít do enough in forward areas.

"Whatís said in changing rooms should stay in there. I wasnít happy with us at all, I can say that.

"Dwight Gayle has trained for eight or nine days after being out with a hamstring injury for six weeks, so I thought it was right he didn't start.

"At the top end of the pitch where it matters, the decision making has not been good enough."

On the red card:

"With 10 seconds to go, does the referee really have to send him off? Is a yellow not sufficient? But rules are rules, and we will abide by it.
"He played very well today, we didn't find him enough - in wide areas, we ignored the lad. We needed to get it out to him, but he played very well.
"Our biggest problem all season has been evident - we have to create more of a threat in the opponent's area.

"We have to look at it and analyse it. Maybe change is sometimes for the best."

Roy Hodgson said:

"I wouldn't have minded a few more goals - we would have deserved that. It would have solved some of the anxiety going into the last ten minutes when the opponent throws caution to the wind and you worry something might go against you.

"The winter break helped. We used it for what it was intended for, to forget about football. There was a bounce in everyone's steps and I thought it showed.
"We go into the next game with the knife a little bit further from the throat, but we have to keep going.
"It was hard to lose three in a row especially when in the last two we were hard done by. We dominated the game but I am disappointed we had to suffer towards the end. When it's 1-0 they are never out of the picture.

"It's our first win in 2020. It was vitally important, and had we conceded in the last few minutes it would have been disastrous. That would have knocked us for six.

"But it's a win that moves us up the table and away from the relegation zone. We never lost sight that this would be a dogfight and we wanted to stay ahead of the curve on that.

"Three straight defeats is always a possibility in this league. Maybe not for Liverpool or Manchester City or even maybe Chelsea and Tottenham.

"For the rest of us, I'm afraid, three defeats is always on the cards if you're unlucky or things don't go your way so today to get a victory against a close rival and get it as well in a fairly dominant way - because I think even the most ardent Newcastle fan would be hard pushed to say Crystal Palace were lucky today.
"We were desperately unlucky at Newcastle - we lost 1-0 - and if favour had been kinder, we would have had six points."

Since scoring twice in second half added time at Everton, Newcastle have drawn a blank at home to Norwich City (0-0), at Arsenal (0-4) and at Crystal Palace (0-1), a total of 270 minutes without a goal.

That's their first three game scoreless league run since Steve McClaren's drew a trio of blanks during December 2015 and January 2016; Everton at home (0-1), at West Bromwich Albion (0-1) and at Arsenal (0-1).

Patrick van Aanholt followed in the boot steps of Ayoze Perez and became the second former Magpie to score against us in the Premier League this season. The Dutchman is no stranger to this sort of thing, netting his first career goal against us for Chelsea during a League Cup tie in 2010.

Magpies v Eagles @ Selhurst - all time:
2019/20 lost 0-1
2018/19 drew 0-0
2017/18 drew 1-1 Diame
2015/16 lost 1-5 Cisse
2014/15 drew 1-1 Cisse
2014/15 won 3-2 (aet) Riviere 2, Dummett (LC)
2013/14 won 3-0 Cabaye, og(Gabbidon), Ben Arfa
2009/10 won 2-0 Nolan, Ryan Taylor
2004/05 won 2-0 Kluivert, Bellamy
1997/98 won 2-1 Tomasson, Ketsbaia
1994/95 won 1-0 Beardsley
1983/84 lost 1-3 Beardsley
1982/83 won 2-0 Waddle, Varadi
1981/82 won 2-1 Waddle, Mills
1978/79 lost 0-1
1972/73 lost 1-2 Tudor
1971/72 lost 0-2
1970/71 lost 0-1
1969/70 won 3-0 Davies, Dyson, Robson
1964/65 drew 1-1 Cummings
Waffle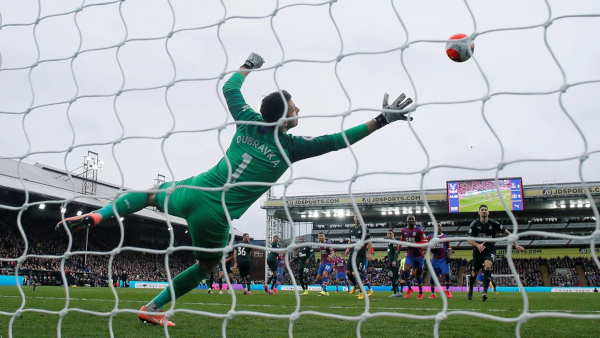 Beat him - and you beat us
Paul Simon may have devised "50 ways to leave your lover", but the task of finding 38 different methods to describe Newcastle United's ongoing demise as a football team this season is an unenviable task.

In tribute to the passing of computer pioneer Larry Tesler, we make no secret of the fact that this report is compiled using his greatest invention: the cut and paste command on a keyboard. Nothing written here is new, sadly - like the disorganised dross endured once here today.

The Magpies left London for a second successive weekend with no points and no goals following a lamentable performance that brought a deserved defeat at a windswept Selhurst Park.

Inviting pressure by playing sideways balls across the back, United again looked uncomfortable in possession and unsure what their tactics were. We may have taken three points off Palace three months ago, but they were the better side that day. That doesn't take much in fairness.

Patrick van Aanholt's previous wearside stint drew abuse from visiting fans here today, but the full back who spent time on loan at Newcastle a decade ago had the last laugh a minute before half time.

His unstoppable free-kick proved to be the difference between the two sides, but had Palace been better at finishing, they could have exceeded Arsenal's scoreline against us - Roy Hodgson's side having 18 shots compared to the 15 that Mikel Arteta's Gunners managed last Sunday.

And there was a red card to add to our woes, Sean Longstaff's slip on halfway setting Wilfried Zaha off en route to goal deep into added time, only to be hauled down by last man back, Valentino Lazaro.

The performance will concern Steve Bruce as much as the outcome with just two long range efforts to show from another afternoon of uninspired toil; Joelinton on the quarter hour and Fabian Schar in the 65th minute.

Another display of striking impotence means that it's now 270 minutes since we scored a goal; Newcastle perfect guests for a Palace side without a clean sheet in ten league games and with just one victory in 11 league outings.

Martin Dubravka twice came to United's rescue in the opening 15 minutes, producing wonder stops to block headers from Gary Cahill and Scott Dann.

But once he was beaten by Van Aanholt's fine effort, there was no way back for a Magpies side who lined up as they had at the Emirates, save for the enforced replacement of Ciaran Clark by Fabian Schar.

Bruce's side struggled to match even their low first half standards after the break; the return of Dwight Gayle from the bench against his old club entirely futile, given the lack of support play from those around him.

With no idea how to bring him into the game, Newcastle were left reliant on set pieces to pose an attacking threat - and on this occasion conjured up absolutely nothing from free kicks or corners.

Having not scored since the two late Florian Lejeune efforts at Goodison Park in January, even our frantic efforts to steal a point in the closing stages here were torpedoed by an inability to deliver the ball into the opposition box.

Aside from the goalkeeper though, none of those selected were more than adequate: the three January loan arrivals no improvement on what we already had.

Nabil Bentaleb did little to justify his starting place ahead of Isaac Hayden or Matty Longstaff, the midfielder found out time and again and seemingly struggling to pick out team mates clad in United's dark green change kit.

A pedestrian display from Danny Rose at left back meanwhile drew some unwelcome comparisons with Celestine Babayaro and Kenny Sansom from seasoned malcontents, while on the other flank, Lazaro demonstrated for the second game running that he's anything but a defender

It's up front though where our greatest problems lie: a collective mess that offers absolutely zero scoring threat. Our number 9 played the full game but touched the ball just twice in the opposition box. Come back Xisco.

Statistics do not lie - one win in nine attempts - and the trend firmly downward - but we didn't need to bolster our attack in January, apparently. Muddled thinking from the club saw injuries elsewhere in the squad prompt reinforcements, but the yawning gap up front was wilfully ignored.

Appearing on both wings and through the middle at various points, Allan Saint-Maximin was unproductive save for one ambitious chip that just cleared the bar. Miguel Almiron meanwhile would be out of the side at any normal football club, such is his lack of impact despite obvious effort.

Defeat left Newcastle in fourteenth, although a seven point gap to West Ham in eighteenth remained intact with the Hammers not playing at Liverpool until Monday. Three goal defeats for Norwich and Watford on Sunday brought marginal relief that there are still three inferior sides, somehow.

At the moment we are sitting ducks and the good fortune we enjoyed earlier in the season has inevitably evaporated - or maybe memories of the drills and discipline instilled by the previous manager finally faded away after six months.

We should have enough to stay up, but that has changed from will have enough.....

The shortcomings of other teams may well save us this season, but "playing" like this it's surely a matter of when we stop defying gravity and drop, rather than if. Oh, and it's utterly unwatchable.

As we feared last July, we'll come to rue the day when Steve Bruce was homeward bound.

Biffa