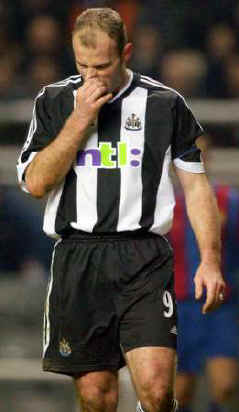 Come in number 9

The big interview: Alan Shearer talks candidly about playing again for England and why he will never leave Newcastle.

Newcastle United could go out of the Champions League even if they beat Barcelona on Wednesday, yet few can deny Newcastle have grown up in the competition this year. They have surprised themselves at times and have announced their arrival as European contenders who will be back next season and better for the experience.
The same could be said of their captain, Alan Shearer, who is willing to admit that even at the age of 32 he is still learning about football and about himself. He seemed to learn a lot about both in Tuesday's 2-2 draw with Internazionale, when he scored both his side's goals at the San Siro with all his old determination and poise, and celebrated each with a boyish delight, which suggested he knows he is back to his best. Shearer, like Newcastle, still has plenty to offer.
'It shows how far we've come when we can go to Inter Milan and come back disappointed with a draw,' Shearer says. 'It was a brilliant night, one of the best stadiums I've ever played in, and scoring in front of 12,000 Newcastle fans was a tremendous feeling. That's what you live for, as a player. You want to be performing on the biggest stage. I'm enjoying my football now as much as I ever have. There's a great feeling around this club at the moment, and a buzz about the city as well.'
Much of the credit for that goes to Sir Bobby Robson, who agrees with his captain about the value of a Champions League diet. 'We should have won against Inter, maybe if we went back again next year we would win,' he argues. 'You could see some of our young players growing up at the San Siro. It's called accelerated learning. Playing at the highest level quickens your development. If I played golf with Seve Ballesteros every day I'm sure I would improve more quickly than if I played against my missus.'
Robson is right. Players such as Titus Bramble, Jermaine Jenas and Olivier Bernard all had a night to remember in Milan, though the experience did not just leave an impression on the novices in the Newcastle side. Shearer himself appears to have been refreshed by proof of his continuing ability to compete at the highest level. After all, if you can score two goals in the San Siro, against Francesco Toldo, Fabio Cannavaro, Christian Vieri et al, your best days might not be behind you after all. Shearer retired from international football because he believed that to be the case, and because he thought he might extend his club career by cutting back his commitments. It has worked so well that, while stopping short of sending Sven-Göran Eriksson his telephone number, Shearer is at least willing to indicate playing for his country again is a possibility.
'I would be lying if I said I didn't miss playing for England,' he says. 'I still feel I could do a job for England, in fact I know I could. It's difficult because I think I have benefited from my decision to retire. Something had to give, and I don't miss the criticism, that's for sure. But equally I had some great days [with England] and it's not something you throw away lightly. I wish there could have been more, but that's life. I do feel strange when there's an England match nowadays. The manager usually gives me a couple of days off, and that's good, but it's not the same.'
As most of this admission is volunteered by Shearer, and not wheedled out of a normally reluctant interviewee by close questioning, it is reasonable to assume he might be persuadable should Eriksson - who was in Milan last week - ever pick up the phone. Shearer has certainly softened his stance since the end of last year, when he insisted: 'Nothing has changed, there's no going back on my England decision. The reason I'm doing so well at the moment is that I haven't got the pressures of international football.' Naturally, Shearer denies he might respond to an approach while the possibility remains a hypothetical one, though he will confirm that Eriksson has never so far made contact. 'There has not been a call,' he says.
Perhaps there will be soon, for England are not so well off for experienced, goal-scoring forwards in the form of their lives that the option presented by a rejuvenated Shearer can be lightly dismissed. Eriksson's attitude has always been that he does not want to persuade players out of retirement. He would rather deal with younger players who are still excited and fulfilled by playing for England. That is understandable, correct even, though Shearer does not fit the usual tapering graph of an old warhorse creaking towards the close of his career.
For one thing there is no question that Shearer, still only 32, is playing better now than he was when he turned his back on England. The centre-forward was having a fairly miserable time for club and country three years ago, a situation compounded by the fact that as captain of his country he was often in the England side when his form did not warrant selection. He was also working under Kevin Keegan, who was immune to suggestions that any of his senior England players should be dropped, rested or left out on grounds of advancing age, so Shearer may have viewed retirement as the only way out of a difficult and draining cycle.
Robson's view is that Shearer and Owen would be a perfect partnership for England, but that Shearer 'is a man of strong opinions who took a decision and it will be difficult for him to change his mind'. Newcastle, says Robson, have benefited from his decision to retire. 'He is much fresher without those midweek internationals.'
Shearer still has the quality, though. 'Eriksson went to the match against Inter and... probably thought Shearer could add something England haven't got at the moment. If I was the national coach I would want my best players to be with me. I am English and I want England to do well, so from that point of view I would like to see him back with the national side and if he decides to go back, I wouldn't stop him. But to be honest, I'd rather he didn't go back.'
One has only to look at Shearer's deportment, on and off the pitch, to notice the transformation now. Body language is an overrated and imprecise science in football, yet even the least intuitive student could see that Shearer runs more, communicates more, laughs more frequently and gives every indication of enjoying his football more, in addition to scoring and making more goals. Gone, also, is the defensive, resentful England captain who so obviously hated having to field difficult questions. In his place is a far more relaxed individual, happier with the way his career is going and beginning to realise that he might have saved the best until last.
'I have a year left on my contract, and I don't know how long I'll carry on after that but I don't think I'll be looking for another club,' he says. 'I'll finish at the top - I've already made that promise to myself. I won't go down the leagues. Management does interest me, but I'm not thinking about that at the moment. It's for the future. At the moment I'm just glad I'm playing, and I want to go on playing for as long as I can.'
When Shearer's Newcastle contract expires, England hope to be playing in the 2004 European Championship in Portugal. It cannot have escaped his notice that England have a relatively undemanding qualification path, even if they are making hard work of it, and that four weeks in Portugal would be ideal for anyone looking to end his career on a high note - particularly as Shearer would not be England captain were he to become involved again. He would merely be a member of the team, perhaps used sparingly, as David Seaman is at the moment, and as such may be able to rediscover the enjoyment of playing for England again much as he has done at Newcastle.
That scenario would certainly be more attractive to Shearer than watching the competition on the television or working as a studio pundit. The possibility exists that Eriksson would not have to do much persuading. A mere sign of interest or encouragement may be all it takes to break the present impasse. Typically, Eriksson has never said never over Shearer, but left the onus on the player to change his mind. 'I have never ruled Alan Shearer out,' the England manager said after the last game against Australia. 'He has said that he wants to concentrate on the Newcastle job and he is doing that very well. I shouldn't like to take in a player if he doesn't want to be there. If he changed his mind some day, it might be discussed.'
Realistically, Euro 2004 would be Shearer's last shot at a major international tournament, and the player has reached the stage where he knows some opportunities will simply not come round again. 'When you start out or you are in your early twenties you can take disappointments in your stride, you know you will get more chances in the future,' he says. 'As you get older, certainly by the time you are counting out the years you might have left in the game, you are aware that if you don't do something this time then perhaps you never will.
'When you get into your thirties you have to make the most of what's left. That's why going out of the FA Cup hurt so much. We threw a great chance of winning something away at Wolves. Especially when you look at the teams still left in the Cup. If we had got to where Wolves got we would have fancied ourselves with a chance, but it didn't happen. Full credit to Wolves, they played well and I'm not saying they didn't deserve to win, but it was a big, big disappointment to me. The biggest disappointment of the season.'
At least Shearer has had the satisfaction of seeing Newcastle's fortunes turned round under Robson, and knows the club are now heading in the right direction. If he sticks around St James' Park, which he almost certainly will in some capacity, it should not be too long before Newcastle finally get their hands on some silverware. The big question is whether they can do it in the time left to Shearer the player and Robson the manager.
'This is the best squad I have been involved with, the best pool of 22 players,' Shearer argues. 'People have been surprised how well young players like Shola Ameobi and Lomano Lualua have coped, but to be honest we've not. We see them in training. We know what good footballers they are. They all want to learn more, they all stay behind to do extra work. They are improving quickly and they have a lot of time in front of them.'
Shearer accepts that Arsenal are setting the standard in the Premiership, and admits Newcastle have a way to go to catch them. 'The potential is there though, and we are serious about trying. I think when the club signed Jonathan Woodgate it sent out a message we were hopefully here to stay. I don't think we are too far away from Manchester United at the moment. The table suggests that in any case. I would not say we were ahead of them. We might be fairly level in terms of points and results, but they have a lot more experience. That's the area where we need to make up ground, and we are doing.'
A home game against Barcelona will not do anything to retard the process, even if the already-qualified Catalans will not be at full strength or maximum urgency. Newcastle have a simple duty in front of a sell-out crowd. 'We don't want to end on a flat note,' Robson says. 'Qualification might be out of our hands now, but we can give our supporters something to cheer about. All we can do is just go out and say this match has to be won.'
Shearer will go along with that. 'You never know in football. It can be weird at times and we'll just have to hope it's weird on Wednesday. We might get through, but you would have to say it is unlikely. Even so, we have made great progress, it's been a fantastic ride and we should be all the better for it. We did not start off particularly well in the group stages, so it's great to get to the final game and still have something to play for.'

Paul Wilson