Bellamy Speaks
Cardiff-born Craig Bellamy told the South Wales Echo on Monday 25th June:

It's the best thing to happen to me in football to date. It's a massive club with fanatical supporters.
"I want to play the highest standard of football I can and achieve things in the game, and I believe things will start turning around for this club.
"I know another couple of players are in the pipeline to strengthen the squad and the club are determined to be successful next term.
"The move to Newcastle will make me a better all-round player and linking up with Gary Speed can only improve our understanding on international duty as well.
"When you have such quality around like Speed, Alan Shearer and Kieron Dyer, it can only enhance your own game.
"I just can't wait for the season to start."
Coventry fan Jonny Barton who runs the City website, LAST commented, "Just thought I'd let you know that we are all doing cartwheels here over the Bellamy deal!"
Bellamy Background: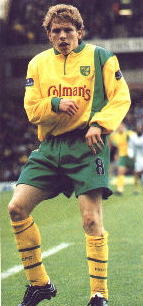 Cardiff-born Welsh international striker who hit 19 goals for Norwich in 98/99 despite a knee injury sidelining him for a month (being felled by Kevin Muscat of Wolves).

He was called up by Bobby Gould for his full Welsh debut against Jamaica in 1998, and he scored the winner when Wales beat Denmark 2-1 in Copenhagen in October of that year.

A cruciate problem the following season restricted his appearances to four games, and he had only recently proved his fitness with further Welsh caps against Brazil and Poland (both 0-3 defeats) when it became obvious that Delia Smith couldn't cook the Carrow Road books without cashing in on her prize asset (that's Bellamy, not her recipe for summer fruit flan..)..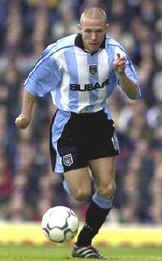 After being linked with moves to ourselves and Middlesbrough, he eventually joined Coventry in a £6.5m deal on the eve of the season, Highfield Road then being awash with cash from their hasty disposal of Robbie Keane. He managed 8 goals (6 PL) and featured in both games against Newcastle without scoring, or impressing.

Since Coventry's relegation the player has expressed his intent not to return to the Nationwide, and bafflingly referred to himself as the new Juninho in an interview.

I think it's fair to say that Bobby will earn his money if he turns the potential of Bellamy into reality, and that the player comes to united with low expectations from toon fans.

Biffa