TAPIBAW No 46 - Koge Boldklub (Denmark)


Three for the price of one this time out, as we focus on Danish club Køge Boldklub and their ever- changing kit.

Køge is a short distance to the South of Copenhagen and have high hopes of making it to the Danish Superleague (their equivalent of the Premiership), currently lying top of the First Division.)


TAPIBAW No 47 - Sleights AFC (England)


To the Yorkshire Coast now, and the boys from Sleights FC, who play in the Scarborough and District First Division alongside the likes of Fishburn Park and Filey Town.

We've been assured that their current lowly league position isn't as a result of the players over-indulging in the shirt sponsor's Magpie Cafe in Whitby (Special Fish Platter coming highly recommended.) Thanks to Ian Robson, proprietor of the Magpie Cafe and proud sponsor of the Sleights side as well as Newcastle's Stevie Harper!
TAPIBAW No 48 - Lindome (Sweden)
A reader writes "any reason why all of the TAPIBAWS have been male footie teams?" Yes. Simply that we've never come across a team of lassies wearing the famous shirts....until now.

Lindome is (we think) near Gothenburg and as well as a male team in the Swedish equivalent of Division Four has a thriving ladies wing or Damsektion. They also host the popular annual Lindome Cup for youngsters of both sexes, a competition attracting teams from all over Sweden.

TAPIBAW No 49 - Juventus (Italy)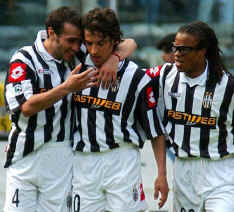 A timely appearance in the TAPIBAW archives for the "Old Lady" of Turin, who claimed the Italian Serie A championship on Sunday.

Messrs Montero, Del Piero and Davids are pictured above after the defeat of Brescia last weekend, that set up a three-way battle for the title on the final day.

However, while 40,000 Inter fans filled the Olympic Stadium in Rome, only to see their side crumble 4-2 at the hands of Lazio, there were no slip ups as Juve travelled to Udinese.

A large support from Turin saw their heroes triumph 2-0 in the Friuli stadium, which along with the Inter scoreline was enough to claim a 26th Scudetto.

Roma sneaked up into 2nd place thanks to a 1-0 win at Torino, but were unable to retain their title. They now go straight into the group stage of the Champions League, leaving both Milan clubs to face a two-legged qualifier

TAPIBAW No 50 - Penzance (England)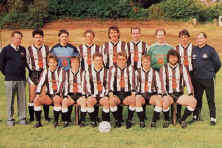 To the ends of the earth, or Cornwall anyway, as we bring up the TAPIBAW half-century with a regal wave of the bat and a raised helmet (!)

Our spotlight today falls on the Magpies of Penlee Park, a ground which itself is celebrating it's 50th anniversary this year, and which was opened in August 1952 by Sir Stanley Rous.

Penzance themselves have been in existence since 1888 and were founder members of the Cornwall FA. Their centenary season saw them play host to another side founded in 1888 - Glasgow Celtic, while Liverpool also visited for a friendly.

Currently in the Carlsberg South Western League, they secured a final finish in sixth spot, but like the rest of the league were no match for Champions St.Blazey, who went through the whole season unbeaten in league and cup competition - a remarkable achievement.