TAPIBAW No 51 - Stafford Rangers (England)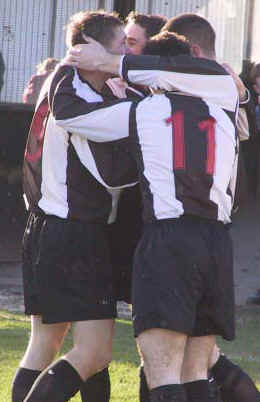 Although Stafford Rangers were founded in the 19th century, the period up to 1969 is a tale familiar to many non-league clubs, of different leagues and periods of inactivity when the club was disbanded.

However 1969 saw the team from Marston Road admitted to the Northern Premier League, and in the following decade they made three Wembley visits for FA Trophy finals, being victorious twice.

Since then it's been an up and down existence, with behind the scenes wrangling, financial disasters narrowly averted and a succession of managers through the door. They also managed to keep a hold of one Stanley Victor Collymore for a while before flogging him to Crystal Palace for 100k.

They're now in the Dr.Martens Premier Division and finished in 9th position last season. In typical style they've recently changed managers yet again and now have Stafford-born Phil Robinson at the helm.

Rather oddly, Stafford's nickname is the Boro.

TAPIBAW No 52 - Hahndorf Soccer Club (Australia)
After a bit of UK-based TAPIBAW action we're back on our global travels this time out, and our gaze alights on Hahndorf of the South Australian Amateur Soccer League.

While all TAPIBAWS and their players are most welcome, it's especially nice to see that Hahndorf have a fan of the real black and whites in their ranks - on the bottom right of our photo is striker Terry Kent, who submitted the following to the inevitable questionnaire/pen pic:

| | |
| --- | --- |
| FULL NAME: | Terry Kent |
| NICKNAME: | Tel |
| DATE OF BIRTH: | 6 May 1962 |
| PLACE OF BIRTH: | Newcastle UK |
| MARITAL STATUS: | Yes |
| PREFERED PLAYING POSITION(S): | Up Front |
| FORMER CLUBS: | Too Many |
| HAHNDORF SC SENIOR DEBUT: | 2000 |
| OCCUPATION: | Labourer |
| FAVOURITE PRO CLUB(S): | Newcastle Utd |
| MOST HATED PRO CLUB(S): | Sunderland |
| FAVOURITE FOOD: | Curry |
| FAVOURITE DRINK: | Shandy |
| FAVOURITE MUSIC: | Disco |
Quality stuff, and we won't be calling him a shandy-drinking pom, at least not to his face....

TAPIBAW No 53 - Flexsys Cefn Druids AFC (Wales)

With Gary Speed, Craig Bellamy and the rest of Wales having another blank summer devoid of World Cup fever to contend with, in our own small way we now seek to turn the spotlight on the temporarily forgotten nation by featuring a League of Wales club on TAPIBAW.

Formed in 1992 by a merger of local sides Druids United and Cefn Albion,
this is a quietly impressive small club. In a decade they've founded a youth academy, quality web presence and fanzine (The Ancient Druid - slogan "Left out of Wrexham and down a bit") as well as a Friends of the Druids club.

Late news: The prize fund for Play Your Cards Right in the clubhouse every Friday evening is now a minimum of £30, while the Open The Box jackpot has now risen to £70. Bingo remains in it's Monday night slot.
TAPIBAW No 54 - Fremantle United (Australia)
Since 1978 the Fremantle club have been competing at various levels in local and Western Australian leagues, and their senior side play in the Western Australian Premier Division alongside such luminaries as Floreat Athena and Perth Azzurri.

In addition they run no less than 26 sides at youth level, catering for both sexes from 6 to 17 year olds.

As can be seen from our image of one of the youth sides in action, Fremantle have grasped the value of actually having contrasting numbers that can easily be read. What a pity that a certain other side in black and white are incapable of making the same deduction.
TAPIBAW No 55 - Torquay United (England)
Many thanks to exiled toon fan Bev, who tipped us off about the new 2002-03 Torquay United away strip, here being modelled by the Plainmoor youth side.

Bev also tells us that this change of strip is in fact an echo from a previous age, when the Gulls were known as the Magpies in the 1920's and wore the famous stripes.

Mind, they still didn't win owt.