TAPIBAW No 66 - Dunbar United (Scotland)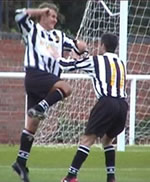 Dance yourself dizzy with the Dunbar defence...our never-ending quest to capture black and white clad gladiators from the across the globe takes us to the South Eastern coast of Scotland and the Seasiders of Dunbar United.

Hailing from New Countess Park, the lads compete in junior football, the tartan equivalent of non-league game - in Lothian East District Division Two to be precise.

And a 1-0 away win at Penicuik Athletic last week despite an epic eight added minutes by the ref kept them hard on the heels of league leaders Harthill Royal, who weren't in action.

And on dark nights local fans while away the time supping Belhaven beer, casting an approving eye over their award- winning programme and telling tall tales of their infamous former defender, Jimmy "Six Pies" Laidlaw. Gulp...
TAPIBAW No 67 - Highlanders (Zimbabwe)
By way of a change this time, we'll avoid the potted history of this club and instead include an extract from their latest match report, written by an ever-so-slightly carried-away reporter:
CHAMPIONS Highlanders finished the season in style by winning their last Castle Lager Premier Soccer League match at the dreaded Maglas Stadium yesterday.
Shabanie had declared total war against the Bulawayo side but were dealt a major blow by the right boot of Mkhokheli Dube in the 35th minute.
Needing nothing short of victory to finish the league as runners-up Chinda Boys dreams were shattered when Richard Choruma dribbled past Steven Matsaira and sent a low cross that was met with deadly precision by Dube.
The win by Highlanders left Shabanie fans wondering the best possible way of beating Highlanders. In their six outings from the 2001 season Shabanie have failed to beat Highlanders who have been the league champions for the past four years.
Highlanders nearly took the lead in the 19th minute when they won a free-kick outside the box and gifted national team midfielder Johannes Ngodzo let go a screamer that saw Shabanie goalkeeper Andrew Chisunga diving full stretch to punch his effort for a corner
In the see-saw encounter, Bosso were denied a comfortable lead by Chisunga in the 71st minute. Choruma's thunderous shot from Ngodzo's cross was tipped over the bar by the Shabanie goalkeeper with Highlanders fans jerked from their seats.
The introduction of Francis Chandida and Tichaona Mazanhi by Shabanie coach Solomon Kaseke midway through the second half changed the compexion of the match.
The duo played their hearts out troubling the Highlanders defence that missed the rock steady Dazzy Kapenya reportedly to be ill but the damage had already been done.
Referee Kenny Marange also had a bad day in the office as his poor officiating killed the flow of the game.
PS - we can only mourn the loss of former league clubs "Black Horrors" and "Go Beer Rovers", but glorify in current Highlanders opponents "Amazulu", "Wankie" and "Buymore."

TAPIBAW No 68 - Kinoulton Villa (England)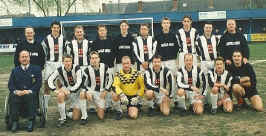 The murky world of Sunday morning football comes under the spotlight this time, in particular the Nottinghamshire Sunday Football League.

The village of Kinoulton sends out it's brave boys in the famous colours, but sadly their poor form has resulted in a certain lack of reports charted their progress (or should that be demise.)

Anyway they've tried to address that problem by advertising for a Director of Media (or jumped up press officer as they're known outside the Premiership) as follows:

"The successful candidate should have some knowledge of football but this is not essential as our beer bellied pitch side pundits can provide on the job training.

"A basic command of the English language would be useful although foreigners will be considered as no one reads the reports anyway so they might as well be in Chinese.

"This is an excellent opportunity which could lead to promotion into other areas of the club i.e. boot cleaner, water bottle filler etc..etc..

"The successful candidate should be prepared to travel and have his/her own transport. Any fit birds that apply will get the job automatically even if they are completely illiterate."
TAPIBAW No 69 - Montevideo Wanderers (Uruguay)
In our typically tardy fashion we turn to Uruguay and the Montevideo Wanderers one year on from their centenary celebrations.

The club was established on August 15th. 1902, and continue to wear the black and white, although being responsible for the national side adopting their light blue kit in 1910.
After decades of domestic success, Wanderers made their bow in the 'Libertadores de América' Cup of 1974 alongside the cream of South America's club sides. And going back to that centenary, a celebrational stamp was issued in 2002 featuring a suitably-dressed wanderer - dig them socks.....

TAPIBAW No 70 - Grimsby Town (England)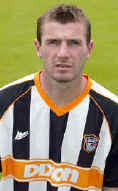 Once a proud wearer of the real black and white, former toon trainee and Geordie boy Alan Pouton has had to make do with this frankly poor effort at his current club Grimsby Town.

And after a depressing season at Blundell Park, the Mariners are now preparing for life in Division Two, where they could yet face a Lincolnshire derby with either Scunthorpe or Lincoln, who square up to each other in the upcoming Division Three playoffs.

The stripes will stay the same next season as Grimsby reveal their new kit, but unlike ours, Mariners fans are able to read the names and numbers of their heroes. What a good idea.....