TAPIBAW No 85 - Newcastle Boys (England)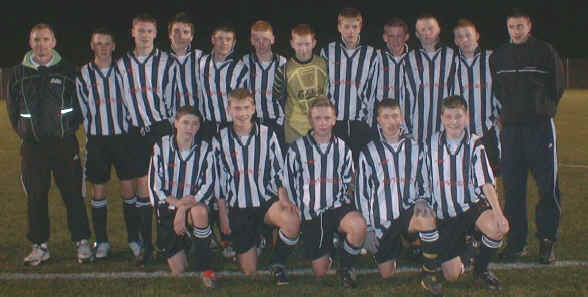 162 Association Teams entered the Under 15 English Schools Trophy this year, (the English Schools equivalent to the FA Cup).

Teams generally play other local Associations in the first two rounds and can then be drawn against any other team in their half of the country, (which is split into a North and South divide for travelling purposes).

Newcastle received a bye in the first round and then were drawn to play Sunderland at home in the second round. In previous years Sunderland had defeated Newcastle twice, although Newcastle has won the most recent contest.

In what was obviously a closely contested game (Sunderland being heavily fancied to do well in the competition) Newcastle dominated the first half and led 2 - 0. After conceding an early goal Newcastle pressed for the majority of the second half and eventually ran out 5 - 1 winners.

In the third round Newcastle were drawn away against Hartlepool and after a disappointing first half, marred by two defensive errors Newcastle led 3 - 2. A more positive second half, dominated by Newcastle allowed them to gain a 5 - 2 lead and they eventually ran out 5 - 3 winners.

The fourth round of the competition, involving the last 32 teams drew Newcastle away to Sheffield. (Sheffield have an excellent history in the competition, having won it four times in the last 14 years and been runners up twice in the same period).

The Sheffield team consisted mainly of academy players from both Sheffield Wednesday and Utd and clearly had high hopes of progressing through to the last 16. In a closely contested first half Newcastle took the lead midway through the half and looked to take control of the game when they scored a second goal midway through the second half.

Unfortunately Sheffield replied with a goal 3 minutes later leaving the game quite evenly balanced. The deciding goal went Newcastle's way in the 79 minute, with the final score being Sheffield 1 Newcastle 3.

Newcastle's reward is to play Liverpool in the last 16 of the competition. So far in this competition Liverpool (regarded by many as the favourites) have scored 14 goals and conceded none, having played all of their games away from home. The game is to be played at Benfield Park this Saturday, 24th January with a Noon kick-off.

The Newcastle team has continued to develop very well throughout the season, training together every week. They have been assisted by Newcastle United who have allowed them the use of their Academy for training purposes.
Without this assistance the team manager is sure they would not have progressed as far as they have. Hopefully Newcastle will continue to support Newcastle Schools in the future, especially with such competitive games on the horizon.

Newcastle squad: Liam Turnbull, Ross Davis, Ben Foster, Carl Paterson, Joel Potts, Tony Massie, Phil Courtney, Lewis Morrison, Anthony Hunt, Eddie Dines, Adam Pendlebury, Craig Walker, Mark Doninger, Patrick Leonard, Lee Novak, Darren Douglas, Adam Rowntree, Shaun Sager and Shaun Forster.


TAPIBAW No 86 Botafogo (Brazil)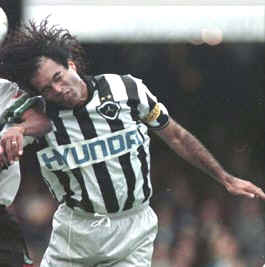 Traditionally one of the major clubs in Rio, alongside Flamengo, Fluminense and Vasco, the black and white stripes and shining star badge of Botafogo have been home to Brazilian legends such as Garrincha, Nilton Santos, Zagallo and Jairzinho.

And Newcastle United occupy their own small piece of the club's history (and ours) after we drew 0-0 with them in June 1983 at Toyko's National Stadium to win the Japan Cup.

Ironic to recall that Chris Waddle, now a regular on TV and radio for the BBC was a shy inexperienced youngster back then and after starring for the Magpies, hid in the back of the team bus to avoid the questioning of interested journalists - you wouldn't be able to shut him up now....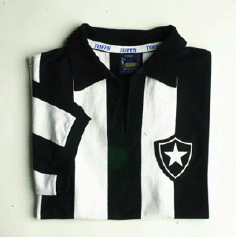 PS - one of the finest shirts in the TOFFS range is this Botafogo belter.
TAPIBAW No 87 - Maidenhead United (England)
Another set of stars in stripes, this time it's the Magpies of Maidenhead United, presently occupying a mid-table slot in the Ryman League Premier Division.

And their York Road home is now officially recognised as the oldest continually used football ground in the world, after Northwich Victoria's record bit the dust.

Former Wycombe Wanderers midfielder Martyn Lee is pictured here in the thick of the action for the Magpies, who are currently managed by Alnwick-born ex Luton & Bradford defender John Dreyer.
TAPIBAW No 88 - Glipton (England)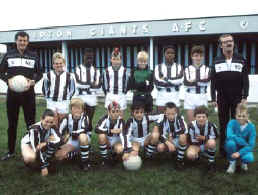 Perhaps better known under their screen moniker of "Jossy's Giants", Glipton were a struggling bottom of the table side when Joswell 'Jossy' Blair (brother of Tony) took the helm - a child prodigy who sustained a career-ending injury on his debut for Newcastle United.

The fictional side's rise from mediocrity was televised on BBC over five episodes in 1986, with a further five episodes the following year, when femme fatales such as Noleen, Shaz, Lisa and Opal began to divert the attention of the Giants from the round ball game.
And you thought "Footballers Wives" was a 21st century creation.....

Jossy's Giants was the brainchild of darts big-gob Sid Waddell and featured unknown youngsters with no acting experience - one of those did go on to have minor parts in grown-up telly, Tracey Gaunt alias Julie Foy later appearing in Coronation Street as Sally's sister Gina (once getting caught in a compromising position with Martin Platt...)
And we're delighted to confirm the lyrics of Jossy's Giants for you, which we understand has been recorded for a future single release by Radiohead.
Jossys Giants

Swapping their homework for footwork,
Kicking the ball till its dark,

Here go Jossy's Giants,
Footballs just a branch of science,
Head the ball, now Jossy calls...

Jossy's Giants!!??

Dependable, Reliant
Put your faith in Jossy's Giants
Get stuck in, we're gonna win...

Jossy's Giants!!

TAPIBAW No 89 - Notts County (England)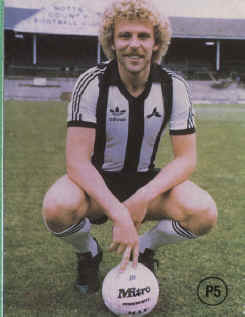 A sad time at which to turn the spotlight on the oldest professional football club in the world (which begs the question who they played their fixtures against) as Notts County have been relegated to Division Three.

As a reminder of happier times at Meadow Lane though, here's a fresh-faced Brian Kilcline in a plain and simple Magpies kit, unadorned with adverts or the daft yellow piping that has defaced Nott's kits in more recent seasons.

It's sad to see one of the more venerable clubs struggling so much and sobering to remember that they beat us home and away in Division One with comparative ease as recently as season 1990/91. It's fair to say the fates of the two Magpie clubs have differed radically since then...