TAPIBAW No 6 - Eastwood Town (England)


To the depths of Nottinghamshire and Eastwood, the birthplace of the author DH Lawrence.

There you'll find the Badgers of Eastwood Town resplendent in black and white stripes, and managed by Newcastle fan Bryan Chambers. Our photo shows club captain, Phil Gould, presumably on a windy day...

TAPIBAW No 7 - Northallerton Town (England)
While most of the rest of the nation was witnessing the final act in the pantomime "Keegan & The International Beanstalk" a select band of idiots including your correspondent were witnessing the real clash of the titans - Northallerton 4 Whickham 1 in the Northern League second division.

Despite the appalling conditions, the two teams served up a cracker to reward the meagre crowd for their appearance.

Our photo shows Neil Duffy, who in his career at York City, Ryhope CA and Willington could surely have learned how to iron his shorts...


TAPIBAW No 8 - Rabat Ajax FC (Malta)
Our man PJ (not the one out of Ant and Dec though) has been busy again, and serves us up this beauty from the holiday isle of Malta, where Ajax are nicknamed the Magpies.

Rob Asciak and Keith Fenech are pictured practicing their defensive wall duties, although Keith was absent from last week's 3-1 loss to Birkirkara, as was the sponsors logo seemingly.... (we have been informed that the tradition is to have the logo on the back or both front and back if you're lucky).




TAPIBAW No 9 - Borlänge Kickers (Sweden)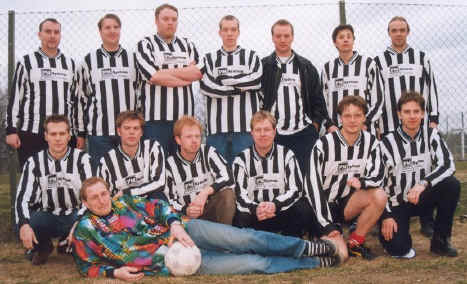 Courtesy of toon fan Patrick Persson, we're honoured to host the 14 good men and true of amateur side Borlange Kickers.

The brief but meteoric success of the Kickers since their formation in 1999 has been temporarily halted, after their 5-0 humiliation by Momentum, but a good win was recorded against Ambulansen, to put the lads in good heart before the clash with the infamous Romme Bad Boys - we'll try and bring you score/casualty updates from that game...

TAPIBAW No 10 - Atletico Mineiro (Brazil)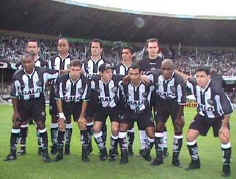 One of a number of clubs competing for support in the Brazilian City of Belo Horizonte, Mineiro share a 110,000 stadium with rivals Cruzeiro. Our photo shows the lads before one such local derby, adopting the familiar "team shot/knee injury" pose.