TAPIBAW No 16 -
High School Old Boys' Masters team - Over 35's (New Zealand)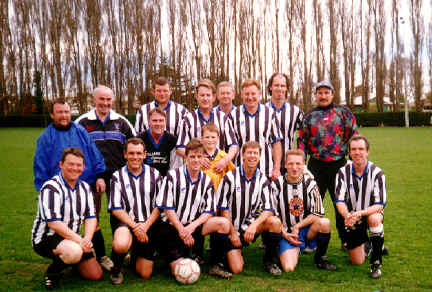 Thanks to Malcolm Baxter, the only one in correct team photo pose, with limp wrist draped over knee - bottom right. Fellow geordie in the toon top next to him is Alan Ord, while the rest of the crew are locals and a scouser, manc and jock who someone presumably felt sorry for.....

The HSOB lads train at St. James' Park, Papanui, Christchurch, which makes 5 SJP's we know of: The toon, Exeter, Alnwick, Christchurch and London SW1 (which is the only one Biffa ever graced with his silky hacking skills). Any more ???


TAPIBAW No 17 - Landskrona BoIS (Sweden)
And you thought Ketsbaia had sloped off to the Black Country to continue with his own lunatic brand of football....step forward Christian Hansson, who is apparently:

Tuff och hård back, bra i man mot man situationer.

You can't say fairer than that...

TAPIBAW No 18 - Fraserburgh (Scotland)
Our never-ending circuit of Worldwide toon lookie-likies rolls up to the gates of Bellslea Park, home of Highland League Fraserburgh, or The Broch to the initiated.

Situated some 40 miles North of Aberdeen, the Broch have seen their local rivals Peterhead ascend into the Scottish League, but with only two wins in their last ten games aren't in the best of fettles.

It's appropriate that they get their place in the TAPIBAW Hall of Fame though, as they originally wore black and white shirts in the 1890's which had been obtained from Newcastle United by a local fishmonger!
TAPIBAW No 19 - Richmond Kickers (USA)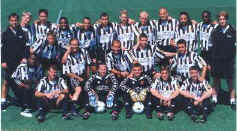 These happy laddies are an A-League feeder club for our old chums DC United as well as the Tampa Bay Mutiny, and are looking forward to their first game of the season on April 1st.

Their opponents in an "exhibition" match (i.e. a friendly) are MLS big boys Dallas Burn, who visit the University of Richmond City Stadium in deepest Virginia.

TAPIBAW No 20 - Tow Law Town (UK)
| | |
| --- | --- |
| | Forever linked with the name Chris Waddle, the Lawyers from Ironworks Road (possibly the coldest ground this side of Kiev) are pictured on their big day out at Wembley in 1998. Unfortunately they lost their FA Vase final to Tiverton by the only goal of the game. |
Biffa