TAPIBAW No 21 - Heracles (Netherlands)


Currently playing in the Dutch First Division alongside Den Haag and Helmond Sport (our pre-season opponents in 1999), Heracles were previous League winners way back in 1927 and 1941.

They play in the modern all-seater Polman stadium, and number Scott Calderwood among their ranks, formerly of Birmingham City. The marvellously named Tom Kaak was also a Heracles player before joining Darlington at the start of the season.




TAPIBAW No 22 - Eendracht Aalst (Belgium)

Crossing the border across to Belgium and we come upon the black and whites of Aalst, pictured here in a recent game against Bruges.

The lads play at the Pierre Cornelis and also rejoice in the splendid nickname of "the Onions" and feature a player called Warry Van Wattum - bet Jonathan Ross is looking forward to saying his name on that crap old sports quiz he does....
TAPIBAW No 23 - CD Badajoz (Spain)
| | |
| --- | --- |
| | Our first foray into Spain, and the good citizens of Extremadura welcome us to the Nuevo Vivero ground of Club Deportivo Badajoz with what looks like a very large draughts board.... |
| | |
| --- | --- |
| | The Badajoz kit just about comes under our TAPIBAW category, but it's more black and white stripe rather than stripes... |
TAPIBAW No 24 - Dynamo Zizkov (Czech Republic)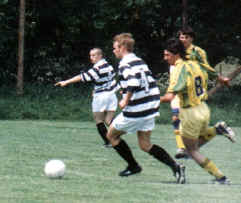 The Velvet Revolution that swept Havel into power changed the very fabric of the Czech Republic, and thus allowed the creation of a Prague-based football team dedicated to the twin ideals of sporting excellence and drink.

Any team that is founded by a toon fan, a sussex seagull and some geezer from Millwall is bound to have some "history", and so it is with our intrepid band.

Many details have been lost in the mists of drink, but a cat called gromit, contracts signed on a "pints per goals" basis, and murderous deeds perpetrated against dreaded rivals IFC litter the pages of Dynamo's history.

Staropramens aal roond....

Thanks to Will for this one.
TAPIBAW No 25 - LASK Linz (Austria)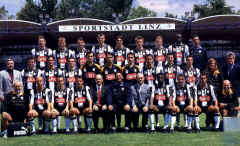 Having endured an even worse season than us (finishing bottom of the Austrian Bundesliga), manager Hans Kondert is under pressure from the dwindling crowds at the Linzer Stadion to improve matters next time out.

Looks like is not just Die Schwarz Wielsen (the black and whites) who will be under pressure next season....
Thanks to Jon O' for this one: