You may recall our eagle-eyed spotters saw that Dirty Don Hutchison's shirt details weren't quite right when he made his final appearance for the mackems at Gallowgate in the derby match.




However, the conspiracy theorists among our readership contend that the turncoat actually wore another shirt in the later stages of the game, presumably when news of West Ham's decision to pay him the ludicrous lucre he demanded was conveyed to him at pitchside......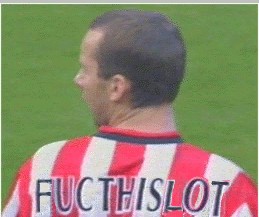 Most mackems remained blissfully unaware of these goings-on, being too busy shouting about Alan Shearer to take much notice of their own team. That's the ones who can read at all, of course....

Thanks to Martin H.