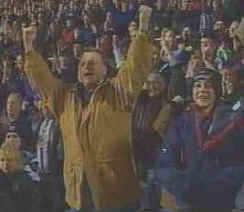 Next up is this jubilant Geordie celebrating the Shearer penalty that made it 5-1 against Spurs in the FA Cup Replay at St. James' just before Christmas 1999.
We've had four names suggested for the brown coat wearer:
Kevin M from West Yorkshire claims it is him. David D reckons it's his brother Kevin D, Gordon H wrote in to say it's Jeff S from Whitley Bay and finally NUFC.com's moral conscience, David R thinks it could be him (not fat or gypsy-like enough we reckon). Still nothing on the identity of the youngster who looks like one of Fagin's street urchins...
The Face in the Crowd Archives can be viewed here
Send your entries to us at: face@nufc.com

Back to Main Page