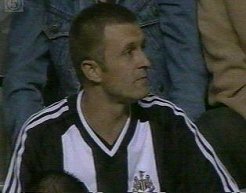 Face no.8 was captured at the Troyes 4-4 game, caught by the Channel5 cameras at half-time.

Presumably they were on the lookout for a new front man while they explained to the current one that Bobby Moncur doesn't actually look anything like Alan Foggon and never did....

He was identified as Jay Crow by none other than his lass.
The Face in the Crowd Archives can be viewed here
Send your entries to us at: face@nufc.com

Back to Main Page