France. For many of the baby boomer generation, this was a first taste of abroad (unless you're of the fundamentalist persuasion holding with the belief that anything past Durham is a foreign land.)

Before the days of the Tunnel, a new world across the channel was opened up to school parties and student backpackers via Sealink hovercraft and Townsend Thoresen ferries.
Evocative and mysterious place names abounded, which, along with half-remembered TV clips of holiday programmes, conjured up visions of a strange and exciting land. With garlic. And berets.
In reality though, that day trip to Boulogne was about on a par with Redcar and that romantic weekend in Paris only succeeded in emptying wallets whilst that packet of three remained frustratingly unopened.
To sum it up, the idea of France seemed so much better than the reality, with perseverance required to reap any satisfaction. Accept the flaws and reward often follows, but for every perfect day there seems to be the memory of a surly waiter, manky hotel or some other let-down to spoil the view. And we've not even mentioned the war….

When considering the representatives of France who've made their way to Tyneside over a decade of Premiership participation, it's tempting also to conclude that they've embodied those national characteristics, occasionally to our delight but more often to our frustration, annoyance and bewilderment. The annoying thing though is that we seem to be fated – compare our gallic roll call for example with that of Arsenal.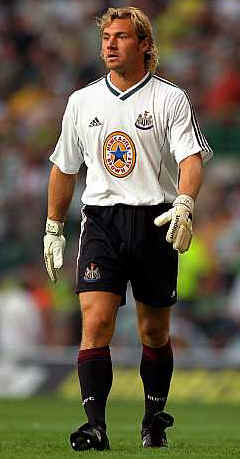 Enough chat, let's tell part one of the sorry story and begin between the posts with Lionel Perez. This scruffy bugger was the nearest we've come so far to signing a character from The Simpsons, Sunderland's Krusty the Clown (with a touch of Smithers tossed in, allegedly...)

Rumours persist on Tyneside that the free transfer of Perez to United was actually due to a drunken wager between Kenny Dalglish and old Monkey's Heid. There are many other rumours but our legal fighting fund isn't of Private Eye proportions.

Aside from a pre-season penalty shootout victory over the smoggies, the most useful thing Lionel ever did in Newcastle colours was move into his new home on the outskirts of Cambridge wearing a tatty toon benchcoat, after we packed him off to the Abbey Stadium (and even paid his wages there.)



Perez has now ended up with non-league Stevenage, which seems appropriate given our loathing of the preening posturing ponces from Broadhall Way.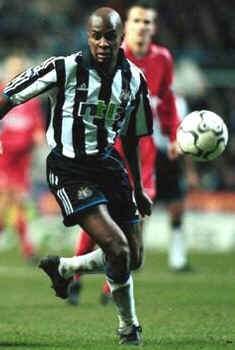 Moving into the defence and the one and only Didier Domi, who arrived full of praise for the region - claiming that he didn't want to move to a London club because the city was too big and he'd get lost in it. Newcastle though was just the right size for him, although in retrospect moving a devout muslim into a Quayside flat wasn't the cleverest move.

Fifty-five starts and four goals later, Domi had avoided playing in our 2000 pre-season tour of the USA through a dubious injury and then promptly retreated back to Paris, claiming that local journalists and "godless" fans had made his stay on Tyneside intolerable. The poor love still cashed his paychecks though.

We managed to sell him back to Paris Saint Germain for £3m, one million less than we paid but unfortunately went and blew half of that wedge on Wayne Quinn – even though he looked awful when on trial. Scratch cards would have been a better investment.

Last season Domi returned from the obscurity of the PSG shadow squad to play his part in putting Leeds into Division one - we knew he'd come good one day. He's now secured his dream (free transfer) move from Paris to Barcelona, but unfortunately for him that's the City not the club, as he's signed for Espanyol.

Next to Domi came David Terrier or David Who, as he was known to those poor wretches who frequented our reserve games at Gateshead Stadium in 1998.

After having failed to make the grade at West Ham, Terrier looked like returning to Metz before Kenny Dalglish inexplicably signed him on, then never had the brass neck to play him in the first team, preferring to blood the likes of David Beharall.
Instead he toiled alongside such famous names as David Eatock and Ralf Keidel in front of handful of disinterested diehards before finally being kicked out when we suddenly realized he was still on the books.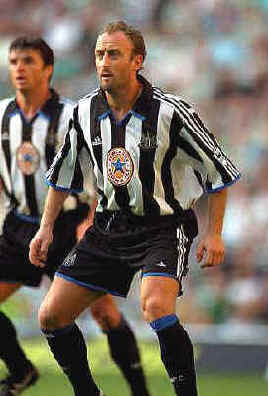 Someone who made slightly more of an impression was Franck Dumas, a rugged defender (liked to kick people) signed by Gullit who lamped one fine effort in at Stoke in a pre-season kickabout when Gullit pulled on his boots to try and sort his stuttering side out at first hand.

And although he only played seven games, Dumas seemed to settle in quite well despite looking disturbingly like stumpy telly cook Anthony Worrall-Thompson.

Again though Dumas was another one to suddenly up sticks after deciding that life in NE1 wasn't as glamorous as back home.

He didn't manage to engineer a return to either Monaco or Marseilles though, ending up instead at Racing Club Lens – think Ashington, with baguettes. And pits.

The hopes, aspirations and disappointments of this quartet though pale into insignificance when the name of Stephane Guivarc'h is mentioned.


The 1994 World Cup had brought us Philippe Albert, after Kevin Keegan wrote the Belgian's name in his battered school jotter while tuning in to his battered portable. Four years on and his successor Kenny Dalglish embarked on some widescale team rebuilding and French striker Guivarc'h was procured from Auxerre £3.5m while the player was representing his country at home in the World Cup.

At that time Guivarc'h was derided by telly pundit Ruud Gullit for being an artisan amongst a squad of artists. However, by the time he made his league debut for us, the Dutchman was sitting in the Milburn Stand having been confirmed as our, and Stephane's new boss. It didn't augur well.

Unlike his somewhat fitful contribution to France '98 though, Guivarc'h did manage a goal on his debut at home to Liverpool.
Unfortunately Michael Owen managed three in less than quarter of an hour as we were blown away 4-1 and unbelievably it was downhill from then on for wor Stephane……


His lowest ebb came when dropped from the side before a League Cup match at Tranmere in favour of Paul Dalglish. Toon fans drinking that night in the "Mersey Clipper" adjoining Prenton Park were amazed to find him mooching disconsolately in the car park - a far cry from the winners podium in the Stade de France less than four months previously. And he didn't have his medal with him, as one scally asked.
Aside from that Liverpool debut, Guivarc'h made only one more league start as we won 5-1 at Coventry but he failed to get on the scoresheet. Two sub appearances were also accrued, one in the home defeat by Aston Villa that saw Uriah Rennie's disgraceful red card for Shearer and an away defeat at Spurs.

That miserable afternoon at White Hart Lane saw Stephane jeered by disconsolate traveling Mags as he warmed up, in stark contrast to the opposition centre forward who was applauded before the game and again when he limped from the action barely 20 minutes later. His name? Les Ferdinand.

Whether Guivarc'h appreciated what was going on is doubtful, but to Newcastle fans it was quite simple – we'd had a perfectly good player who was as liked as he appeared to like wearing the black and white shirt (and by jingo he looked good in it.) Yet he'd been packed off along with the likes of Steve Watson, to be replaced by plainly unsuitable imports like Guivarc'h and Charvet – of which more in part two of this article.

We packed Stephane off to Rangers and allegedly recouped our dosh while he won some silverware, but he seemed no happier and ultimately twisted his face until the Gers let him return home to Auxerre.
History may have been against Guivarc'h, but like many of his compatriots who filled their wallets at our club, he could at least have raised a gallop before hoisting the white flag.

Tune in next time as we reach C in our Gallic rollcall – C being for Charvet….and cowards. Au Revoir, as they say in Shilbottle.