A whiff of Gauloises, a sup of Pernod and here we go again with Part Two of our Gallic roll-call, a meander through the recent history of French footballers at Newcastle United.
And this time out, we've turned our attentions now to a pair of players who at least gave us something for our Euro before slipping off to join Manchester City in varying circumstances.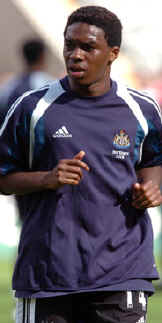 Before that though, we should mention our newest arrival from across La Manche, or Le Havre to be exact. Charles N'Zogbia was one of Sir Bobby's final acquisitions, much to the chagrin of his home club, who believed they had the 18 year-old left-sided midfielder tied to them under French Law.
However, in an echo of the signing of Olivier Bernard from Lyon, we argued to FIFA's satisfaction that forcing the apprentice player to remain in France on a professional contract amounted to a restraint of trade.
N'Zogbia joined up with United in pre-season on a trial basis and impressed reserve coach Tommy Craig with his touch and vision when playing at both full back and midfield in practice games. A contract was duly agreed and N'Zogbia's formal bow in England took place in a reserve match at Molineux in early September.
Within 72 hours however, the latest owner of the number 14 shirt once owned by compatriot David Ginola was making his first team debut, selected and blooded against Blackburn in the one game that coach John Carver oversaw during his caretaker stint - new man Souness being officially on gardening leave and watching from the back of the stand.
However, this is a purely statistical observation and Souness will have learned little of his new protégé from this debut. N'Zogbia appeared off the bench well into the third minute of added time, made his way across to a left wing berth in the shadow of the East Stand and then unsuccessfully stretched for a loose ball before the final whistle blew.
Total time on the field - around 10 seconds, total number of touches of the ball - none.
Precisely why we chose to do this is unclear, but with threatened legal challenges from France via the Court of Arbitration for Sport, presumably we wanted to make the youngster a bona-fide professional as soon as possible and settle the compensation claim with his former employers.
Should he never feature for us again at first team level, N'Zogbia's cameo appearance will surely be some sort of club record - but at least he'll have spent more time on the field for Newcastle than either of his fellow countrymen Lionel Perez or David Terrier.
Back to the history then and when we beat Chelsea 3-1 on Tyneside in May 1998, few amongst the home crowd paid much attention to a second balding French defender in the visitors line-up alongside the more familiar Franck Le Bouef - to be honest most of us were straining to hear the unintelligible nonsense manager Kenny Dalglish was spouting over the PA about winning the cup against Arsenal a couple of weekends after…..
He made an impression on Kenny that day though and within a matter of weeks we'd signed that player after Chelsea opted not to make his loan move from Cannes permanent and we stepped in to take Laurent Charvet to Tyneside, for just over half a million quid.
Hardly had Charvet settled into our back four and made a quick but unsuccessful return to Stamford Bridge than the man who signed him for the Blues, Ruud Gullit, moved north to join him.
A moderately successful season followed, the highlights of which were a goal away on Smogside in a 2-2 draw and a rather less memorable afternoon at Wembley when Charvet returned from injury but failed to prevent Manchester United romping to a 2-0 success in the Cup Final.
Unfortunately for Charvet, the managerial carousel was on the move again and in came Bobby Robson, who plainly didn't fancy him and made it known that he was available for any half-reasonable offer.
However, it was over a year until Joe Royle persuaded the Manchester City board to fork out £1m for Charvet, during which time he returned to the side occasionally when we were short-handed, featuring in both UEFA Cup ties against Roma - unfortunately being penalised for a trip in the away leg that led to the only goal being scored via a penalty.
It was another penalty incident though that provided a late high point in his United career, barely a month before he left the club. An early season midweek game took us down to Highfield Road and a 2-0 win was registered, the three points actually taking us back to top spot in the Premiership. Charvet's contribution was to keep at bay a home attack boasting a certain Craig Bellamy and also find time to sneak upfield and belly-flop in the box with sufficient conviction to make referee Alan Wiley point to the spot.
Up stepped Alan Shearer to register his 200th career goal in the league and we were on our way, just as Charvet was after another impressive afternoon a few weeks later when we held Manchester City at bay in a 1-0 win at Maine Road.
That afternoon Charvet teamed up with debutant Steve Caldwell, a half-time replacement for the injured Griffin. His industrious display was noted by Joe Royle, who acted quickly to sign him but unfortunately (for City) had also done the same barely a month before when giving us £2m for Steve Howey.
He might have got away with one of them, but both Charvet and Howey couldn't make up in skill and endeavour what they lacked in mobility and paced. Charvet's debut for City came at Highbury and resulted in a 0-5 loss, albeit with a ten-man City side for over half of the game.
24 appearances later and after several injuries, Charvet was on his way back home, joining Sochaux in January 2003, where we believe he still is - aged just 31.
If Charvet though was a no-risk purchase who played decently for us and was sold on for a profit, another player who departed from St.James' for the blue half of Manchester is rather less well-remembered and continues to be abused whenever the sides meet.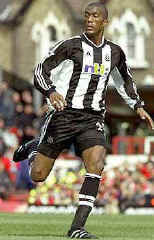 Sylvain Distin arrived on Tyneside with a fine reputation and a Champions League pedigree from Paris St.Germain in a loan deal, making his debut in the final few seconds of an eventful 4-3 victory over Manchester United on Tyneside and like Charles N'Zogbia not getting an actual touch of the ball.
34 more appearances followed for the club, during which the left-footed player displayed good skill in the air and a good turn of pace for a big man - things we'd being sadly missing in the defence. An eventual fourth-place finish confirmed Champions League football.
However, Distin appeared to possess all the attributes a professional footballer needed, apart from any shred of loyalty or devotion to the cause. Having turned down a move to Bolton before following Laurent Robert from Paris to Newcastle, we believed we had first choice on a permanent move, only for the player to stall on signing the agreement.
That then prompted press speculation that he was being hawked to the highest bidder and as the season drew to a close, claims were made that among others, Bolton (again) and Blackburn were being sounded.
Eventually though Distin opted to sign for Kevin Keegan's newly-promoted Manchester City side, claiming that the fans only knew one side of the story and Newcastle were at fault for not concluding the deal satisfactorily. There again he also claimed he'd gone to Man City to win things, so the poor chap was obviously a mite confused all round…..
That deal was to have two nasty stings in the tail for us though - in his home debut for City, Distin faced Newcastle who played like drains and lost, amid 90 minutes of sustained abuse from the toon contingent directed at the mercenary defender - one greedy basket I think they shouted.
His replacement also played for us that day - Titus Bramble. 'Nuff said.