Picking up where we left off, our third episode deals with two more of our baker's dozen-worth of imports through the Tunnel, who are both due back on Tyneside in November with their latest employers.
Getting us underway this time out, we'll start with another of the flock now plying his trade elsewhere in a rather different arrangement of black and white from that which we first saw him in.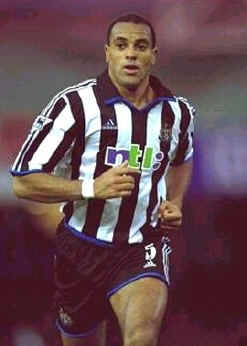 Like most of his fellow countrymen, Alain Goma arrived on Tyneside in 1999 amid high expectations, having been acquired from our unofficial French feeder club Paris St.Germain at a cost of £4.7m by Ruud Gullit, to form half of a new £10m centre back pairing with Elena Marcelino.

Unfortunately, by the time Goma had decided that life in the region didn't match the description provided to him by a certain Dutchman (who proved to be somewhat lacking in understanding himself) we were in dire need of decent defensive reinforcements, Marcelino having wimped out in spectacular fashion.

A great time then for Goma to start whinging about life not being very nice round these parts, while plaguing the club's medical staff with numerous minor strains, pulls and ailments that combined to make him unavailable for active service on a regular basis.
And after struggling to the 40 game mark for us, he flounced off to join Fulham, who apparently matched his desire, hunger and ambition. Or maybe just offered him more money.

Annoyingly, he'd belatedly started to play to the potential shown in his early days, with one pre-Xmas display at Filbert Street particularly noteworthy for his part in a gutsy team performance that even included worthy contributions from Dyer and Bassedas.

However, at almost the same time as the first recorded Alain Goma song was being aired by the travelling United supporters, he contrived to strain a calf muscle and limped from the fray to great applause. Bloody typical.
The end came some four months later within days of an away game at Goodison Park. Goma returned to the squad after injury, having played the previous week in a home defeat to Manchester City, which came hard on the heels of a desperate collapse at Charlton which brought about some savage criticism of the players from pressmen, manager and punters alike.

The players grouped together for their meal and amongst the older members of the squad, talk turned to the possibility that ex-Mag Duncan Ferguson could make a comeback from yet another injury setback and that if he did, that whoever made up the Newcastle defence would be in for a bruising afternoon.

What happened next is uncertain, but it seems that in straining to reach a bottle of mineral water or twisting awkwardly when slicing into a baguette, Goma inexplicably incurred an injury, which tragically was to rule him out of contention for the game.

In his place came Steve Caldwell, who endured something of a torrid afternoon and conceded a dubious late penalty to earn Everton a point in a 1-1 draw, but didn't have to face the feared Ferguson – who had failed a fitness test.

By the time we faced Bradford City in our next away game, Goma was a Cottager and in his place was Andy O'Brien, arriving from Valley Parade for a million quid – a fifth of the cost of Goma and with five times as many guts and as much gumption.

Almost inevitably, once safely out of the area, Goma allowed a gust from the mistral to waft though his slack jaw as he rubbished his former employers in a style similar to Domi a few weeks before him and Distin the following year.

While others complained that training at United under Robson wasn't tough enough, Goma compared it to an army camp, suggesting he'd been spending those days when he wasn't fit enough to train with his toon team mates by watching re-runs of Bilko on satellite TV…..

His bellyaching hit a raw nerve with the Newcastle chairman though and Fredy Shepherd responded in kind with some vitriol of his own:

"Goma accuses us of lacking motivation and ambition. Well, that's rich coming from a player who played only 39 out of 85 possible games for us.
"I know the figures because I've had them looked up. He played less than 50 per cent of our games through injuries. That meant he cost us twice as much in wages.
"Does Goma think Fulham are a bigger club than Newcastle United? Well, if he can't hack it up here he can go. If he can't play for a manager like Bobby Robson and fans like ours, he's got a problem."
"I don't know if it's a coincidence but Goma, Domi, Dumas and even Ginola at the end couldn't stick it up here. Maybe that tells us something."
Brave words - from a man who signed Laurent Robert 5 months later…..
In his defence and unlike Distin, Goma at least had the partial excuse of wanting to live his life in the bright lights of the South East, rubbing shoulders in over-priced clubs with his Highbury compatriots as opposed to fighting to get served in Julies.
But once again, we were entitled to feel short-changed by another player now assured of abuse whenever he faces us. It'll be many, many years before the half time hero is this deserter – and if he was invited, he'd probably not make it past the Milburn reception without pulling something.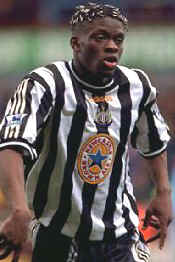 While Goma and Distin continue to appear regularly against us and get le bird, there's another ex-toon player who plies his trade in our league and has scored regularly against us, but whose presence provokes no reaction at all from the toon fans – Louis Saha.

Some more recent converts to the black and white cause may not be aware that the Manchester United striker was once a Magpie, but his six starts, six sub appearances and two goals are now the stuff of legend in some circles, provoking fierce debate whenever his name is mentioned.

In the early months of 1999, we were in the lower half of the league, with only an FA Cup run to alleviate the tedium of some shockingly average matches both home and away. The side was riddled with inconsistent players who failed to live up to their billing, as the likes of Andersson, Maric, Georgiadis and Ketsbaia were all occasionally inspired (well, perhaps not that Greek arse) but flattered to deceive and regularly went AWOL on the field in away games – most notably within the M25 area when a tin pot was at stake.

So, when an unknown 21 year-old Frenchman arrived on loan from Metz with undoubted potential but a diminutive frame that didn't appear to lend itself to the domestic rough and tumble, only those with 20/20 hindsight can now claim to have seen signs of the player that went for almost £13m five years later.

Certainly Ruud Gullit didn't – and when Saha went back to his native France that summer, his departure wasn't mourned and only the inclusion of a belting goal at Blackburn in the cup ensured his name didn't fade completely into the ether.

But while we may have missed out on a goalscorer at the time when we were desperate for someone to assist Shearer, the hissy fit that Saha pulled in conjunction with his agent when the call came from Old Trafford have ensured that his return visits to Fulham are greeted with as much derision as respect from the Craven Cottage faithful.
Had we signed him on, we'd no doubt have much the same opinion of him – only Newcastle would have been a few million quid better off; money we'd doubtless have squandered on more exotic talents….