After having dealt with our other eleven French imports in previous episodes, we'll now turn to our final pair, both of whom have passed the century mark of first team starts, but who each look as if their time on Tyneside could soon be drawing to a close.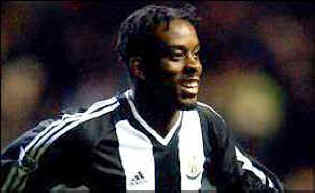 In the case of our longest serving Frenchman, 25 year-old defender Olivier Bernard, it's almost a case of déjà vu as he seems to have set his sights on leaving United for pastures new, regardless of what he's offered in the way of an improved deal.

Contractual talks that began during the Robson reign remain unresolved now that Souness is in toon, with an increasing inevitability now that he'll depart when he becomes a free agent at the end of the current season.

There's also a suspicion that he's already mapped out his next move – as seemed to be the case back in 2002, when a contractual dispute with the Magpies led to allegations of "tapping up" on the part of Glenn Roeder's West Ham.

On that occasion a settlement was reached, when United successfully proved that they had the player under contract and the player then inked an extended deal to remain at St.James' Park.

Both Bernard and West Ham claimed innocence and doubts were cast over the role of agents, who looked to have been illegally touting the player round other clubs.

That episode marked the second occasion that doubts had been cast on Bernard's eligibility to be a Newcastle player, his arrival on a free transfer from hometown club Olympique Lyonnais in September 2000 being shrouded in doubt, as the French cried foul over the move.

Legal wrangles were eventually resolved in our favour, but that and an injury sustained in a training match saw the player unable to kick a ball competitively for his new club until he lined up for our reserves against Liverpool at a chilly Knowsley Road, St.Helens in December of that year.

A first team debut followed three months later – but not for Newcastle, as a loan deal agreed between Bobby Robson and then-Quakers boss Gary Bennett saw Bernard heading down the A1 to Third Division Darlington – a club that had escaped his attention before he was shown where it was on a map, just before he set off to join them…..

In retrospect, the ten games Bernard played that season were pivotal in establishing him as a professional footballer in this country, as a taste of life in the lower leagues seemed to wake him up to the fact that greater efforts were required if he was to make the grade in the Premiership and not eke out an existence at the likes of Bootham Crescent – the venue of that Darlo debut.
The following season saw Bernard break into the United first team, initially as a substitute in the Intertoto Cup, then in another abortive League Cup campaign.

Then after two Premiership outings from the bench, he replaced the absent Robert in a home game against Blackburn Rovers, almost a year to the day since that reserve debut. At that point Bernard was still a left-sided midfielder and marked the occasion with a well-taken goal, as Newcastle ran out 2-1 winners.

For the rest of that season he featured regularly in the first team squad, other than the aforementioned fallout. And by the start of 2002-03, had assumed the now-familiar left back role, the first Premiership match seeing him play there as….guess who? West Ham were thumped 4-0 at Gallowgate.

He's been there even since, contributing another 6 goals and pushing our only other genuine left-sided defender Robbie Elliott to the fringes of the reserve side – until his re-invention this season as a central defender.

Unless this latest bout of brinkmanship ends with a new contract agreement at United, Bernard is free to talk to other clubs come January and it remains to be seen whether Souness will allow him to remain a part of his first team pool or try to replace him in the transfer window.
Precisely where we will find another proven Premiership performer in his position from though remains to be seen – given the problems we had recruiting a right back last summer and the unconvincing displays of Stephen Carr before his latest knee injury, recruitment is an unenviable task.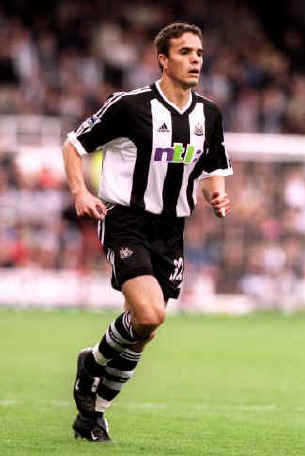 Also seemingly on his way out of Tyneside is Laurent Robert – although with a lucrative contract running through until 2006, he may not be in as much of a hurry to pack his bags as his regular pronouncements in the French media would suggest…..

In many ways Robert has proved to be the ultimate enigma in a black and white shirt – having an effect on fans akin to that of Tino Asprilla or his compatriot David Ginola – brilliant one minute, utterly frustrating the next.

While there are those who despise him and others who adore his every shimmy, the largest group of supporters lie in the middle ground, still waiting to be thoroughly convinced about the man from Reunion Island.


But given that he turns 30 on FA Cup Final day this season and has been with Newcastle since August 2001, it's a long time for a jury to be out….

By the time you read this (if you've bought it at the Pompey game) Robert will be making his 100th Premiership start for the club, looking for his 20th league goal in England - and hoping to avoid a third red card.

Those stats place him comfortably at the head of the French appearance chart for the club, but behind them lies a tale of great goals, in-fighting at the club with both managers verbally and with team mates (physically in the case of a training ground scuffle with Griffin) There was even a famous bare-chested march into the St.James' press room to harangue a local journalist – who hadn't actually written the newspaper article that had aroused gallic passions so much….

His contributions last season convey something of the frustration of Robert – two contenders for goal of the season within twenty minutes of each other in one game, but a non-display away to Marseille in the UEFA Cup on a par with Supermac's Wembley nightmares. Or a run of 6 goals in 8 games in the autumn but a barren spell in which he failed to hit the target in the final 16 matches of last season.
At that point Robert did look as if he was nearing the end of his Tyneside tenure, being substituted in a stormy final home game against Wolves which saw him booed and howled at by malcontented toon fans and then incur the wrath of Robson.

A simmering appearance on the bench at Southampton three days later (which was later reprised by Shearer at Villa just before Bobby fell on his golf club) was followed by an eight minute appearance from the bench at Anfield on the final day of the season, which ended with us in the UEFA Cup and a bare-chested Laurent hoying his shirt into the away section.

But he's still here….unlike Bobby. And with Solano gone and younger players aren't trusted to come up with the goods, he's as important as ever, at least when it comes to corners and free kicks.

There may not be the same frisson of excitement when he picks the ball up in the opponents half, but Robert remains a talisman at this club – we've lost only three times when he's scored for us and he's played is part in our last two victories - complete with post-match celebratory jigs at both Selhurst and Sochaux.
For a man Bobby Robson called his biggest challenge in football, Robert has provided his share of memorable moments in a Newcastle shirt - the celebrations the night we won at Highbury, the audacious free kick to kickstart the comeback at Derby or his majestic free kick as Manchester United were beaten 4-3.
But ultimately he's lacked the consistency to propel us any further towards our ultimate goal of silverware in league or cup, domestically or in Europe. Great in parts, but ultimately unsatisfying – a bit like Newcastle United really….

Biffa