Newcastle United 4 FC Twente 0

Team: Adam Collin (Carl Bell), Aaron Labonte (Chris Shanks), Andrew Ferrell, Peter Ramage, Chris Carr, Damon Robson, Martin Brittain, Kris Gate, Richard Offiong (Marc Walton), Michael Chopra (Liam Atkin), Chris Moore (Tommy English)

Also in squad: Gardner, who was injured in the group game against the USA.
Damon Robson spots Richard Offiong
making a run against FC Twente
Tournament Results:

Group stage:
Newcastle 1-1 Groningen (Gardner)
Newcastle 0-0 FC Twente
Newcastle 3-1 Mexico (Chopra 2, Offiong)
Newcastle 0-0 USA
Newcastle 2-0 Qatar (Chopra, Offiong)

Semi Final:

Newcastle 2-0 Anderlecht (Chopra 2)

Final:

Newcastle 4-0 FC Twente (Chopra 3, Offy)
Match report from NUFC.com reader Ali: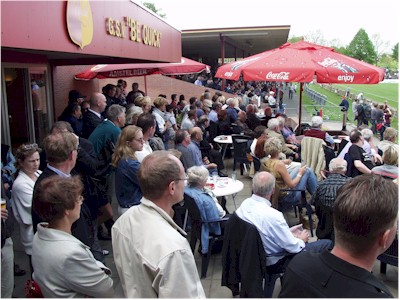 I managed to get along to the final at the little Stadion Esserberg, home ground to the amusingly named GSV. Be Quick. The ground was pretty small, but all sides were packed with people, with kids sitting along the touchlines (I'd guess around a few thousand in there, with beer freely available to help with the baking sunshine and 25 degree temperatures).

I arrived to see the 3rd/4th playoff which Anderlecht won over Ajax, and noticed instantly that the pitch was a bit dry to say the least. It's never a good sight to see huge clouds of dust rising in the penalty areas during goal-mouth scrambles, or the ball bobbling wildly even in the flatter areas. I had a word with Beardsley before the game and he admitted that it wasn't "the best pitch in the world" and that he didn't know why they didn't play the final at FC Groningen's Premier League Oosterpark ground as with some of the group games.
The match didn't start particularly well, with Kenny Wharton instructing Andy Ferrell to "hang it up" over to the right, but he proceeded to ping it straight out of play. Twente certainly started the brighter, with a couple of scrambles in the dust and a decent header from a free kick forcing a save from Adam Collin early on.

We came back strongly though with Richard Offiong's power and Micky Chopra's lighting quick runs looking to open them up at any time. Ojne or two few snatched chances went wide, and Chops nearly latched on to a howler by their centre halves, only to shoot straight at the keeper.
He finally scored on 26 minutes after another clanger by the Twente defence. A blind pass from their left back left the keeper woefully exposed, and Chopra nipped in first, took the ball round the keeper and slotted home from nearly on the goal line out on the right. Cue wild celebrations with Kenny proclaiming it "a hell of a goal".

Instructions at half time were basically that it was there for the taking, and that if our forwards kept at it there would be more goals.
It didn't take long for them to come, with another powerful run by Offiong beating 3 men, before holding it up for Chops to make a surge into the box and then playing him in perfectly. The finish was spot on, leaving the keeper with no chance.
Goals 3 and 4 were in similar breakaway fashion, with Chopra running onto another Offiong through-ball to lob the keeper beautifully on the volley, before he returned the favour to play in Offiong one-on-one who duly made it 4-0.
It looked like we could have any number late on, with break after break ending in near misses, or stumbles on the dodgy pitch. The stadium announcer continually reminded Chopra that he only needed one goal to secure sole top scorer but he couldn't manage it.
The crowd certainly seemed to be behind the Toon lads, including about 20 teenage Dutch girls who sat next to the bench staring longingly at the lads, cheering wildly when we scored, and making up their own little chants (I wanted to teach them the real ones but didn't want to look like I was chatting them up!).
The final whistle sparked a full scale 10 year old pitch invasion, with kids running everywhere asking for shirts (they got them after the presentation -I even saw one 8 year old looking particularly pleased with a pair of sweaty socks from someone).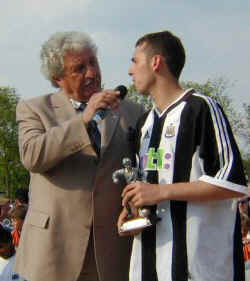 The presentation was the most drawn-out and pointless ever, with trophies being awarded to every team ("well done, you finished 12th out of 12, conceding 40 goals in 5 games - excellent"), Chopra winning player of the tournament (judged by some ex-Ajax guy who looked like an extra from the Godfather) and joint top scorer with Rafael from Ajax.
The lads seemed deservedly pleased with their achievements, with a quick burst of "Champione Champione, olé olé olé" on the podium and spraying of water bottles.

Beardo gave a little speech, commenting that they'd had a great time and would love to come back next year.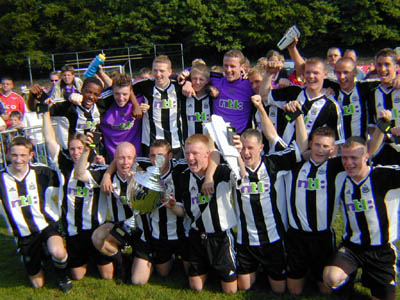 They all then headed off for a night out in Groningen, and I guess they deserved it (especially since they'd missed a big party the previous night as they we're "preparing properly for the big games" yesterday according to Chopra.)
Thanks to our special correspondent Ali