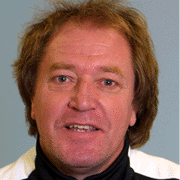 DC's Leading Man - New United Coach Brings Character, Emotion to Sideline

One day very soon, Ray Hudson is going to plant a kiss on the cheek of one of his unsuspecting D.C. United players – right there in the middle of RFK Stadium, during a match, in front of 20,000 witnesses. Later, he might do a little jig on the sideline, his long, sun-bleached blond hair flopping around, and turn to the crowd with arms waving wildly to implore it to make noise.

Later, in his postgame confessional, he might shed a tear or two while recounting his team's efforts and say such things as "I'm higher than a hippie at Woodstock" or "He's as competitive as a hungry tiger, yet he's got the sensibility of a village priest" or "We all know Valderrama's big hair is covering the eyes in the back of his head."

And after seeing and hearing all this, some, after having gotten so accustomed to the stoic Bruce Arena or the cool Thomas Rongen on United's sideline, will wonder what in the name of Major League Soccer is going on around here?

"It's in me blood," said Hudson, a 46-year-old Englishman with an eclectic past who was named United's coach on Jan. 8, just hours after his previous club, the Miami Fusion, was folded. "I have very deep passions for this game and for my players. I'll let the whole world know how I feel, no holding back."

Hudson will make his debut on March 6, when D.C. plays at Comunicaciones of Guatemala City in the CONCACAF Champions Cup. United's MLS opener is March 23 at Los Angeles.

Hudson's mission is to inspire an underachieving United team that's in need of an emotional jump-start after missing the playoffs the last two years. This isn't the first time Hudson has been called to the rescue. During the 2000 season, he went from Miami's community outreach director and television commentator to head coach following the Fusion's slow start.

"A flea-ridden dog without a lick of respect" is what he later called the squad, and then proceeded to turn it into the MLS's best during the 2001 regular season before elimination in the playoff semifinals by eventual champion San Jose.

Hudson, a stylish player in the 1970s and '80s with England's Newcastle United and the North American Soccer League's Fort Lauderdale Strikers, promises to give United's players the freedom to express themselves on the field – an approach that worked well with the Fusion.

"I bring a lot of connection from the coaching position to the players," Hudson said. "I see meself as an extension of the players, rather than the governor or the big boss. I'm in the trenches with them and I want to be close to the pulse of the team. I don't want to be stuck in some ivory tower with an X's and O's board. Some coaches are that way and I totally respect them and they want square pegs for square holes. I'm just not that way.

"I look at it more as if it's a canvas that we're going to throw paint on and make something beautiful of it, rather than some contrived pattern. That's the only way I really know."

So far, Hudson has received rave reviews from the D.C. players. They seem to be having fun again after two stressful years and the energy level in preseason practices at RFK Stadium's auxiliary field and in southern Florida is soaring, according to most everyone involved.

Said captain Marco Etcheverry: "There was something missing for a couple of seasons. We weren't D.C. United anymore. But with Ray, now everybody is very optimistic that we can be like the old D.C. United."

Gray Beginnings Turn Sunny

Hudson's enthusiasm was born in slate-gray northeast England, in the working-class village of Dunston, just across the River Tyne from Newcastle – "not a very nice river," he says. "Some days you didn't need a bridge to walk across it."

The area is known for its deeply rooted attachment to soccer, particularly with the local club, Newcastle United. Formed in 1882, the Magpies and their supporters have a bittersweet relationship, not unlike the Boston Red Sox and their New England fans. It's a blind faith of sorts, molded in large part by Newcastle's inability to win the league championship since 1927 and the FA Cup since '55.

The Newcastle area has produced its share of soccer celebrities, from the Charlton brothers, Jack and Bobby, who helped England win its only World Cup title, in 1966; to Paul Gascoigne, the temperamental and enigmatic star during the 1990s.

Hudson, the son of a toolmaker and a seamstress, played at Dunston Park, a few blocks from his home on Baker Gardens Street – "going to the park with me dad, him encouraging us to dribble, dribble, faster, faster with the ball. It was always with the ball. It wasn't kicking the ball, it was always dribbling the ball."

The ball became Hudson's best friend and helped shape a coaching philosophy that stresses style and improvisation.

"I remember going to the corner store, running errands for the people on the street," he said. "I went into this one store, Mrs. Henry's, and she says, 'Raymond, what's wrong? You're not fully dressed.' I says, 'What do you mean?' She says, 'Where's your ball?' Because I always had me ball. You always, always had your ball. You never went out without it. Even if you were going to the store, you kicked it down the alley. You live with your ball."

Hudson left school at age 16 and went to tryouts in various parts of the country. Homesick and without a contract, he returned to Dunston and began looking for work. He lasted three weeks doing metal work in a factory and, without any qualification, pursued an accounting apprenticeship at a place so undesirable to work, Hudson said, that the "best part of the day was going into the city center at lunch hour breathing in the diesel fumes just to make me feel alive before going back into that dungeon. It was something out of Oliver Twist, real Dickensian."

All the while, he was playing soccer as an amateur, hoping to catch the eye of a talent scout. It finally happened in 1973 and he was signed by Newcastle United. He spent four seasons at St. James Park, home of the Magpies, a local boy making his mark with the local club. Hudson played in a few dozen games with the first team and scored a couple of goals, but his life changed dramatically when a local scout spotted him in a reserve match and asked him if he wanted to go to the United States and play for the Strikers in the blossoming NASL.

"For me, a 22-year-old kid, to go from Newcastle – gray, drizzly Newcastle – to Fort Lauderdale beach in the mid-'70s, pffffff, it was paradise," he said. "I didn't even know places like that existed. I thought it was an Indian outpost when I heard 'Fort'. 'Dances With Wolves' stuff.

"We were a bunch of pirates living near the beach, just loving life. It was a very exciting team that year [1977] and the start of a really great love between the Strikers and the city."

Youthful Enthusiasm

Hudson returned briefly to Newcastle United in 1978, but was determined to go back to Florida and stay there. He did, playing alongside Peruvian great Teofilo Cubillas and German star Gerd Muller, among others. Hudson was team captain and one of the top midfielders in the league, helping the Strikers to Soccer Bowl '80 against the New York Cosmos before more than 50,000 at RFK Stadium. (The Cosmos won, 3-0.)

At the time, Strikers Coach Ron Newman said of Hudson: "I wouldn't trade him for [German legend and Cosmos star] Franz Beckenbauer."

The Strikers eventually moved to Minnesota and Hudson went with them, but he kept his home in southern Florida. By the time the NASL went under after the 1984 season, Hudson had accumulated 44 goals and 99 assists in 197 matches, with five all-star selections.

He later played in the Major Indoor Soccer League and joined the reincarnated Strikers, as part of the low-scale American Professional Soccer League in the late '80s. But by then, his best days on the field were behind him and it was time to find a new line of work.

He was in the process of buying a restaurant/sports bar, but the deal fell through at the last moment. "I was out in the wilderness for about a year," Hudson said. "I did absolutely nothing. I thought about going back to England. I didn't know where to turn."

A friend asked him if he would be interested in helping out a local girls' youth soccer program, the Hollywood Wildcats. He reluctantly agreed, and the great Ray Hudson was earning about a $1,000 a month teaching the game's fundamentals to players as young as 6 years old.

"For some reason, it gave me back my appetite for the game because I had become really sick of the game," he said. "I had done a lot in soccer, but I had never done this. It was refreshing."

Besides youth soccer, Hudson took up an offer from a friend to work in the pool business – cleaning, construction, etc. Soon, he was running his own operation. "It was a good honest day's toil," he said, "and I don't think I've ever been so contented in me whole life."

Northern Exposure

The Fusion was born in 1998, an expansion team in MLS, which had kicked off two years earlier with ambitious plans to become the fifth major team sport in the United States. Hudson was hired to work in a community that he had gotten to know so well and also to bring his entertaining views to the Fusion television broadcasts. (A CNN/SI Web site poll selected him the best analyst in MLS.)

The Fusion made the playoffs in '98 and '99, eliminated each time in the first round by D.C. United. In 2000, the club got off to a poor start and Coach Ivo Wortmann was fired. Fusion management asked Hudson to turn around things. In his first game, Hudson guided the Fusion to a badly needed victory – an overtime win over United. Afterward, he said, "I'm higher than a hippie at Woodstock" – the first of many colorful quotes during his short reign at Lockhart Stadium.

The Fusion was 11-12-1 under Hudson in his first season, but the club did advance to the championship game of the U.S. Open Cup, a tournament that runs concurrent to the MLS season and includes all registered teams in the country.

Last year, the Fusion was the class of the league throughout the regular season and finished atop the overall standings with a 16-5-5 record. The addition of players such as Yugoslav-U.S. journeyman Preki Radosavljevic, Honduran Alex Pineda Chacon (whom Hudson once said, "is a ballet dancer. If he ran on snow, he wouldn't leave footprints") and English veteran Ian Bishop boosted the club's fortunes and, just as importantly, its previously woeful attendance figures.

The hectic pace took its toll, however, in August when Hudson became disoriented and felt a tingling sensation in his chest and down to his fingertips during halftime of a match at Foxboro (Mass.) Stadium. He was taken to a hospital and diagnosed with exhaustion. After two days of monitoring in Massachusetts and a few days of rest at home, Hudson returned to the sideline with a fresh perspective and a slightly calmer approach to his job.

After the season, the Hudson-Fusion love affair came to a crashing end. Fusion investor Ken Horowitz and MLS officials were at odds over financial commitment, and after more than a month of rumors, the league pulled the plug on the team. The same day MLS announced its decision, United swooped in and signed Hudson to a three-year contract worth an estimated $150,000 per season to replace Rongen.

"That should have been the proudest day of me life," he said. "And yet it was a melancholy response initially. It was a bittersweet transition of being in Florida and landing with a great program like D.C.'s. There was no pause – foot down on the accelerator as soon as the Fusion guillotine came down and it's never stopped. It's been an almighty whirlwind."

Hudson rented out his old home in Oakland Park, Fla., and packed up for Fairfax County, where he found a place to rent near Reston Town Center. He'll live with his girlfriend, Sonja, and his golden retriever, Punky. (Hudson was married for a few years in the '80s and has no children.) The weather is not much to his liking after more than two decades under the Florida sun, but he said he'll get used to it.

His mission now is to straighten out three-time champion United. And with it comes a much more serious tone from the usually light-hearted coach.

"This circumstance is a very delicate situation because there is already an established set of players," he said. "But the blunt, sad truth is that this club hasn't been to the playoffs two consecutive years. . . . I think we'll galvanize this team and rejuvenate this team. That's the fervent hope of everybody. But if we realize there are components missing, changes will have to be made. I can't come in here with a sledgehammer and dismantle it. That's going to be a gradual, analytical process.

"Hopefully we can achieve enough this year to get the ship turned around and get it on the right setting."

And if it could be accomplished while having some fun, well, what could be better in Ray Hudson's wacky world?

"Sometimes we're all too serious in this business, If some characters like me can make people laugh, make 'em think a little differently, then that's a good thing. Some people think I'm a nut case, but that's okay. I'm just enjoying it all."

Steven Goff

Back to Main Page