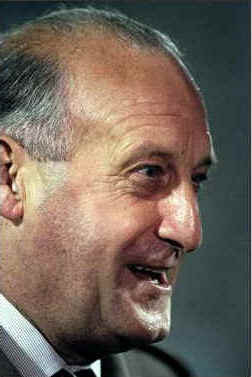 John Hall, the 69-year-old soccer boss who built the Metro Centre is watching his empire crumble.
The Geordie dream is over. The private business empire of Sir John Hall, Tyneside's biggest cheerleader looks to be in a fragile state. At the peak of his power in the early 1990's, Hall was the most high-profile businessman ever to have come out of the region.

He banked about £70m after selling his stake in the Metro Centre, the huge retail complex on the outskirts of Gateshead, and embarked on a grandiose plan to turn Newcastle into the "European city of sporting culture". The scheme attracted much publicity and the self-made multi-millionaire thrived on it.

He bought Newcastle United football club and spent millions of pounds adding rugby, basketball and ice hockey teams. But Hall's vision has long since hit the buffers. With the exception of the football club, his sporting interest have been sold.

Now a question mark hangs over the future of Hall's private company, Cameron Hall developments. It has missed two deadlines for filing its accounts, and 12 days ago it asked for more time again. Companies House says "It is in breach of the Companies Act and it could be prosecuted if it doesn't comply."

Much of Cameron Hall's assets are tied up in Newcastle United and there is speculation that some of the group's shareholding has been pledged to banks (thought to be Bank of Scotland and Barclays) as collateral for loans.

If this is the case, the shares could now be worth less than the value of the loans. Five years ago, when the club floated, its value peaked at £200m but it has since slumped to £35m.

A spokesman for Newcastle United declined to comment on the ultimate ownership of the shares.

He said "We concentrate on running the football club. Cameron Hall's affairs are its own, like our 20,000 other shareholders."

The Hall family, through a variety of ownerships, controls about 48% of Newcastle United's equity, but in the past few weeks the family has been reducing Cameron Hall's stake and buying it back in a personal capacity.

On March 21, it sold 12.12m shares, equivalent to 8% of Newcastle United, at 33p. These were acquired by Hall, but he is already sitting on a paper loss as the price has dropped to 23.5p.
Four days later Cameron Hall sold a further 3% stake to Copia, of which his son, Douglas, is a director. Cameron Hall now owns just 4.2% of the club.

Hall is still widely respected in the northeast of England, as he has done more to promote the region in the past 20 years than almost anyone else. But the 69 year old must be saddened by the way his business career is drawing to a close.

Local businessmen say Hall has temporarily moved back to the northeast from Marbella to sort out his family company. Despite repeated telephone calls to the group's stately home headquarters at Wynyard Hall, we were unable to contact him for comment. But there remains persistent speculation that all the group's assets are up for sale. What would then remain of Hall's empire is unclear.

The accounts filed at Companies House for the year ending November 1999 show debts of about £40m. The accounts details two loans - one for £9m, which attracts payments of nearly £1m every six months, the other for £6m, with monthly repayments of £72,000. Hall himself has also lent £2m to the company.

It would be wrong to say the Hall family has run out of money, but it is clear that a big dent has been made in its fortune. Also, one of its main sources of income, dividends from its Newcastle United shares has just been cut.

Last year, even though the club was under financial pressure, the group raised its dividend by 18%. This raised eyebrows, and at the half-year stage he board reduced the payout to 0.8p a share.

Local businessmen say the rot set in five years ago when Hall's son, Douglas, then a director at Newcastle United and his co-director, Freddy Shepherd, brought disgrace on the club after being caught by a Sunday newspaper in a Spanish brothel. They were also secretly taped making ill-judged comments about several high-profile Newcastle employees. The club's credibility was damaged and its share price tumbled.

Vinay Bedi, a football analyst at Wise Speke, says "If you look at the businesses and the wealth Hall has built up, you can hardly call him a failure. He has probably suffered from a succession issue more than anything else."

For a man with such good intentions, Hall, who was born into a mining family, would surely have wanted a cleaner exit. But the uncertainty surrounding the ownership of shares in Newcastle United will ensure that the speculation continues.

John Waples