In response to a number of requests we've archived off on to a separate page both the Newcastle shirt advert story and also those fabulous mackem stats. Tagged on the end of that also is the BBC end of season report for the ragged band of red and whites:

SMB - sloppy mackem brushwork:
Sign of the times

In case you hadn't heard, Adidas have caused a bit of a stir on the banks of the wear by taking a prime site in the centre of mackemland and slapping an enormous poster on it, advertising our new home shirt.

Initially this was the scene: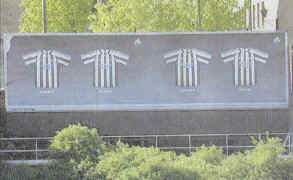 But once the local artists had been at work: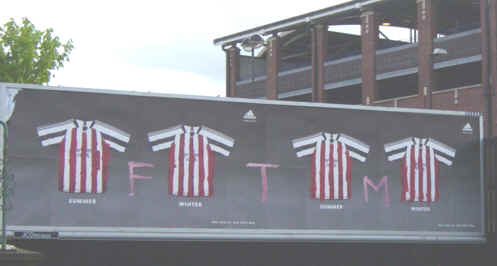 The black stripes on the shirts have now been covered over with red, but obviously the mackem painters didn't have a long enough ladder to do the sleeves, which remain black and white.

In a gesture of solidarity, hundreds of sunderland fans rushed out to purchase new red and white tops from club shops... only to find out they'd closed down: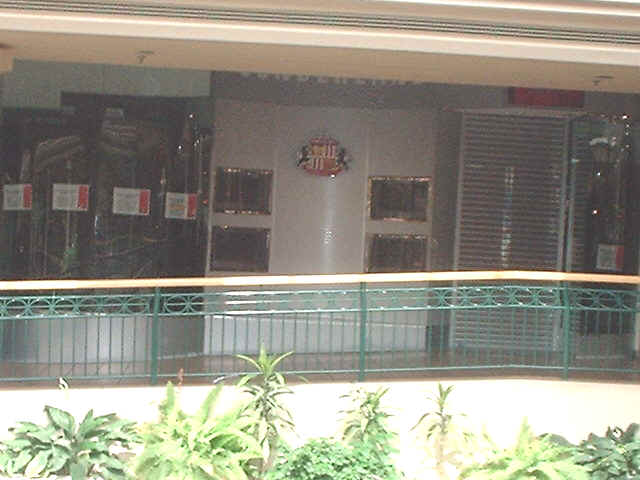 From the sunderland echo:

"Sunderland AFC's city centre store has become the victim of the debt-ridden club's ailing fortunes.

"The Bridges shop has closed and the MetroCentre shop is also believed to have closed down." (correct - see photo above)

PS - angry mackems are now threatening to boycott new toon sponsors Northern Rock, whose share price rose substantially when news of this broke.

But where will those irate mackem investors place their funds now we wonder...will they be opening accounts in the Nationwide?
SMB = stats, mackem b******ds:
Record Breakers!
A great piece in the Mirror entitled "simply the worst" detailing exactly how statistically rotten the mackems are:

Sunderland are poised to be record breakers eight times over after a miserable streak that would have challenged even the statistical powers of Norris McWhirter and the late Roy Castle.
"We have got some horrible records attached to us now and it could get worse."

The words of Mick McCarthy - possibly referring to "Jack's Army" the Italia '90 Irish world cup song - the worst record he'd ever been involved in, until now.....
SEASON OF DESPAIR AT STADIUM OF LIGHT
Sunderland's Premiership record this season:
P 38 W 4 D 7 L27 F21 A65 Pts 19
Last League win:
Beat Liverpool 2-1 on December 15 2002
Last League point:
Drew 0-0 with Blackburn on January 11 2003
PREMIERSHIP RECORDS:
Lowest points total in history:
Watford, 24 in 1999-2000. Sunderland, 19.
Lowest goals total:
Leeds, 28 in 1996-97. Sunderland, scored 21.
Lowest number of wins:
Swindon, 5 in 42 games in 1993-94. Sunderland, 4.
Longest losing streak:
Leicester eight in 2000-01. Sunderland now 15.
Most own goals in Premiership match:
Three against Charlton in 3-1 defeat.
SUNDERLAND CLUB RECORDS:
Longest run of defeats: Was 9 in all competitions (November 23 1976 to January 15 1977). Current squad have 13 in a row in all competitions (February 8 2003-today), and 15 in a row in league (January 18-today).
Longest run without a win: Was 14 games. Current squad have not won a game inside 90 minutes for 25 games since beating Liverpool on December 15. Counting FA Cup games they last won in open play 18 games ago, beating Bolton 2-0 in extra-time in the FA Cup third round (January 14), and triumphed over Blackburn on penalties in the next round (February 5) 13 matches ago.
Worst start as manager: Was Lawrie McMenemy who lost first 5 games and was without a win in his first 7. Mick McCarthy has lost his first 9.
It could get even worse: Worst losing streak in history of English league football is 18 games, set by Darwen in Division Two in 1898-99. If Sunderland lost their first three in Division One next season, they will equal that record.