Press Conference:
The Owen-ly
way is up....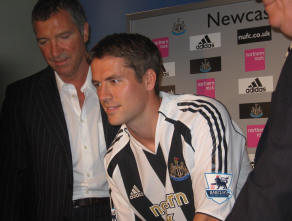 Make your mark here, son....
Quote of the day: "When it came down to Real Madrid or Newcastle there was no question in my mind."
Amazing scenes at St. James' Park on Wednesday as Michael Owen became a Newcastle player for the next four years and signed his contract that contains no get-out clause.
Owen said all the right things as a very negative press conference was handled well by our smiling new no.10 with Freddy Shepherd having to intervene at one point when an ITV reporter pushed Owen on whether he would stay more than a year.
Inside the stadium a packed Sir John Hall stand waited for the striker to appear in a black and white shirt although early arrivals had a brief glimpse just after 11am.
He duly arrived on the pitch clad in the home kit just before 1.00pm and in front of what must have been something like 15,000 fans, he was interviewed on a hastily constructed platform.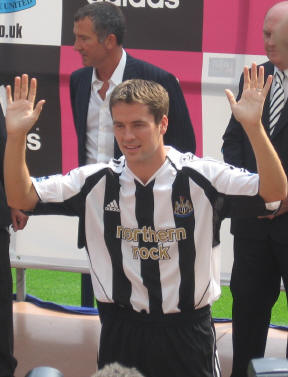 Hands up if you love the Toon....
The reception was outstanding and seemingly appreciated by a genuinely overwhelmed Owen. There were a few cringeworthy moments when our record signing was left holding the baby and made to stand with a group of kids who were almost as tall as him.
Chants of Souness, Souness were also a little squirm-inducing but the assembled masses thankfully stopped short of chanting, "there's only one Freddy Shepherd"....
Here is what Owen had to say (you can hear a re-run of the press conference by visiting the BBC Tyne website here):
"I've obviously had bit of a head-spinning couple of days. But to start with, that's not a complaint, as I've had three great clubs in the frame - Newcastle, Liverpool and Real Madrid. The further, further it got to the deadline, the more and more it started getting clear that Newcastle were going to be my destination.

"I met with Real's president, directors and managers and then with Rick Parry of Liverpool and Rafa Benitez and I came up here and met the Newcastle contingent as well. At the end of it all, I thought it was best for my future and everything to move to Newcastle.

"I've been honest all along, right from the start when it was becoming clear Real had bought a couple of new strikers. When it was looking like I wasn't going to be in the starting XI, automatically, as everyone knows me, I want to play football and it doesn't matter whether it's in Spain or England.

"If Real had said I would start every week, I'm sure I'd still be there now. They made it clear to me there were other strikers in front of me and that left the teams back in England. The two teams showing the most interest were Newcastle and Liverpool; for various reasons I've chosen Newcastle.

"Alan Shearer's been a good friend for a long time. Everyone knows it's his last season here and it'll be an honour to play with him for his last season. Apart from that, he shares a lot of same interests as I do, golf, horse racing, football, family life. I'm good friends with him and it's one of a few reasons. The chairman and manager's desire and Shearer's words in my ear were three reasons why I decided it was the best option.

"I don't think Liverpool need too much comfort. They're the reigning European champions and had some great success with a new manager.

"Obviously I'd been at Liverpool for a long time, I still have friends there and they will obviously be a part of my life because I played there so long. But it's a new chapter now and I'm really looking forward to it. Seeing the reception I've got, I just wish there was a game tomorrow."
Owen also commented further on his decision to come to Tyneside:
"I had chats with a lot of teams. Obviously Liverpool were interested.

"You don't become one of England's best teams by not having great strikers there at present, at the moment. I'd like to think other teams think I'm a good player but when you've got Ruud van Nistelrooy, Wayne Rooney, Henry and Bergkamp, and people like that. The way of the world is that some teams don't need your services at that time.

"But two teams, well more than two, two I was realistic about were two massive clubs so I'm very grateful for their interest.

"It's transpired that I've signed for Newcastle ahead of the others so I'm delighted about that."
You're not the only one, bonny lad....
Unfortunately, just as Alan Robson had done his best to spoil the Alan Shearer unveiling, Sky's idiotic Jim White performed his circus routine in front of the Leazes end. Someone throw him a fish....
Transfer sensation:
Michael is
a Geordie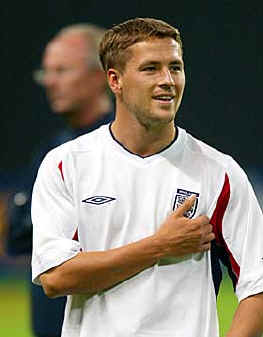 Salvation
Just after 10am on Tuesday, 30th August 2005 the news broke on the official website that Michael Owen was to sign a four-year deal with Newcastle United for a confirmed fee of £16m.
Owen passed his medical on Tuesday and is to be unveiled at St. James' Park this afternoon. He has already had a walk around the pitch holding his bairn with manager Graeme Souness.
After being introduced to the media at noon, our new no.10 will appear on the pitch in front of a packed Sir John Hall stand at around 1pm (doors open at 11.30).
It's interesting to see how the news is being received around the globe. Ranging from jubilant Geordies to sour-faced Scousers and envious others who seem only too keen to question Owen's motives, fitness and ability to play alongside Alan Shearer.
The BBC and others were still maintaining that Liverpool were going to stage a last minute bid to snatch Owen right up until late on Tuesday evening.
Good, let them all talk. This is a monumental signing that is only just sinking in for most of us. To have captured the current England centre forward at the peak of his career to play alongside Shearer is simply staggering.
And even if the signing of Owen doesn't come off, to see Phil Pinocchio Thompson absolutely gutted on national TV is worth £16m of anyone's money. With sour-grapes twisting his features, the former Liverpool coach and player said: "Newcastle was always his second choice but somehow, some way it's all turned itself round." Marvellous.
The Liverpool Echo claimed the contract has a £12m buyout clause after one season, while Radio 5Live claimed that Newcastle will foot the bill for helicopter rides to and from Chester to training!
However, this one-year get-out clause has been categorically denied by Freddy Shepherd.
To get Owen to sign for anything other than a year-long loan is miraculous. The thought of Owen scoring a hat-trick for us, rather than against us is certainly one to savour.
All that remains now is for us to sign up the world's leading hamstring expert....
The Persuader:
Shearer offered to
give up no.9 shirt
Speaking in Tuesday's Times, Michael Owen revealed that Alan Shearer's powers of persuasion were one of the main reasons he decided to sign for Newcastle - revealing Big Al even offered Owen the legendary no.9 shirt:
In his column Owen says:
It was at 1.30 in the early hours of yesterday that I finally decided that I was joining Newcastle United. That decision concluded a head-spinning 24 hours when, from one moment to the next, I thought I might be returning to Liverpool or staying at Real Madrid.
Although there had been a lot of agonising, and a lot of telephone calls, it was an easy decision in the end. People will point out that, only a week or so ago, I listed Newcastle as the last of my options but circumstances change very quickly, as I have discovered.
Given that I will be running out to play football in front of more than 50,000 of the country's most passionate supporters next week, I am not about to cast around for sympathy.
It was a very long day on Monday but, as I went through the same circle of late-night calls with the three clubs involved in my dilemma, I felt that to return to Madrid would be the wrong decision. I want to play regularly and, if I am honest, part of me had missed the passion of the Premiership.
I was uncertain that a Liverpool bid would be accepted in time and I wanted to play for a club who really wanted me. My mind was made up, particularly when I thought back to the excellent meeting I had enjoyed with the Newcastle directors, management and Alan Shearer.

Alan was a great help throughout and instrumental in my decision. I had spoken to him many times over the past few weeks and he should work for the Newcastle tourist board when he finishes playing football. He even offered to give up his No 9 shirt but I have declined. No 10 will do for me.

I will regard playing alongside him in his last season as an honour. He has been, and still is, a great striker and there is no way that Newcastle should be where they are in the table with that calibre of player.

Alan said how his mind was in turmoil at the time he left Blackburn Rovers and suddenly a clear decision emerged. It was much the same for me after a day that had begun at dawn. I flew by private plane into Liverpool airport and went straight into a meeting with Rick Parry, the chief executive, and Rafael Benítez at a friend's house in Liverpool.

Rafa and I sat together in the lounge while my adviser discussed my playing contract with Rick in the dining room. We were together for about2½ hours and I would say that it was a good meeting — the most positive I had heard out of Liverpool — and we spoke to Rafa and Rick again on the journey up to Newcastle.

We met the large Newcastle contingent at a grand country house, although I didn't know there were cameras in the bushes. The meeting went on for almost three hours and what was said made a very strong impression on me.

On the journey home from those talks, my mind was still spinning. Would Liverpool's offer be in time and accepted? What would happen to me if I stayed at Madrid? How much would I miss European football if I signed for Newcastle?

Then, just before I arrived home, David Moyes rang to see if there was a chance of getting me to Goodison Park and to wish me luck if not. I think he must have known that my Dad was briefly an Everton player and I used to follow them as a boy.

I arrived home at around 9.30pm and sat in the kitchen with my Mum, Dad and wife, Louise. With growing doubts about the Liverpool deal, my mind was made up. It will be strange going back to Anfield with another club but I won't be the first player to do that and, as Jamie Carragher told me yesterday, he is already looking forward to giving me a kick.

All the Newcastle fans need to know is that I will be giving everything for their cause now. I have been watching the television and seen the queues at the club shop. From what I can tell, 99 per cent of fans are delighted that I have chosen Newcastle and are not wondering about how I got there. It will be like winning the World Cup to win a trophy.

I have got a lot of good memories of scoring goals at St James' Park, including a hat-trick on my first visit with Liverpool. I was clapped off by the home fans that afternoon and I only hope that I can give them plenty more reasons to cheer me.
Inbound:
Seven year itch
So, seven years to the day that Michael Owen netted three times at St.James' Park, Freddy Shepherd, Graeme Souness and Alan Shearer have somehow convinced the England striker to turn down a return to Anfield.

And Graeme Souness doubtless afforded himself a sly smile when the deal was confirmed - and his present employers had won the race against his former side.

For Alan Shearer it's a major boost in a final season that looked to be taking its toll on him - not to mention the fact that the captain also has the satisfaction of being involved in the capture of his successor.

Meanwhile, the Chairman is due some credit after being able to not only broker a deal with Real Madrid - but also to persuade the player to sign on the dotted line in a four-year deal rather a loan.

Having come in for sustained criticism since the abortive attempt to sign Wayne Rooney a year ago, Freddy Shepherd has found Souness well over £40m to invest in the side (Boumsong, Parker, Emre, Luque, Owen) which is second only to Chelsea in terms of transfer budgets.

Seven years on from that Owen-inspired humiliation at the hands of the reds, it's Newcastle fans who are rubbing their hands in glee.
Inbound:
Not a one
man team
So the countdown has begun to the 2006 World Cup, with Michael Owen making a move to keep in Sven's plans ahead of next June's Jamboree in Germany.

If this is to be more than a one season wonder though, then it requires a redoubling of effort from the rest of the first team squad, whether they be long-established faces or new arrivals.

He's not the messiah, but he's a bloody good player.....
Reality intervenes:
St. Michael - the
mark of quality
Michael Marks and Tom Spencer registered the St. Michael trademark almost a century ago and since then it has been a label associated with quality on the High Street.
The Marks and Spencer partnership is now legendary and despite a few recent sticky patches the business seems set to continue for some time.
So what about our own recent St. Michael purchase?
Like everyone else we were basking in the glory on Wednesday, having enjoyed a few days of much-needed good news. Despite our natural cynicism we certainly weren't going to be the ones to relieve ourselves on everyone else's chips....
However, now that reality has had a chance to intervene and the warm euphoric glow has started to wear off, the signing of Michael Owen is one that needs to be considered carefully.
It was a fabulous bit of business by our Chairman - that is a given - and a huge amount of credit is due for pinching Owen from Real Madrid and from under the noses of Liverpool. The hefty £16m bid was a masterstroke but can we afford it?
It just seems a little odd that we unloaded players for relative peanuts at the start of the summer when it appeared we were searching down the back of the sofa for loose change to put into the transfer kitty.
And several media sources now seem to think that after the £9.5m purchase of Albert Luque we were still prepared to offer £30m for Atletico Madrid's Fernando Torres, if the Owen bid had failed. Suddenly £40m seemed to be burning a hole in the Chairman's pocket.
As astute as the £16m bid was in pricing out the European Champions, it seems widely accepted that we've paid well over the odds for Owen. £11m was a figure that most regarded as his market price a month ago but we've wasted that sort of money more scandalously in the past:
Carl Cort - cost £7m, sold for £2m
Christian Bassedas - cost £4.13m, had his contract cancelled
Hugo Viana - cost £8.5m, perennial loanee
And that's to name just three.
So we raised the bar to secure Owen's signature. That's fine by me. We hoodwinked Real for nearly £14m for a crocked Jonathan Woodgate so Owen for Woody+£2m is a deal most of us would have taken, regardless of the gross sums involved.
Of course, Marks and Sparks have always had a reputation for refunds so perhaps if we hang on to the receipt the St. Michael tag might still get us our money back, or perhaps an exchange or even a credit note....
Wednesday's St. James' Park PR exercise was worth a fortune to Freddy and the club. His personal stock shot up to a degree that would raise more than eyebrows on the stock exchange. "The Board" and the manager have bought some priceless breathing space. The feel good factor is back on Tyneside.
We said not so long ago that bringing in a new manager or Michael Owen would be like putting a sticking plaster over a festering wound and post-Bolton there were few who argued with us. Of course that was said when we were at a real low point and not many thought signing Owen was a realistic prospect.
Perhaps Owen's arrival can be like Elastoplast's new Silver Healing Sensitive plaster which has "a unique silver pad that contains silver ions that are continually released during the healing process, fighting bacteria while your skin heals naturally".
Something silver this season would certainly heal many of this correspondent's open sores....
Momentum is a huge thing in football and when things get on a downward spiral it takes something extraordinary to halt the process. Whatever the reason Michael Owen has ended up at St. James', who cares? It's all of our jobs to make sure he stays.
Along with the manager and Chairman, the whole club may have just been given a fortunate reprieve, the crime would be not to look this gift-horse straight in the mouth and go all-out to make up the 10 point headstart we've given the other Champions League challengers.
Our defence may still be a little frail, our midfield has been bolstered but what we really needed was some quality support up front - and that's another St. Michael speciality....