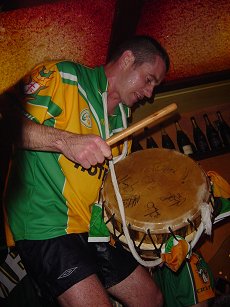 Shay the Drummer
This pic was snapped on the night Ireland bowed out of the World Cup to Spain. The text below is written by Liam Given, brother of Shay.
Forget what you know. Replace all previous feelings of elation and disappointment. Last night, on a warm and floodlit night in Suwon, Korea, all my other previous football heart-stirrings were eclipsed by the greatest single performance by an Irish soccer side in history. That Shay once again was a legend throughout, only adds more to the sense of amazement that we were there.
As usual with all the World Cup games up until now, myself and Dad and Paul got to the ground early, so we could get 'OK SHAY' up in a prime slot. Shay had organised for us to travel on an organised FAI coach with other player's families, but it wasn't leaving until 5.30pm, meaning in effect we wouldn't have been at the ground until close to 6.45pm. Too late. Instead, we took the metro with 6 other chums from Dublin (Chris Byrne + crew) and, bedecked with painted faces, inflatable leprechauns and anything else you care to think of that's green and gold, we got to Suwon for just after 5.30pm.
Stared at all the way with incredulous faces by Koreans who, like the Japanese, had never seen anything quite like the Green army on tour. 'Go Irelando' is the chant we're been getting here in Korea. And to be fair to them they're as friendly as their Japanese co-hosts. This time round, unlike the group games in Japan, the Irish fans were sited in pockets all around the stadium, meaning that there was no single en masse concentration.
One big group behind each goal mouth and then scatterings all around the stadium. It meant that because our numbers were diluted from the Japan games, singing en masse was more difficult. We were behind Shay's goal in the first half, high tier, nosebleed territory. Myself and Paul didn't see another Irish fan walk up the steep steps into our area until well after 7.30pm. And were delighted when they did. As it turns out, all of Stan (Steve) Staunton's family sat to our right. The family are the spit too.
All game, when either Steve or Shay did anything special or a bit hairy, we would then turn and either nod to one another in approval or hiss through our teeth as if to Shay 'Our lad wouldn't normally do that you know.' David Staunton was who I mostly bantered with. And to be fair, I felt sorry for Stan (+ family) when the big lad was substituted early in the second half. But it was certainly to do with his and Shay's clash (ironic isn't it, family doing battle in support high in the stands, the 2 brothers killing each other on the field). Later that night, I was privvy to Shay and Stan laughing at each other about it. Stan said 'Jasus, you nearly put them 6 studs through me.' Shay threw back, 'Well, somebody was gonna get them, man.' Pair of characters.
Shay came out before the game, as always, and came over to where we had the flag. We could actually hear him when he shouted up asking where Dad was (outside having a beer with Chris + gang), and he then did this impression on the pitch of a drunk guy staggering around on the spot. It was the last laughing Paul and I did until much much later that night. First half. The game was as nervous as I have ever been for any thing in my life. I kept clasping my hands tightly together white knuckling them, just to take some of the pressure out of my body. Praying for release from the anguish. In many ways their goal against us settled me, because I thought, well here we go again lads, underdogs and down on the evening. Nothing to lose now. Someone said to me last night that Ireland used to score early years ago and you'd be there heart attacking for 80 minutes saying 'Jasus, hold on lads'. Now we leave it until the dying minutes of a game before we score. The heart attacks are still there though. And I don't know which I prefer because my hair would be white with much more of this.
All throughout the game we would hear 'C'mon you boys in green' start far away to our left, but by the time the sound carried and we joined in, the fans there would be ahead of us, clapping hands or onto a new verse. We were spoiled by numbers in Niigata, Ibaraki and Yokohama, and also by the seat allocations over there, which I have to say in last night's case in Suwon, could've been done better. Half time. Didn't move from the seat. Partly because I didn't need to join the hoards queuing for a Charlie Nash, but more so because I knew that what we were watching out there on that field was the writing and turning of history pages before our eyes. And I didn't want to miss a beat. I wasn't wrong.
Second half. Well youse all know what happened. My heart went out to Ian Harte with that penalty. How many of us could've stood up and taken it? Was buzzing for him (+ the country) when Robbie buried those skeletons with his spot-kick in the 88th. We celebrated so wildly when Duffer was brought down for the first penalty that we just stood and held each other's sleeves when the second penalty was awarded. When it went in I thought my heart would burst with joy. I hugged and kissed every man-jack in the place.
The next half hour was the longest 30 minutes of my life. The clock up by the massive screen seemed to be stuck every time I looked up at it. The closer to 30 it got the more my mind was fearing the inevitable. The fact that we played the Spaniards off the pitch was the most frustrating thing. Every time Duffer got the ball he weaved past them like ghosts and got the whole place to it's feet. I really believed we were going to win it on the field of play. I know the player's did too. The Spaniards didn't know what had hit them and were time wasting with death-row desperation. In the end, after 2 whistles, we were eerily reminded of Genoa 12 years ago, with Shay replacing Packie as the guardian of our goal. And to be honest, I did not expect us to lose.
I felt that this was the hour of Shay's calling and if any man could stop the Spaniards, he could. Of that, I am not wrong. But fate was not be on his side. I shook hands with Dave Staunton and forced myself to watch. I'd already given the camcorder to this Korean guy behind us to tape the goalmouth because my hands were shaking like leaves. I put them behind my head and, elbows forward, prayed for the big lad. The rest is history. It just wasn't meant to be for us. Or for Shay. But he is a legend in our eyes, and now I hope, the rest of the world. When Shay, in his walk around the Irish fans at the end, came over to where we were and blew us kisses and waves, the emotion got too much.
After he had walked down the tunnel, I tried to untie the flag from its moorings but could barely see my hands or the knots because of the tears blinding me. We had just welled up for him and knew that in his heart he was gutted. Knowing Shay he would also have been particularly annoyed with their last penalty, a scuffed attempt that took a cruel bounce over his legs.
Now here's a thing you wouldn't see happen at Landsdowne, our famous . . erm . . Irish soccer stadium. Once I had untied the flag and stood up again preparing to leave, a Korean official beside me was in tears too. Saddened by seeing our tears. Amazing. I shook his hand and thanked him. Then we turned our backs on Suwon, never to see it again except for video footage and documentaries.
In a short speech given afterwards in the 2nd floor of the Westin Chosin Hotel, where a reception dinner had been laid on for the lads, the new Minister for Sport summed it up very well. I'm paraphrasing here, but his words were that all across Ireland there were young boys glued to their television sets tonight, watching their heroes in Suwon, and although it might take 10 years from now, some of them too would make this elite select, and try and emulate what was tonight, the single most gallant and brave performance by an Irish team ever. We stood and applauded.
Michael Flatley was in attendance and so, without shame, I got him to sign a napkin for Elaine. Thanking him afterwards he said, 'No thank you, it was real nice of you to ask.' A true gentleman. Got one signed for Kells (Alan Kelly) too and have determined that I'll always remind him of it. Also heard that U2 had sent a message of good luck to the team before the game. The message on it was 'The Quinn is dead. Long live the Quinn'. Legends.
We walked down with the team into the bar of the Westin Chosin where they got the deserved heroes welcome. I think the lads began to settle a bit after this when they realised just what they'd achieved overall. We then all headed to this Irish Bar called Buck Mulligans. The place was so hot you'd have been inconspicous in a towel and flip-flops. But the craic was mighty. We weren't in there ½ an hour when Kells got on the drums (the lad can play) and Robbie Keane, Shay, Duffer and Mattie Holland all sang songs. I don't think the Irish crowd could believe their eyes. Can you imagine the English players doing the same?
It felt like a fitting thank-you to the support who had come so far. At one point, just after the boys had finished a Westlife tune, Kells started to drum the into for U2's 'Bloody Sunday'. He called to me 'C'mon Liam' and so I grabbed a mike and started to sing the guitar bit: 'Ner Ner Ner Ner, Ner Ner Ner Ner . . .' etc. The whole place got it. And joined in. I can't believe the news today. I can't close my eyes and make it go away. I said to Mark Kinsella earlier that these moments, when you've left your camera in the hotel, are like running out of film just as the Loch Ness monster surfaces or a Yeti walks by. But believe me. This happened.
Next thing you know, Shay has swapped his shirt for Austin Daly's Dun Na Gall GAA shirt and he's kissing the crest, standing on top of a table. The place went buck mad. Shay was sweating so hard (he would sweat like a racehorse at the best of times) that the droplets of sweat were tumbling out of the sleeves of the Donegal top. I had to move my lager a couple of times. We had an amazing night with the team and the fans. And one that I'll never forget. And I think left us all walking away from the evening with happiness in our hearts over the incalculable success of this team in World Cup Korea/Japan 2002, rather than some disappointment on the evening that I'm sure the whole country has already put behind them. A heroes welcome awaits on the Emerald Isle.
Liam Given