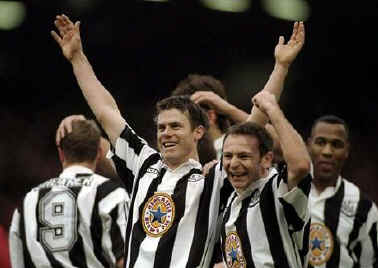 Newcastle fans have a lot to thank Kevin Phillips for!

The Sunderland striker's goal meant the end of Ruud Gullit, led to Alan Shearer staying on at St James' and Bobby Robson taking over.

Robson's first job was to recall Rob Lee, frozen out and forced to watch the Sunderland game on his sofa - a match he admits he wanted the Magpies to lose. Lee lifts the lid on his Ruud awakening in skysports.com's BIG INTERVIEW.
Newcastle fans can thank none other than Sunderland's Kevin Phillips for the fact that Alan Shearer is still the talk of the Toon. That's the verdict of Magpies midfielder Rob Lee. The former Charlton man believes that had Phillips not struck a 74th-minute winner in last season's North East derby, Shearer would have left St James' Park. The then England captain had been dropped to the bench by Ruud Gullit and, as one of several senior stars to suffer under the Dutchman, Lee believes he would have left the club had Newcastle not lost 2-1. Lee said:

"Everybody saw their relationship wasn't made in heaven. "Alan Shearer was left out of the derby and if they'd have won, then maybe he'd have been left out of the next game. At the time he was England captain and you can't have the England captain not playing.
"Some senior players had already left and I don't think he'd have been too far behind."

Phillips scored though, Sunderland won 2-1 and Gullit flew the Magpies nest within the week - and no-one was happier to see him leave than Lee. An England international with 21 caps to his name, Lee was not even given a squad number when the dreadlocked one swept onto Tyneside - and this Saturday's derby does not bring back happy memories. If Shearer thought he had it bad on the bench, his pal and former international team-mate was stuck at home on the sofa - cheering Sunderland on. That's the worst possible thing a Newcastle player could admit to, but the 34-year-old had his reason - Gullit.
He explained:

"I didn't even have a shirt, never mind any involvement in the match. So I didn't even go to the game. It is the only time I have ever missed a Newcastle United game. "Quite bluntly I did not feel as though I was welcome and I stayed at home. I sat and stared at the text until Kieron Dyer scored. "I then turned it off until 10 minutes from the end when I put it back in and found that we were losing. And I have to say that I was happy. It was the only time I ever wanted Newcastle to lose."

There was talk of a return to former club Charlton, but Lee rode the storm while Gullit departed under a cloud - leaving his reject to return to the fold in the number 37 shirt. Lee said:

"At the start of the season, the lads weren't exactly excelling themselves for whatever reason. "I think we were bottom or second bottom after five games. I felt that if that went on there was only one conclusion and that was the manager leaving. "And while there was a slight chance that he could leave, I was going to stay. Luckily enough for me and in my opinion, the club, it went well and we got the right man in the end."
That man was the grandfather figure of English football - Bobby Robson. A Geordie who had enjoyed club success in Europe, and totally different to Gullit. He bought Lee straight back into the side and although his return to these shores started with a defeat at Chelsea, Robson's first home game saw Lee return to the side and Shearer hit five as Sheffield Wednesday were crushed 8-0. Robson guided Newcastle to the relative security of mid-table and although Lee admits that they "can do much better" this season, he has no doubts as to what has made the difference. He said:

"Basically we did it with exactly the same players, apart from Kevin Gallacher, who we bought and did well for us. But other than that he had exactly the same players as Ruud Gullit. "So I think it's down to man management, the way he treats his players, the way he speaks to them and gets the best out of them."
Lee will line up in his new-found role as sweeper - at 34 he is nicknamed Matthias Zimmer by his younger colleagues - against Sunderland and he is likely to come up against a certain Kevin Phillips. Newcastle fans will do well to remember: no Phillips goal could have meant no Shearer. It's a funny old game and at last, Rob Lee is the one laughing.