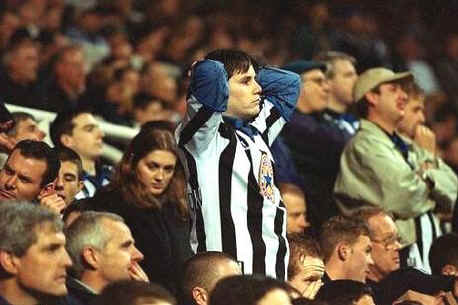 "Just think aboot it. Every fortnight we can gan go and watch the toon. I can see it noo. `Where ye gannin' the day?' A gadgie might say to us on a Saturday morning. `To the match,' we'll tell him. `Ye'll nivver get in, he'll say.' `Why not?' we'll ask. `Neeone gets in nowadays, man,' he'll say back with a dead told ye so smile. `Really?' we'll say, `but we've got Season Tickets ye see.' How aboot that, eh Sewell? Summink to look forward to. All winter, man. And just think when we're in the ground. Neeone'll be able to chase us or tell us to gan, because they'll be wor seats. Neeone else's. Just wor seats."
Rarely could the tale of Gerry and Sewell, two impoverished street urchin Newcastle United diehards from Gateshead, received a more timely airing. Jonathan Tulloch, a teacher from Gateshead, published his novel The Season Ticket in January. If you walk into bookshops in Newcastle-upon-Tyne you will see it sitting among the best-seller top 10.
Season tickets matter in Newcastle. For Gerry and Sewell, like so many others, they matter more than anything else. This is no romantic aren't-those Geordies-daft myth. Last week, the city, as it has been for months, was consumed by talk of season tickets at St James' Park. Moreover, last week the debate moved from the street to the courthouse.
A handful of fans have sued the club they support, in some cases with a love they do not display for their family. The `Newcastle Six' have become football fans' freedom fighters.
Briefly, this is the story so far. In 1994, with Newcastle United in the grip of Kevin Keegan mania and the club desperate to gallop into the financial big time by reconstructing St James' Park, Newcastle offered thousands of existing season ticket holders a bond which would guarantee them their own seat with their name on it for a decade. All a fan had to do was pay an additional £500 for the privilege. Keegan and Andy Cole were used to promote the scheme.
Even though their existing season ticket entitled each fan to a seat at St James' anyway, over two thousand stumped up the extra cash and, regardless of the wisdom of this, saw it as a badge of their loyalty. Newcastle, funding the building of a team that could challenge for the title, pocketed the cash quickly.
For a while all was harmony. The fans had some of the best seats in the house, overlooking a half-way line which David Ginola, Faustino Asprilla and Alan Shearer crossed regularly. Keegan was king. The stadium was a lock-out for every game. There were 15,000 on the waiting list for tickets. Gerry and Sewell could only dream of getting in.
The Newcastle board grew frustrated about all that potential ticket money. They decided to expand, turn St James' into a 51,000 seat venue. They took out a £42 million bank loan for the project. Unfortunately one wintry night in 1997 Keegan cleared his desk. All those Geordie children with Keegan as their christian name - boys and girls in Tulloch's book - will need a parental explanation when adolescence dawns. Kenny Dalglish, Ruud Gullit and Bobby Robson have come since. The fans, meanwhile, remained constant.
And then, with the giant cranes towering above the stadium, last October, the 2,134 affected bondholding fans received a letter from the club. Due to the desire to offer corporate clients the best possible, and doubtless most expensive package, the club informed the bondholders that they would have to move. Unless. Unless they paid a further £1,350. The fans consulted their lawyers.
Consequently the `Newcastle Six' and Newcastle United ended up in Newcastle's Moot Hall courtroom last Monday. The fans thought their case was unbeatable. On Wednesday Keegan sent his evidence. "It is my belief that the purchasers of United Bonds are entitled to their own designated seats for the remaining life of the bond," said Keegan. The club did not challenge a single word he said.
On Thursday lunchtime, however, came the verdict from one Justice Blackburne. Newcastle United had acted in a "fair and reasonable" manner. A term in the small print had been crucial. But Blackburne, who admitted that he had "dozed off" during the case, stayed awake long enough to appreciate "the unswerving loyalty, even fanaticism," of Newcastle's supporters and gave them leave to appeal. Such is the significance of the case that even Sunderland fans have pledged to help raise the required £30,000 to stage it.
As for Gerry and Sewell, disenfranchised, they "twoced" to fund their dream. Twocing is a slang term to Geordies, but has a legal derivation: `Taking Without Owner's Consent'. The `Newcastle Six' are feeling well and truly twoced. (The Season Ticket is published by Jonathan Cape.)
Michael Walker