Graeme Souness, the player, started his career at Tottenham Hotspur, joining as an apprentice, after impressing at White Hart Lane playing for an Edinburgh Schools side.
In his own words, he soon became a "big time Charlie" and at just 17, he knocked on the door of the legendary Bill Nicholson, demanding to be in the first team. He did this three times but left when Nicholson failed to give him first team experience.

He joined Middlesbrough in January 1973 and gained his reputation as an uncompromising midfielder, helping the Smoggies out of Division Two under manager Jack Charlton.
Souness first played against Newcastle in November 1974 - a goalless draw at Ayresome Park. And he was on the losing side for the return game that season as Macdonald and Burns scored in a 2-1 win over 'Boro.
He played in both draws the following season - 1-1 on Tyneside, 3-3 on Teesside - and it wasn't until the start of the 1976/77 season that he tasted victory against Newcastle. Future Mag David Mills scored in a 1-0 win at Ayresome with a certain Phil Boersma also in the Boro side.
Alan Kennedy got the only goal of the game at St. James' Park as Newcastle reversed the 1-0 defeat and that was to be Souness' last game against United for almost seven years.
He moved to Liverpool as Newcastle headed out of the top division and won countless trophies as a player, this many in fact:
First Division Championship 1978/79, 1979/80, 1981/82, 1982/83 & 1983/84,
League Cup 1981, 1982, 1983 & 1984
European Cup 1978, 1981 & 1984,
Charity Shield 1979, 1980 & 1982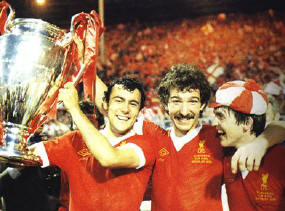 It was during that treble-winning year in 1984 that he played his only game for Liverpool against Newcastle - the Friday night 4-0 FA Cup humiliation which persuaded Keegan to hang up his boots.

By this time, Souness was firmly established as one of the great midfielders and one of the great moustache-wearers of that era. His lip-hair reached its Zenith in 1982 when Souness played a cameo in Alan Bleasdale's powerful political drama, "Boys from the Blackstuff".
The unbalanced Yosser Hughes (played by Bernard Hill) approaches Souness (and Sammy Lee) in a nightclub and insists that he, Souness, and the television detective Magnum all look the same.



Souness responds with this message, scribbled along with his autograph: "To Yosser Hughes, better looking by far, best wishes, Graeme Souness," before handing him a bottle of champagne.
Yosser replies, "I could have been a footballer ... but I had a paper round."
Souness left Liverpool for Sampdoria in 1984 and won the last of his 54 Scotland caps in the 1986 World Cup, against West Germany in Mexico.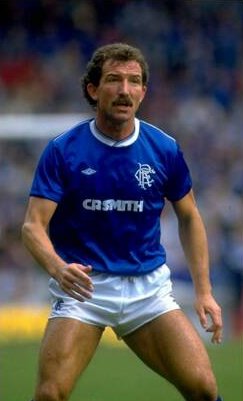 At 33 he returned to his native Scotland and became player-manager of Rangers and won three league titles and four Skol Cups. The Scottish Cup eluded him - the closest he got was as beaten finalists in 1989.
He controversially signed Maurice Johnstone - the first Catholic to sign for Ranger in 116 years who had also defected from rivals Celtic. But this wasn't to be his most suicidal dabbling with local politics.... That was preserved for his time as manager of Galatasaray.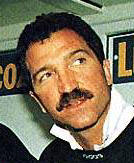 But before moving to Turkey, Souness returned to the scene of his playing glory, succeeding Kenny Dalglish as manager of Liverpool in 1991.
Liverpool sneaked through against Portsmouth in an FA Cup semi-final penalty shootout and 24 hours later Souness underwent a triple heart bypass operation.
However, on the anniversary of the Hillsborough tragedy Souness appeared on the front page of boycotted newspaper The Sun with his girlfriend Karen having sold his story to the tabloid.
Although he made it to Wembley to walk gingerly onto the turf and witness his side tear apart the mackems (wearing the worst kit witnessed by the Twin Towers), his time at Anfield wasn't a happy one. He criticised the players heavily after the defence of the FA Cup ended embarrassingly at Bolton and the side suffered its worst season in 30 years as Souness' new continental regime of pasta didn't go down too well.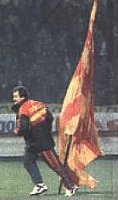 In 1995 he joined Galatasaray and for the next five years his managerial career hit rocky ground. Mind, he didn't help himself with something of a kamikaze act....
Galatasaray had just beaten deadly rivals Fenerbahce in the Turkish Cup Final at Fenerbahce's ground and Souness ran onto the pitch and planted a huge Galatasaray flag in the centre circle. Amazingly he lived to tell the tale....
Shortly after he was sacked and appointed manager of Southampton - succeeding Dave Merrington. He secured Premiership football but then resigned, later stating he couldn't work with Saints Chairman Rupert Lowe.
Souness moved to Italian Second Division club Torino but was fired just four months into a two-year contract. He then moved to Benfica but was fired again with the Portugese club announcing he was subject to an "internal investigation".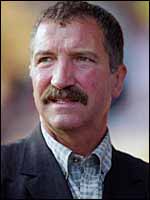 Back to Britain and Ewood Park, taking over from Brian Kidd after Blackburn were relegated from the Premiership. They finished behind Champions Fulham and were promoted straight back up to the top flight. Just a year later Rovers won the League Cup, beating Spurs 2-1 at Cardiff.
Public bust-ups with players; David Dunn (sold to Birmingham), Dwight Yorke (later sold to Birmingham) and Andy Cole (later sold to Fulham) disrupts team harmony and Blackburn flirt with relegation. They survive but all doesn't seem well at Ewood.
Sir Bobby Robson gets the chop at St. James' and bookies' outsider Souness quits Blackburn to move to Newcastle, bringing his backroom staff with him.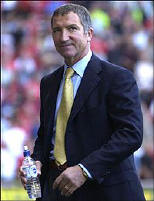 Given the colourful career that Souness has had as both a player and manager it's difficult to believe that his time on Tyneside could be as turbulent.
It almost certainly won't be - it'll make the previous 35 years look like a stroll in the park....
Good luck Graeme, you may need it.