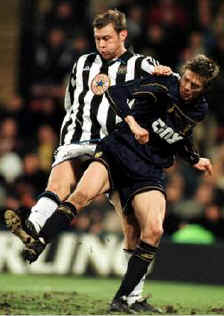 Deadly Duncan Delivers
FOOTBALLERS often find they can use their talents to construct pleas in mitigation. At Celtic Park, for instance, all the players are equal. It's just that Mark Viduka is more equal than Jonathan Gould. The Australian deserted Celtic within hours of signing for them and played a significant role in the dressing-room altercation which contributed to the dismissal of John Barnes, but his skills have tended to soothe outrage.
Duncan Ferguson is familiar with such pleas, both in the courtroom and on the field, and his case is once again testing the scruples of a nation. Craig Brown, besieged by calls for Ferguson's return since the player chose to end his international career in 1997, may have groaned when the 6ft 3in forward swivelled to score a spectacular volley in his club's 3-0 victory against Manchester United last Saturday. The Scotland manager, unlike many others, does not support Sir Alex Ferguson's side from afar, but he knows that each goal Ferguson scores means repeating, for the umpteenth time, that he can only consider the player when he ends his self-imposed exile.
The long-suffering Brown should be spared another inquisition, but it is only human nature to covet what you can't have and although many Scots remain unconvinced of Ferguson's value to the national side, most would welcome the opportunity to judge him further in a dark blue shirt. The man responsible for the latest renaissance in the 28-year-old's chequered career believes the time may be ripe for him to start playing for his country again.
Bobby Robson had a lot to celebrate on Friday. It was his 67th birthday and he had just been awarded a 12-month rolling contract. Instead of dwelling on his present, though, the Newcastle United manager was out on the Riverside training ground supervising a crossing and shooting exercise. It was a routine typical of Robson's approach. Bang - the ball was delivered wide. Bang - in came the cross. Bang, bang - in steamed Ferguson and Alan Shearer.
Each sweep was accompanied by hoots of pleasure from the twin centre-forwards, who were the focus of the exercise and the centre of attention. Later, at a defensive ploy obviously designed to counter the long-throws of Dave Challinor, of Tranmere, in today's FA Cup quarter-final at Prenton Park, Ferguson's Stirling accent boomed again as he playfully tugged at a teammate's jersey. Premiership defenders and goalkeepers know such shouts usually herald the mayhem that is about to occur in their penalty boxes, but his manager believes they are also indicative of a new calm in Ferguson's often restive demeanour.
"Fergie is beginning to like football again and I think that's the change in him," says Robson, leaning earnestly forward from his chair inside the pavilion after training. "He's begun to like what he's doing. So now he's doing it better. We are still seeing the same Duncan Ferguson, but also a slightly different one. He's enjoying football, he's enjoying training. He's not missing training like he was when I came here. He's a different prospect now."
Robson's arms flail above the table as he re-enacts Ferguson's tussle with Jaap Stam last week. "I don't think Stam enjoyed playing against him because he gave him a torrid time. He fought him in the air, he fought him on the touchline. I think Stam probably found Ferguson the toughest, most awkward striker he has played against this season - including the Champions League."
Ferguson is a throwback to players Robson used to employ, Paul Mariner at Ipswich, Mark Hateley with England. Hateley, allegedly motivated by Ferguson cutting up one of his suits, resisted the young pretender's challenge at Ibrox. Such towering centre-forwards, though, are now a dying breed, but Robson believes they should not be extinct.
"Scotland could do with him, you haven't got anybody up there like him. Hey, we haven't got anybody down here like him. Kevin Phillips is not like him, Andy Cole is not like him, Teddy Sheringham is not like him. You could do with him and you might have a chance because he's beginning to love the industry he's working in now, he's more in love with it."
While Robson is garrulous on the subject of the striker returning to play for his nation, Ferguson refuses to discuss it or anything else with the media. Even teammates are not privy to his thoughts on the subject.
Kevin Gallacher, another player who has been reinvigorated by Robson - "Kevin's been a little diamond, he's run himself to a standstill. He's so delighted to be here at a bigger club, with a better class of player" - confirms this.
Gallacher, who, like Ferguson, started at Dundee United, and is now part of the supply line to him and Shearer at Newcastle, believes the partnership with Shearer is currently "the most lethal" in the Premiership, but says Ferguson is "too big" to coerce into a Scotland shirt. "Everybody mentions Duncan's height but they don't mention the ability he has on the ground and I think that's helped us a lot. You don't always have to hit him in the air, you can hit him on the ground and he creates things as well."
On his debut for Scotland, against Germany in 1992, Ferguson almost scored with an audacious overhead kick, but the ball stuck the crossbar. The moment showed his potential, but has also become a motif for his tantalising ability to squander it and fall short of genuine achievements. Shearer, his striking partner, is only a year older and broke into the England side the same year, yet he has a career adorned with achievements and a personal life uncluttered by the bedlam, which too often has distracted Ferguson.
While Shearer was establishing the stable home life, which famously led to him being described as "Mary Poppins" by Newcastle directors, Ferguson was convicted of four assaults. The first two took place at taxi ranks and the third was inflicted on a fisherman in an Anstruther pub, but the last, an on-field one on Jock McStay of Raith Rovers, led to a three-month prison sentence. It was the SFA's lack of support during that period that Ferguson considered a betrayal and most probably led to his retirement from international football.
Another frailty of Ferguson's has been his physique, which with his long back and limbs is particularly prone to stretches and strains. He had barely recovered from a hernia operation when Everton pressed him into service for the 1995 FA Cup final win over Manchester United and in last week's victory he was taken off as a precaution after a back muscle spasm. Robson joked recently that Ferguson is costing the club a fortune in ice, but believes the striker is "as fit as he has been in his career".
In contrast to the SFA, Everton, his then club, were unswervingly supportive and were repaid for it. Joe Royle, the manager, visited Ferguson in prison and when he emerged to play his first match he was piped onto the field and feted by the crowd. "The people who criticised the club for that didn't know what Duncan meant to the fans. He was the right man at the right time for us," said Jim King, of the Everton Goodison Supporters Club. "He roused the passion at Goodison. He is a supporters' player. He knew what we wanted and we knew what he could give us."
Former teammates offer anecdotal evidence to dispel the notion that Ferguson is the violent boor his criminal record suggests. When Ally McCoist's first child was born in January 1995, the first present he and his wife received was a giant royal blue teddy bear from Ferguson. Jim McInally recalls Ferguson spending £45 on three trays of steak sandwiches for teammates at one Scotland gathering.
King was in The Winslow, a pub opposite Goodison Park, the night Ferguson was sold to Newcastle in November 1998 when Ferguson's father came in to thank the supporters for the reception they had given his son. Duncan senior, Ferguson once said, is the only man he is afraid of but perhaps Robson, another father figure, can persuade him to play for Scotland once more.
Douglas Alexander