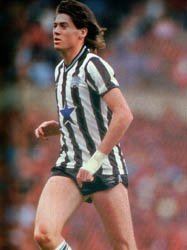 CHRIS WADDLE set off on his first dribble at the age of six and 34 years on is dribbling still.

Where once he thrilled audiences and terrorised defenders at Newcastle United, Tottenham Hotspur, Marseilles and Sheffield Wednesday, he now dribbles his way up and down the touchlines of the UniBond League
in the humble colours of Worksop Town.
Having won 62 international caps, been
voted Footballer of the Year, shared the
World Cup stage with Diego Maradona in Mexico and become the world's third most expensive footballer when he joined Marseilles from Spurs for £4.5 million in 1989, some may find it peculiar that this 40-year-old wizard of the dribble still chooses to parade his unique skills against the likes of Spennymoor and Runcorn. A born romantic, Waddle will go on dribbling until the very last spectator has drifted away into the sunset. "I know I can't go on forever - I'll probably stop when I reach 50 - but I love playing football. It's as simple as that. Last season I played in a local pub league here in Sheffield so Worksop actually represents a major step up."
Waddle's love affair with football began as a tiny tot on a piece of waste ground near his Newcastle home where he first discovered the art of leaving tiny opponents spinning like a top. "We used to play 40-a-side games; you'd have a guy in Man United shirt, a guy in a Barcelona shirt, a guy in a white T-shirt, a guy in his school shirt. Until you worked out exactly who was on your team the easiest way was just to dribble past everyone. But it was a great education. Now, of course, coaches would tell you that's the wrong way to learn to play. I disagree."
A maverick with a ball on his toes, Waddle has as much difficulty understanding coaches as coaches had trying to understand his idiosyncracies. "It makes me laugh when I see people trying to coach kids. You cannot coach seven-year-olds. I was never coached and I bet John Barnes was never coached, or Peter Beardsley, or Paul Gascoigne.
"I went to a youth game the other night and the lad at the back won the ball, beat someone and delivered a nice pass. The next time he tried the same thing he lost the ball, the other side nearly scored and the coach bellowed `Do that again and you're off!'. You learn from your mistakes at that age. I'd far rather watch seven-year-olds getting the jackets down for goalposts and learning the old-fashioned way than have some coach preaching at them from the Charles Hughes manual."
Although he had a brief spell as manager of Burnley, Waddle has no official coaching qualifications nor does he plan on putting himself through the tiresome rigmarole. "You go on these courses and it's absolute garbage; and every player who goes on them would put their hand on their heart and say `this is crap'. Now I'm not saying that just because you're a great player you'll be a great manager but people like John Barnes have a knowledge of the game you'll never find in any coaching book. The French gave Jean Tigana his coaching certificate because they wanted him in the game. It's the same in America; John Harkes, who I played with at Sheffield Wednesday, got his badge without going on any course because he had 25 caps. Great players know how they want the game to be played, all they need is an older man alongside to help with the organisation."
It comes as no surprise that the young Waddle's favourite players were Tony Currie, Rodney Marsh, Stan Bowles, Frank Worthington and their under-appreciated (by coaches) ilk. "It's curious I was considered a luxury player until I went to France. I was never expected to defend at Marseilles; my role was make goals for Papin and entertain. I was playing in the European Cup final against Red Star Belgrade but I couldn't get in the England team under Graham Taylor. But Michel Platini went on record as saying that if Hoddle and Waddle were French, he'd pick us tomorrow.
"It annoys me that Ginola can't get in the bloody Aston Villa team. It's sad because he's probably only got two years left at the very top and to see him sitting on the bench is a waste of talent. I watched the Newcastle-Villa Cup replay on the telly the other night and the missus said `do you want a cup of tea?' I got up out of my seat and said `no, I'll make it'. That's no disrespect because there were some quality players out there, but Ginola's something special."
With his languid dribbling, Beckhamesque free-kicks and sense of mischief - "I could never help but laugh inside when I nut-megged someone" - Waddle was and remains something special even though his career was that of an `almost man'; three French championships with Marseilles but a European Cup runners-up medal and two FA Cup losers' medals, with Spurs and Sheffield Wednesday. And then there were his two World Cup tournaments. "I went on as a sub against Argentina in '86 but, by then, Maradona had already worked his magic. I'll always remember his second goal when he ran right through our defence to score and John Barnes and me, sitting on the bench, just sat there with our mouths open. Ray Wilkins stood up and said `you won't see a better goal than that - ever'; I wanted to applaud - I couldn't, of course, but I bloody well wanted to."
Italia 90 and his fateful penalty miss in the shoot-out against West Germany is recalled with similar humour and grace, a bloomer currently being re-run nightly on TV via McDonald's latest advert. "A lot of people still come up and say `I'd never have taken one' and I say `I wish I hadn't'. There were two ways to react; basically you can do a Lord Lucan and disappear or stick your chest out and prove to everybody you're a good footballer. That's the one I opted for. I think the fact I returned to Marseilles rather than England probably also helped me get over it. I certainly don't dwell on the memory."
Engagingly shy off the field, Waddle saves his flamboyance for the pitch. "I love entertaining people, being a showman. I loved the atmosphere on the terraces when I set off on a dribble." Not surprisingly, Waddle always preferred McEnroe to Borg, Higgins to Davis, Botham to Boycott. "All fans want to see their teams win, but they love it even more when they're entertained as well. I like the thought of someone leaving the ground and going into work or the schoolyard on Monday morning and saying `Hey, you should have seen what Waddle did to this full-back'. People always remember Johan Cruyff's back-heel flick far more than any goal he ever scored. That's what football's about. Giving people something to smile about."
Waddle has been making people smile (and some coaches grimace) for over 30 years; even at Worksop, they have come to expect the unexpected whenever he receives possession. Like the tale of the mazy dribble and shot over the bar which resulted in a broken car window during his UniBond debut. "Not guilty; the game you're referring to was against Runcorn who were very direct, let's say. Consequently they kept kicking the ball over the stand at the back of our goal; they must have done that 15 or 20 times in the first half. Anyway, we turn around at the interval and I get the ball about 30 yards out. Bit of a dribble, cut inside and let fly with a shot which goes narrowly over but keeps rising. Over the stand and into the car park. At the end of the game out centre-half goes out to find his windscreen's been shattered. `It's your fault, Chris' he says. `Now hold on' says I. `That ball was in the car park 20 times or more. How come it was my shot you're picking on?'
"I could have been me - I'm not saying it wasn't - but it's a better story if Chris Waddle breaks a car window, isn't it."
If you happen to be in the Worksop area, give yourself a treat and pop in. Catch the man while you can.