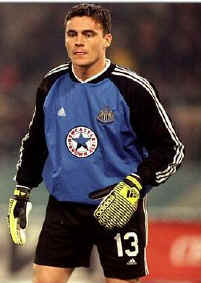 Calling The Shots

David Beckham's purported penchant for donning his wife's underwear may have left Manchester United fans unfazed but their Newcastle United counterparts might find the details of Steve Harper's double life rather more perturbing.
Those St James' Park season-ticket-holders who routinely delight in venting spleen at match officials will presumably be disturbed to learn that their team's goalkeeper is also a qualified referee.
"I love refereeing," insisted Harper, a class-three official who spends most Sunday mornings working in the Peterlee and District League in his native southeast Durham. "But after getting decisions wrong myself I understand how hard the job is; I now realise how good the top fellows in the Premiership really are. It would be great to test myself at that level and the Referees' Association have given me a lot of encouragement to climb the ladder.
"But, realistically, if I'm lucky enough to continue playing until I'm into my thirties I'll probably be too old to ever stand a chance of qualifying as a Premiership referee."
Not that this prevents Harper from enjoying a slightly conspiratorial relationship with those in charge of Newcastle's fixtures: "When linesmen come to check the nets when I'm warming up before playing I'll usually say, 'I'm a referee, too, so I know what you've got to put up with'. Referees could do with more help from us; players could sometimes be a bit more honest with officials.
"People say a lot of common sense has gone out of refereeing but they should remember officials are under a lot of pressure to enforce Uefa directives and are constantly watched by assessors. Then the television cameras always seem to show every incident from three or four angles. Referees can't possibly see everything."
Ironically, in October, Harper was sent off at Birmingham in the Worthington Cup just six days before fulfilling a long-standing engagement to address the Referees' Association. "It was the first dismissal of my career and I got a real grilling when it came to questions and answers," said the 24-year-old.
"Against Birmingham I was the last man and was adjudged to have brought their lad down as he went through, so it was an automatic dismissal. I know I didn't touch him but I can understand the red card; from where the referee was, it must have looked as if I did."
Such logic would be beyond many footballers, but Harper is different from most. Having turned down a place on a sports-science course at Liverpool's John Moores University in order to join Newcastle as an 18-year-old, he admits: "I'm wasting my brain a little bit at the moment. I've got two A-levels (in geography and communication studies) but I've allowed myself to get a bit mentally lazy; although that's soon going to change because I'm about to begin an Open University degree in social sciences. I'll get stick from the lads but I can handle it. It should involve about 14 hours' work a week but I haven't got a family so I've got the time."
Unlike the majority of his teammates, Harper is single and lives alone in Easington Village on the County Durham coast with Hooch, a boxer dog, for company. "I know a lot of clubs prefer players to be married with children but I'm too young for all that and I'm not the type to go clubbing," he said.
Not that Newcastle's No 13 should be regarded as some sort of paragon or a bookish, reclusive outsider. Respected as one of the best golfers (he plays off 14) and snooker players (his house contains a full-size table) at the club, he also revels in regularly assisting Alan Shearer in perpetrating practical jokes on colleagues.
"Our little jokes are good for morale, we never do anything too serious to anyone - it's all fairly minor stuff involving shoelaces and shaving foam. It helps players to be able to laugh at themselves, to relax and take themselves less seriously; that's got to be a positive thing," he explained. "Alan's at the core of everything; most people don't realise but he's got a very good sense of humour, he can be really funny."
Having played centre-forward at Sheffield Wednesday's school of excellence, Harper understands Shearer's mindset: "I had the knack of being in the right place at the right time and scoring goals. I was only moved into goal at 15 because our school team's keeper was injured and nobody else was available.
"The irony is that when Alan came to Newcastle for a trial as a schoolboy they had the same problem and were forced to put him in goal. It proved pretty expensive because this club ended up having to pay £15m to get him back.
"Deep down, I'd love to still be a centre-forward and get all the glory but I wasn't good enough. There was no way I was going to be another Alan. The experience of playing there has helped me, though; nowadays a lot of people say my kicking is very good and I think that comes from having been an outfield player. It's given me confidence in my footwork."
Crosses are another of Harper's strengths. "I try to be neat and tidy with my keeping, solid rather than flashy and I like to think I'm improving all the time," he said.
"I'm maybe not tough enough on my defence at the moment but this is my first real run in the first team and if I keep my place I'll hopefully develop greater presence and maybe become a bit harder on people, although I can't see myself ever turning into a Peter Schmeichel type, always having a go at defenders.
"I'd love to have Schmeichel's confidence, but Bruce Grobbelaar was my big hero. That maybe seems a bit strange now because I'm a totally different sort of keeper. Grobbelaar was brilliant but I wouldn't dare try copying him; my style is a lot more understated."
Until last season Harper was so low-profile that, although he has been on Newcastle's books since 1993, many supporters were not even aware he existed. Prolonged periods as fourth choice behind Shay Given, Shaka Hislop and Pavel Srnicek were interspersed with loan spells at Bradford, Stockport, Hartlepool and Huddersfield, and it was only last year that Ruud Gullit gave him his first-team debut.
After impressing during nine senior appearances, his 10th came during Newcastle's 2-0 FA Cup final defeat to Manchester United at Wembley. "I must admit the day, the whole occasion, really did get to me a bit," Harper admitted. "I was a bit unfortunate with the first goal [scored by Teddy Sheringham] because eight or nine times out of 10 the ball would probably have bounced off me. I didn't really see the second one because he [Paul Scholes] got in behind a defender."
"I have to be grateful to Ruud for giving me my chance but I was a bit disappointed when, in pre-season, he told me was looking for a new keeper. I started this season in the team but when we lost 3-1 at Tottenham, Ruud held me partly responsible and immediately bought John Karelse."
The Dutchman made his debut in Newcastle's 4-2 reverse at the Dell, where he was undone by Stuart Ripley's second-half crossing. "It was unfair on John. He'd been with us barely 48 hours and was flung in the deep end," said Harper. "Now it's important we beat Southampton up here because they're four points behind us with a game in hand and we don't want to get pulled back down towards the bottom of the table. We can't let that happen after all Bobby Robson's done to transform this club."
Swiftly restored to prominence by Robson - who prefers him to Karelse and Given - Harper has remained unruffled by frequent, injury-induced changes in Newcastle's defensive personnel and formations. Indeed, a string of assured performances punctuated by some outstanding saves prompted his manager to announce that the goalkeeper was one of six key players at St James' Park.
"It was great to be one of the six singled out," Harper reflected. "I've seen a lot of keepers come and go in my time here so it would be nice to think I could really make the position my own."
Louise Taylor