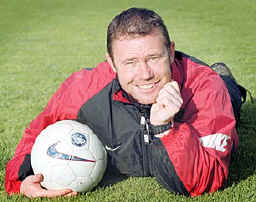 Geordie Exile Sounds
England Warning
IT IS the ruska season in Finland, a mid-autumn period which paints the rural landscape with vivid splashes of colour, and draws tourists from all over northern Europe. "It's beautiful at the moment," says Keith Armstrong, one of the more celebrated English émigrés to the Scandinavian country, "clear skies and amazing flowers."
Armstrong wouldn't swap his little niche here for anything.
Armstrong, a Geordie, has been working in Finnish football for 20 years, the past two as manager of the domestic champions, FC Haka, so he knows the local game inside out. He shares his adopted country's enthusiasm for the visit of England on Wednesday, and knows how determined the Finns will be to gain a result.
"It's going to be a huge game here," says Armstrong, "for the simple fact that Finns are all brought up on English football on television. There's also optimism. Quite a few of the Finnish players play in England, and they'll be very motivated."
Armstrong was in Nokia yesterday - yes, the town which gave its name to the phone - to watch Finland play in Greece; the current Finns have the potential, he says, to be as strong as at any time in their history, a history in which Armstrong has played his own little part.
Armstrong's adventure began under peculiar circumstances. He was a 21-year-old at Newcastle United, with a handful of league appearances under his belt with Sunderland, when he just happened to be in the St James' Park office of the then Newcastle manager, Bill McGarry. "The phone rang," recalls Armstrong, "and it was a bloke from a Finnish club, Oulu, whom McGarry had promised to send a player on loan. It was supposed to be Jim Pearson who went, but he had a knee injury, so the gaffer just turned round to me and said, 'Do you fancy a couple of months in Finland?' I wasn't getting into the Newcastle first-team, so I said okay."
Armstrong was on his way, via a brief detour to Hong Kong, to a new life. He went on to make a good career as a striker in the Finnish Premier League, mastered the most difficult language in Europe, and, after a knee injury restricted his playing days, turned to coaching (Newcastle, meanwhile, took on another youngster in his place - somebody by the name of Waddle).
The Armstrong highlights included scoring a goal at Anfield against Liverpool in an early round of the European Cup in 1980-81 (Liverpool, alas, scored 10); and a spell managing the RoPS Rovaniemi club - "it's the airport where Santa Claus lands", Armstrong relates with a smile - before he guided Haka from the first division to their successive Premier League titles. With four games left this season, they are a point off the lead. They may also come into some decent money if their highly-rated centre-half moves abroad. Barnsley are among those interested in 22-year-old Janne Salli.
It is, says Armstrong, indicative of the growing worldliness of Finnish football that Salli is among a minority in the squad to face England who still play at home. "Finland had a strong team in the mid-1980s, too, but what they have now is strength-in-depth. You've got a group of 15 to 20 players working at a high level in clubs throughout Europe. It's not the same depth of countries like Sweden or Norway because we still have to compete with ice hockey, the major sport here, to get the cream of young talent. The biggest problem is lack of money. FC Haka have a budget of about £1m. Still, it is a lovely place to work."
Ian Hawkey