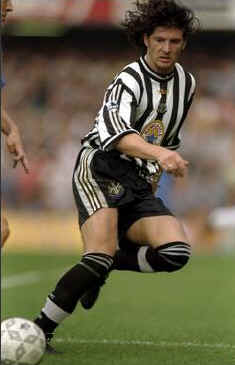 Pistone Mends
Bleeding Heart

Ruud Gullit once identified his ideal dinner guests as Hitler, Jesus, Nelson Mandela, Martin Luther King and Estelle Cruyff.
When somebody queried Hitler's inclusion, the former Newcastle United manager explained: "I would ask him, 'Why?'"
Should Alessandro Pistone ever bump into Gullit, the same question would certainly punctuate any attempt at conversation with his old boss. Pistone is the former Italy Under-21 captain who, two years ago, left Inter for Kenny Dalglish's Newcastle in a £4.5m transfer hailed as a coup. A regular under Dalglish - who advocated Pistone's inclusion in Italy's 1998 World Cup squad - the full-back failed
to start a single game once the Scot was replaced by Gullit.
Now restored to prominence by Bobby Robson, Pistone is eagerly anticipating Thursday's Uefa Cup engagement away to Roma but still cannot comprehend Gullit's behaviour. "The last year was the worst of my life," he said. It was lunchtime at Newcastle's training ground and the Italian had just emerged from a communal squad meal deep in animated conversation with his new manager, who politely introduced us.
"The atmosphere is so much better now, and it is all down to Bobby Robson. He makes every player feel part of Newcastle United. Everybody has a chance," enthused Pistone.
"Ruud Gullit was very different, very arrogant. When he started here he already had a fixed idea about me and, whatever I did, I could not change it. It did not matter if you were a good player; if he did not like you, you had no chance. Look what he did to Rob Lee.
"Gullit always blanked me; even when people were saying I was doing well in training he used to look right through me as if I wasn't there. I asked him why he had left me out but, even though he speaks fluent Italian, he replied in English and did not answer properly.
"Then I was told to train with the reserves. Gullit knew that in Italy you only go with the reserves if you have done something wrong; it is a disciplinary measure. I had done nothing wrong. It hurt, but I want to thank Tommy Craig, our reserve-team coach, who was fantastic."
A Serie A loan spell with Venezia followed but Pistone was reluctant to leave Tyneside branded a failure: "I knew I had to try to prove Gullit wrong. The first week after I came back in the summer I was angry and said, 'I will show him', but, after a few weeks had passed and he was still taking no notice, motivation became harder."
Not content with refusing Pistone a squad number, Gullit then banished him to train with Lee. This proved to be a blessing in disguise. Suddenly, a man perceived as a loner unable to cope with British footballers' often schoolboyish sense of humour began to establish a rapport with the erstwhile club captain and England midfielder, who had previously dubbed the Italian a bit of a hypochondriac.
"I discovered Alessandro was a nice lad," Lee said. "He was always a very good player but when he first came here he had big problems with English and was always wanting attention from the physios for every tiny thing. That's all changed; he's really got his head down in training, he's taken language lessons and his English is getting very good. Everybody respects him now."
Things were different last Christmas when Newcastle's squad gave each other "novelty" gifts and Pistone was presented with a bloody sheep's heart, fresh from the butcher's, because he "didn't have one of his own". Loyally, he insisted: "I'm sure it was a joke. The others had some really funny presents too; Temuri Ketsbaia [who is bald] got a hairbrush and Duncan Ferguson a prison shirt."
According to Lee: "Alessandro took his gift surprisingly well," but it is no secret that, initially, he struggled to appreciate the antics of practical joke-loving teammates such as Alan Shearer. "Maybe I was too young when I first came here," admitted Pistone, now 24. "I didn't have a word of English."
Yet if he rarely relished Shearer's "humour" - "Go on, tell her, Alessandro," urged another player, "admit that you used to hate Alan" - Pistone immediately warmed to his new habitat. "I love Newcastle, the people are so friendly," stressed a man happily domiciled with his girlfriend in fashionable Jesmond, conveniently "just round the corner" from Da Vinci's, the city's best Italian restaurant.
With Newcastle's former manager favouring Uno's, a rival establishment, Pistone rarely encountered his nemesis socially. "I dreamt that Gullit might be sacked though," he said. "But, unfortunately, it seemed much harder for managers to be sacked in England than in Italy. When I heard that he had finally gone I was very happy, although I knew I had to start proving myself."
Robson duly inherited a strong, quick, left-footed defender capable of operating not only in his preferred left-back role but also at right-back, centre-half or wing-back. Yet the former England coach quickly realised that Pistone's impressive physique and dashing Latin looks concealed a highly sensitive, still-maturing persona stripped of all confidence by Gullit.
A month ago, Robson recalled him to the first team against Derby and Pistone, named man of the match that night, has kept his place. "Bobby Robson said, 'Show me what you can do'," Pistone said with a smile.
"He talks to all the players a lot individually. Robson has taught me some new things about my game; he tells me about all the mistakes I've made and all the good things I've done. Whether you play well or badly, you need to hear something from your manager, but Gullit hardly ever told anybody anything."
Unlike Robson, he would certainly not have asked Pistone - who, after all, played in the 1997 Uefa Cup final which Inter lost to Schalke on penalties - for inside information about Roma. "I know several of their players from the Under-21s," explained the Milanese defender.
"Many Serie A teams are playing 3-4-3 now but Roma still have four at the back and are doing very well in the league. We must be careful because Cafu is important for them on the right and Vincenzo Montella and Francesco Totti are dangerous up front."
That attacking duo delight in blemishing defensive reputations but few managers have tarnished a player's image as badly, and unfairly, as Gullit damaged Pistone's.
Louise Taylor