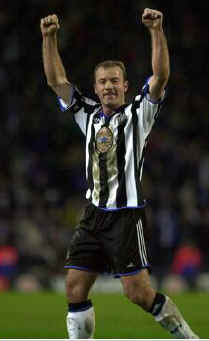 Testing Time For
Local Hero

Alan Shearer can still "do bland" quite brilliantly but the occasions when he routinely stonewalls questions with folded arms, fixed stare and a rhetorical "You tell me" are far less frequent now.
Perhaps it is something to do with playing for the media-friendly Bobby Robson rather than the media-fearing Kenny Dalglish, or maybe his cold war with Ruud Gullit taught him the value of having the press "onside", but Shearer's public utterances are becoming increasingly interesting. These days, the man who once went into porcupine mode whenever criticism loomed even indulges in a little introspection.
"I played very badly in the last two Cup finals, particularly the second, it was terrible," admitted the Newcastle and
England captain last week.
Speaking at Newcastle's pre-semi-final press day, Shearer revealed that had Gullit remained manager "a week longer" last August, he would have been "a yard behind" his friend, Rob Lee, in the queue to leave Tyneside. Moreover, a character whose personal mantra used to be "no regrets" admitted to rueing rejecting an opportunity to join Robson's Barcelona in 1996.
Not that this lowering of the hallmark Shearer guard is a regular occurrence, such public outpourings being strictly rationed by a man who rigidly compartmentalises his private and public personae. "He's got a good life but Alan can only really be himself with close friends," explained Lee, the Newcastle midfielder. "I wouldn't like to be that easily recognisable; he has to ensure he is always seen to behave appropriately."
Perhaps this explains why, within the privacy of the dressing room, Shearer is renowned as a practical joker, revelling in perpetrating regular pranks that often involve hotel bedrooms, shoelaces, toothpaste and shaving foam. Newcastle's foreign players sometimes find such stunts unfunny but Lee is unapologetic: "You've got to realise the majority of our jokes are water-based, and we never go too far. But practical jokes are part and parcel of life at a football club - they lighten the atmosphere."
Not to mention easing the pressure. It is probably no coincidence that 24 hours before Shearer's decision to retire from international football after Euro 2000 was made public, he cheekily doused a security guard at Newcastle's training ground with a fire extinguisher (fortunately, the victim seemed almost flattered to be singled out) before marching through Robson's weekly press conference tunelessly singing American Pie at the top of his voice.
Unfazed, Robson ignored him. "The lads all joke that the only player Bobby hasn't really got into is Alan," said Lee. "He's had a go at all of us at least once - he's dug me out a couple of times - but there's this big mutual respect between Bobby and Alan, and the manager hasn't had any reason to single him out for criticism in front of us."
What Robson has done, via a series of "long, intense, private" chats typically conducted in the manager's hotel room the night before away games, is to offer constructive criticism. "Alan's game had really fallen away," he said. "I told him he'd stopped doing the things which had made him a genuine great. We agreed on a reappraisal, a complete overhaul.
"He was doing too little, not half enough. His whole movement had stopped, he was just wearily working the parameters of the 18-yard line, going through the motions. Alan's responded sensationally. Look at his movement now: just a half-turn and he's away and clear. His running angles are terrific again; he's hungry, greedy for it."
Robson "has put a smile back on Alan's face," according to Peter Taylor, the Gillingham manager and former England Under-21 coach who, as one of Glenn Hoddle's assistants, worked with Shearer during France 98 and established a close rapport. "I'm told the previous manager addressed players by their surnames but Bobby Robson knows you've got to handle senior pros, not just Alan, differently.
"You've got to respect them and take time talking their problems through properly, rather than just telling them they're doing something wrong."
Respecting Shearer is all very well but it has to be reciprocated. As certain former Newcastle coaches will testify, the No 9 is a ruthless detector of vulnerability. "There was one particular guy who was promising but inexperienced. Alan and a few others played up and made life difficult for him," recalled somebody involved with the squad two years ago.
"Like me, Alan doesn't like running," explained Lee. "We respect Mick [Wadsworth, Newcastle's present coach] because he's very good and makes things interesting.
"Alan and I also loved working with Pete [Taylor] in France. He's a brilliant coach who can be extremely funny. But although Pete's very nice and we had good banter with him every day, we also realised he has a hard side and can get tough if he has to. It's the same with Bobby. Managers need that balance."
When he announced his England retirement, Shearer telephoned Taylor. "It was a nice conversation," said Gillingham's manager. "I was impressed because I'm Division Two now and Alan Shearer doesn't need to bother with me, but he's the type of person I'd call a loyal friend."
That assessment is endorsed by Jack Hixon. The octogenarian scout discovered Shearer, luring him to Southampton as a teenager, and their enduring bond is so close that the protégé phones him daily. When Michael Bridges, another Hixon find now with Leeds, scored his first senior goal for Sunderland, he was pleasantly shocked to take a congratulatory call from Shearer.
While Shearer became a confidant of Dalglish, who managed him at Blackburn and Newcastle and with whom he still socialises, he was barely on speaking terms with Gullit. They shared a favourite Italian restaurant, Uno's, but watching them eye each other suspicously from separate tables, fellow diners became convinced the Toon was not big enough for both of them.
"Ruud wanted our supporters to love him more than Alan," said Lee. "But he didn't realise the exceptional support Alan has here. He couldn't accept Alan was a local hero. For a time the supporters were divided as to whether they wanted him or Ruud to be the one who stayed but, in the end, they showed they loved Alan more."
D-day arrived when Shearer was demoted to the substitutes' bench for last August's derby against Sunderland. Newcastle lost and Gullit resigned, but as Lee admitted: "Things could easily have turned out vastly different."
Instead Shearer and family (he has two daughters and his wife, Lainya, is expecting a third child) were able to remain in their £1m converted mill house on Newcastle's northern outskirts. "Al likes being only five minutes' drive from his parents' home," explained Lee. "On Sundays he goes down the local with his dad."
This homing instinct partly explains why Shearer previously snubbed Internazionale, Juventus and Manchester United, and why Geordie sentimentalists (reputedly including Freddy Shepherd, Newcastle's chairman) would love to see the 29-year-old succeed Robson.
"I think he'll keep playing for a few years yet but Alan does want to eventually become a manager. He's never said it's going to be at this club but anything can happen," said Lee. "You never know, though, he might end up as my assistant."
Louise Taylor