Yet another Gallowgate
scrum down

In addition to the European Champions Cup and Challenge Cup Finals, it's reported that St. James' Park is to host a third rugby union fixture next year.

The England national team will visit Tyneside to play one of four friendlies during August and September 2019, ahead of the World Cup in Japan the following month.

England's opposition at Gallowgate has now been confirmed as their Six Nations rivals Italy.
World Cup:
Russia 2018
England finally got their World Cup campaign underway with a memorable late winner against Tunisia in Volgograd, as captain Harry Kane scored twice in a 2-1 victory on Monday evening.

The England game followed the other Group G match, which saw Belgium beat Panama 3-0 in Sochi in the 4pm start. Earlier in the day Sweden beat South Korea 1-0 largely thanks to a VAR-given penalty in their first Group F game in Nizhny.

Today's games see the conclusion of the first round of games with Group H teams making their tournament bows. Japan beat 2-1 Colombia in the 1pm kick-off in Saransk and Senegal beat Poland by the same score in Moscow.

The evening match saw the hosts defeat Egypt 3-1 in their second Group A game in St. Petersburg, which virtually assures the home nation will progress.

The Ware Rooms on Carliol Square will be running their matchday offers and they have every World Cup game live on their big screen TVs.

Find the Ware Rooms at 17 Carliol Square, NE1 6UQ - five minutes walk from both Monument and Manors Metro stations.

We'll be trying to watch proceedings through black and white eyes but that's going to be pretty difficult with only Serbian Aleksandar Mitrovic in the Finals squads, Matz Sels not making the last 23 for Belgium.

The ex-Mag count is also only one - France's Florian Thauvin - James Troisi, Kevin Mbabu, James Milner, Fraser Forster, Mathieu Debuchy and Moussa Sissoko all not making their country's squads, although the French pair are on standby. Nobby Solano is there as Peru's Assistant Manager and Jon Dahl Tomasson as Denmark's Assistant Manager.

Thurs 14th June
A Russia 5-0 Saudi Arabia, Moscow (Luz)

Fri 15th June
A Egypt 0-1 Uruguay, Yekaterinburg
B Morocco 0-1 Iran, St. Petersburg
B Portugal 3-3 Spain, Sochi

Sat 16th June
C France 2-1 Australia, Kazan
D Argentina 1-1 Iceland, Moscow (Otk)
C Peru 0-1 Denmark, Saransk
D Croatia 2-0 Nigeria, Kaliningrad

Sun 17th June
E Costa Rica 0-1 Serbia, Samara
F Germany 0-1 Mexico, Moscow (Luz)
E Brazil 1-1 Switzerland, Rostov

Mon 18th June
F Sweden 1-0 South Korea, Nizhny
G Belgium 3-0 Panama, Sochi
G Tunisia 1-2 England, Volgograd

Tues 19th June
H Colombia 1-2 Japan, Saransk
H Poland 1-2 Senegal, Moscow (Otk)
A Russia 3-1 Egypt, St. Petersburg

| | | | | | | | |
| --- | --- | --- | --- | --- | --- | --- | --- |
| Group A | W | D | L | F | A | Pts | GD |
| Russia | 2 | 0 | 0 | 8 | 1 | 6 | +7 |
| Uruguay | 1 | 0 | 0 | 1 | 0 | 3 | +1 |
| Egypt | 0 | 0 | 2 | 1 | 4 | 0 | -3 |
| Saudi Arabia | 0 | 0 | 1 | 0 | 5 | 0 | -5 |
Wed 20th June
B Portugal v Morocco, 1pm BBC, Moscow (Luz)
A Uruguay v Saudi Arabia, 4pm BBC, Rostov
B Iran v Spain, 7pm ITV, Kazan

| | | | | | | | |
| --- | --- | --- | --- | --- | --- | --- | --- |
| Group B | W | D | L | F | A | Pts | GD |
| Iran | 1 | 0 | 0 | 1 | 0 | 3 | +1 |
| Portugal | 0 | 1 | 0 | 3 | 3 | 1 | - |
| Spain | 0 | 1 | 0 | 3 | 3 | 1 | - |
| Morocco | 0 | 0 | 1 | 0 | 1 | 0 | -1 |
U21s:
Re-listed in Checkatrade

Newcastle will again be represented in the Checkatrade trophy by an under-21 side after entering the 2018/19 competition.

An invitation was sent out by the EFL to a number of Premier League and Championship under-21 sides to play against League and League Two sides and United have confirmed participation.

Last season they played at Oldham Athletic, Port Vale and Crewe Alexandra but failed to qualify from their group after one win (at Crewe) and two defeats.

Departure:
Gunners capture Chris

While uncertainty over the future of U23 head coach Peter Beardsley remains, one departure from the club's development squad staff has been confirmed.

U23 goalkeeping coach Chris Terpcou is leaving United, after accepting a post working for ex-Magpie Andy Woodman at Arsenal's youth academy.

The 49 year-old Australian moved to Tyneside in 2004 and has worked with the club's youngsters since them - briefly helping the seniors in 2010 before the arrival of Woodman.

The Chronicle carried the story over the weekend and the club's first team goalkeeping coach Simon Smith then confirmed it via social media.

Former Newcastle goalkeeper Steve Harper has been working with schoolboys at the academy, while fellow old boy Tony Caig deputised for Terpcou at an U23 game towards the end of last season.
2018/19:
Bluebirds date

National League side Barrow AFC have announced a pre-season friendly against Newcastle United U23s.

A Magpies XI are scheduled to visit Holker Street (known as the Furness Building Society Stadium for sponsorship purposes) on Monday July 16th at 7.45pm.

Official confirmation has now come from NUFC of this game but the rest of the U23s pre-season programme is still awaited.

Competition:
WC giveaway


With Russia 2018 underway, author Simon Hart's latest book "World in Motion" is a celebration of 1990's epic tournament in Italy.

From Gazza's tears to Jack Charlton's Irish penalty shootout success via Toto Schillaci, Roger Milla and cheating South Americans, it's all covered.

Thanks to publishers De Coubertin we had a couple of copies to give away and asked the following question:

Simon Hart's book takes its title from the England/ New Order 1990 World Cup record. Which future Magpie showcased his rapping 'talent' on that tune?

The answer was of course, John Barnes and the competition winners are Mick Maher and Alex Stokoe.

Buy World In Motion online here from the publisher.
2018/19:
Friendly fixture confirmed: Braga (a)
Newcastle's final friendly fixture has been announced and it is a visit to Portuguese Primeira side S.C. Braga on Wednesday August 1st. Kick-off will be 7.30pm (local and BST).

This will be the third time we have faced Braga in friendly action recently following a 2-1 victory in the Algarve during July 2012 and a 1-1 draw at Gallowgate in August 2013.

Their stadium is pretty unique, having been carved out of the granite of a former quarry in 2003, before featuring in Euro 2004: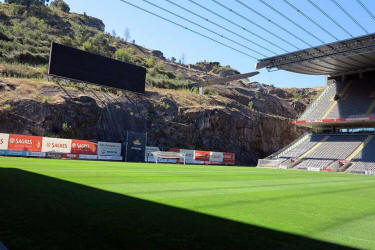 And you thought SJP was built on a hill....
2018/19:
Spurs at home again
Newcastle's 2018/19 Premier League starts the same way last season did - a home game against Tottenham Hotspur, with Chelsea and Arsenal next up at St. James' Park.

A 0-2 defeat to Spurs also saw Jonjo Shelvey red-carded and Florian Lejeune crocked thanks to a Harry Kane lunge with Dele Alli the playmaker and pantomime villain for the visitors.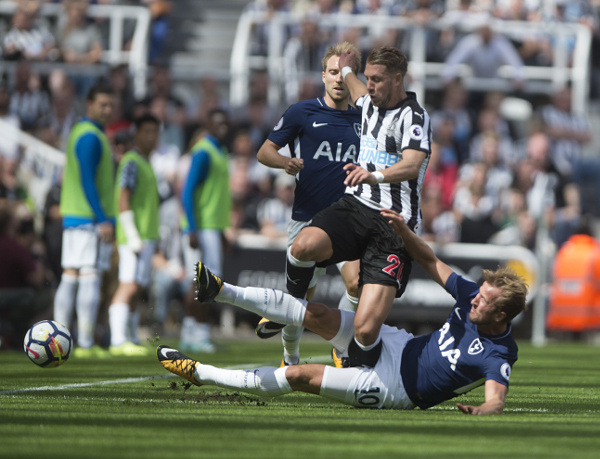 Our first away game is a trip to Wales and newly promoted Cardiff City before visiting Manchester City as we play four of last season's top six in the first five fixtures.

The season will end at Fulham's Craven Cottage while Boxing Day sees us visit Anfield, hosting Manchester United on New Year's Day with a trip to Watford in between.

Fixtures are listed below as Saturday 3pm, unless stated but we're not expecting many of them to remain that way....

Initial live TV selections won't be revealed until a date yet to be confirmed in July. Last year it was July 6th. Here are the spurious dates being given by the Premier League, all to be taken with bucket-loads of salt:
Aug/Sep
Oct/Nov
Dec/Jan
Feb
Mar
Apr
May
Last game
6th July
7th August
12th October
12th December
25th January
22nd February
5th April
After the penultimate game
NUFC 2018/19

11.08.2018 Tottenham Hotspur (h)
18.08.2018 Cardiff City (a)
25.08.2018 Chelsea (h)

01.09.2018 Manchester City (a)
15.09.2018 Arsenal (h)
22.09.2018 Crystal Palace (a)
29.09.2018 Leicester City (h)

06.10.2018 Manchester United (a)
20.10.2018 Brighton (h)
27.10.2018 Southampton (a)

03.11.2018 Watford (h)
10.11.2018 Bournemouth (h)
24.11.2018 Burnley (a)

01.12.2018 West Ham United (h)
Wed 05.12.2018 Everton (a) (19.45)
08.12.2018 Wolverhampton (h)
15.12.2018 Huddersfield Town (a)
22.12.2018 Fulham (h)
Wed 26.12.2018 Liverpool (a)
29.12.2018 Watford (a)

Tue 01.01.2019 Manchester United (h)
12.01.2019 Chelsea (a)
19.01.2019 Cardiff City (h)
Wed 30.01.2019 Manchester City (h)

02.02.2019 Tottenham Hotspur (a)
09.02.2019 Wolverhampton (a)
23.02.2019 Huddersfield Town (h)
Wed 27.02.2019 Burnley (h) (19.45)

02.03.2019 West Ham United (a)
09.03.2019 Everton (h)
16.03.2019 Bournemouth (a)
30.03.2019 Arsenal (a)

06.04.2019 Crystal Palace (h)
13.04.2019 Leicester City (a)
20.04.2019 Southampton (h)
27.04.2019 Brighton (a)

04.05.2019 Liverpool (h)
Sun 12.05.2019 Fulham (a)
Ahead of the new campaign, United have played a total of 882 Premier League games against 48 different clubs on 57 different grounds - including St. James' Park.

Wolves, Cardiff and Fulham are all back in the Premier League at stadiums we've already visited. However, you may want to add the rebuilt White Hart Lane as a new venue - assuming it is ready for our visit in February 2019! - given that it has largely been constructed adjacent to the old ground.
2018/19:
Season ticket renewals
NUFC have announced a new season ticket renewal procedure. They have made a guide available online here and you can go ahead and renew here.

The deadline for renewal is Wednesday June 27th and new season ticket applications can then be made from Wednesday July 4th.

NB: Fans who are on long-term price deals do not need to take any further action.
Outgoing:
Double departure looms

Newcastle's squad rebuilding is set to gain momentum in the coming days, with the conclusion of two outbound deals.

Central defender Chancel Mbemba could find himself facing the Magpies in pre-season, with Porto looking favourites to complete a deal to buy him.

A return to former club Anderlecht had been widely predicted, but Portuguese media sources are reporting that the DR Congo international is instead set to join Porto.

O Jogo assert that the Portuguese club have outbid Anderlecht and an unnamed Italian side to sign a player they first enquired about before he moved to Tyneside in 2015.

Meanwhile, Belgian news outlets claim that Anderlecht will have more success in completing the permanent transfer of Matz Sels.

The 26 year-old United goalkeeper spent last season on loan at the Brussels side and a deal is now said to be in place for an unspecified fee - subject to final agreement on personal terms.

However, by Thursday it seemed as if that deal was now off with no agreement on price, according to Belgian newspapers.
Points decision:
FAO: NUFC away
match attendees

Update: NUFC have now clarified the situation and confirmed that away loyalty points will remain live, have been transferred by them over to their new ticketing system and will continue to be available to those renewing for 2018/19.

The June 30th deadline (below) refers to the re-registering process. Failure to complete this by then means that fans won't be able to confirm their supporter number by looking on the old ticketing system.
Earlier: If you have an account with NUFC and buy match tickets from them (specifically for away games), you should have received an email regarding important changes to their online presence during the close season.

In brief, a new ticket website has been created and migration of fan accounts from one to the other is required - with a vital part of the process needing to be completed by fans themselves, not the club.

If you haven't received the email - and it seems a worrying number of you haven't - then the text follows. Pay special attention to the red/underlined sentence:

From NUFC, May 2018:

We're delighted to announce that our new and improved ticketing site, BOOK.NUFC.CO.UK is currently in its initial launch phase. This phase is designed to allow supporters to re-register in order to link their old accounts up to a new single account.
The new platform will allow fans to easily buy tickets from phones, tablets and desktop computers, but you'll need to re-register for full access. There will be plenty of time to re-register ahead of season tickets, match tickets and memberships going on sale for our 2018-19 season. Thank you for your support!
Will the new site remember my existing account?
Once you've completed the registration form and logged in to the new site you'll have the option to link to your existing ticketing account using your supporter number. You must do this if you want to retain your purchase history and loyalty points.
Where can I find my supporter number?
You can find your supporter number on your season ticket card. We will also be keeping our previous ticket site live at tickets.nufc.co.uk until 30th June, to allow supporters to login and find their Supporter Number.
Please note that this site will be available purely for reference and any changes you make to your account via the old site will not be automatically transferred to the new one.
We've prepared some Registration FAQs to help you create your account, link your supporter number and set up friends and family but if you need further assistance please contact the Box Office on 0844 372 1892 or email with your query.
*Call cost 7p per minute plus your access charge.
To Re-register click here

Boldy going....:
Running Mag
NUFC.com reader Mark Allison aka Run Geordie Run is now in Romania on the latest leg of his global trek details

You can keep track of his progress towards the Kazakhstan capital of Astana - a distance of 2,900 miles to be run in 100 days via GPS online

He's running for St. Benedicts Hospice donate
Players:
Squad updates

United's retained list was published on Friday and provides official confirmation that five players with competitive senior team experience are leaving the club.

Along with Massadio Haidara, Jesus Gamez and Curtis Good, the decision has been made to axe Yasin Ben El-Mhanni and Stuart Findlay - both of whom were selected for FA Cup fixtures in the 2016/17 season.

It's the end of the road for the ex-England youth international Mackenzie Heaney, while striker Tom Heardman is also released.

Leaving the club is Owen Gallacher, the son of former Magpie John, along with a host of other U23 regulars last season - meaning that our development XI for 2018/19 will have a radically different appearance.

Gone:

Senior (3): Haidara, Gamez, Good.
U23 (18): Aziakonou, Cameron, Ben El-Mhanni, Findlay, Gallacher, Gillesphey, Heaney, Heardman, Hunter, Kitchen, Newberry, Pearson, C.Smith, L.Smith, Spooner, Ward, Williams, Woolston.
U18 (4): Aplin, I.Gamblin, Goodridge, Robson, Russell.

Deals offered:

U18 (6): Allan, Brown, Cass, Ebanks, L.Gamblin, M.Longstaff, Reed, Rounsfell, Swailes, Walters, Watts, Wilson.
U23 (3): Charman, Gilliead, Roberts.

Squad contract expirations (updated and excluding those players mentioned above):

2019 (6) Bailey, Barlaser, Colback, Diame,
Huuthanen, S.Longstaff.

2020 (10) Armstrong, Darlow, Elliot, Harker, Joselu, Manquillo, Mbemba, Mitrovic, Sterry, Woodman.

2021 (12) Aarons, Atsu, Clark, Gayle, Hayden,
Lazaar, Perez, Ritchie, Saivet, Sels, Shelvey, Yedlin.

2022 (4) Dubravka, Dummett, Lejeune, Merino.

2023 (1) Lascelles.

tbc (4) Fernandez, Murphy, O'Connor, Yarney.
2018/19:
St. Pats (a) on sale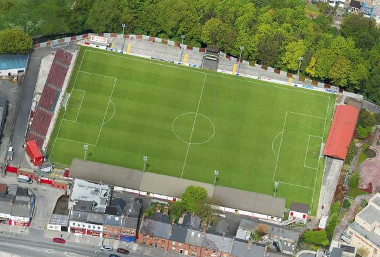 Tickets for Newcastle's openinghttp://media.paddypower.com/redirect.aspx?pid=10057257&bid=7044St. Patrick's Athletic at their 5,300 capacity home of Richmond Park are now on sale for both home and away supporters from the hosts.

Both home and away tickets are priced at €15 adults, €10 OAPs/students and €5 U12s and are delivered as e-tickets. They are available to buy online here

NUFC will NOT be selling tickets to travelling supporters for this game.

United have announced four first team friendlies so far, but the missing one scheduled for Wednesday August 1st (away from home) remains unconfirmed:

Tue 17.07.2018 St. Patrick's Athletic (a) 7.45pm

Tue 24.07.2018 Hull City (a) 7.45pm

Sat 28.07.2018 FC Porto (a) 7.30pm

Wed 01.08.2018 Braga (a) 7.30pm

Sat 04.08.2018 FC Augsburg (h) 3pm
Season 2018/19 dates:

Thu 14.06.2018 Premier League fixtures @ 9am
Mon 02.07.2018 Pre-season training begins
Fri 06.07.2018 First live TV fixture announcement*
Thu 09.08.2018 Transfer window closes
Sat 11.08.2018 Premier League begins
(theoretically that could be Fri 10.08)

(* last season was on Thu 06.07.2017)

Incoming:
Dubravka deal done
Confirmation has arrived that Newcastle have now completed the permanent signing of loan goalkeeper Martin Dubravka from Sparta Prague.

The 29 year-old Slovakian international made an instant impression following his arrival on loan in January, playing 12 times in the Premier League.

Dubravka has signed a four year deal for an undisclosed fee that was agreed when he made the initial loan move, estimated to be £4m-£5m.

Old boys:
Hoyoots etc.

Unlikely lads - close season movements:

Sam Allardyce sacked as Everton manager
Shola Ameobi released by Notts County
Hatem Ben Arfa left Paris SG tbc
Adam Collin released by Notts County
Facundo Ferreyra left Shaktar Donetsk
Jamie Holmes released by South Shields
Stephen Ireland left Stoke City tbc
Alan Irvine sacked as West Ham coach
Brian Kerr resigned as Albion Rovers manager
Tim Krul released by Brighton & Hove Albion
Kazenga LuaLua released by the mackems
Alex Nicholson released by South Shields
James Perch released by QPR
Marcus Maddison transfer-listed by Peterborough
Obafemi Martins released by Shanghai Shenhua
Stuart Pearce sacked as West Ham coach
Alan Smith released by Notts County
Steven Taylor transfer-listed by Peterborough
Ben Tozer left Newport County
Mike Williamson released by Oxford United

New clubs for old boys:

Demba Ba now at Shanghai Shenhua
Mike Mahoney now GC at Bristol Manor Farm
Steve McClaren now QPR manager
Mackenzie Heaney now Newcastle Benfield
Jamie Holmes now at Blyth Spartans
Chris Moore now manager of Consett
Alex Nicholson now at Blyth Spartans
Mark Stimson now manager of Waltham Abbey
Louis Storey now at Hebburn Town
Ben Tozer now at Cheltenham Town

Update:
Accounts - new view

Further analysis of the 2016/17 club accounts has been published online by True Faith as follows:

True Faith part I

True Faith part II

Other interpretations:

@PriceofFootball online here

@SwissRamble online here
NUFC summary online here