1894 Darwen (a)
0-5 (0-1)
Division Two
McKennie, A.King 2, Townley
5,000
Undistinguished debuts for T.Cambell - who didn't even stick around long enough to tell anyone his Christian name - Tom Rendell and Jock Smith.
1896 Hibernian (h)
1-1 (1-1)
Friendly
Thompson
5,000
1897 sunderland (h)
1-3 (0-1)
Friendly
Ghee
Leslie, Morgan 2
12,000
1898 sunderland (h)
1-1 (0-1)
Friendly
Peddie
Morgan
15,000
1900 Nottingham Forest (h)
0-0 (0-0)
Division One
20,000
Debut for Charles Burgess, a Scottish defender who was an early victim of the SJP boo boys during his 31 game tenure on Tyneside.

He then signed for Portsmouth - about as far away as he could get from Gallowgate.
1902 Glasgow Rangers (h)
3-1 (3-1)
Friendly
Rutherford, Orr, McColl
Scorer tbc
6,000
1904 Paris Athletic (a)
11-2 (4-0)
Friendly
Appleyard 5, Howie 2, Orr 2, Templeton, Rutherford
3,000
Forty eight hours before the start of the new league season, United faced continental opposition in the French Capital.
1906 Sunderland (h)
4-2 (1-0)
Division One
Appleyard(27), Rutherford(77,82), Howie(87)
Bridgett(51,69)
56,375
1909 Bolton Wanderers (h)
1-0 (0-0)
Division One
Rutherford
25,000
Debut for centre half Wilfred Lawson.
1910 Sunderland (a)
1-2 (0-1)
Division One
Shepherd(80pen)
Holley(32), Coleman(87)
30,000
1913 Blackburn Rovers (a)
0-3 (0-1)
Division One
Chapman, Latheron 2
20,000
John King moved from his native Scotland and played the first of 61 senior games for United.
1920 Everton (a)
1-3 (0-1)
Division One
Harris
Kirsopp 2, Crossley
45,000
William Kirsopp's opener came straight from the kickoff, before another blow for United came when Tom Curry was unable to continue after sustaining an injury.

The ten-man Magpies levelled through Neil Harris at the start of the second half but Everton regained the lead through Charlie Crossley within five minutes, making sure of the points when Kirsopp added a third.
1923 Arsenal (h)
1-0 (1-0)
Division One
Aitken
40,000
1924 Blackburn Rovers (a)
1-1 (0-1)
Division One
Seymour
McKay
20,000
1926 Burnley (h)
1-5 (1-2)
Division One
Hudspeth (pen)
Beel 3, Bruton, Page
33,069
1928 Sheffield United (a) 1-3 (0-0)
Division One
Chalmers
Johnson 3
23,094
1934 Brentford (h)
2-5 (1-1)
Division Two
Gallantree, Kelly
Muttitt(18,60,89), Holliday(48), Hopkins(88)
24,000
| | |
| --- | --- |
| | 1934 The Reserves played at West Bromwich Albion. |
1937 Barnsley (h)
0-1 (0-0)
Division Two
Bullock
19,065
The first of centre half Jimmy Denmark's 54 appearances at Gallowgate, following his arrival from Scottish side Third Lanark.
1945 Sheffield United (a) 0-3 (0-0)
Wartime
og(Corbett), Knott, Nightingale
16,647
Stoke City player Bert Knott guested for the Blades and netted on his debut.



1948 Chelsea (a)
3-2 (1-0)
Division One
Gibson, Milburn, Thompson
Walker(pen), Jones
50,207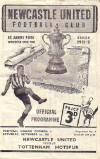 1951 Tottenham Hotspur (h) 7-2 (4-1)
Division One
Mitchell(4,42), Walker(8), G.Robledo(17,75,80), Taylor(90)
Scarth(45), Bennett(47)
52,541
An amazing demolition of the league champions, achieved without the sidelined Milburn.
1954 West Bromwich Albion (a)
2-4 (1-4)
Division One
Hannah, Scoular
Nicholls 2, Allen, Ryan
36,414

1956 Sheffield Wednesday (a)
0-4 (0-3)
Division One
Broadbent, Shiner, Quixall, Finney
36,270



1962 Preston North End (a) 1-2 (1-1)
Division Two
Hale
D.Wilson, Alston
13,884
Barely 72 hours after beating Boro 6-1 on Tyneside, United suffered their first Deepdale defeat in five visits.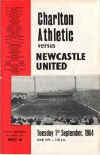 1964 Charlton Athletic (a) 1-0 (0-0)
Division Two
Robson
22,939
A goalscoring debut for Pop Robson, who made sporadic first team appearances until establishing himself fully in the 1968/69 season.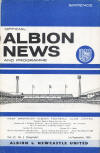 1965 West Bromwich Albion (a) 2-1 (1-0)
Division One
Hilley(5), McGarry(85)
Kaye
22,043
A first victory back in the top flight was achieved at the fourth time of asking - just a week after losing 1-0 to the Baggies on Tyneside.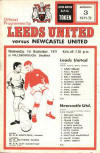 1971 Leeds United (a)
1-5 (0-2)
Division One
og(Hunter)(75)
Charlton(3), Lorimer(45), Giles(pen)(59), Madeley(4-0), Yorath(5-0)
18,623
The disturbances that followed referee Ray Tinkler's refusal to rule out an obviously offside goal from West Bromwich Albion the previous April saw Elland Road closed for a quartet of home league games as punishment.

However the switch to Hillsborough for this midweek game made little difference to Don Revie's side, who exploited the gaps in our defence caused by the absent Ollie Burton.

His replacement, John McNamee played what proved to be his final game for The Magpies.

1973 Arsenal (h)
1-1 (1-1)
Division One
McDermott
George
30,665
Injury deprived Joe Harvey of both Malcolm Macdonald and John Tudor, with the number nine shirt being worn by Tommy Cassidy.

Meanwhile the reserve side were on the road, beaten 2-3 by Manchester City at Maine Road, despite a brace from George Hope.

1976 Gillingham (a)
2-1 (1-0)
League Cup 2nd Round
Cannell(40), Cassidy(84),
Weatherley(79)
11,203
Debut for reserve striker Alan Guy and a competitive debut for Newcastle at Priestfield.

1979 Chelsea (h)
2-1 (0-1)
Division Two
Withe 2
Fillery(30)
25,047
Winning debut for Stuart Boam, newly arrived from Middlesbrough shortly after the crocked Irving Nattrass had gone the opposite way - one of Bill McGarry's better pieces of business.

1982 Blackburn Rovers (a) 2-1 (2-0)
Division Two
Keegan(26), Martin(35)
Bell(78)
14,421
After the great emotion of Kevin Keegan's United debut the previous Saturday, the bandwagon kept rolling at Ewood Park. There was a debut for John Anderson, on as substitute.

1984 Aston Villa (h)
3-0 (0-0)
Division One
Waddle(48,82),
Beardsley(77)
31,591
United stood proudly at the top of Division One for the first time since September 1950 after this fine win.
Youtube footage is online here

1987 Norwich City (a)
1-1 (0-0)
Division One
P.Jackson
Biggins
16,636
Mirandinha's debut, in doubt up to kick off, tempted thousands of United fans to Norfolk on a weekday night, complete with Brazilian shirts and for some never to be explained reason, sombreros.
Youtube footage is online here

1990 Blackburn Rovers (a) 1-0 (0-0)
Division Two
O'Brien
11,329
A last gasp winner for Jim Smith's side, with virtually the only chance they created in the whole game.

Howard Gayle - once on loan at SJP - missed a host of chances for the home side, to the great amusement of the travelling support.
1993 Red Star Belgrade striker Dragan Lukic was on trial at United, but after injuring himself in training, returned home without ever playing for the club.

A friendly arranged for him went ahead regardless, Alex Mathie scored three in a
6-1 beating of Doncaster Rovers at Belle Vue.
1996 Keith Gillespie appeared for Northern Ireland as they lost 1-0 at home to Ukraine in a match at Windsor Park, Belfast. Chris Holland featured for the England U21 team as they recorded a 2-0 away win against Moldova and Tino Asprilla scored three of Columbia's goals as they hammered Chile 4-1.

1999 The Reserves played at Boro's Riverside and thumped them 4-1, thanks to goals from Brian Kerr(2), Des Hamilton and Paul Robinson.

Former Magpie reserve Alun Armstrong got a consolation goal for the Smoggies.

2000 A sheet metal worker from Newcastle's grandson was born. In other words, Alan Shearer's third born was a baby boy. The lad had barely got his first nappy on and bookmakers were laying odds (ludicrously short) that he would play for England....

2001 A good night's work for Shay Given, who was between the posts for Ireland as they beat the Dutch 1-0 in a World Cup Qualifier staged in Dublin.

Future Magpie Damien Duff was in the side, while Newcastle defender Andy O'Brien won his third full cap, appearing as a sub.

2003 The Reserves lost 2-1 to Aston Villa at Kingston Park. Darren Ambrose scored after the break after Balaban and Davis gave Villa a 2-0 half-time lead. Steve Harper left the field with what looked like a hamstring injury on the day after the transfer deadline.
NUFC.com match report

2004 Peter Ramage gave Tommy Craig's second string a winning start to the Premier Reserve League North campaign with a 68th minute winner against Everton.

Rammy's header from a Martin Brittain corner was cleared off the line but the centre-back crashed the rebound in from close range.
NUFC.com match report

Not much else happened on September 1st but that allowed us to reflect on a quite incredible August:

01 Bobby unhappy about Shepherd quotes in media that this was his final season
02 Bernard confirms contract stalemate
03 Bowyer ill, joins Given, O'Brien, Ambrose, Woodgate, Jenas and Taylor on sidelines
04 Lost

1-2 at Celtic: Shearer subbed and academy players on bench. Dressing room arguments involving Dyer & Shearer
05 Training ground closed due to eye infection - players told to train on their own in local parks
06 Reserves off, training suspended
07 Training suspended
08 Robson confirms Shearer Celtic bid
09 Robert joins sick list / reserves off
10 Bramble injury requires scan
11 Boro game call-off plea rejected by PL
12 Injury and illness mean Elliott gets recall to first XI despite being transfer-listed
13 Dyer bust up with Bobby over right wing
14 Concede last minute goal: Boro (a) 2-2
15 Bobby denies any problem with Dyer
16 Shearer linked with Man Utd move
17 Dyer agent rubbishes talk of rift
18 Dyer booed at SJP playing for England / reserves off
19 Dyer publishes unconvincing apology
20 Woodgate signs for Real Madrid
21 Onfield disarray: Spurs (h) lost 0-1
22 Sunday papers: Freddy says we have a defender lined up / Bobby says he has no idea who we could sign.
23 Defenders needed: Rooney bid made
24 NUFC Rooney deal conspiracy statement
25 Blow 2 goal lead: Norwich (h) drew 2-2
26 Bobby reacts to Bellamy outburst
27 Shearer / Dyer dropped for Villa (a)
28 Onfield disarray: Villa (a) lost 2-4
29 Bookies cut odds on Bobby sacking
30 Bobby sacked
31 No movement in or out before the transfer deadline

2005 After the transfer window closed our movements were something like this:
Out

Kluivert
Bellamy
Robert
Butt
Ambrose
Hughes
O'Brien
Bernard
Viana
Jenas
'Replacement'

Luque
Owen
Emre
Clark
Parker
Moore
Boumsong
Babayaro
Faye
Solano
2006 In the early hours of Friday September 1st, Newcastle made their third signing as the transfer window closed. Along with Giuseppe Rossi (loan) and Antoine Sibierski, free agent Olivier Bernard returned to Tyneside.
However, the French left-back who had been released by Rangers was completely unfit for purpose and failed to make a single first team appearance in his second spell at the club.

2007 Wigan Athletic (h)
1-0 (0-0)
Premier League
Owen(87)
50,461
With just three minutes to play and our scoreless home league run standing at the 647 minute mark, another blank return loomed for United.

Enter our old pal Titus Bramble, whose shabby clearance out of defence fell to former colleague Steven Taylor.

The ball ended up with Oba Martins out on the right flank and he powered forward before crossing for Michael Owen to head home at the near post. Thank you and goodnight.
NUFC.com match report
2008 "Striker" Xisco arrived from Deportivo La Coruna and midfielder Nacho Gonzalez from Valencia as the Milner transfer money failed to bring in Keegan's promised "wow" signings.

Xisco signed a five year deal, while Nacho joined on a season-long loan.
Meanwhile, Joey Barton stayed put as his rumoured moves to Aston Villa or Portsmouth came to nothing. Similarly, Alan Smith's supposed move to Goodison never materialised.
A new and improved three-year deal was apparently offered to Michael Owen, contradicting press claims that it was only an extra year with reduced wages.

2009 The transfer window closed at 5pm with Newcastle confirming only that they had re-signed free agent Peter Lovenkrands on a three-year contract.

And despite numerous scare stories, there were no further first team squad departures, with messrs Carroll, Nolan, Barton, Geremi, Coloccini, Gutierrez, Butt, Krul, Enrique & Steven Taylor all staying put.

2010 United named their Premier League playing squad for rest of 2010, coming in two names under the 25 permitted as follows:

Ameobi, Barton, Ben Arfa, Best, Campbell, Coloccini, Enrique, Forster, Guthrie, Gutierrez, Harper, Krul, Lovenkrands, Nolan, Perch, Routledge, Simpson, Smith, R.Taylor, S.Taylor, Tiote, Williamson, Xisco.

2014 Mapou Yanga-Mbiwa joined Serie A side AS Roma on loan for the rest of the season. The Italian side stated that a £1m loan fee would be paid and the option of a permanent move at a cost of £5.5m.

Meanwhile, Hatem Ben Arfa was pictured by Sky cameras arriving on Humberside to conclude a loan deal to Hull City that was eventually completed in the small hours.