Ticket news:
Stoke (a) Member sale now
Swansea (a) Member sale now
Spurs (a) ST holder sale now (zero points)

U21s:
Journey South


Both the first and reserve teams are London-bound this week, with the U21s breaking new ground tonight when they take on their Arsenal counterparts at the Meadow Park home of non-league Boreham Wood FC.

Kick-off is at 7pm and admission is listed as being free to all on the Premier League website. The ground is on Broughinge Road, WD6 5AL.

Both sides remain unbeaten this season, the Gunners topping the table thanks to a trio of victories and one draw while United are second following home wins over Reading and Wolves and a draw at Bolton.

Squad details to follow.


Proud sponsors of NUFC.com
Premier League:
Seen it, scored it,
got the T-shirt...

Newcastle 2 Hull City 2
Their seasonal winless league run may not have been broken, but United concluded their fifth game without a win with that rarest of sights - a striker playing up front.

With 20 minutes of the game left and his side two goals adrift, an increasingly beleaguered Alan Pardew further angered a home crowd who were turning against him, bringing Papiss Cisse on in place of Emmanuel Riviere.

Within four minutes though, howls of derision at his perceived lack of adventure in making a like for like substitution had turned to cheers - as our number 9 marked his first outing since April by firing home.

And the man from Senegal earned a second opportunity to show off his tribute T-shirt to team mate and cancer sufferer Jonas Gutierrez, when netting from close in late on, to capture what could yet to be a priceless point.


The threatened protests aimed at unseating Pardew looked to have had something of a galvanising effect on his players, who made and missed a trio of goalscoring opportunities in the opening 10 minutes of the game.

After Gouffran and Cabella broke for Riviere to head wide and Cabella failed to get any power into his effort, Jack Colback looked to be perfectly placed to notch a first United goal - only for 'keeper Allan McGregor to block.

That comparatively bright opening had undermined the attempt to focus abuse on the manager on five minutes, with louder applause commemorating the MH17 victims, continuing with an 18th minute tribute to Gutierrez and then concluding with Hull's own 19th minute protest.

As has become the norm though, United began to lose momentum and the pace of their game dropped to an alarming level, as energy and ideas visibly ebbed away.

It's important to state though that this was in no way accountable to any external pressure on the team, who enjoyed good vocal support in the opening stages that gradually levelled off but didn't give way to abuse (the booing that accompanied Alan Pardew's first venture to his technical area soon receded and he stayed there).

The second half was barely three minutes old though when the manager's cause took a big blow,
Colback

surrendering possession

before
Nikica Jelavic

brutally volleying a rig
ht

wing cross

past

a helpless
Tim Krul

.


Aside for some isolated shouts directed at manager and owner in the following minutes though, the fans stayed with the team, and encouraged them forward.

Sadly though, the next goal of the game came from Hull and looked to be pivotal, not only to the destination of the points but also the future direction of this club - Steve Bruce and his staff cavorting on the touchline as Mike Ashley sat, head bowed in the Directors Box above.


The poisonous atmosphere that had been predicted by many began to ramp up at that point, Cisse ready to make his entrance when
Mohamed Diame worked an opening to smash home from distance via a post.


Less than five minutes later though,
Cheick Tiote

had the presence of mind (finally) not to try a ludicrous shot and instead slipped a
pass

through for
Cisse to fire
between McGregor and his near post at the Gallowgate End.

That moment of relief seemed to dispel thoughts of protest and the home crowd were urging their side to greater efforts, Fabricio Coloccini attempting a volley after a corner that was reminiscent of something from Terry McDermott's repertoire. Maybe it was the curly hair.

And then came Cisse's late leveller after Sissoko's cross had found Gouffran who picked out his marginally onside colleague to gleefully crash home, much to the relief of the majority of the 49,119 present.

Five minutes of added time from referee Neil Swarbrick left time for a dramatic winner and both sides had half chances, but neither could claim a memorable victory - Cabella missing a cross from the left late very on.

If today proved one thing, it's that using the phrase "mass hysteria" is as inapplicable as "hate mob".

The gratifying levels of support were a reminder that commitment and effort are appreciated by the majority - and negative responses reserved for those who fail to show similar commitment to the support.

A managerial stay of execution may well have been earned by Cisse, but it's fair to say that the jury remains out on Pardew, regardless of placards and banners.

Putting the Palace cup tie aside, a failure to gain points from tricky fixtures at Stoke and Swansea will leave him deservedly back in the dock when Leicester visit here.


It's a thin line between love and hate(m)......


Team: Krul, Janmaat, Williamson, Coloccini, Dummett, Tiote (Ameobi 85), Colback, Cabella, Sissoko, Gouffran (Perez 90+4), Riviere (Cisse 70).
Subs n/u: Elliot, S.Taylor, Haidara, Anita.

Booked: Coloccini, Sissoko, Cabella, Ameobi.

Goals: Cisse 74, 87.

HCFC: McGregor, Davies, Huddlestone, Hernandez (Aluko 56), Livermore, Diame, Jelavic (Meyler 81), Dawson, Robertson (Rosenior 89), Elmohamady, Quinn.
Subs: Harper, Chester, Brady, Ramirez.

Booked: Robertson, Aluko.

Goals: Jelavic 48, Diame 68.

Crowd: 49,119 including around 2,500 Tigers fans.

Clad in a Hull City tracksuit, Hatem Ben Arfa attended but wasn't included in the squad due to PL rules. Happily posing for photographs with fans, the on-loan Magpie sat in an area of the Milburn Stand near the away dugout.

Referee: Neil Swarbrick - sighted twice at SJP last season, for a 0-2 loss to Manchester City in the Capital One Cup and a 0-4 league defeat by Spurs.

Stats:

Since we last played Hull in March, we've taken just nine points from a possible 45, scored 11 and conceded 31.

And this latest failure to win a game means that United have collected maximum points just once in 13 games.

The misery continues for SJP watchers meanwhile, who have had just three victories to celebrate in thirteen league and cup home games in 2014.

Tigers in Toon - all-time record:

2014/15 drew 2-2 Cisse 2
2013/14 lost 2-3 Remy 2
2008/09 lost 0-1 (FAC)
2008/09 lost 1-2 Xisco
1997/98 won 2-0 Rush, Hamilton (LC)
1990/91 lost 1-2 Clark
1989/90 won 2-0 McGhee 2
1935/36 won 4-1 Pearson, Connelly 2, Weaver
1934/35 won 6-2 Smith 2, Pearson 2, Gallantree, Wilson
1929/30 drew 1-1 Lang (FAC)
1912/13 won 3-0 Hibbert, Rutherford, Hudspeth (FAC)
1910/11 won 3-2 Shepherd 2, Veitch (FAC)

Papiss Cisse marked his return to action with the 24th and 25th Premier League goals of his Newcastle career, on the occasion of his 75th PL game (63 starts).

NUFC PL top scorers:
| | |
| --- | --- |
| Alan Shearer | 148 |
| Peter Beardsley | 46 |
| Andy Cole | 43 |
| Shola Ameobi | 43 |
| Les Ferdinand | 41 |
| Nolberto Solano | 37 |
| OG | 36 |
| Robert Lee | 34 |
| Gary Speed | 29 |
| Demba Ba | 29 |
| Obafemi Martins | 28 |
| Craig Bellamy | 27 |
| Michael Owen | 26 |
| Papiss Demba Cisse | 25 |
| Kieron Dyer | 23 |
Scoring two goals in 17 minutes saw United's number 9 equal his Premier League strike total from last season - although it took him 1,383 minutes to achieve that.

And it's the first time since his memorable double salvo at Chelsea in May 2012 that Cisse has netted more than once in a game for Newcastle.

Alan Pardew:

"It was a tough day. But I tried to approach the day as a normal working day. I have been a manager for a number of years and I tried to focus my mind on the game.
"It was very difficult when the ball kept coming to me and they were jeering me, but other than that, I managed to do that.
"I have to say thank you to them for that because big sections of our fans more or less took a neutral position today.
"I donít expect them to have been supporting me or in any way wanting to cheer for me personally, but I think they just took a view of loving their football club and just seeing what happened today, and I think we did enough on the pitch to win a few friends today.
"I think our fans are realistic Ė they know the top six is beyond us. We canít compete with those clubs at the moment.
"But we should be competing for seventh, eighth, ninth, tenth, eleventh, we have proven that we can do that in the past.
"We are well short of it at the moment and I am not going to jump up and down here for a 2-2 draw at home to Hull, but itís a stepping stone to that area where this club needs to be.
"
I have to say 80 percent of the crowd today were terrific for me. They took a view of 'let's see what happens' and that's how fair they can be.
"We do have some fans who are a little bit more radical than that, and they wanted to make their noise and presence felt, and you have to accept that as a manager.

"Itís not lost on me that I get accused of being arrogant, but Iím also a proud man to be manager of this football club and Iím going to fight to keep it. My team need to reflect that and I think they did today.
"Weíve had to climb a mountain. The players were magnificent for me, I have to thank them. It just goes to show, with Papiss Cisseís celebration, football can bring you together.
"Iím conscious of not making excuses because Iíve been accused of making excuses - I just want to do defend the team - but we were really good at times today and hopefully the fans can digest that.
"Ironically, one or two people clapped me as I walked out! and I thanked those couple of fans Ė it was only two.
"We need to win every game that we can at the moment to release some pressure. I want to thank the players because I wouldnít have liked to have played in that game.
"Football is a horrible game at times - I thought we deserved to actually be leading the game at the time. Jack Colback should have cleared it, and a great hit from Jelavic and we are 1-0 down.
"But I have talked to the players this week about the Southampton game, and the biggest disappointment from the Southampton game was our reaction to goals, the fact that we looked like we lost our spirit - you get that from time to time in a season.
"But it was really bad timing for us after not winning a game and it was important that our senior players stood up today.
"Cheick Tiote and Colo in particular, I thought, really drove us on at 2-0 down and they were big, big key players in that turn-around.

He (Cisse) shouldnít have played today, really.
"My medical staff didnít agree that he should be included today Ė I think he has trained five days. But when you are experienced Ė myself and John (Carver) looked at each other on Thursday, I think it was, and your eye tells you sometimes that the player is fresh, heís bright.
"Of course heís not ready for 90 minutes, but he knows how to carry the jersey. Thatís why I feel some sympathy today for Manu Riviere, because Riviere has had to carry the shirt and heís not ready to carry that shirt yet full-time.
"Itís a shirt that is heavy, that number nine shirt and I think he has seen an example from Papiss to take that chance, to make that little movement in the box.
"Manu will learn from that, and it gives me the opportunity with Papiss coming back to fitness to rest Manu and for him to understand what it is to play at a big club like this.
"Heís only 24, Riviere, and really and truly, we have had too much responsibility on him.
"Sometimes in desperate situations, which Jonasí Gutierrez illness is, in a way for a professional footballer, it can bond you together.
"We all felt for Jonas this week announcing it Ė me and Colo obviously have known for a long time, and it was great that Papiss honoured that.
"Itís something that in a strange way can bring players together.
"I felt that for all the reporting we had to put up with this week, and in the week before the Southampton game, some of it was really, really unfair and I said to the players, ĎYou canít moan about it because we have brought it on ourselves, We set ourselves up at Southampton for this sort of criticism and you are going to have to learn to take it.
"Now, there are two things: you either canít handle it Ė then donít play for this football club; or you handle it, and I think they proved that today in very, very difficult circumstances.

"Trust me, I have played as a footballer and not at a stadium as full as this, but with that same negativity level at Crystal Palace and at other clubs, at Charlton at times, and itís very, very difficult.
"The players came through that today. They came through all the criticism of how bad they were at Southampton plus the negativity of today, and that will stand them in good stead to be Newcastle players."
On criticism from BBC pundit Robbie Savage (who called him a 'broken man'):

"I thought that article was not right and we've had a lot of press like that. He said I was a broken man and I was far from that this week.

Sometimes there's some really unfair things. I've tried to carry the job with dignity and be honest and sometimes it's nice if professionals in the game reflect that.

Sometimes it's also important to know we're trying to do an honest job. It's not just about me, it's about my staff who come in every day and want to make this team better.

"It's something I feel very strongly about defending and that's an example of which I thought was wrong."





2014/15 season Magpie Mover tickets remain available to NUFC season ticket holders. Priced at £20 (£21 by post) they allow free travel on buses, Metro, trains & ferries in Tyne and wear for three hours before and after competitive home first team games. Order online here

Latest Premier League results:

Sat 20.09.2014:
QPR 2-2 Stoke City
Aston Villa 0-3 Arsenal
Burnley 0-0 mackems
Swansea City 0-1 Southampton
West Ham 3-1 Liverpool

Sun 21.09.2014:
Leicester City 5-3 Manchester United
Spurs 0-1 West Bromwich Albion
Everton 2-3 Crystal Palace
Manchester City 1-1 Chelsea


Stadium art
:

SJP giveaway


T

ake one iconic aerial photo of St. James' Park unadorned by commercial branding....and cut it up into four pieces.

That's the slightly unlikely premise of a Tyneside-based company who have produced this stunning g

lass effect acrylic wall art image of the stadium in full colour.





Each A4-sized quarter has polished edges

, doesn't

require

framing and is supplied with wall mounting. I

n addition to the four-piece edition pictured above, the same SJP image is also available in a single piece A3 size edition.



These unique items will be on sale soon via NUFC.com, but while final preparations are made, we've got one of each to give away in a free-to-enter competition.

To be in with a chance of winning one, email us here with your answer to this question:

Known as the East Stand since opening for business back in 1973, what was the standing terrace that previously occupied that side of St. James' Park usually known as?

The closing date is Wed Sep 24th @ 8pm, subject is: SJP. No purchase necessary, no age restriction and entries welcome from anywhere in the world, although free prize delivery is restricted to UK addresses only.

Those choosing their own subject line will be disqualified (except for the ongoing HM Forces email restriction).

U18s:
Winless run extended

Boro U18s 1 Newcastle U18s 0

It's now just one point from a possible 15 for Dave Watson's U18s, as they proved unable to replicate victories on their last two visits to Rockcliffe Park.

The winning goal game during the second half, when Junior Mondal set up Alex Pattison to fire home, with Boro also striking the woodwork late on.

Team: Woolston, Newberry, Pollock, Cameron, Gibson, Heaney, Hunter (Ward 55), Drennan, Laidler (Kerridge 55), Longstaff, Charman.
Subs n/u: Cobain, Stoker, Storey.

2014/15:
Crystal Palace (a)

United visit Selhurst Park for a Capital One Third Round tie against Crystal Palace this coming Wednesday night.

Kick-off is at 8pm and as usual in this competition, the tie must conclude on the night - via extra time and penalty kicks if required.

The Fourth Round draw will take place live on Sky Sports on Wednesday night, following their coverage of the Spurs v Nottingham Forest tie.

Tickets remain on sale to NUFC ST holders and members, with Newcastle fans in blocks R, S and T of the Arthur Wait Stand. Due to lack of demand, Palace haven't yet sold any seats to home fans in the rest of that stand.

After a 610 mile round trip to Gillingham in the last round, this adds another 595 miles for those on the road from Tyneside - and to make matters worse, the league visit to Palace next February is also on a midweek night.

Squad: Davide Santon, Siem De Jong and Rolando Aarons are all missing through injury, while Ryan Taylor is back in training but remains unavailable.

Paddy Power match betting will appear online here

CPFC: The Eagles must play a trio of matches in just seven days, travelling to Everton on Sunday before entertaining Leicester City on Saturday week.

By contrast, United will face a manageable three games in a ten day period, facing Hull City at home on Saturday and Stoke City away on Monday week.

Referee: Robert Madley (West Yorkshire) whistler who made his bow in the Premier League during the 2013/14 season but has never previously taken charge of any competitive senior fixture involving United.

Travel: no scheduled disruptions

UK TV: None - highlights on BBC1 @ 11.05pm

Overseas TV: None

UK Radio: None

NE Radio: Live commentary on BBC Newcastle

Stats:

If you're looking for positives, United will go to Selhurst in search of a fifth successive win over Palace there. Less comfortingly though, we've lost 17 of our 26 League Cup ties against fellow Premier League sides since 1993 and won only one of the last eight (Chelsea away in 2010).

We've faced Alan Pardew's former club six times in the FA Cup (all at SJP, with Newcastle winning five and losing one) but this is the first-ever League Cup meeting.

However, Selhurst Park itself has hosted a tie in this competition involving United, when temporary tenants Wimbledon defeated us 1-2 in a Third Round in 1993.

Magpies v Eagles @ Selhurst - all time:

2013/14 won 3-0 Cabaye, og(Gabbidon), Ben Arfa(pen)
2009/10 won 2-0 Nolan, Ryan Taylor
2004/05 won 2-0 Kluivert, Bellamy
1997/98 won 2-1 Tomasson, Ketsbaia
1994/95 won 1-0 Beardsley
1983/84 lost 1-3 Beardsley
1982/83 won 2-0 Waddle, Varadi
1981/82 won 2-1 Waddle, Mills
1978/79 lost 0-1
1972/73 lost 1-2 Tudor
1971/72 lost 0-2
1970/71 lost 0-1
1969/70 won 3-0 Davies, Dyson, Robson
1964/65 drew 1-1 Cummings

Capital One Cup Third Round:

Tue 23.09.2014:
Arsenal v Southampton
Cardiff City v Bournemouth
Derby County v Reading
Fulham v Doncaster Rovers
Leyton Orient v Sheffield United
Liverpool v Middlesbrough Sky
MK Dons v Bradford City
Shrewsbury Town v Norwich City
mackems v Stoke City
Swansea City v Everton

Wed 24.09.2014:
Burton Albion v Brighton & Hove Albion
Chelsea v Bolton Wanderers
Crystal Palace v Newcastle United
Manchester City v Sheffield Wednesday
Spurs v Nottingham Forest Sky
West Bromwich Albion v Hull City

Loan lads:
The borrowers


Magpies currently on temporary assignment elsewhere:

Jamaal Lascelles, Karl Darlow (Nottingham Forest)


Saturday saw Stuart Pearce's side play out a scoreless draw at Millwall in the Championship. Darlow kept a clean sheet while Lascelles wasn't called off the bench.

Next game: Spurs (a) Capital One Cup, Wednesday.

Freddie Woodman (Hartlepool United)
The young goalkeeper watched from the bench as 'Pools were beaten 0-2 by Plymouth Argyle at Home Park in League Two on Saturday.

Next game: Carlisle United (h) Saturday.

Sylvain Marveaux (Guingamp)
The winger played 72 minutes of a 0-1 loss away to Monaco in Ligue 1 on Sunday.

Next game: Metz (h) Ligue 1, Wednesday.

Mapou Yanga-Mbiwa (AS Roma)
A 2-0 home victory over Cagliari on Sunday saw the defender make his Serie A bow, completing the full 90 minutes as his side went to the top of the table.

Next game: Parma (a) Serie A, Wednesday.

Hatem Ben Arfa (Hull City)

Next game: West Bromwich Albion (a) Capital One Cup, Wednesday.





2014/15:
Third (fourth) kit
As seen in the official 2014/15 Premier League handbook some weeks ago, Newcastle have now belatedly supplied details of the third kit, which is now on sale and will be worn away at Stoke City on Monday week.

In their launch blurb, they claim that the design was chosen in conjunction with the fans forum last season, although that's disputed.

It's yet to be confirmed whether a red, white and blue kit was among discarded options...

(this is confusingly the fourth kit to be revealed, but the third to go on sale, with the predominantly white one worn against Real Sociedad in August available to buy nearer Christmas)
Hat check:
Arfa chance
Contrary to reports that the loan deal that took Hatem Ben Arfa to Hull City on transfer deadline day contained no recall provision, it's now emerged that the player and the two clubs all have provision to end the agreement.

Given the poor standing of the player in the Newcastle dressing room though, it's difficult to envisage seeing Hatem again in a black and white shirt - regardless of whether Alan Pardew remains in post or not.
Internationals:
Freddie called up
Currently on loan at League Two side Hartlepool United, Newcastle reserve goalkeeper Freddie Woodman has been drafted into the England U18 squad following the withdrawal of another player.

Woodman is one of two custodians in the selection for a friendly match against Italy on Wednesday afternoon in the Adriatic coastal town of Caorle.


Update
:

Coaches apologise following fan abuse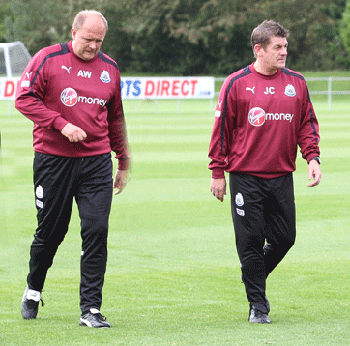 Club statement, Thursday:

Newcastle United received a number of complaints from supporters regarding the conduct of its coaching staff during and after the defeat to Southampton on Saturday, 13th September.

This matter has now been dealt with internally.

Following the conclusion of the Club's enquiries, assistant manager John Carver, said: "My sole focus on Saturday, as it always is, was on trying to gain three points for Newcastle United and preparing the players to the best of my ability.

"This included keeping them focused on their roles and duties in the upcoming 90 minutes.

"In the warm-up, I was disappointed to see banners that could, in my opinion, distract the players and take focus away from the job in hand - namely winning the match.

"I went over to our fans to ask them to help us and requested that they take the banners down. The vast majority of supporters back the team through thick and thin and I am very proud to be one of them.

"I was met with abuse from one supporter and I regret that I responded inappropriately. I sincerely apologise for any offence caused by my reaction.

"Every fan is entitled to an opinion, positive or negative, and I respect that. I hope fans will understand that I, like them, only wanted what was best for the team.

"I am proud to work for my home town club and would ask every supporter to back the players and all staff, as they really can make a difference."

Goalkeeping coach Andy Woodman, said: "I am very sorry for the ill-advised comment I posted privately on Twitter on Sunday morning, which was subsequently made public.

"It was never my intention, of course, for my response to enter the public domain.

"My response was a reaction to significant personal abuse I received from a number of fans which I felt exceeded that which was fair and balanced.

"That said, I understand my response was unacceptable and I regret my actions and apologise for any offence caused."

Thanks for that lads, that leaves just the apologies to come from the manager and the players for their own insulting performances at St. Mary's.....

Latest:
Jonas: update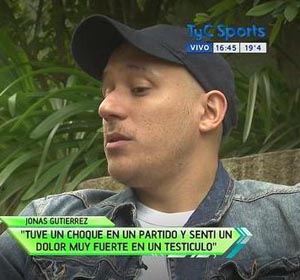 Update: further details from the Gutierrez TV interview reveal that the initial diagnosis of his testicular cancer came a scan that he underwent after suffering an injury during the home game against Arsenal in May 2013.

After having the affected testicle removed in Argentina, during October, Jonas returned to Newcastle and played one reserve game in December before joining Norwich City on loan, making four appearances in as many months.

Five months on from the surgery, a check up revealed traces of cancer had returned and at that point he was prescribed a course of chemotherapy, during which he lost his trademark flowing locks.

Putting together the above into a timeline does raise a number of questions, in particular the short interval between surgery and returning to playing, plus what medical checks were carried out before joining Norwich.

And finally, was including Jonas in Newcastle's 25 man Premier League squad this season a confidence booster for him or indicative of a possible playing return?

24 hours after the player made his announcement, NUFC released their own statement:

Newcastle United can confirm that winger Jonas Gutierrez is continuing to receive treatment in Argentina after being diagnosed with testicular cancer.

The Club has been aware of Jonas' condition for some time but has respected his wish for privacy as he undergoes treatment with his friends and family around him.

Newcastle United managing director, Lee Charnley, said: "We have and will continue to offer Jonas our full support.

"We thank our fans for their kind messages of support for Jonas and the thoughts and best wishes of everyone connected to Newcastle United are with him at this time."
The club kindly requests that Jonas' privacy is respected ahead of further enquiries.
Tuesday evening saw the publication of quotes from Jonas Gutierrez given to a TV station in his native Argentina, confirming why he's not featured in the Newcastle squad this season:

"When I confirmed that I had cancer I went home crying. This was the most difficult game I had to play.
"I detected a tumour in a testicle. I came here and I assumed the costs, despite having a contract with Newcastle.
"Money is not important. What is important is health and I had to start chemotherapy. It was hard to find my hair falling out. I did not want to cut it. I wanted to hold on.
"Fighting cancer makes the rest of the problems are insignificant. I decided to tell my story because maybe is will help people who have cancer."
"I removed the left testicle. I returned to England and Newcastle told me to leave."

Concerned about testicular cancer? click here

Talk-in:
Gibbo and Mac
out on the Town

Following John Gibson's appearance in Wallsend last Friday, he's hosting a similar event at Northern League club Dunston UTS this Thursday, September 25th.

Appearing with John will be Malcolm Macdonald and the event gets underway at 7pm. Tickets are £5 including a pie and pea supper, available from the clubhouse or by calling 0191 493 2935. All proceeds go to the club.

The event is part of John's promotion of his new book, "The Gibbo Files", available for £9.99 from local booksellers including The Back Page on St. Andrews Street.
Old boy:
Shola spotted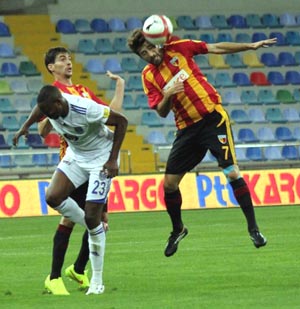 While his old team were sinking without trace at Southampton, Shola Ameobi made a competitive debut for Gaziantep in the second tier of Turkish football.

Wearing his familiar number 23 shirt, Ameobi (pictured above in the all white strip) completed all 90 minutes of a 0-0 draw away to Kayserispor, collecting a booking within three minutes of the opening whistle.

Shola's debut had been delayed a week due to serving a suspension following the red card that curtailed his final appearance for Newcastle last season, at Anfield.

PS: Friday saw Shola net his first goal in Turkish football, converting a penalty in a 1-1 draw against Adanaspor.
Fanzine
:

Tablets of Toon


Issue 114 of True Faith is now available in digital-only format. Click here for details of how to subscribe.

Online subscriptions cost £17.99 annually, with a £5.99 quarterly option. Ten issues per season, each one has a minimum of 100 pages (114 clocks in at 108 pages.

Subscribers also get free access to 34 back issues.

Memorabilia:
Signed KK shirts
/boots
For more information click here.

Update: signed KK boot/photo montage now also on sale.



2014/15

:
More cuts


Wednesday saw United confirm further reciprocal pricing deals with two Premier League sides - and announce a discount on ticket prices for a third away day.

Following on from agreements reached with Southampton and Stoke City, travelling fans will now pay less for the games with Swansea City and Everton, while the visit to Spurs will also be subject to a price restriction.

Swansea City: £25 adults, £12.50 concessions
(this still represents a price increase on 2013/14 when adults were charged £20, but better than the £35 that Toon fans had to fork out in the two previous visits).

Everton: £20 adults, £10 concessions
(that's a rather more real world price to occupy a 19th century hovel with awful sightlines than the £33 last season and the £39 in 2012/13)

Spurs away: NUFC will subsidise their support for the visit to White Hart Lane from the away fans fund:

£31 adults, £14 OAPS, £12 juniors (upper)
£27 adults, £11 OAPs, £9 juniors (tier)

(2013/14 adult prices were £41 upper, £37 lower)

(for clarity, the reciprocal rates apply to away fans attending each game against that side and reaching an agreement of this type allows the home club to offer discounted tickets to home fans without any fear of sanction for flouting parallel pricing guidelines).


NUFC
Next Match
Crystal Palace
Capital One Cup 3rd Round
Selhurst Park
Wednesday 24th September
Kick-off 8.00pm
NUFC
Last Match
Newcastle 2
Hull City 2
Premier League
St. James' Park
Saturday 20th September
Match report to follow
NUFC.com's
Never-Ending Tour
| | |
| --- | --- |
| Number of Newcastle games attended by NUFC.com in 2014/15: | 26 |
Fixtures, Tickets etc.
Season 2014/15

The ticket office is on the first floor of the SJP club shop, under the Gallowgate End towards the Strawberry.

New season opening Hours: TBC

Paid-for matchday ticket collections take place from the windows at the back of the Gallowgate End Stand, above NINE Bar.

Matchday ticket sales are from the Box Office in the Milburn Stand, just up the slope from the Sir Bobby Robson Statue.

SJP Box Office phone: 0844 372 1892*
(Open for away ticket sales and enquiries during the above Box Office hours).

* 0044 870 1892 from overseas

Online Box Office is available here

2014/15 season ticket details here

On the opening day of ticket sales, they officially commence at 10am.

Away tickets are sold only to season ticket holders and members. All ST holders are also automatically members (a non-negotiable fee is added annually by NUFC to each ST).

A £1 administration fee per ticket applies to away sales in all competitions, with no upper limit. In addition, non-NUFC members pay the same fee on home ticket sales.

NUFC's members only away ticket policy is still in force, with only NUFC ST holders and members able to purchase tickets. NB: for the pre-season games listed below, two tickets per member number can be bought.

SJP season ticket info online here

SJP Stadium seating plan online here

Newcastle City Centre map (PDF)

Fixtures:

Ongoing: Toon Times exhibition @ Discovery Museum, Blandford Square, Newcastle NE1 4JA. Free entry. (runs until 05.10.2014)

Mon 22.09.2014 U21s v Arsenal (a) @ Meadow Park, Boreham Wood, 7pm. U21 Premier League. Note new date.

Wed 24.09.2014 Crystal Palace (a) @ Selhurst Park, 8pm. Capital One Cup Third Round. ST holder sale now ended.

Sat 27.09.2014 U18s v Liverpool (h) @ Little Benton, 11am. U18 Premier League.

Mon 29.09.2014 Stoke City (a) @ Britannia Stadium, 8pm. Premier League. Member sale now. £20 adults, £5 OAPs, U17s. Live on Sky Sports.

Wed 01.10.2014 U21s v Heaton Stannington (a) @ Grounsell Park, 7pm Friendly.

Sat 04.10.2014 U18s v Derby County (h) @ Little Benton, 1pm. U18 Premier League.

Sat 04.10.2014 Swansea City (a) @ Liberty Stadium, 3pm. Premier League. Member sale now. £25 adults, £12.50 Over 60s, U16s, NUS.

Sat 11.10.2014 U18s v Manchester City (a) @ Platt Lane, 1pm. U18 Premier League.

Sat 18.10.2014 U18s v Everton (h) @ Little Benton, 12.30pm. U18 Premier League.

Sat 18.10.2014 Leicester City (h) @ SJP, 3pm. Premier League. Ticket details awaited.

Mon 20.10.2014 U21s v Brighton (h) @ Whitley Park, 1pm. U21 Premier League.

Sat 25.10.2014 U18s v Blackburn Rovers (a) @ Brockhall, 12.30pm. U18 Premier League.

Sun 26.10.2014 Spurs (a) @ White Hart Lane, 1.30pm. Premier League. ST holder sale now (zero points), members sale from Tue 23.09.2014 (if any). Upper tier: £31, £14 over 65s, £12 U16s. Lower tier: £27, £11 over 65s, £9 U16s.

Mon 27.10.2014 U21s v Middlesbrough (a) @ Victoria Park, Hartlepool 7pm. U21 Premier League.

Sat 01.11.2014 U18s v Wolves (h) @ Little Benton, 1pm. U18 Premier League.

Sat 01.11.2014 Liverpool (h) @ SJP, 12.45pm. Premier League. Ticket details awaited. Live on BT Sport.

Mon 03.11.2014 U21s v Aston Villa (a)
@ SJP 7pm. U21 Premier League.

Capital One Cup Round Dates:
3rd Round w/c 22.09.2014
4th Round w/c 27.10.2014
QF w/c 01.12.2014
SF(1L) w/c 05.01.2015
SF(2L) w/c 19.01.2015
Final Sun 01.03.2015

FA Cup Round Dates:

3rd Round w/e of 03.01.2015
4th Round w/e of 24.01.2015
5th Round w/e of 14.02.2015
6th Round w/e of 07.03.2015
SF Sat 18.04.2015/Sun 19.04.2015
Final Sat 30.05.2015

FA Youth Cup Round Dates:

3rd Round by 20.12.2014
4th Round by 17.01.2015
5th Round by 31.01.2015
6th Round by 21.02.2015
SF1 by 07.03.2015
SF2 by 21.03.2015
Final 1 tbc
Final 2 tbc

U21 Premier League Cup Dates:

Round of 32: no later than 08.12.2014
Round of 16: no later than 05.01.2015
QF: no later than 02.02.2015
SF: no later than 02.03.2015
Final: no later than 30.03.2015

Northumberland Senior Cup 1st Round:

06.10.2014 Team Northumbria v Bedlington
07.10.2014 Alnwick Town v Heaton Stan
08.10.2014 Morpeth Town v North Shields
08.10.2014 Newcastle Benfield v WA Celtic
(The four winners of those ties then go into the Second Round draw with Ashington, Blyth Spartans, NUFC and Whitley Bay).


Altoonative Travel is the public face of the Newcastle United Travel Plan, aimed to help fans attend games using the most efficient and sustainable methods available.


Confirmed NUFC UK live TV coverage:

NUFC Live on Sky Sports:
Mon 29.09.2014 Stoke City (a) 8pm
Sun 09.11.2014 West Brom (a) 1.30pm



NUFC Live on BT Sport:
Sat 01.11.2014 Liverpool (h) 12.45pm


Gateshead FC are offering a £5 saving on Conference Premier League home games for NUFC season ticket holders this season.

On production of their current ST card, fans pay just £10 for adult admission to the Tyne and wear Stand - a saving of £5.

Upcoming home League games
(all 3pm KO unless specified):

Sat 27.09.2014 Aldershot Town
Sat 04.10.2014 Braintree Town
Tue 07.10.2014 Alfreton Town (7.45pm)
Sat 18.10.2014 Barnet

A similar scheme is also in operation at Northern Premier League side Darlington 1883, where NUFC season ticket holders can gain entry to league games for £6.

Upcoming home League games
(all 3pm KO unless specified):

Wed 01.10 2014 Harrogate RA (7.45pm)
Sat 04.10.2014 Padiham
Wed 15.10.2014 Ossett Albion (7.45pm)
Sat 25.10.2014 Burscough

(NB: home games are staged at Bishop Auckland FC's Heritage Park home)

Rugby League Magic Weekend @ SJP:

The 12 team event takes place on 30.05.2015 and 31.05.2015, with three games at SJP each day.

Teams: Catalans Dragons, Castleford Tigers, Hull, Hull KR, Huddersfield Giants, Leeds Rhinos, St Helens, Salford Red Devils, Wakefield Trinity Wildcats, Warrington Wolves, Widnes Vikings, Wigan Warriors.

Ticket details tbc.

Rugby Union World Cup @ SJP:

The 20 team event runs from 18.09.2015 to 31.10.2015 with three games at SJP:

Sat 03.10.2015 South Africa v Scotland
Fri 09.10.2015 New Zealand v Tonga
Sat 10.10.2015 Samoa v Scotland

RUWC match ticket sales:

Now: Traveling Fan Packages
Now: Hospitality Packages
Now: English rugby club members

12-29.09.2014 General sale
General sale to the public via a ballot

11.2014/12.2014 General sale
First come, first served basis for any left

International Magpies
National Service

The way international matches are scheduled is changing, as UEFA confirm:

The Week of Football means matches take place over six days from Thursday to Tuesday. Kick-off times will be set largely at 18.00CET and 20.45CET on Saturdays and Sundays and at 20.45CET for Thursdays, Fridays, Mondays and Tuesdays.

On double-header match weeks, teams will play on Thursday and Sunday, Friday and Monday or Saturday and Tuesday.

2014/15 match dates :
Wed-Fri 09-11.10.2014
Sat-Mon 12-14.10.2014
Thu-Sat 14-16.11.2014
Fri-Sun 27-29.03.2015
Fri-Sun 12-14.06.2015

2014/15 African Nations Cup:
Sat 17.01.2015-Sun 08.02.2015

Group D qualifiers:
11.10.2014 DR Congo v Ivory Coast
15.10.2014 Ivory Coast v DR Congo
15.11.2014 Sierra Leone v Ivory Coast
19.11.2014 Ivory Coast v Cameroon

Group G qualifiers:
11.10.2014 Senegal v Tunisia
15.10.2014 Tunisia v Senegal
15.11.2014 Egypt v Senegal
19.11.2014 Senegal v Botswana

2015/16 match dates:
Thu-Sat 03-05.09.2015
Sun-Tue 06-08.09.2015
Thu-Sat 08-10.10.2015
Sun-Tue 11-13.10.2015
Thu-Sat 12-14.11.2015 (playoff 1)
Sun-Tue 15-17.11.2015 (playoff 2)

Coxy's Cockup Corner
Whoops, He did it Again...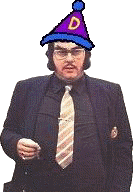 What's this all about then? Click here
for a rambling explanation of sorts....


On This Day in History
22nd September

Born Or Died:
1878 Peter McWilliam born, Inveravon, Scotland. (1902-11)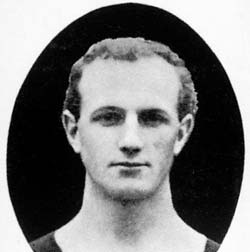 Left half acquired from Inverness Thistle, who appeared for United during their Edwardian run of success, winning Division One titles in 1905, 1906 & 1908.

FA Cup Final appearances in 1905, 1906, 1908 and 1910 also followed - although he earned a winners medal only at the fourth attempt, against Barnsley.

Peter received his first Scotland cap in 1905, captaining his country on the occasion of his eighth and final appearance six years later.

A knee ligament injury curtailed his playing career in 1911 and a year later he was appointed as the manager of Tottenham, where he remained in post for fifteen years.

Later taking over at Middlesbrough, Peter was to return for a second stint in charge of Spurs - via a spell as chief scout of their North London rivals, Arsenal.

Retiring in 1942, McWilliam settled in Redcar and passed away in 1951.

1933 Dave Smith born, Dundee, Scotland.
(1968-71)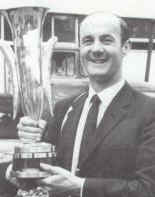 As a player, Dave appeared for Burnley, Brighton and Bristol City before opting to pursue a career in coaching.

His first appointment took him to Libya, before a rather less exotic stint at Sheffield Wednesday led to Smith's arrival at SJP in June 1967, assisting manager Joe Harvey.
Dave coached United during their victorious Fairs Cup run of 1969/69 and is pictured above with the trophy.

Leaving SJP to become reserve team boss at Arsenal, he sampled management for the first time in 1974 with Mansfield Town and led the Stags to successive promotions.

Later postings at Southend United and Plymouth also saw him secure promotions before he was persuaded to take over at his hometown club Dundee in 1988.

That didn't work out though and within a year Dave had returned to England as boss of Torquay United for a three year spell.

He then established youth football training schools in the Plymouth area and in a nod to what he acknowledges to be the highlight of his career, called the honours he hands out to top students, "Magpie Awards."

1936 Robert Whitehead born, Ashington.
(1954-62)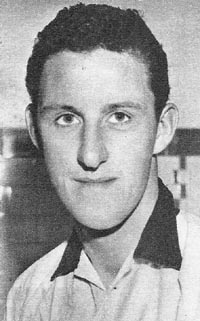 Right back who joined United from Fatfield in December 1954 but had to wait for a senior debut until September 1957, deputising for Dick Keith in a 2-0 win at Burnley.

Not called upon again for over a year, Bobby made occasional first team starts thereafter but played mostly at reserve level, save for a run of games in the 1959/60 season.

Going on loan to Cambridge City during the 1960/61 season, Whitehead moved on to Darlington for £600 in August 1962.

Retiring due to injury in 1964, he later lived in his native Northumberland.

1957 Steve Carney born, Wallsend.
(1979-85)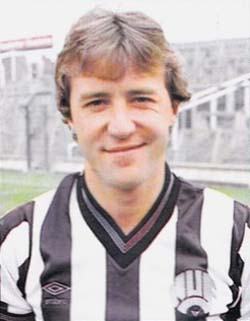 Defender who began his career at Dudley Juniors, having trials for West Bromwich Albion before joining North Shields in 1975.

Moving on to Blyth Spartans two years later, Steve featured in their memorable FA Cup run in the 1977/78 season, scoring a vital goal at Stoke City in Fourth Round.

Sent off at Wrexham in the next round, Carney was available for the replay and played in the defeat on a memorable night at a sold-out St.James' Park.

Steve later followed fellow Spartan Alan Shoulder to United, signing for £1,000 in October 1979 and debuting in a 2-0 home win over Fulham two months later.

His uncompromising tackling became a feature of his regular first team displays at both full back and central defence, with occasional forays into midfield.

Part of the 1983/84 promotion-winning side,
Carney marked Newcastle's return to the top flight with his only senior goal for the club in an opening day win at Leicester City.

However he soon lost his place in the side and was loaned to Carlisle United before joining Darlington in July 1985, following his release by the Magpies.

Following spells at Rochdale and Hartlepool United Steve returned to Croft Park in 1987 via Tow Law Town, serving Blyth well for a further four years.

Involved with the family babywear clothing business, Carney turned down the chance o manage Blyth, but did later assist his brother Rob at Newcastle Blue Star.

Later entering the property trade, Steve returned to SJP in 2003 as he and the other boys of 1978 were presented to the crowd.

Diagnosed with pancreatic cancer, he died in May 2013 at the tragically early age of 55.

What Else?
1894 Notts County (h)
2-2 (1-1)
Division Two
Thompson, Willis
Daft, Chadburn
3,000
Local lad Dick Hedley (parents can be cruel) got his first run out, at outside right.

1900 West Bromwich Albion (a)
1-0 (0-0)
Division One
Peddie
10,000

1906 Woolwich Arsenal (a)
0-2 (0-1)
Division One
Kyle 2
30,000

1923 Cardiff City (h)
1-1 (1-0)
Division One
McDonald
Davies
40,000

1928 Leicester City (h)
1-0 (0-0)
Division One
Hudspeth
31,000

1934 Plymouth Argyle (a)
3-1 (0-0)
Division Two
Boyd, Leach, Smith
Vidler
13,404
A debut goal for centre forward Jack Smith, whose goalscoring record of 73 goals in 112 senior appearances is often overshadowed by memories of the Gallacher and Milburn eras before and after.

1934 While Jack Smith was beginning his league career for United,

a

former favourite Hughie Gallacher was appearing at Roker Park for his latest club Derby County.

In a stormy encounter watched by 30,000, Derby triumphed 4-1 thanks to a Jack Bowers treble. Gallacher was dismissed shortly after half time.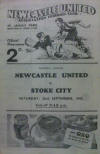 1945 Stoke City (h)
9-1 (3-1)
Wartime
Hair, Wayman,
Stubbins 5, Clifton 2
Steele
46,349
Albert Stubbins added another five goals to what would become a fearsome total of 231 strikes in wartime football for the Magpies.
1951 Charlton Athletic (a)
0-3 (0-1)
Division One
Vaughan 2, Evans
48,056

1956 Burnley (h)
1-1 (1-1)
Division One
Keeble
Pilkington
36,790





1962 Norwich City (h) 2-1 (2-0)
Division Two
Fell (pen), Thomas
Conway
36,345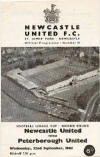 1965 Peterborough United (h)
3-4 (1-3)
League Cup 2nd Round
Bennett, Iley Hilley (79)
Watson, Beesley, Conmy 2
16,132
The Posh recorded their first ever win in this competition after five successive exits at the first time of asking.

1973 Coventry City (a)
2-2 (1-2)
Division One
Tudor, Macdonald
Alderson, Stein
25,556

1976 Stoke City (h)
3-0 (2-0)
League Cup 3rd Round
T.Craig(pen), Burns, Nattrass
27,143
This win over the Potters was followed by a trip to Manchester United in the next round - a tie we'd infamously lose 2-7....

1979 Wrexham (h)
1-0 (0-0)
Division Two
Shoulder(79pen)
27,904
The breakthrough came when a push on John Brownlie by Joey Jones was punished with a spot kick that Alan Shoulder converted (his sixth penalty of the season), to put us on top of Division Two.

1984 Queens Park Rangers (a) 5-5 (4-0)
Division One
McDonald(3), Waddle(17,25,41), Wharton(84)
Bannister(49),
og(Wharton)(57),
Gregory(74), Wicks(86), Micklewhite(90)
14,234
Wow. 4-0 up at half time, United were lucky to hang on for a point as they capitulated in the last quarter of a momentous encounter.

Kenny Wharton scored at both ends while England manager Bobby Robson was present and noted the form of Chris Waddle on the Loftus Road plastic.
Youtube footage is online here
1990 West Ham United (h)
1-1 (1-1)
Division Two
McGhee
Morley
25,462
The points were shared on Tyneside against a side who went on to finish second and return to the top flight at the second time of asking.
1992 Robert Lee signed for a fee of £700,000 from Charlton Athletic, after rejecting overtures from his former manager Lennie Lawrence, then in charge at Middlesbrough. Keegan reportedly persuaded Rob that Newcastle was nearer London than Teesside.

1993 Notts County (h)
4-1 (1-1)
League Cup 2nd Round
1st Leg
Cole(30,54,63), Bracewell(72)
og(Srnicek)(16)
25,887
The Pies took an early lead when Pavel Srnicek fumbled an indirect free kick from Mark Draper into his own net, but this inspired United and Andy Cole in particular, against his home town team.
1997 The reserves won 1-0 away at Wigan's Spingfield Park, thanks to a late winner from David Eatock (a striker acquired from nearby non-league side Chorley).

Included in United'ss line-up were on-trial duo Massimo Oddo from AC Milan and Australian Carlos Gonzales from Sydney United.

The Italian defender wasn't retained - but would go on to win 34 caps for his country and a World Cup winners medal in 2006 - while the Aussie would soon retreat back down under in a huff.
2003 Michael Chopra got the vital goal that beat Manchester City's Reserves 1-0 at Hyde United's Ewen Fields. Chops struck two minutes into the second half, lashing the ball in off the bar in front of the watching City boss Kevin Keegan.
NUFC.com match report
2006 United's Celestine Babayaro accepted a charge violent conduct from the FA over an incident with Liverpool striker Dirk Kuyt at Anfield two days previous.

Referee Mark Halsey failed to see anything untoward during the game, but video evidence subsequently showed the Nigerian striking the Dutchman in the face while the pair jostled in advance of a first half corner.
Babayaro was banned for three games, but the chances of him making that many appearances in succession without developing some sort of 'injury' were pretty slim anyway....

2008 The Reserves lost 0-3 at home to Sheffield United's second string. Tormentor-in-chief for the Blades was former Magpie Keith Gillespie, who scored twice and eclipsed a young toon side that included reserve debutant Brad Inman.
NUFC.com match report


2009 Peterborough United (a) 0-2 (0-2)
Carling Cup Third Round
Mackail-Smith(20), Williams(31)
10,298

Chris Hughton opted to field a weakened side at London Road, making ten changes and handing debuts to defensive duo Ben Tozer and James Tavernier.

With Haris Vuckic and Ryan Donaldson also making their first senior starts, the Magpies struggled and were deservedly two behind at half time.

Inexplicably, Hughton left on Danny Guthrie - who had already been booked - and then made a triple substitution on the hour, bringing on messrs Nolan, Geremi and Smith.

Guthrie was then sent off and with Joey Barton unfit, the bizarre triple switch thankfully didn't result in any injuries to our depleted resources.
NUFC.com match report



2010 Chelsea (a)
4-3 (2-1)
Carling Cup Third Round
Ranger(27), R.Taylor(32), Ameobi(49,90)
Van Aanholt(6), Anelka(70,87pen)
Shola Ameobi headed home a last minute winner to cap an incredible night, as United dumped Chelsea out of the Carling Cup and ended a winless run at Stamford Bridge stretching back to November 1986.

Ex-Magpies loan defender Patrick Van Aanholt had given his side an early lead on a night when 36 year-old Sol Campbell made a first team debut.
NUFC.com match report



2013 The mackems sacked slack-jawed, trouser-dirtier Paolo Di Canio.

Reacting to the news on twitter, former Mag, Joey Barton said:

"Di Canio said to be devastated on having to leave the cultural utopia that is 5under1and to go back home to Rome..."



Copyright © 2014 NUFC.com. All rights reserved.
Niall & Biffa. NUFC.com Privacy Policy