Ticket news: To follow

Update:
Extra task for Rafa



Fabio Pecchia and Rafa Benitez


Given the excitement caused by the recent press release confirming Rafa Benitez was staying, the following sentence didn't attract much attention:

"A further announcement regarding Benitez's coaching staff will be made in due course".

However there does look to be at least one alteration to that coaching staff, with news that Rafa's assistant Fabio Pecchia is set to leave the club.

The 42 year-old Italian worked alongside Benitez at Napoli, Real Madrid and Newcastle, but is now widely expected to take charge of Hellas Verona following their demotion to Serie B.

Divided loyalties?:
Same old, same old

Interviewed by a radio station in his native Argentina last week, Fabricio Coloccini has once again spoken of his desire to rejoin former club San Lorenzo.

Echoing previous comments, Colo confirmed that he had a verbal offer from the Buenos Aires club and wouldn't consider joining anyone else but needs to "respect the people of Newcastle" (or at least the ones on Barrack Road still paying him).

The 34 year-old defender remains under contract at Gallowgate but hasn't featured since the arrival of Rafa Benitez - officially sidelined with calf trouble.

This latest declaration of love for the club he played at in 2001 hasn't been universally reciprocated by their fans though, especially those witnessing his fading powers via Premier League matches on TV:

"Stay in Newcastle and eat fish & chips" is probably our favourite response from them so far....

Colo's comments came as San Lorenzo faced Lanus in the final of the Argentine Championship. Given that San Lorenzo were thumped 0-4 though, it sounds like he's already signed for them....

RGR:
King of the hill(s)


Congratulations to Mark Allison aka Run Geordie Run for completing 1,000 miles of his latest charity trek, leaving him 2,400 miles away from the finish line.

The 30th day of Mark's route from Portugal to Turkey found him once again grappling with steep inclines through the Pyrenees - check RGR's twitter account online here for some spectacularly scenic photos.

Mark's efforts - and that of his support crew - are aimed at raising funds for the Sir Bobby Robson Foundation and the Children's Foundation. All donations massively appreciated online here.
Arch rivals:
Owls and Tykes confirmed

The composition of next season's Championship has now been finalised, after the League One playoff final which saw Barnsley beat Millwall 3-1 at Wembley.

The Tykes gained their third victory this season over the Lions and in so doing, secured a second Wembley success in as many months after winning the Football League Trophy.

Magpies striker Ivan Toney played the final game of his loan spell at the Oakwell club, coming off the bench on 81 minutes when the scoring was over.

A 1-0 win for Hull City over Sheffield Wednesday at the National Stadium on Saturday ensured promotion to the top flight for the Tigers and means that Newcastle will travel to Hillsborough in 2016/17.

Steve Bruce's side returned to the Premier League after a one season absence, but there was to be no farewell appearance for old boy Ryan Taylor, who featured just four times in the league this season.

The line-up of all 24 teams in the Championship next season is as follows:

Championship 2016/17:


| | |
| --- | --- |
| Aston Villa | Barnsley |
| Birmingham City | Blackburn Rovers |
| Brentford | Brighton |
| Bristol City | Burton Albion |
| Cardiff City | Derby County |
| Fulham | Huddersfield Town |
| Ipswich Town | Leeds United |
| Newcastle United | Norwich City |
| Nottingham Forest | Preston North End |
| QPR | Reading |
| Rotherham United | Sheffield Wednesday |
| Wigan Athletic | Wolves |

We'll be doing a daily preview of all 23 opponents on NUFC.com starting on Wednesday June 1st.


Update:
Internationals

Latest selections:

France: Moussa Sissoko
Mon 30.05.2016 Cameroon (h) won 3-2
Midfielder Moussa appeared as a 65th minute substitute in this friendly victory in Nantes.

Sat 04.06.2016 Scotland (h) Metz FR

Serbia: Aleksandar Mitrovic
Tue 31.05.2016 Israel (h) Novi Sad FR
Sun 05.06.2016 Russia (n) Monte Carlo FR
Netherlands: Georginio Wijnaldum
Wed 01.06.2016 Poland (a) Gdansk FR
Sat 04.06.2016 Austria (a) Vienna FR

DR Congo: Chancel Mbemba (tbc)
Thu 02.06.2016 Madagascar (a) Antananarivo ACNQ

England: Andros Townsend
Thu 02.06.2016 Portugal (Wembley) FR

Wales: Paul Dummett
Sun 05.06.2016 Sweden (a) Stockholm FR

Slovakia U21s: Lubo Satka
Wed 01.06.2016 Ukraine (h) Poprad FR
Sun 05.06.2016 England C (a) Sutton FR

England U19s: Freddie Woodman /
Adam Armstrong
Sat 04.06.2016 Mexico (a) Mexico City FR
Mon 06.06.2016 Mexico (a) Mexico City FR

Old Boys:

Ex-Magpie player involvement in Euro 2016:

England: Fraser Forster, James Milner
France: Yohan Cabaye
Hungary: Tamas Kadar
Ireland: Shay Given
Northern Ireland: Shane Ferguson, Aaron Hughes

(Patrick van Aanholt and Luuk De Jong are also in the Dutch selection for their friendly fixtures)

Footy Pupz:
Starting them young



A new series of football fun sessions for 2/3 and 3/4 year-old boys and girls begins this Sunday (June 5th) at The Linskill Centre, North Shields, NE30 2AY.

Footy Pupz courses take place on six consecutive Sunday mornings, with the 2/3 year olds kicking off at 10am and the 3/4 year olds commencing at 11am.

Courses usually cost £38 but bookings received by Tuesday will qualify for a discount rate of £30.

Both courses will be repeated on Saturdays from July 30th. Places can be booked online here, with more details available via the logo below, on facebook @ footypupz or by tweeting footypups1.


2016/17:
Club confirm
ST price cut


Thanks to Andrew Murdy for photo
From NUFC, Friday:

Newcastle United have confirmed that all season ticket prices for the 2016/17 season at St. James' Park will be reduced by ten per cent across the board.

The Club announced in February that it had reduced all junior season ticket prices for next season by up to 54 per cent, as well as freezing adult season ticket prices.

Following relegation to the Championship and confirmation that manager Rafa Benitez will remain at Newcastle United, a new ten per cent discount has now been applied to reward supporters' loyalty.

Supporters on long-term price deals will receive a ten per cent reduction on the prices sent to them in February and will receive refunds or reductions in their monthly payments.

Lee Charnley, managing director at Newcastle United, said:

"With our future under Rafa now secured, we are delighted to announce price reductions across the board for all supporters.

"Your loyalty through these challenging times has been magnificent and it is right that we now reward you with savings for our 2016/17 Championship season."

The Club will now be writing to season ticket holders in the coming days and weeks, detailing new prices and the process of how refunds and/or reductions will be managed.

For supporters wanting to purchase a one-year season ticket:

For example, an adult in our category 2 seating, you'll be paying £520 for your season ticket instead of £578 in 2015/16. Combined with the additional four games, this brings the per-game price down from £30 to under £23.

Prices in the Family Area are £68 for under-18s and £329 for adults. This means a per-game price of £3 for under-18s and just over £14 for adults.

Juniors across the board will see significant reductions from their 2015/16 price.

Fans with an existing one-season, half-season and five-game season ticket will be able to renew online, over the phone or via our Matchday Box Office from Tuesday (31st May).

We will make applications forms and monthly direct debit forms available online from Monday, 6th June.

In the meantime, all seats which were occupied during the 2015/16 season will be reserved until Friday, 1st July to enable season ticket holders to keep their seat.

If the Club has not heard from 2015/16 season ticket holders by Wednesday, 15th June, a prompt will be issued giving all the information needed to renew.

Existing hospitality customers will also benefit from a ten per cent discount and the Club will be in contact shortly to confirm new prices.

Giveaway:
Eyes down

Local crime author and Toon fan Howard Linskey has penned a new book featuring characters introduced in his successful 2015 release, "No Name Lane".

Set in the North East during the 1990s, "Behind Dead Eyes" contains a mix of corpses, conspiracies and criminals familiar to readers of his previous works.

Thanks to publishers Penguin we have signed copies of "Behind Dead Eyes" to give away and to be in with a chance of winning, just identify this 1990's Magpie: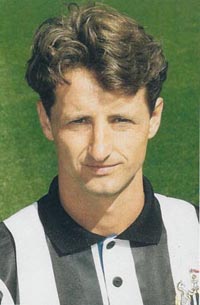 Email your answer to comps@nufc.com (subject: Eyes). Closing date is Wednesday @ Noon - one entry per person please - UK addresses only please.

Howard will be signing books at Waterstones in Durham on Friday from 1pm to 2pm and at Waterstones in Newcastle on Saturday, also from 1pm-2pm.

PS: We're unsure whether it's national or just at stores in the region, but "Behind Dead Eyes" is currently on offer at Sainsburys for just £3.99.
2016/17:
Rams appoint old boy

Championship side Derby County have confirmed the arrival of Nigel Pearson as their new first team manager, succeeding interim boss Darren Wassall.

Former Magpies coach Pearson has been out of the game since being relieved of his managerial post at Leicester City in June 2015.

The Rams were one of several Championship clubs with a vacancy; Aston Villa, Blackburn, Leeds, Nottingham Forest, Reading and Rotherham United also currently looking for a new messiah.

2016/17:
Pre-season update

From NUFC, Friday:

Newcastle United will travel to Ireland in July for a week-long pre-season training camp.

The Magpies will be based in County Kildare from Saturday 9th to Saturday 16th July, where they will step up their preparations for the 2016/17 Skybet Championship season.

At this time there will be no fixtures during the training camp, however the Club are in the advanced stages of finalising a number of friendlies for elsewhere in the pre-season campaign.

United prepared for the 2009/10 Championship season by training at Carton House in Maynooth, County Kildare before facing Shamrock Rovers in Dublin.

When they returned to Carton House for pre-season in 2010 however, no games in Ireland were scheduled.


Media outlets in Belgium claim that Newcastle are to face Sporting Lokeren at their Daknam Stadium as part of our pre-season preparations.

The game is claimed to be set for Saturday July 23rd with a kickoff of 5pm local time - although there's no confirmation of the fixture from either club as yet.

United previously visited Lokeren for an Intertoto Cup tie back in July 2001, running out 4-0 winners before beating the Belgians 1-0 on Tyneside a week later.

Sporting remain in the top flight of Belgian football and finished eleventh last season. Their current manager Georges Leekens was in charge of Club Brugge the last time we visited Belgium, in November 2012.

No strangers to the venue are our trio of ex Belgian League players Cheick Tiote, Chancel Mbemba and Aleksandar Mitrovic all having played there - Mitro netting for Anderlecht in his last two visits.

News of possible pre-season opponents from the Chronicle includes visits to Premier League new boys Burnley and League Two-bound Doncaster Rovers.

A home game against a team tbc leading up to the opening weekend of the Championship season on August 6th has also been mentioned.


2016/17:
Kit claims

Having opted not to debut next season's ensemble in the final game of last season, official confirmation of what kit design Puma will provide Newcastle with for their seventh season as official supplier is awaited.

These claimed designs are currently circulating online however, via the usual sources:
View kits online (including close ups)
Latest:
Second coming



On the anniversary of his Champions League Final victory with Liverpool, Rafa Benitez has confirmed that he'll ignore the relegation break clause in his Newcastle contract and remain at Gallowgate to honour the three year deal agreed in March.

The 56 year-old Spaniard returned to Tyneside from his home on the Wirral on Wednesday and was then unveiled (again) in a press conference at SJP.

That was open to all of the media, in contrast to the "preferred partners only" farce that Steve McClaren endured upon his introduction almost a year ago.

Rafa quotes:

"The first thing was for me is the fans, the stature of the Club and the future. So I have seen all of these things together.

"I said in my press conference that I came here because of that and I could see these things every day and especially the last game.

"There were a lot of positive things here from day one. Also my family is in England and I wanted to stay here, so everything together means that I'm really pleased and happy to be here.

"From day one, my relationship with Lee Charnley has been really good. I'm very pleased working with him.

"When I was asking for something they were trying to give me what I wanted and in this case when we were talking about the future they were quite positive.

"The main thing for me is that I have assurances that we will have a strong team - a winning team. If I am here again, I would say it's because I am convinced we can go up next season.

"My family also told me - Rafa you have to stay.

"I needed a new challenge and a new project. I can see the possibilities and the size of the club. It's massive....and I want to be part of that.

"I am convinced we can go up next season, we can stay for a long time in the Premier League and win trophies.

"If I don't want to sell any players I don't need to sell any players. We have to start working - when I finish this press conference, I will start working.

"The fans have been a major factor in my decision."

When asked about Chief Scout Graham Carr (who had reportedly met with Benitez earlier in the day):

ďWhat I have is the conviction that I can tell the fans that they donít need to be worried about that.
ďWe will try to bring the best players possible, and we will try to have a very strong squad. I will take responsibility if we need to do it.
ďI have had different meetings with different people, and I am quite happy. We will work hard and improve the team as much as we want.
ďI donít have any problem (with Carr).
ďI donít want to talk about that, because it is the first Press conference, but you will see that we can work hard and we can improve the team and it will not be a problem.Ē

(As is often the case, quotes come from various sources including the separate press conferences staged for TV and newspapers).

Club statement, Wednesday:

Newcastle United are delighted to confirm that Rafa Benitez will remain as Newcastle United manager, after signing a new initial three-year contract.

On Wednesday afternoon the Spaniard put pen to paper on the deal which will keep him on Tyneside until at least the summer of 2019.

Benitez will have day-to-day responsibility for all
football-related matters at the club.

The 56-year-old joined the Magpies in March, taking charge of the team for the final ten games of the 2015/16 season.

Despite the club's eventual relegation, he led United to three victories and a six-game unbeaten run, which culminated in a comprehensive 5-1 victory over Tottenham Hotspur on the final day of the season.
Benitez said: "I am extremely pleased to be staying at Newcastle United.

"The love I could feel from the fans was a big influence for me in my decision to stay, as was my relationship with Lee Charnley and all the staff.

"This is a huge club and I wanted to be part of the great future I can see for Newcastle United."

Managing director Lee Charnley added: "When we brought Rafa to the club in March, we knew he was a phenomenal manager and everything we have seen from him since has only served to reinforce that.

"We are therefore delighted to have secured his services for the next three years and I believe with Rafa as manager it gives us the best possible chance of returning to the Premier League at the first time of asking and delivering success for this football club beyond that.

"It is clear that Rafa has connected deeply with the club's supporters and we do not underestimate the role they have played in his decision to stay.

"He has captured the hearts and minds not just of the fans, but of everyone who has had the pleasure of working with him at the club thus far.

"As a world-class manager we had no doubt in our minds as to the importance of retaining him at Newcastle United."

A further announcement regarding Benitez's coaching staff will be made in due course.

All we can do is repeat part of our Spurs (h) waffle, which sums up things nicely from our perspective:

If the price of keeping Benitez is relegation, then that certainly seems like one that's worth paying for the long-suffering followers of this club, who finally see something that they can believe in and have responded accordingly.

Include us in that.

Comparing this situation to Kevin Keegan's time in charge at the club is valid, but rather than his first arrival as manager, our mind turns to the Swindon home game and his "not like the brochure" line.

An upturn came after the manager asserted his position and stared down the board - hopefully it's that element to be repeated this time.

Chatty Mag:
The Rafalution
will be televised

Almost as momentous as the Benitez news was a rare TV appearance made by club MD Lee Charnley - for anyone who has never heard him speak before, he hails from the Lancashire coast originally.

Watch it online here (club website)
Charnley made other comments to the club website that the Shields Gazette have helpfully transcribed:

ON HOW DELIGHTED HE IS THAT BENITEZ IS STAYING
"Iím absolutely delighted that Rafa has committed to being the manager of Newcastle United. Itís taken us a period of time, obviously, to get there. Weíve had a lot of talks and discussions but weíve reached a point where we are both very, very happy, very pleased to move forward and Iím delighted to secure one of what I believe is the best managers in world.

"I think itís something clearly our fans will delighted to hear, the staff, the players, but also the city.
WHAT MESSAGE DOES THIS SEND OUT?
"Iím not necessarily concerned about what message it sends out to the footballing world but the message it sends to our supporters is that weíve done everything we can to bring the individual here who we think gives us the best possible chance of suvccess.
ON WHAT HE AND MIKE ASHLEY DID TO PERSUADE BENITEZ TO STAY
"I donít think itís a case of the conversations that have taken place over the last one or two weeks, I think it goes back to the conversations that were first had prior to him joining the club, the regular dialogue Iíve had with him.

"I enjoy a very good relationship with him and I believe the relationship will go from strength to strength. I believe itís the efforts of all the staff in all areas of the business, giving their all to him and his staff members who came in and I think itís against that backdrop the conversations we had at the end of the season when unfortunately we were relegated.

"I think he understands where this club wants to be and he appreciates our desire is to get out of the Championship as quickly as we possible can. We accept itís not going to be easy but our desire is to get out of the division as quickly as we possibly can and then build this club.
ON WORKING WITH BENITEZ
"Heís been everything I expected and if truth be told, more. When he was first identified as an individual we would like to try and bring in it was very clear from the outset this was a manager of the absolute highest calibre, one of the best managers in the world.

"Everything that Iíve seen from him Ė from his backroom staff who have also been absolutely fantastic, what the other staff members who have worked with him (have said), the views of the players Ė itís absolutely clear that we have here one of the best managers in the world.
HOW MUCH FINANCIAL BACKING WILL BENITEZ GET?
"Where we are is that our job is to work together to ensure that we have a team and a squad that when the season kicks off at the beginning of August we have given ourselves the best possible chance of getting back into the Premier League at the first opportunity.
"I think his track record as manager, what heís achieved prior to coming to Newcastle United, the conversations I had before he came here and the conversations and relationship we have developed since he came here, Iím in no doubt this is an individual who can take us back to where we want to be.
ON THE ROLE OF THE FANS
"I think the way the supporters have taken to Rafa has been absolutely fantastic. Itís clear that theyíve taken him to their hearts and obviously that played a factor in us wanting to keep him here.

"Certainly we donít underestimate the role the supporters have played in trying to persuade Rafa that this was the best place for him.

"Rafa will have had a number of other options but I think a combination of the love he feels from the supporters, the relationship he has with people in the club, the support he knows he will get within the club, from within the city, I think together with the supporters behind us it gives us the best possible chance of achieving what we want to achieve.
ON NEW TICKET PRICES
"What we will be coming out with in the coming days is some pricing for season tickets and corporate hospitality packages for next season.

"What weíve tried to do with those prices is reward our most loyal supporters and what we want is a full, loud and vibrant St Jamesís Park.
Old boys:
Transfers etc.

Old boys with new clubs:

Joey Barton (Glasgow Rangers)
Ben Pollock (Hartlepool United)

Former Magpies released this close season:

Craig Baxter (Gateshead)
Sylvain Distin (Bournemouth)
Ryan Donaldson (Cambridge United)
Jose Enrique (Liverpool)
James Marwood (Gateshead)
Matty Pattison (Gateshead)
Peter Ramage (Coventry City)
Jonathan Woodgate (smoggies)