Ticket news: NUFC confirm new season ticket cards will be issued ahead of next season.

ST renewal deadline now Wed 10.06.2015
Giveaway:
Happy shopper

MS meets MS
Pictured with proprietor Mike Searle is Moussa Sissoko, after the goalscorer had an iPhone6 screen repaired by MJS - and qualified for his NUFC.com reader discount.

Whether you scored the goal that kept us in the Premier League or dropped your tablet celebrating it, claim 10% discount at branches in Ponteland and Birtley now.

MJS can repair Apple and Android devices, laptops, PCs, Macs and most things in between more details here

Showing season-ending generosity, MJS have donated an I-onik Android tablet for a free-to-enter competition.

To enter, simply email your answer to this question to competition@mjscomputers.net (subject: Moussa)
Arriving at Gallowgate in January 2013, Moussa took the squad number 7 that had been vacant since the exit of which midfielder to QPR in August 2011?

No purchase necessary, no age restriction, one entry per person please. The winner will be drawn at random from correct entries received on Thu June 11th and must be available to collect their prize in person from either Ponteland or Birtley within two weeks.

2014/15:
Hoyoots

Ex-Magpies released by their current club include:

Darren Ambrose (Ipswich Town)
Joey Barton (QPR)
Sylvain Distin (Everton)
Damien Duff (Melbourne City)
Danny Guthrie (Reading - Fulham loan)
Steve Harper (Hull City)
Paddy McLaughlin (Grimsby Town)
Alan Neilson (Cambridge United coach)
Oguchi Onyewu (Charlton Athletic)
Peter Ramage (Crystal Palace)
Ben Tozer (Northampton Town)

Loan latest:
The Third Mag

Thursday evening saw Rangers lose 1-3 at Ibrox to Motherwell in the first leg of their SPL play-off final. And while Haris Vuckic played his 21st game for the Ibrox side, there was a rare outing for another Magpie.

Four months after his loan move, Shane Ferguson made a belated senior debut for Rangers from the bench in the second half - the third of the five Newcastle loan players to do so after Vuckic and Remi Streete.

The Northern Ireland international is under contract at SJP until 2016 but hasn't appeared at club level since the final game of his loan to Birmingham City in April 2014.

The two sides meet again at Fir Park on Sunday, with promotion for Rangers - and a £500K bonus payable to Newcastle - very much in the balance.

Regardless of the outcome though, it seems unlikely that Vuckic will remain at Ibrox after the weekend - at least if the Daily Record newspaper is to be believed.

Entering the final 12 months of his contract, Vuckic has given little hint as to his future but would be a logical signing for Rangers regardless of what league they're in.

However the ongoing boardroom discord between club owner Dave King and Mike Ashley looks to have KO'd any hopes that a deal can be done by Rangers for Haris.

Meanwhile, it's emerged that Vuckic and fellow Magpie Gael Bigirimana were close to completing loan moves to Motherwell during the January transfer window. Instead though, the pair were dispatched to Govan with Fergie, Streete and Kevin Mbabu.

Internationals:
Call-ups

close season national service for current Magpies:

Rolando Aarons (England U20s):
Thu 28.05.2015 Morocco (n) drew 3-3
Rolando was an unused substitute as England kicked off their Toulon Tournament campaign with a draw.

Sat 30.05.2015 Ivory Coast (n)
Wed 03.06.2015 Mexico (n)
Fri 05.06.2015 China (n)

Daryl Janmaat, Tim Krul (Netherlands):
Fri 05.06.2015 USA (h) FR (Amsterdam)
Fri 12.06.2015 Latvia (a) ECQ (Riga)

Moussa Sissoko (France):
Sun 07.06.2015 Belgium (h) FR (Paris)
Sat 13.06.2015 Albania (a) FR (Elbasan)

Freddie Woodman/Adam Armstrong (England U18): Mon 08.06.2015 Russia (a) Khimki
Wed 10.06.2015 Russia (a) Khimki

Paul Dummett (Wales):
Fri 12.06.2015 Belgium (h) ECQ (Cardiff)

Premier League:
VA Day (Victory
over Anyone)

Newcastle 2 West Ham 0



PRemier League final table - bottom six:


| | | | | |
| --- | --- | --- | --- | --- |
| Pos | Team | Pld | GD | Pts |
| 15 | Newcastle | 38 | -23 | 39 |
| 16 | mackems | 38 | -22 | 38 |
| 17 | Aston Villa | 38 | -26 | 38 |
| 18 | Hull City | 38 | -18 | 35 |
| 19 | Burnley | 38 | -25 | 33 |
| 20 | QPR | 38 | -31 | 30 |


Last day Premier League results:

Sun 24.05.2015:
Arsenal 4-1 West Bromwich Albion
Aston Villa 0-1 Burnley
Chelsea 3-1 mackems
Crystal Palace 1-0 Swansea City
Everton 0-1 Spurs
Hull City 0-0 Manchester United
Leicester City 5-1 QPR
Manchester City 2-0 Southampton
Newcastle United 2-0 West Ham
Stoke City 6-1 Liverpool



Proud sponsors of NUFC.com
Latest:
Mac sacked

From the official Derby County website, Monday:

Derby County have terminated the contract of Head Coach Steve McClaren with immediate effect.
The decision follows a thorough review of the 2014/15 season by the club's Board of Directors.
The Board believes that the appointment of a new Head Coach is required to continue the club's on-field progress and the search is now underway to appoint a successor.
The Board remains firmly committed and driven to achieving promotion to the Premier League.
The club would also like to take this opportunity to wish Steve McClaren well for the future and thank him for his work throughout his tenure, which included a Play-Off Final appearance in 2014.
The club will be making no further comment at this time.

Reporting the story, Sky Sports claim that Derby are looking to appoint Real Madrid assistant coach Paul Clement - a man also previously linked to Newcastle.
Ex-Middlesbrough and England boss McClaren was heavily linked with the Newcastle job after the Alan Pardew's exit at the turn of the year - doing himself few favours with Rams fans and directors by fudging the question of whether he saw his future on Tyneside.

It's claimed McClaren refused an offer to take over from John Carver for the final three games of the season - a decision that didn't endear him to Newcastle. Whether his new-found free agent/compensation free status alters that situation remains to be seen.

PS: If McClaren does become Newcastle manager, then it's a fair bet that the man granted an audience on Sunday with Mike Ashley will be announcing the news.

The website of the PR company who may or may not now represent Sky Sports reporter David Craig list his achievements in breaking stories, many of which feature McClaren - including his sacking as England boss and arrivals at Twente and Wolfsburg.

Tournament:
Toon teens in twin
trophy triumph


There was double silverware success for Newcastle's youngsters in France over the weekend - but before anyone asks, that won't be the trigger for owner Mike Ashley to put the club on the market....

Monday saw United win the Tournoi International de Football U17 in the town of Saint-Andre-Lez-Lille.

After 0-0 draws with both FC Copenhagen and Dynamo Moscow on Saturday, the young Magpies beat FC Porto 1-0 in Sunday's quarter final, Callum Smith netting.

That set up a semi-final tie on Monday against Racing Club Lens and Newcastle won 3-0, thanks to a brace from Jamie Holmes and one from Lewis McNall.

FC Bruges beat Real Sociedad 1-0 in the other semi-final to face United and the 40 minute game ended 2-2. That meant that a penalty shootout was required, with Newcastle eventually running out 5-4 winners.

Squad: Ben Pollock, Jamie Holmes, Owen Bailey, Yannick Azoakonou, Callum Smith, Ben Kitchen, Mackenzie Heaney, Shane Donaghey, Dan Lowther, Lewis McNall, Nathan Harker, Kurtis Russell, Kieran Olsen, Oliver Long, Kelland Watts, Cameron Armstrong, Jai Grant.

Newcastle's U14/15 squad also returned from France with silverware on Monday, winning the Neuville Tournament thanks to a 1-0 final victory over Swiss side Servette.

The toon bairns won six out of their seven games and drew the other when needing only a point to progress into the Quarter Finals.





2015/16:
Southern nights



Update: QPR, Burnley and Hull City have been relegated from the Premier League to be replaced next season by Bournemouth, Watford and Norwich City.

And that means that fans driving to all 19 away games next season from SJP will see their round trip mileage increase by 904 miles, from 6,615 to 7,519 miles.

Norwich scored twice in the first half to overcome Boro 2-0 at Wembley on Monday, the Canaries including ex-Magpie Sebastien Bassong in their side. Fellow old boy Jonathan Woodgate remained on the bench for Boro.

The Cherries are making their Premier League debut and will become the 46th different club we've faced in that competition, with Goldsands Stadium aka Dean Court the 53rd different PL venue to have accommodated us.

The Magpies have made three previous competitive visits to this part of Dorset and are yet to return victorious.

A 1-2 loss in the League Cup in November 1963 saw Ron McGarry convert a penalty, while Mick Quinn netted in another 1-2 defeat, this time in the old Second Division during September 1989.

And most recently, a gallant display by crocked 'keeper Tommy Wright helped his side to a 0-0 draw in an FA Cup Third Round tie in January 1992, although United went on to lose the replay at SJP in a penalty shootout.

NUFC confirm that new season ticket cards will be issued to supporters ahead of the 2015/16 season.

Having retained top-flight status on the last day of the season, Newcastle's 2015/16 campaign will start to take shape on Wednesday June 17th when the Premier League fixture list is published.

The Premier League begins on Saturday August 8th and the date for the final weekend is yet to be confirmed.

Here's Johnny:
Drive by hooting

John Carver, he's never off duty online here

Triffic:
Thames oil slick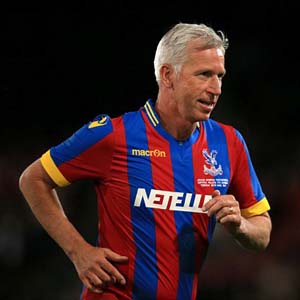 The Selhurst special one granted ESPN an audience recently - here's what they asked and he answered (the above photo shows Pardew on Tuesday as he played 30 minutes for Palace in Julian Speroni's Testimonial against Dundee. Temuri Ketsbaia appeared for the visitors).

ESPN: How do you rate your season with both Newcastle and Palace?
AP: I think it is my best season as a manager. I say that because I've had two such different challenges over the course of this campaign. At Newcastle, I had a team at the bottom of the table with a crowd that was very angry at what had gone on at the club for a period of time. I suspect it will be difficult for me to top this season in the future.

(We were tenth on the day that Pardew left)
ESPN: What emotions will you feel if Newcastle are relegated from the Premier League on Sunday?
AP: I want them to stay up, of course I do. They are my players, my staff, a club that means a lot to me and always will. I hope they get the win they need and then they won't have to worry about any other result.
ESPN: Does it frustrate you that your five years at Newcastle are remembered by some for the wrong reasons?
AP: Amid all the negativity at Newcastle, we achieved some great things. Finishing fifth in the Premier League with a great team was a fine effort and we also got to the quarter finals of the Europa League and nearly got past a Benfica side that went to the final. They were great days, great nights at St James' Park and I remember them with affection. Maybe they are forgotten too quickly

(let's recall also your fine efforts in finishing 12th, 16th and 10th and losing four out of five FA Cup ties)
ESPN: You still appear to have great affection for Newcastle despite the campaign by fans to get you out of the club. Is that fair to say?
AP: I didn't listen to half of the criticism I received. I just didn't let it enter my brain. It affects people around me, but it was my job to see through that. When you are in charge of a top club, where expectations are high you have to deal with that.

I look at Rafa Benitez in his time at Liverpool, he had difficult periods and the same goes for Brendan Rodgers in the same job now.

These difficult periods come and you have to accept that. I did as well as I could at Newcastle.

(Ah yes, the unrealistic expectations of NUFC fans - how dare we expect a team - and a club - to actually try? And as for comparisons with Liverpool, just laughable, we have more in common with Tranmere.....)

ESPN: Was there ever a time at Newcastle when you doubted yourself as a manager?
AP: No. If I doubted myself, we would never have gone on the run we did shortly before I left. You always have to have faith in your own abilities and that has to be evident to your players.
ESPN: What did you learn from what appeared to be a traumatic experience at Newcastle?
AP: It helped me to grow as a manager because there were a lot of games at Newcastle when I was the dominant force, the focus of attention. You don't have that kind of focus at a lot of clubs, so I learned how to ram that home. I also developed a habit of beating the top teams at Newcastle and thankfully, that has continued at Palace.
ESPN: Have you been given the credit you deserve over the course of your management career?
AP: That is for other people to say. All I can point to are the facts. If we win on Sunday, I will have collected 57 points from 37 games this season. That is a hell of a return over the two clubs given the resources I was working with. During my 18 games at Palace, we are the sixth best team in the league. The facts speak for themselves.
ESPN: Where do you want to take Crystal Palace during your time as the club's manager?
AP: There is a chance here in the next couple of years to have a real go at getting ourselves into a semifinal or a final of a cup competition and maybe even win a cup, that would be fantastic. We could get into Europe as well, of course we could.

Work up a song and dance routine Alan and you'll win the bloody Eurovision Song Contest - perhaps a rewrite of the Cliff Richard ditty, "(Self) Congratulations"? Trying telling those Newcastle fans who witnessed the capitulations to Stevenage, Brighton (twice) and Cardiff just what your definition of "a real go" is.....

ESPN: You were critical of the Europa League competition during your time at Newcastle, so would you want to be in that again with Palace?
AP: I would not want to be the Europa League in the current format, that's for sure. Thursday night games are difficult to contend with given the level of physicality we deal with in the Premier League. We struggled with it at Newcastle and we were not alone in that among the English clubs. Until that issue is addressed, no Premier League team wants to be in the Europa League. That's the reality, even if some don't want to admit it.
ESPN: Looking to this summer's transfer market, what teams do you see Palace competing with to sign players?
AP: Newcastle, Aston Villa, Everton and maybe even Spurs. While we cannot compete with some of those clubs in terms of budgets, we can look to attract the kind of players they are also in the market for. If we could add that kind of quality of player to this current group, then we have a chance to push on.
ESPN: There has been a lot of talk about agents and the tactics they use in recent days following Raheem Sterling's fallout with Liverpool. How do you deal with agents?
AP: I always ask two questions when we are closing in on a deal: What currency are we dealing in and how many people are expecting to get paid as part of this transfer? I have had situations in the past when you are close to signing a player and the money involved switches from euros to pounds to dollars. It is a difficult process, but one we have to work with.

What tripe is this? The nearest you came to closing in on a deal was getting a phone call to say it had or hadn't happened - part of the reason you left NUFC.
ESPN: If you fall out with an agent, can you just cross them off your list and vow never to work with them again?
AP: Not really. If you've had a bad experience with an agent, you have to move past it. You are bound to want a player at some stage who is represented by this guy and you will have to try to work around the personality of the agent. You tend to work out what makes them tick, what they respond to. You have to have tactical plans to get a deal over the line.

It had to be there, the phrase that pays - only in its abbreviated form, lacking the preface "we just couldn't get it....."

I have to be involved in negotiations because players have to buy into me and what I want from them if they join my club, so all managers need to be fully involved in transfers, that's for sure.

At last, something we can agree on.
Talk-in:
Prince in Toon
- group offer

Former Magpie favourite Philippe Albert is heading back to Tyneside for a talk-in event next month - and there's a special bonus offer now available to NUFC.com readers.

The popular Belgian will appear at the Lancastrian Suite in Dunston on Friday June 19th in the company of Sky's toon-supporting presenter Pete Graves.

Tickets cost £20 per person and anyone booking a table of 10 for £200 will receive an unframed NUFC 1984 replica home shirt autographed by Kevin Keegan.

More details and bookings can be made online here (booking fee applies). Telephone bookings made on 07414 960956 in office hours will avoid booking fees.

Hong Kong:
Fourth visit to Sevens

Once again, Newcastle have sent a team to contest the annual Citibank Soccer Sevens tournament in Hong Kong, arriving on Wednesday to prepare for the main competition that gets underway on Saturday.

The Magpies are one of 16 teams in the main tournament and are in group A along with Singapore Cricket Club, BC Rangers of Hong Kong and Leicester City.

United begin against Singapore at 4.14pm local time, face BC at 5.56pm and round off against Leicester at 7.21pm.

Other Premier League sides taking part in matches at Happy Valley are Aston Villa, Stoke City and West Ham.

The Veteran's Sevens competition meanwhile starts on Friday and again includes a team representing Wallsend Boys Club. Former Magpies Peter Beardsley, Michael Bridges, Robbie Elliott and John Watson have been named in their squad.

2015 squad: Bartlett*, Sterry, Laidler, Williams, Roberts, Heardman, Gilliead, Barlaser, Gillesphey, Smith, Hunter.

(An injury suffered by Paul Woolston playing for England forced his withdrawal and replacement by ex- youth team 'keeper Adam Bartlett, now on the Academy staff).

2014 squad: Alnwick, Aarons, Barlaser, Gillesphey, Gilliead, Laidler, McKinnon, Olley, Quinn, Williams
(Eliminated at the semi-final stage)

2013 squad: Alnwick, Tavernier, Dummett, Streete, Newton, Logan, Richardson, Inman, Sa.Ameobi, Aarons.
(Lost 0-2 to Leicester City in the final).

2012 squad: Alnwick, Tavernier, Dummett, Satka,
Logan, Miele, Maddison, Hooper, Campbell, Inman.
(Beat Aston Villa 2-1 in the final)