Ticket news:
West Brom (h) Public sale now
QPR (a) ST holder sale now (zero points)
West Ham (h) Member sale now

Update:
Williamson response

Statement from Mike Williamson, Sunday:

"I would like to apologise to the Newcastle supporters and my fellow teammates for getting sent-off during yesterdayís game.
"There was absolutely no intent to hurt Jamie Vardy or get sent-off. But I recognise that I should have been more composed and measured in my determination to win the ball.
"Unfortunately, it did the one thing that I never wanted to do, and that was to hurt the team.
"I will do whatever I can to help teammates prepare for the next two games and fight to get back into the team when Iím available.
"Iíve had the honour to play for Newcastle for five years now, and I can genuinely say that I feel privileged to play for this club.
"I would never do anything intentionally to hurt the team or its supporters.Ē
Premier League:
Shameful

Leicester City 3 Newcastle 0

Another Saturday, another gutless surrender.



Sign of the times, Leicester, May 2nd 2015


Today's disaster in a nutshell:

0-1 down in 36 seconds after a cross
Janmaat booked on 16 minutes
0-2 down in 17 minutes after a free kick
Gutierrez booked on 28 minutes
0-3 down in 48 minutes from a penalty
Williamson booked on 55 minutes
Williamson 2nd yellow 62 minutes, ten men
Dummett booked on 70 minutes
Janmaat 2nd yellow 91 minutes, nine men

Premier League - bottom ten:


| | | | | |
| --- | --- | --- | --- | --- |
| Pos | Team | Pld | GD | Pts |
| 11 | Everton | 35 | 0 | 44 |
| 12 | Crystal Palace | 35 | -6 | 42 |
| 13 | West Brom | 35 | -13 | 40 |
| 14 | Aston Villa | 35 | -21 | 35 |
| 15 | Newcastle | 35 | -24 | 35 |
| 16 | Hull City | 34 | -13 | 34 |
| 17 | Leicester City | 35 | -15 | 34 |
| 18 | mackems | 34 | -22 | 33 |
| 19 | QPR | 35 | -22 | 27 |
| 20 | Burnley | 35 | -27 | 26 |

Apathetic, abysmal, appalling - and that's just the A's.

Don't take our word for it though, here's the opinion of the bloke laughingly referred to as the manager:

"On a scale of one to 10, it's a minus 10.

"I asked if everyone understood their roles and responsibilities. I can't go and mark men on the pitch myself. I can't accept it. I wish the players had as much determination and fight as I had.
"We can talk about systems and players but if we're not willing to compete, get your head onto the ball and risk getting an injury, you won't get anywhere.

"What I canít do is give players desire, to get their noses broken or a cut on their eye by trying to head the ball. I wish I could be out there with them, and affect them. We have a problem. We are a soft touch.
"I know some of the players went over to them (the NUFC section) at the end and they said, in so many words, Ďgo away, we donít want to see youí.

If I had been there in that stand I would have done the same thing. All they want is to see them work hard. They want to see determination and desire. Iíve told them to grow up, to take it on the chin. If they want to go and hide behind a post, let them.

"We can talk and talk. I am an honest, straight guy. I am only telling you what I told them. If they donít want to accept it they can stay at home. I am not a shirker.
"There might have been players who didnít try Ė maybe they donít think theyíll get a new contract or be here next year. But theyíre getting paid and should try. Weíll have an open discussion on Monday Ė itíll be interesting.

"You feel like you are getting somewhere, get a bit stability, and then I get kicked in the teeth again.
"Maybe one or two of the players are not having me for whatever reason, because I am too strong and I am quite aggressive with them and I do care. Maybe people donít like that.
"This game has got nothing to do with systems, it is eleven v eleven and it is whoever wins it is the best team.

"Whoever defends set-pieces in your box and in the other box, we donít score enough and we concede too many.
"Once we cross the white line and we have to defend set plays, there is not a thing I can do about it. To concede after 30 seconds.....you have no chance.Ē

A white line, yesterday
On Williamson's dismissal:

"I thought he meant it. When the ball went on to that left-hand side my first reaction was don't do it. He did it.

(Jamie) Vardy was off the pitch, Willo was off the pitch. There was no need to do it and Iím not accepting that, especially with the situation we are in.

"I thought he'd done that on purpose - it looks like he did. The ball was off the pitch - he had no need to make the challenge.

"I told him that to his face. I donít want to go into his reaction. I was the most animated I have been in my football career.
"He will miss two games now - is it an easy way out?"

An eighth successive defeat that extends the worst run of defeats in the club's entire history was as predictable as it was unbearable.

The 803rd Premier League match that United have played must surely rank among the very worst - and quickest. By 12.46pm this had ceased to be a contest.

We may have lost to more illustrious opposition by greater margins, but it's difficult to recall a more abject non-display from those entrusted with - and handsomely rewarded for - representing the Geordie Nation.

Words like mutiny, treachery and treason shouldn't have any place in a match report, but the antics of those in black and white today brought them to mind.

Emmanuel Riviere's embarrassing air kick when one on one with the City keeper was matched by a needless push that concede a penalty. 20 Premier League games, 0 goal. Pathetic. Overseas TV viewers may have wondered if today was an example of match fixing, such was our apparent complicity in handing out gifts to City.

The growing anger of those present with the garbage served was amply illustrated by the jeering directed at Ryan Taylor. Gone is the sentiment that accompanied his return to fitness, replaced by an incomprehension at how he can perform so fitfully yet still retain his place.

Our performances this season have increasingly shown an absence of motivation, professionalism, organisation and discipline and this was another prime example.

An already appalling disciplinary record had two further shameful additions by the final whistle, while the most impossible job in football may actually to be captain this club rather than manage it, as the armband has proved too heavy for every single player to don it this season.

Carver may "bleed black and white" but the sad fact is that like many others in the Ashley administration, he's been promoted above his competence and hung out to dry. For all the big man bluster though, there doesn't seem to be one ounce of fear or respect in the dressing room for the bloke who used to put the cones out.

Not content with losing badly though and doing further damage to their goal difference, these clowns have put yet more pressure on an already laughably thin squad.

Janmaat's dismissal puts him out of Saturday's home game against West Brom, while Williamson's second red of the season means a two game ban. The situation regarding Jamaal Lascelles appears unchanged though despite Nottingham Forest's season ending today - his loan agreement meaning he can't play for us this season.

23 years ago to the day, United battled their way to a 2-1 victory to avoid relegation about 500 yards away from the scene of today's meek surrender.

It wasn't pretty but it was vitally important and achieved thanks to a unity of purpose between fans and players, even from those squad members who were more reviled than renowned (for every David Kelly and Gavin Peacock there was a Kevin Brock and Franz Carr).

Fast forward to 2015 though and there seems to be no bond whatsoever between those on the field and those in the stands - it's bloody difficult to try and encourage a set of players who seem to have absolutely no pride in their work or much interest in our eventual fate.

A buoyant King Power Stadium greeted their team with a large card display and creating a deafening backdrop thanks to thousands of folded cardboard clappers.

While they roared the Foxes on to victory though, the away support was soon silenced and attempts by City fans to wind them up provoked only one wry chorus of "how sh*t must you be, we're still above you."

There's still time though - just - to turn this around, with a trio of matches still to be played that in normal circumstances could all be considered winnable.

These are anything but normal circumstances though and this current squad looks to be as brittle and defeated as the one that slid out of the division in 2009 after failing to beat the might of Pompey and Fulham at home or scuff out a point away to a Villa side blowing up their lilos.

Our best chance though may well be the fact that our three remaining opponents now look to have nothing tangible to play for and may slacken off accordingly.

That the gutless buggers deserve to go down is beyond debate, but whether demotion would do anything to improve our lot is far less cut and dried.

The discontent of our fanbase is manifested in both silent dismay and vocal hostility among those attending, but the indifference of many thousands more is a larger issue.

Relegation will only deepen that sense of alienation though, while we start to take the path to the sort of ruination seen at places like Leeds.

Tempting though it may seem to see the Ashley Premier League master plan fail, a revival will be far easier to achieve as a top flight club - assuming that the lessons of this season and last are finally taken on board.

Team: Krul, Janmaat, Williamson, Coloccini, Dummett, Colback, Taylor (De Jong 58), Sissoko, Jonas, Perez (Armstrong 73), Riviere (Anita 63)
Subs n/u: Cabella, Ameobi, Abeid, Woodman

Booked: Janmaat, Gutierrez, Dummett, Williamson

Sent off: Williamson, Janmaat

LCFC: Schmeichel, Wasilewski (De Laet 67), Huth, Morgan, Albrighton, James, Cambiasso (Hammond 73), Schlupp, Vardy, Mahrez, Ulloa (Kramaric 78)
Subs n/u: Konchesky, Drinkwater, Schwarzer, Wood

Booked: James
Goals: Ulloa 1, 48pen, Morgan 17

Referee: Mike Dean

Crowd: 31,576 including 1,915 away fans.


Proud sponsors of NUFC.com


Stats:

Red cards for Mike Williamson and Daryl Janmaat were the seventh and eighth Newcastle dismissals this season (six in the PL).

United last finished a game with nine men at Anfield back in May 2014, when Paul Dummett and Shola Ameobi were sent off (Dummett's red card was later rescinded).

Leonardo Ulloa became the eighth player to score in the Premier League against Newcastle United within 60 seconds of kick-off - and the second this season:
2000/01 Alan Smith, Leeds United (h) (27 secs)
2014/15 Dwight Gayle, Crystal Palace (h) (30 secs)
1996/97 Dean Sturridge, Derby County (h) (32 secs)
2014/15 Leonardo Ulloa, Leicester City (a) (36 secs)
2010/11 Theo Walcott, Arsenal (h) (41 secs)
1998/99 Kevin Campbell, Everton (h) (42 secs)
1996/97 Paolo Di Canio, Sheff Wed (a) (50 secs)
1994/95 Neil Adams, Norwich City (a) (60 secs)

Magpies @ Foxes - last 20 visits:
2014/15 lost 0-3
2014/15 lost 0-1 (FAC)
2009/10 drew 0-0
2003/04 drew 1-1 Ambrose
2001/02 drew 0-0
2000/01 drew 1-1 Speed
1999/00 won 2-1 Shearer, Ferguson
1998/99 lost 0-2
1997/98 drew 0-0
1996/97 lost 0-2
1994/95 won 3-1 Cole, Beardsley, Elliott
1992/93 lost 1-2 O'Brien
1991/92 won 2-1 Peacock, OG
1990/91 lost 4-5 Quinn 3, Peacock
1989/90 drew 2-2 Quinn, Gallacher
1986/87 drew 1-1 McDonald(pen)
1985/86 lost 0-2
1984/85 won 3-2 Carney, McCreery, Waddle
1982/83 drew 2-2 Keegan 2
1981/82 lost 0-3

(At Filbert Street until 2001/02)
Latest Premier League results/fixture:

Sat 02.05.2015:
Aston Villa 3-2 Everton
Liverpool 2-1 QPR
mackems 2-1 Southampton
Swansea City 2-0 Stoke City
West Ham 1-0 Burnley
Manchester United 0-1 West Bromwich Albion

Sun 03.05.2015:
Chelsea 1-0 Crystal Palace
Spurs 0-1 Man City

Mon 04.05.2015:
Hull v Arsenal (8pm) Sky

U18s:
Cameron conversion little consolation

Stoke City U18s 3 Newcastle U18s 1

Following a memorable 6-0 victory over Arsenal in their last outing, reality intervened for the U18 side at Clayton Wood on Saturday in their penultimate playoff match.

Stoke took a third minute lead when Daniel Jarvis exchanged passes with Tom Shepherd before shooting past visiting goalkeeper Nathan Harker.

Despite that setback, Newcastle shaded the remainder of the opening period only to be caught out in first half added time when City captain Lewis Banks netted.

The Magpies came close to grabbing a foothold in the game on 68 minutes when Dan Ward brought a stop out of Australian-born custodian Chris Marques.

Within three minutes though the Potters were well on the way to extending their unbeaten run to four, when Jarvis grabbed his second and Stoke's third of the game after intercepting a stray pass.

United had the last word with three minutes remaining after Kyle Cameron took a pass from substitute Louis Johnson before finishing for his sixth goal of the season.

Team: Harker, Cobain, Cameron, Hunter, Pollock, Newberry, Holmes, Ward, Charman (Johnson 61), Suddick, Heaney. Subs n/u: Armstrong, Bailey, Smith, Lowther.

The U18s conclude their season by hosting Norwich City at Little Benton on Saturday. Kickoff is 11am.

U21s:
Rover and out

Newcastle's U21 side play their final home game of the season on Tuesday evening, when Blackburn Rovers provide the opposition at SJP in a 7pm kickoff.

Admission is free to season ticket holders and members on production of their cards at the East Stand turnstiles, or £3 for adults and £1 for concessions.

It remains to be seen whether Rolando Aarons gets any pitch time following his return to training recently, with the winger a possible inclusion in Saturday's squad for the visit of West Bromwich Albion in the Premier League.

In a demise that echoes the first team, Peter Beardsley's side topped the table with 22 points after beating Rovers 3-1 in their last league game before Christmas.

Since then though they've taken just seven points from a possible 33 and failed to win any of their eight home cup and league fixtures - a barren run included a 0-1 defeat by Blackburn in the U21 Cup at Whitley Park in January.

PS: The Magpies second string close off their season on Monday May 11th with a visit to the Hawthorns to face West Bromwich Albion (7pm). This game was previously listed as being played at Coventry's Ricoh Arena but the Baggies confirm their switch to their main ground

The Borrowers:
Loan lads

Gael Bigirimana, Shane Ferguson, Kevin Mbabu, Remie Streete, Haris Vuckic (Rangers)
A 2-2 draw at Hearts on Saturday saw Rangers complete their SPFL Championship fixtures and advance to the end of season playoffs, meaning that there's no immediate prospect of a return to Gallowgate for Haris Vuckic.

However, they'll need to get through six games if they are to gain promotion, starting with a double header against Queen of the South on May 9th (a) and 17th (h).

Vuckic started and was replaced without scoring on 81 minutes. None of the other loan Magpies were in the matchday squad, but Ferguson and Streete may yet feature in the playoffs.

Sylvain Marveaux (Guingamp)
The midfielder was in the starting XI for Guingamp on Saturday night as they hosted Reims in Ligue 1. Playing for 79 minutes, he helped the home side win 2-0.

Jamaal Lascelles, Karl Darlow (Nottingham Forest)
Forest ended their season with a 1-2 home defeat by Cardiff City in the Championship on Saturday. Both players completed the full 90 minutes as Dougie Freedman's side finished in fourteenth place.

Premier League:
West Brom (h)

Newcastle's penultimate home game of the season sees them face the Baggies next Saturday. Kickoff is at an old-fashioned, non-televised 3pm.

Squad: Mike Williamson(1/2) and Daryl Janmaat (1/1) are both suspended following their senseless red cards at the King Power Stadium. Papiss Cisse has now served his seven match ban but hasn't trained following surgery to remove a screw from his knee in March.

The season is already over for Rob Elliot, Jak Alnwick, Steven Taylor, Cheick Tiote and Massadio Haidara.

Yoan Gouffran missed the visit to Leicester due to a knock reportedly picked up in training, while Gabriel Obertan dropped out of the matchday 18 completely - reason unknown.

Travel: Engineering work on the QEII Bridge over the River Tyne means that there's no Metro service in either direction between Heworth and Monument all weekend - replacement route 900 buses will run.

WBA: James Morrison is doubtful and Ben Foster out.

The Baggies visit Tyneside in search of a third successive away win in the Premier League, following a 2-0 victory at Crystal Palace and 1-0 triumph at Manchester United.

Earlier in the season they also secured single goal victories at both Spurs and Leicester, while taking points from visits to Southampton, Hull, West Ham, Everton, Burnley and the mackems.

Referee: tbc

UK TV: None

Overseas TV:

UK Radio: tbc

NE Radio: Live commentary on BBC Newcastle

Overseas Radio: Live commentary on talkSPORT

Stats:

Baggies in Toon - last 20:
2013/14 won 2-1 Gouffran, Sissoko
2012/13 won 2-1 Ba, Cisse
2011/12 lost 2-3 Ba 2
2010/11 drew 3-3 S.Taylor, Lovenkrands, OG
2009/10 drew 2-2 Guthrie, Lovenkrands
2008/09 won 2-1 Barton(pen), Martins
2005/06 won 3-0 Solano, Ameobi 2(1pen)
2004/05 won 3-1 Kluivert, Milner, Shearer
2003/04 lost 1-2 Robert (LC)
2002/03 won 2-1 Shearer 2
1990/91 drew 1-1 L.O'Brien
1989/90 won 2-1 Quinn, Anderson
1989/90 lost 0-1 (LC)
1985/86 won 4-1 Reilly 2, McDonald, Clarke
1984/85 won 1-0 Beardsley
1977/78 lost 0-3
1976/77 won 2-0 Gowling, Cannell
1972/73 drew 1-1 Macdonald
1972/73 won 3-1 (TC) Tudor, Gibb, Hibbitt
1971/72 won 4-2 Macdonald 2(1pen), OG, Green
Other remaining Premier League fixtures:
(3pm unless specified)

Sat 09.05.2015:
Everton v mackems (12.45pm) BT
Aston Villa v West Ham
Hull City v Burnley
Leicester City v Southampton
Stoke City v Spurs
Crystal Palace v Manchester United (5.30pm) Sky

Sun 10.05.2015:
Manchester City v QPR (1.30pm) Sky
Chelsea v Liverpool (4pm) Sky

Mon 11.05.2015:
Arsenal v Swansea City (8pm) Sky

Sat 16.05.2015:
Southampton v Aston Villa (12.45pm) BT
Burnley v Stoke City
mackems v Leicester City
Spurs v Hull City
West Ham v Everton
Liverpool v Crystal Palace (5.30pm) Sky

Sun 17.05.2015:
Swansea City v Manchester City (1.30pm) Sky
Manchester United v Arsenal (4pm) Sky

Mon 18.05.2015:
West Bromwich Albion v Chelsea (8pm)

Wed 20.05.2015:
Arsenal v mackems (7.45pm)

Sun 24.05.2015: (TV picks yet tbc)
Arsenal v West Bromwich Albion
Aston Villa v Burnley
Chelsea v mackems
Crystal Palace v Swansea City
Everton v Spurs
Hull City v Manchester United
Leicester City v QPR
Manchester City v Southampton
Stoke City v Liverpool

Premier League:
Striker light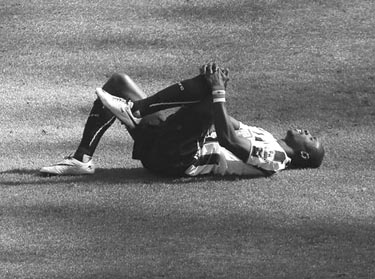 Hopes that top scorer Papiss Cisse would return from suspension to aid our Premier League survival bid were dealt a blow on Thursday, when John Carver said:

"Heís working with the medical team at the moment, heís not 100 per cent heís not joined in with us yet with any football, so weíll just have to wait and see. Itís another opportunity for (Emmanuel) Riviere."

Cisse completes his seven game suspension Leicester on Saturday and it was hoped that he would be available for the closing three games of this season, starting with the visit of West Bromwich Albion to SJP on May 9th.

While serving the ban imposed for a spitting incident against Manchester United, Cisse underwent surgery to remove a screw in his kneecap placed there during an operation to mend his broken kneecap in April 2014.

Carver said in mid-March that:

"Itís not a big problem with Papissís knee Ė this was maintenance that was always going to be needed.

"Theyíve removed the screw so itís been sorted. I really donít think his knee is a big issue now.

"If anything good has come out it all (the ban) itís the fact that we can do this now.Ē

This news leaves it open to question whether the man from Senegal has played his last game for United.

To date Cisse has scored 34 Premier League goals and sits joint seventh in the all-time PL list with Rob Lee.

2015/16:
Lone Star state claim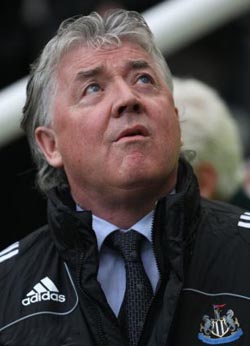 Dallas? has JFK organised it?

The World Soccer Talk website reported on Wednesday that United were one of six teams lined up for a pre-season tournament in Texas this coming July.

Staged between July 9th and 19th at grounds in Dallas and nearby Frisco, Swansea City, Pachuca (Mexico), Malaga (Spain) Olympique Lyonnais (France), and Raja Casablanca (Morocco) also claimed to be entering.

The massive Cotton Bowl Stadium in Dallas and 20,000 capacity Toyota Stadium in Frisco are reported as the venues and both have natural grass pitches.

None of the six clubs said to be participating have officially confirmed that as yet. Journalists who cover Swansea report that contracts are unsigned at present, but completion is expected soon.

A pessimistic view of the situation could also be that Newcastle's invitation could be conditional on retaining top-flight status.

World Soccer have also published a provisional fixture list that sees United in Group A and facing Lyon on July 11th and Casablanca on July 14th.

The tournament then concludes with all sides playing a third game on either July 18th or 19th to determine the final places and overall winner.

United's most recent visit to the USA came back in 2011, when they faced Kansas, Orlando and Columbus in an itinerary that defied both logic and geography.

Trialist:
Albion eye Adam

While Newcastle's U21 side were losing 0-4 at Derby on Tuesday afternoon, Magpies striker Adam Campbell was in action for West Bromwich Albion's second string.

The 20 year-old Tynesider is out of contract at SJP this summer and played 90 minutes for the Baggies as they beat Arsenal 3-0 in an U21 Premier League fixture.

It's unclear whether Campbell will feature again for the Albion reserve side, who are in action against Derby on Tuesday and also have fixtures against both Newcastle and Reading still to play.

PS: Following his recent release by the club, Magpies youngster Ryan McKinnon has been on trial at Barnsley, featuring for their U21 side against Nottingham Forest.

Premier League:
Tailspin

Newcastle 2 Swansea City 3

Match report is online here

Local interest:
Green and white delight

Blyth Spartans 2 Morpeth Town 0



Blyth Spartans finally ended their Northumberland Senior Cup drought at St. James' Park on Monday evening, in front of the largest final crowd since 2011.

1,973 fans saw goals from Michael Richardson and Dan Maguire beat Northern League Morpeth, ensuring Blyth's first trophy success in this competition since 1994 - and ending a run of ten final defeats since then.

Ex-Magpie Richardson was bidding for a fourth Senior Cup winner's medal and took less than two minutes to open the scoring - having also netted in 2011 and 2014.

Town included Ben Sayer, but the former Newcastle reserve had no opportunities to continue his recent goal glut on a frustrating night for the Northern League side.

Looking to cash in on their superiority, Blyth made and missed a series of chances in the second half, making their supporters wait until the 83rd minute to seal the victory, Maguire profiting from a rare defensive error.

Credit is due to both sides for serving up an entertaining tie with nothing less than total commitment from those on view - a rare thing indeed at Gallowgate this season....

Missing Mag:
Moonlighting?


| | |
| --- | --- |
| | |

The prolonged absence of Rolando Aarons from first team duty has been explained by injury, but we can't help but wonder if he's actually done a flit to the USA.

Bradford Jamieson IV scored his first MLS goal last week for LA Galaxy against New York Red Bulls, but he does bear a startling resemblance to wor Rolando - and finished in similar style. Watch his goal here

Internationals:
Wooly gets the nod

Newcastle's Paul Woolston is in the England squad for the European U17 Championships in Bulgaria this month as they attempt to defend the title they won in 2014 - with fellow Magpie Freddie Woodman between the posts.

The 16 year-old from North Shields is one of two 'keepers in an 18 man squad who will face group stage games against Italy on May 7th, Netherlands on May 10th and the Republic of Ireland and Netherlands on May 13th.

The 16 team tournament then switches to a knockout format and runs through to the final on May 22nd,

Group A: Bulgaria (hosts), Croatia, Spain, Austria
Group B: Czech Republic, Slovenia, Belgium, Germany
Group C: Greece, Russia, Scotland, France
Group D: Republic of Ireland, Netherlands, Italy, England