Ticket news:
Aston Villa (a) SOLD OUT
Spurs (h) Member sale now
Premier League:
Glad all over!

Newcastle 1 Crystal Palace 0




East Stand view of the goal via twitter

Milburn Stand view of the goal via twitter

Memories of a similarly sunny April afternoon in 1992 were to the fore at St. James' Park on Saturday, as a Newcastle side battling relegation gained a priceless home victory thanks to another single goal success.

David Kelly was the hero against Portsmouth that day, but Magpies followers celebrating today's win over Crystal Palace were grateful for pivotal contributions made by two of the current squad.

Andros Townsend's perfectly-executed free kick at the Leazes End just before the hour mark put the home side ahead, but that lead was only preserved when Karl Darlow denied old boy Yohan Cabaye from the penalty spot with 20 minutes remaining.

The French midfielder received a hostile reception on his return to Gallowgate but Alan Pardew was virtually ignored by home fans as his Eagles side failed to win for the 18th time in 19 Premier League games.

There were no such problems though for Newcastle, who made it four games unbeaten for the first time since November 2014 and ended the day out of the bottom three for the first time in eleven games.

That came as a consequence of our victory, a single goal defeat for Norwich at Arsenal and a fortunate point for the mackems thanks to late spot kick conversion away at Stoke, where Potter Geoff Cameron seemed hell-bent on gifting them a spot-kick.

A scoreless first half saw a United side with one change (Georginio Wijnaldum in for Ayoze Perez) fail to build up a head of steam and impose themselves on a game that they desperately needed to win.

The visitors made the early running and a priceless intervention from Jamaal Lascelles after 11 minutes halted Connor Wickham's run towards goal.

Half chances for United followed, with Wijnaldum, Townsend and Papiss Cisse all having shots - the latter perhaps guilty of being too honest in not succumbing to an illegal challenge in the area.

With Moussa Sissoko under-employed on the left and Townsend frustratingly choosing to cut infield and surrender possession a number of times, it was left to the unlikely figure of Chancel Mbemba to warm the hands of Wayne Hennessey in the 37th minute.

At the other end, Darlow had already kept his side in the match with a near post block to deny Cabaye before another vital save from a fierce volley by Yannick Bolasie just before the interval.

Despite failures to hit the target by both Sissoko and Jack Colback from inside the box in the closing stages of the half, Rafa Benitez resisted the temptation to alter his lineup - granting Wijnaldum and Cisse a stay of execution that they arguably didn't deserve.

Delaying the introduction of Aleksandar Mitrovic was especially frustrating after a series of crosses were played into the Palace box after the break but not capitalised upon.

In the event, the Serbian played his own part in the win after Townsend had been fouled by Scott Dann outside the box after 58 minutes and got up to memorably arc home his fourth goal in our colours.

Coming close to setting up fellow substitute Perez for a second goal, Mitrovic provided a much-needed physical threat in the opposition half and got under the skin of the Eagles defence, in particular Damien Delaney.

The penalty incident came with 20 minutes left, Cabaye enduring fierce booing as he took a flag kick from the Strawberry corner that was apparently handled by Sissoko amid general bemusement.

That handed the former Magpie a chance to net his fourth penalty of the season, but his weak effort was at a good height for Darlow to spring to his left and parry, successfully defending the following corner.

The next corner taken by Cabaye saw the Frenchman loudly cheered by the same corner that had given him so much grief minutes earlier. A rare moment of comedy on a tense and nerve-wracking day.

The fight now goes on at Villa Park next weekend against an Aston Villa side who lost an eleventh successive game on Saturday and won just nine points from a possible 57 since a 1-1 draw on Tyneside before Christmas.

Anyone thinking of daubing a bedsheet questioning who our next messiah is can save themselves some paint: fans and players are firmly united in agreeing that it's Rafa Benitez - a fact reflected in songs from the stands and displays on the field. Believe.

Team: Darlow, Anita (Shelvey 88), Dummett, Tiote, Mbemba, Lascelles, Colback, Wijnaldum (Perez 80), Sissoko, Cisse (Mitrovic 72), Townsend

Subs n/u: Woodman, Taylor, De Jong, Mbabu

Booked: Mbemba, Colback

Goal: Townsend 58

CPFC: Hennessey, Ward, Dann, Delaney, Souare, Jedinak, Cabaye, McArthur (Sako 61), Bolasie, Puncheon (Gayle 73), Wickham (Adebayor 74).
Subs n/u: Mariappa, McCarthy, Ledley, Kelly

Booked: None

Crowd: 52,107 including 1,800 travelling supporters.

There was a minute's applause before the game for the victims of the Hillsborough disaster, following the conclusion of the inquests earlier in the week.

That was well supported and included an impromptu rendition of the Anfield anthem "you'll never walk alone" from the Gallowgate End.

Latest results/fixtures:

Sat 30.04.2016:
Everton 2-1 Bournemouth
Newcastle 1-0 Crystal Palace
Stoke City 1-1 mackems
Watford 3-2 Aston Villa
West Bromwich Albion 0-3 West Ham
Arsenal 1-0 Norwich City

Sun 01.05.2016:
Swansea City 3-1 Liverpool
Manchester United 1-1 Leicester City
Southampton v Manchester City (4.30pm) Sky

Mon 02.05.2016:
Chelsea v Spurs (8pm) Sky

Premier League - bottom half:

| | | | | |
| --- | --- | --- | --- | --- |
| Post | Team | Pld | Pts | GD |
| 11 | Everton | 35 | 44 | +6 |
| 12 | Watford | 35 | 44 | -6 |
| 13 | Swansea | 36 | 43 | -13 |
| 14 | West Brom | 36 | 41 | -14 |
| 15 | Bournemouth | 36 | 41 | -20 |
| 16 | Crystal Palace | 36 | 39 | -10 |
| 17 | Newcastle | 36 | 33 | -25 |
| 18 | mackems | 35 | 32 | -18 |
| 19 | Norwich | 35 | 31 | -26 |
| 20 | Aston Villa | 36 | 16 | -45 |

Remaining fixtures:

NUFC:
Sat 07.05.2016 Aston Villa (a) (3pm)
Sun 15.05.2016 Spurs (h) (3pm)

SMB:
Sat 07.05.2016 Chelsea (h) (3pm)
Wed 11.05.2016 Everton (h) (7.45pm)
Sun 15.05.2016 Watford (a) (3pm)

NCFC:
Sat 07.05.2016 Man United (h) (12.45pm) BT
Wed 11.05.2016 Watford (h) 7.45pm)
Sun 15.05.2016 Everton (a) (3pm)



Referee: Mike Dean - a quick return for the Wirral whistler, last seen taking charge of our 2-3 defeat at Norwich. Dean's only other NUFC game this season was the 3-3 home draw with Manchester United.

Stats:

The last Magpies goalkeeper to save a penalty in the Premier League was Tim Krul, denying Blackburn's David Dunn at Ewood Park in February 2012.

The Dutchman was also the most recent toon 'keeper to block a spot kick on home turf, keeping out Frank Lampard's effort for Chelsea in December 2011.

A sixth home win of the season means that United have exceeded their lowest total in the PL - the five they managed in the relegation season of 2008/09.

Eagles @ Magpies - all time:

2015/16 Won 1-0 Townsend
2014/15 Drew 3-3 Janmaat, Aarons, Williamson
2013/14 Won 1-0 Cisse
2009/10 Won 2-0 og(Derry), Ranger
2004/05 Drew 0-0
2001/02 Won 2-0 Shearer, Acuna (FAC)
1998/99 Won 2-1 Speed, Shearer (FAC)
1997/98 Lost 1-2 Shearer
1994/95 Won 3-2 Fox, Lee, Gillespie
1987/88 Won 1-0 Gascoigne (FAC)
1983/84 Won 3-1 Waddle, Keegan, Ryan
1982/83 Won 1-0 Waddle
1981/82 Drew 0-0
1978/79 Won 1-0 Shoulder
1972/73 Won 2-0 Hibbitt, Nattrass
1971/72 lost 1-2 Dyson
1970/71 Won 2-0 Robson 2
1969/70 Drew 0-0
1964/65 Won 2-0 Suddick, McGarry
1946/47 Won 6-2 Bentley, Pearson, Shackleton 2, Stobbart, Wayman(FAC)
1919/20 Won 2-0 Dixon, Hall (FAC)
1906/07 Lost 0-1 (FAC)

Rafa:

"We still have to play another two games. We will enjoy this weekend because we won and then we will focus on the next one against Aston Villa, which will be a tough one.

"The victory means a lot - it gives us momentum, confidence and a connection with the fans.

"Hopefully it will be the same against Tottenham when we can avoid relegation and everyone will be happy.

"It was not just the penalty; he (Karl Darlow) gave confidence to the team that we needed in defence.

He was important for the team and he did really well. I am pleased for him - and hopefully he doesn't need to save any more penalties. That would be fine.

"You can say always when a keeper saves a penalty that he is a hero but then we can say the same thing about Andros (Townsend).

"We have to keep going. We know that we have to approach the game against Aston Villa like another final.

"It's really important. The players have more confidence, they are working hard and working for each other.

"The fans understand that getting behind the team is key, so hopefully the fans can make the difference again."

Goalscorer Andros Townsend:

"I was going to shoot the other side of the wall, they had such tall players, that I decide to wrong foot the keeper and it worked out perfectly.

"It could be a massive three points and I am glad I played my part since I have joined and hopefully I will score a few more."

Remaining PL fixtures:

Sat 07.05.2016:
Norwich City v Manchester United (12.45pm) BT
Aston Villa v Newcastle (3pm)
Bournemouth v West Bromwich Albion (3pm)
Crystal Palace v Stoke City (3pm)
Liverpool v Watford (3pm)
mackems v Chelsea (3pm)
West Ham v Swansea City (3pm)
Leicester City v Everton (5.30pm) Sky

Sun 08.05.2016:
Spurs v Southampton (1.30pm) Sky
Manchester City v Arsenal (4pm) Sky

Tue 10.05.2016:
West Ham v Manchester United (7.45pm) Sky

Wed 11.05.2016:
Norwich City v Watford (7.45pm)
mackems v Everton (7.45pm)
Liverpool v Chelsea (8pm) Sky

Sun 15.05.2016: (TV picks tbc but KO's fixed)
Arsenal v Aston Villa (3pm)
Chelsea v Leicester City (3pm)
Everton v Norwich City (3pm)
Manchester United v Bournemouth (3pm)
Newcastle v Spurs (3pm)
Southampton v Crystal Palace (3pm)
Stoke City v West Ham (3pm)
Swansea v Manchester City (3pm)
Watford v mackems (3pm)
West Bromwich Albion v Liverpool (3pm)


The road to Istanbul:
First footing


Mark's back....
While most folks were sleeping off the excesses of the previous night, Mark Allison aka Run Geordie Run began his latest quest in Portugal on Sunday.

Ahead of him lies a 3,400 mile route through Portugal, Spain, Andorra, France, Italy, Switzerland, Germany, Austria, Croatia, Serbia, Bulgaria, Greece and Turkey - arriving in Istanbul on Monday August 8th.

Mark is raising funds for The Children's Foundation & The Sir Bobby Robson Foundation and his efforts to date have seen good causes benefit by £249K.

This will be the fourth segment of his global run - a 20,000 mile endeavour across four continents and 24 countries. By August 8th he'll be almost halfway.

Donations can be made online here and you can keep track of Mark's progress via his website online here - where you'll find links to his social media accounts.

The Borrowers:
Loan lads

Latest temporary postings for our mob:

Sammy Ameobi (Cardiff City):
A 0-3 defeat at Sheffield Wednesday on Saturday confirmed a Championship playoff place for the Owls and means that the Bluebirds cannot now reach the top six. Sammy arrived as a 20th minute sub.

Next game: Birmingham City (h), Saturday

Ivan Toney (Barnsley):
Conceding a 98th minute equaliser in a 2-2 home draw with Colchester United on Saturday means that the Tykes still aren't assured of a League One playoff spot. Ivan made a belated arrival from the bench in the 95th minute.

Next game: Wigan (a) Sunday

Adam Armstrong/Gael Bigirimana
(Coventry City):
Still no goal for Arma, but his early strike was diverted home for City's opening goal in a 3-1 victory over Sheffield United in League One on Saturday. The striker completed the full 90 minutes at the Ricoh.

Next game: Oldham Athletic (a) Sunday

Liam Smith (Blackpool):
The midfielder started against Wigan at Bloomfield Road on Saturday but was subbed on 73 minutes. Blackpool's 0-4 defeat moves them ever closer to relegation from League One.

Next game: Peterborough United (a) Sunday

Haris Vuckic (Wigan Athletic):
The Latics confirmed promotion to the Championship by sweeping to a 4-0 victory at Blackpool. Haris remained on the bench as an unused sub.

Next game: Barnsley (h) Sunday

Alex Gilliead/Macaulay Gillesphey
(Carlisle United)
The Cumbrians lost 0-2 at home to Oxford United in League Two on Saturday. Macaulay didn't feature while Alex arrived as a second half replacement.

Next game: Notts County (a) Saturday

Kyle Cameron, Lubo Satka (York City):
Already condemned to life in the National League next season, the Minstermen lost 1-4 at home to Bristol Rovers in League Two on Saturday. Kyle completed another full game but Lubo was again omitted.

Next game: Morecambe (a) Saturday

Remy Cabella, Florian Thauvin
(Olympique Marseille):
Angers (a) Ligue 1, Sunday.

Next game: Reims (h) Saturday.

U18s:
No respite

Swansea U18s 2 Newcastle U18s 1

Following a three week break from competitive matches, the U18s returned to action on Saturday in their penultimate Merit Group playoff fixture.

However the gap in fixtures did nothing to improve United's form as they lost a fourth successive match on the road - albeit by a rather narrower margin than the 1-7 reverse at Manchester United last time out.

Chasing a victory to seal their place at the top of Tier 3, the Swans took an eighth minute lead when Welsh youth international Liam Cullen shot home.

The Magpies levelled before the break through Jamie Holmes, but what proved to be the winner arrived barely two minutes in the second half, Aaron Lewis firing past Nathan Harker to restore City's lead.

Dave Watson's side end their season with a home fixture against Southampton next Saturday. The Saints lost 0-1 at Manchester United on Saturday - their third successive single goal defeat.

Team: Harker, Broccoli (Spooner 80), Kitchen, Hunter, Bailey, Adu-Peprah, Smith, Longstaff, Charman, Holmes (Long 80), Heaney (Lowther 65).
Sub n/u: Marrs.

PS: United's U21s have now concluded their league season but were in home friendly action on Thursday afternoon, beating a Berwick Rangers XI 8-0.

Goalscorers at Little Benton were Sean Longstaff (2), Luke Charman (2), Mackenzie Heaney (2), Adam Laidler (pen) and Callum Smith.

Bank Holiday:
MJS update

For anyone seeking salvation in the form of smart phone, tablet, laptop or PC repair, please note that our sponsors MJS Computers in Ponteland will be closed on Bank Holiday Monday.

Squad:
Duo depart

The Chronicle claimed on Saturday that United had allowed two players to leave the club ahead of the expiration of their contracts this summer.

Midfield pair Sylvain Marveaux and Gabriel Obertan will both become free agents after their five years at the club comes to an end - both acquired ahead of the 2011/12 season when Alan Pardew was in post.

Also in the final weeks of his current deal is defender Steven Taylor, while loan misfit Seydou Doumbia has played only three minutes under Rafa Benitez and spent last weekend in Moscow while United were facing Reds of a different kind.

Obertan amassed 77 appearances in all competitions (48 starts) and found the net three times: away to Blackburn Rovers in February 2012, in a Europa League home tie against Bruges the following October and the winner against Leicester at SJP in October 2014.

Marveaux's contribution was even more fitful, making the last of his 57 appearances (28 starts) against Everton in March 2014. His two goals came in the closing weeks of 2012 - at home to Maritmo in the Europa League and during a 3-7 defeat at Arsenal.

To put those figures into some sort of context, we will have played 223 competitive games during their time at the club by the end of the current campaign.

20 year itch:
Still loving it


Just over 20 years ago in 1996, Keith Gillespie gave us a single goal success at Leeds, but the abiding image of the day remains the post-match reaction of Kevin Keegan.

Author Martin Hardy takes up the tale online here in an extract from his book, "Touching Distance".

Keith's goal is online here

Martin has been nominated in the New Writer of the Year category at the Cross Sports Book Awards and will learn his fate when the winners are revealed at Lords Cricket Ground on Wednesday June 1st.

Author signed hardback copies of the book can be ordered now for £18.99 including p&p online here

Non-League:
Senior Cup date

Having missed out on promotion from the Evostik Northern Premier League after a playoff semi-final defeat, Blyth Spartans will attempt to defend their Techflow Group Northumberland Senior Cup title at SJP this week.

Their opponents in the final on Wednesday night are Northern League side North Shields. Kickoff is at 7.30pm kickoff and admission is by paying at the East Stand turnstiles: £6 adults, £3 concessions.

Note that a result must be achieved on the night, via 30 minutes of extra time if the scores are level at that point. And if there's no result in 120 minutes then a penalty shootout will resolve the issue.

Blyth had a free Saturday before the game, while Shields bowed out of the League Cup after losing their semi-final tie with Shildon in a penalty shootout.

If you can't get to SJP, Ashington-based community radio station, Koast Radio will be broadcasting live commentary. Find that on 106.6fm, online or via the tune-in radio app. More details here

Premier League:
Rafa's rousing return!

Liverpool 2 Newcastle 2





Premier League:
Aston Villa (a)


United round off their away campaign by attempting to end a winless run of ten fixtures away from home that stretches back to Spurs last December.

Kickoff for this non-televised game is at 3pm and all 3,000 away tickets have been sold. Despite the fact that there will thousands of unoccupied seats, no extra places will be made available for away fans.

NUFC: Tim Krul, Rob Elliot, Massadio Haidara

and Fabricio Coloccini remain sidelined, but both Steven Taylor and Daryl Janmaat could be available again.

Punts: Coral continue to offer new signups £20 in free bets once a £5 bet is placed online here.

AVFC: Aly Cissokho is suspended following his red card at Watford on Saturday while fellow defender Jores Okore has asked not to be selected this season and
Jordan Amavi is also absent.

Former Magpie Charles N'Zogbia hasn't featured since November 2015 and isn't under consideration, while striker Gabriel Agbonlahor has lost the club captaincy for his off-field high jinks and is also unavailable.

Ex-mackem Kieran Richardson is doubtful.

Referee: tbc

UK Radio: tbc

Local Radio: Live on BBC Radio Newcastle

UK TV: None

Overseas TV: To follow

Stats: to follow

Only once in 21 seasons of Premier League football have we won our final away game - that solitary success was at QPR in May 2013, a 2-1 victory.

Final away game results - Premier League:

2014/15 lost 1-2 at QPR
2013/14 lost 1-2 at Liverpool
2012/13 won 2-1 at QPR
2011/12 lost 1-3 at Everton
2010/11 drew 2-2 at Chelsea
2008/09 lost 0-1 at Aston Villa
2007/08 lost 1-3 at Everton
2006/07 drew 1-1 at Watford
2005/06 drew 0-0 at Birmingham
2004/05 lost 0-2 at Everton
2003/04 drew 1-1 at Liverpool
2002/03 drew 2-2 at West Bromwich Albion
2001/02 lost 1-3 at Southampton
2000/01 lost 0-3 at Liverpool
1999/00 drew 0-0 at Derby
1998/99 lost 0-2 at Leicester
1997/98 lost 0-1 at Blackburn
1996/97 drew 0-0 at Manchester United
1995/96 drew 1-1 at Forest
1994/95 lost 0-1 at Blackburn
1993/94 lost 0-2 at Sheffield United


Premier League:


Spurs (h)

The Magpies wrap up their season on Sunday May 15th when they face Spurs in a 3pm kickoff.

NUFC confirm that there will be no public ticket sale for this game and only members with a previous purchase history will be allowed to buy.

NB: season ticket holders are classified as members and can purchase two additional tickets each.

United have lost just one of eight home fixtures in 2016 (won four, drawn three).

NUFC: To follow.

Punts: Coral continue to offer new signups £20 in free bets once a £5 bet is placed online here.

THFC: To follow. Midfielder Dele Alli is suspended.

Referee: tbc

Metro: No scheduled disruptions to service.

Stats:

Spurs in Toon: PL Era:

2014/15 lost 1-3 Colback
2013/14 lost 0-4
2012/13 won 2-1 Ba, Ben Arfa
2011/12 drew 2-2 Ba, Sh.Ameobi
2010/11 drew 1-1 Coloccini
2008/09 won 2-1 N'Zogbia, Duff
2008/09 lost 1-2 Owen (LC)
2007/08 won 3-1 Martins, Cacapa, Milner
2006/07 won 3-1 Dyer, Martins, Parker
2005/06 won 3-1 Bowyer, Sh.Ameobi, Shearer
2004/05 won 1-0 Kluivert (FAC)
2004/05 lost 0-1
2003/04 won 4-0 Shearer 2, Robert 2
2002/03 won 2-1 Speed, Shearer
2001/02 lost 0-2
2000/01 won 2-0 Speed, Cordone
1999/00 won 6-1 Shearer 2, Speed, Dabizas, Ferguson, Dyer (FAC)
1999/00 won 2-1 Glass, Dabizas
1998/99 drew 1-1 Ketsbaia
1997/98 won 1-0 Barton
1996/97 won 7-1 Shearer 2, Ferdinand 2, Lee 2, Albert
1995/96 drew 1-1 Ferdinand
1994/95 drew 3-3 D.Peacock, Gillespie, Beardsley
1993/94 lost 0-1

Closing home game results - PL era:

2014/15 West Ham won 2-0
2013/14 Cardiff City won 3-0
2012/13 Arsenal lost 0-1
2011/12 Manchester City lost 0-2
2010/11 West Brom drew 3-3
2008/09 Fulham lost 0-1
2007/08 Chelsea lost 0-2
2006/07 Blackburn lost 0-2
2005/06 Chelsea won 1-0
2004/05 Chelsea drew 1-1
2003/04 Wolves drew 1-1
2002/03 Birmingham City won 1-0
2001/02 West Ham won 3-1
2000/01 Aston Villa won 3-0
1999/00 Arsenal won 4-2
1998/99 Blackburn drew 1-1
1997/98 Chelsea won 3-1
1996/97 Nottingham Forest won 5-0
1995/96 Spurs drew 1-1
1994/95 Crystal Palace won 3-2
1993/94 Arsenal won 2-0

UK Radio: tbc

Local Radio: Live on BBC Radio Newcastle

UK TV: None (as yet)

Overseas TV: To follow

Pub Watch: Bacchus, 42-48 High Bridge NE1 6BX


Lauded by CAMRA locally and nationally, the Bacchus is a blue chip entry in Sir John Fitzgerald's portfolio and a long standing pre and post-match venue.

Along with a formidable range of cask ales, you'll find an excellent selection of bottled beers, with OTB (on the bar) updates via their twitter @Bacchus48

Find further details of this and the other locations that make up the Sir John Fitzgerald estate online here

U21s:
Mags make HK return

Newcastle's U21s will once again feature in the Hong Kong Soccer Sevens tournament later this month - their fifth successive visit to the annual event.

United have been drawn in Group A with Aston Villa and local sides Hong Kong FC and Kitchee, with matches staged between May 20th and 22nd.

Aside from Villa, Leicester City, Stoke City and West Ham will also contest the sixteen team competition - with the Potters coached by ex-Mag Glyn Hodges.

United's squad is as follows: Nathan Harker, Michael Newberry, Liam Gibson, Jack Hunter, Callum Williams, Dan Ward, Owen Gallagher, Sean Longstaff, Luke Charman, Dan Barlaser.

Barlaser and Williams took part in the 2015 event.

PS: Wallsend Boys Club will again represent the region in the Masters section of the Tournament - one of eight sides composed of players aged 35 and over.



Fixtures, Tickets etc.
Season 2015/16

The ticket office is on the first floor of the SJP club shop, under the Gallowgate End towards the Strawberry.

Paid-for matchday ticket collections take place from the windows at the back of the Gallowgate End Stand, above NINE Bar.

Matchday ticket sales are from the Box Office in the Milburn Stand, just up the slope from the Sir Bobby Robson Statue.

SJP Box Office phone: 0844 372 1892*
(Open for away ticket sales and enquiries during the above Box Office hours).

* 0044 870 444 1892 from overseas
NUFC confirm that new season ticket cards will be issued ahead of next season.

Online Box Office is here

SJP seating plan is here

On the opening day of ticket sales, they officially commence at 10am - with any points reduction for away tickets becoming effective at the same time.

Away tickets are sold only to season ticket holders and members. All ST holders are also automatically members (a non-negotiable fee is added annually by NUFC to each ST).

A £1 administration fee per ticket applies to away sales in all competitions, with no upper limit. In addition, non-NUFC members pay the same fee on home ticket sales.

NUFC's members only away ticket policy is still in force, with only NUFC ST holders and members able to purchase tickets.


altoonative travel is the public face of the Newcastle United Travel Plan, designed to help fans attend matches using the most efficient and sustainable methods available.

Heading to the Toon?

City guide here

Geordie Map here

NE guide here

Fixtures:

Wed 04.05.2016 Blyth Spartans v North Shields @ SJP, 7.30pm. TechFlow Group Northumberland Senior Cup Final. Pay at East Stand Turnstiles on the night. £6 adults, £3 concessions.

Sat 07.05.2016 U18s v Southampton (h) @ Little Benton, 11am. U18 Premier League Merit Group.

Sat 07.05.2016 Aston Villa (a) @ Villa Park, 3pm. Premier League.

SOLD OUT. Allocation: 3,000.

Sun 15.05.2016 Spurs (h) @ SJP, 3pm. Premier League. Member sale now, no public sale for this fixture.

Wed 15.06.2016 PL fixtures published @ 9am.

Wed 22.06.2016 Championship fixtures published @ 9am.

Confirmed NUFC UK live TV coverage:

NUFC Live on Sky Sports:
None

NUFC Live on BT Sport:
None

Selections made up to Sun 08.05.2016.

Premier League starts on Sat 13.08.2016
Football League starts on Sat 06.08.2016

Metro line closures 2016:



Sat 23.07.2016 to Sat 06.08.2016 From Benton to Whitley Bay both ways.

Talk-ins, etc:

Thu 26.05.2016 Paul Gascoigne @ Sage Hall One, Gateshead. Tickets £10, £25, £40 from 0191 446 4661. In aid of Percy Hedley Foundation.

2016 Rugby League Magic Weekend:

Sat 21.05.2016:
Salford v Widnes (2.30pm)
Castleford v Warrington (4.45pm)
Leeds v Wigan (7pm)

Sun 22.05.2016:
Catalans Dragons v Wakefield Trinity (1pm)
Huddersfield v St Helens (3.15pm)
Hull FC v Hull KR (5.30pm)

Buy tickets here or on 0844 856 1113.
£25 adults (£12.50 concs) per day, £40 adults (£20 concs) weekend.
International Magpies
National Service
Euro 2016:

10.06.2016 to 10.07.2016

Finals

A:

France, Romania, Albania, Switzerland
B:

England, Wales, Slovakia, Russia
C:

Germany, N.Ireland, Poland, Ukraine
D:

Spain, Turkey, Czech Republic, Croatia
E:

Belgium, Ireland, Sweden, Italy
F:

Portugal, Iceland, Hungary, Austria

2016/17 future match dates:
Mon-Tue 29.08.2016-06.09.2016
Mon-Tue 03-11.10.2016
Mon-Fri 07-18.11.2016
Mon-Tue 20-28.03.2017

Coxy's Cockup Corner
Whoops, He did it Again...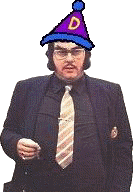 What's this all about then? Click here
for a rambling explanation of sorts....
On This Day in History
1st May

Born Or Died:
1943 Trevor Hockey born, Keighley, Yorkshire. (1963-65)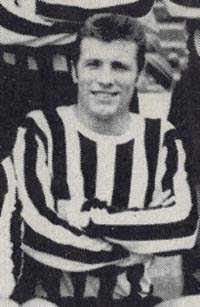 Having played both rugby codes at school, Trevor took up the round ball game seriously as a teenager and was selected for the West Riding U19 XI on the right wing.

Signing amateur forms with Bradford City in 1958, Hockey turned professional two years later on his 17th birthday and was soon playing in the Bantams first team.

Swapping Valley Parade for the City Ground in 1961, two years at Nottingham Forest led to Newcastle paying £25K for his services.

After a forgettable debut in a 0-4 home loss to Cardiff City in November 1963, Trevor kept his place until the festive season but afterwards was used more sparingly.

Appearing more regularly in the promotion season of 1964/65, Hockey netted his first United goal in December at home to Pompey and promptly got his second the following week against Northampton Town.

Almost an ever-present for the opening months of our top-flight return, Trevor netted in a home defeat by Manchester United but lost his place and left soon after for Birmingham City in November 1965.

Six seasons at St.Andrews saw him become something of cult figure in a central midfield role, even releasing a single ("Happy 'Cos I'm Blue") and completing the notable feat of playing on all 92 Football League grounds.

A switch to Sheffield United in 1971 was followed by the first of nine Welsh caps, later moves taking him to Norwich City and Aston Villa before rejoining Bradford City.
Hockey was installed as player-manager of Irish side Athlone Town in 1976 before moving to the USA, playing for the San Diego Jaws and coaching at San Jose Earthquakes and Los Angeles Quicksilvers.

Returning to England in 1977 and taking the manager's post at non-league Stalybridge Celtic, he moved on to similar role with Keighley Town in 1980.

Trevor sadly collapsed and died suddenly in April 1987 after playing five-a-side at Marley Stadium in Keighley, West Yorkshire. He was a month shy of his 44th birthday.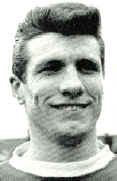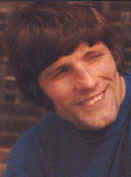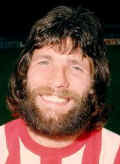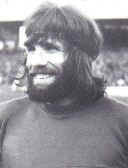 Possessor of the widest range of barnets sported by any toon player, Trevor's clean cut, flat top look had mutated into a Beatle mop by the time he was at St.Andrews.

He then sprouted sideburns that developed into a full grown beard and then something of a biblical, hippy-like reincarnation (man).

1973 James Crawford born, Chicago, USA. (1995-98)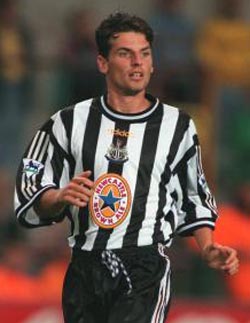 Although born on the other side of the Atlantic, midfielder Jimmy was brought up in the Republic of Ireland and was signed from junior football in Dublin by Bohemians.

Winning the FAI Young Player of the Year award for 1993/94, Crawford was invited to Tyneside for trials in 1994, also spending some time with Aston Villa.

Signing in a £75K deal the following year, he received an U21 callup for the Republic of Ireland and debuted for Newcastle as a substitute in a home League Cup victory over Bristol City in October 1995.

With no Magpies reserve league side at that time, Jimmy was farmed out to Rotherham United the following season and played eleven times for the Millers.

1997/98 pre-season preparations saw him back with Newcastle's first team, scoring against Derry City to his great delight in a tournament at Lansdowne Road in Dublin.

However a hamstring injury sidelined him while Kevin Keegan gave way to Kenny Dalglish at SJP - although the latter handed him two Premier League sub outings: in the second Anfield 4-3 loss and a 4-0 home victory over Coventry City.

Afflicted by injuries again the following season, Crawford was loaned to Dundee United but played just once for them, against Hibernian in February 1998.

Within a month Newcastle had accepted a £50K bid from Reading, a move which saw Jimmy reunited with former Magpies coach Tommy Burns and striker Paul Brayson, who also moved at the same time.

In two injury-hit years with the Royals, Jim made 20 appearances and scored once, in a win over Bristol City (fellow ex-Mag Brian Tinnion netting for City in the same game).

Leaving in 2000, Crawford returned to Ireland and signed for Dublin-based Shelbourne, where he remained until 2007.

A transfer to the newly-founded Sporting Fingal club was followed by retirement from playing, after which he acted as coach and caretaker boss of Shamrock Rovers in 2008.

Jim subsequently held the post of FAI Football Development Officer for South Dublin in addition to a coaching role with Ireland's U18/U19 squad.

1991 Ryan Donaldson born, Newcastle.
(2006-12)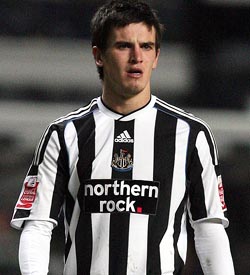 Training with Newcastle's Academy from the age of nine, Ryan was a regular schoolboy scorer for St.Cuthberts - although he came close to accepting a contract from the mackems before United made their move.

Making his U18 debut at the tail end of the 2005/06 season, striker Ryan went on to net twelve goals at that level in league and cup games the following season.

A reserve bow at Wigan in January 2007 was followed by a goal against Blackburn two months later - before his 16th birthday.

That club form earned Ryan an England U17 call-up, scoring twice on his debut against Iceland in July 2007 and going on to grab nine strikes in 12 international outings.

Appearing more in midfield in season 2007/08 for the reserve and U18s, Ryan was blooded by Kevin Keegan as a sub against Mallorca in pre-season, before being named on the first team bench at Old Trafford in August 2009.

Retaining his bench place without getting on the field, an ankle injury then sidelined Ryan, who returned to a striking role when fit again and restored to the reserve team.

Debuting for the first team in closing stages of a home win over Leicester City in August 2009, a first senior start came in the league cup tie at Peterborough a month later.

Remaining on the first team fringes at SJP, Ryan joined Hartlepool United on loan in January 2011 but failed to find the net in a
dozen outings for the League One side.

A further loan to Tranmere Rovers during September 2011 saw Donaldson make just one appearance before returning to SJP for treatment on a hamstring injury.

Returning to reserve team action in January 2012 for United, a substitute selection followed for the Premier League home game against Norwich City but he remained on the bench as an unused replacement.

Ryan added a fourth Northumberland Senior Cup winner's medal to his collection on the eve of his 21st birthday, but was released by United at the end of that season.

After trials at St.Johnstone and Carlisle United, he agreed a deal with Gateshead for the 2012/13 campaign, scoring eight goals for the Tynesiders.

Joining Conference rivals Cambridge United in 2013 (managed by former Magpies Academy coach Richard Money) Ryan scored twice in a 4-0 stroll over Gosport Borough in the FA Trophy at Wembley Stadium in March 2014/

Returning there for a playoff final against Gateshead two months, Donaldson scored the winner in a 2-1 U's win that restored league football to the Abbey Stadium.

Ryan completed a century of appearances for Cambridge in all competitions during January 2016 but they narrowly missed out on a League Two promotion playoff spot just hours before his 25th birthday.

1992 Samuel Ameobi, born Newcastle
(2008-present)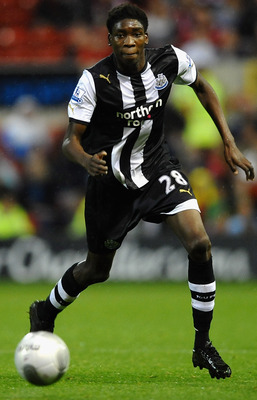 The third of the Ameobi brothers to play for Newcastle after Shola and Tomi, fellow forward Sammy was recruited from Walker Central Boys Clubs and first appeared in the U18 side during the 2008/09 season.

He also debuted at reserve level and found the Central League Cup to his liking, scoring twice in a 2-1 win at Hartlepool and then notching another against Carlisle.

However, Sammy's season was curtailed by a knee injury in early 2009 that kept him out of action until the following campaign.

Featuring at reserve and junior level in the following two seasons, Ameobi answered a callup for Nigeria U20s in March 2011, for friendly matches staged in the UAE.

His first team debut came two months later at Stamford Bridge, joining his elder brother on the pitch for the closing stages of an entertaining 2-2 draw.

A pre-season goal at Darlington sparking a ridiculous pitch invasion shot Sammy into the limelight early the following season and that was swiftly followed by a spectacular winner at Scunthorpe in the Carling Cup.

Some erratic substitute appearances for the the first team followed, together with a pair of caps for England U21s in November 2011.

However, 2012 began in poor fashion for him, with a season-ending knee injury incurred during a reserve game with Wigan.

The following season saw Sammy make a single Premier League start plus several substitute appearances and four starts in the Europa League.

Loaned to the smoggies in February 2013, Sammy marked his debut with a goal in a 2-1 home win over Cardiff City, but failed to add to that tally in eight other Championship appearances that season.

After a promising start to the 2013/14 season which included a goal in the League Cup at Morecambe, injury again restricted Ameobi's first team appearances.

The 2014/15 campaign saw Sammy feature more often - partly due to the departure of Shola - and two outstanding goals came in away games at Spurs and Hull. However a lack of consistency saw him rotate in and out of the starting lineup and bench.

With a question mark over his future as his contract neared expiry, a new two year deal was agreed and signed - followed by an immediate departure on a season-long loan to Championship side ardiff City as Steve McClaren arrived at Gallowgate.

However that failed to be a springboard for Sammy's career and he was unable to retain a regular starting place as the Bluebirds missed out on a promotion playoff place.

Lge
FAC
LC
Eur
Tot
A
S
G
A
S
G
A
S
G
A
S
G
Ap
Su
Gl
21
33
2
1
3
4
2
4
1
29
38
4
What Else?
1902 Kilmarnock (a)
0-2 (0-1)
Friendly
Graham, scorer tbc
3,000
A third benefit match in three days for the victims of the Ibrox Stadium disaster.
1920 Derby County (a)
0-1 (0-0)
Division One
43pts, 8th
Leonard
21,366
Last game of the season for United as the first season following the war came to a close.
1926 Manchester City (h)
3-2 (1-1)
Division One
42pts, 10th
Gallacher(1,2-0,3-0)
Browell(3-1), Roberts(90)
20,000
A missed penalty by City sealed their relegation from Division One, as they finished a point short of safety.
1939 York City (a)
3-1 (2-1)
Friendly
Cairns, Isaac, og(Wass)
Milner
5,000
United faced the Minstermen in a Testimonial Match for defender Edwin Wass - who failed to score in 222 compeititve games for City, but registered an OG in this kickabout.
1943 York City (a)
5-5 (4-2)
Wartime
Stubbins 3, Carr, Dixon
scorers tbc
2,000
1946 Barnsley (h)
1-0 (0-0)
Wartime
Milburn
20,158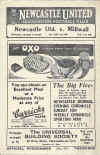 1948 Millwall (h)
1-0 (1-0)
Division Two
56pts, 2nd
Harvey
43,328
Two weeks after the epic 4-2 home victory over Sheffield Wednesday that had virtually sealed promotion, United were back at Gallowgate for what would be their last Division Two game until 1961.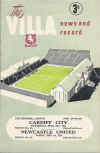 1953 Aston Villa (a)
1-0 (1-0)
Division One
37pts, 16th
Milburn
20,000
Our season ended with this 6.30pm kickoff on Good Friday, as we completed a seasonal double over Villa.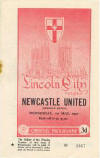 1957 Lincoln City (a)
2-2 (1-1)
Friendly
Hannah, Hale
Northcott (21,54)
5,600
United made the jounrey to Sincil Bank to take part in a Testimonial Match for City's former Magpie Doug Graham.


1959 Brighton & Hove Albion (a) 1-1 (0-0)
Friendly
Hughes
Gordon
6,682
A Friday night runout marked United's playing debut at the Goldstone Ground - although they had actually trained there as part of their FA Cup Final preparations in previous seasons.
1963 Stoke City (h)
5-2 (3-2)
Division Two
44pts, 6th
Hilley, McGarry, Suddick, McKinney 2(1 pen)
McIlroy 2
26,781

1971 Coventry City (a)
0-2 (0-1)
Division One
41pts, 12th
Hunt, Blockley
20,596
The final game of the season saw United firmly in mid-table and in need of a new striker. Manager Joe Harvey had his eyes on Luton Town's promising young forward however...

1982 Blackburn Rovers (a) 1-4 (0-2)
Division Two
56pts, 10th
Varadi(51)
Brownlie(23)
Bell(9), Branagan(40), Rathbone(70), Garner(79)
5,207
A tiny Ewood Park crowd saw Magpies defender John Brownlie and Mick Speight of Rovers sent off after an off-the-ball spat on 23 minutes.

Midfielder Derek Bell made his senior debut and winger Paul Ferris came on as substitute for what was his only league appearance.

1993 United's Reserves lost 1-2 to local non-leaguers Newcastle Blue Star in the Northumberland Senior Cup Final at SJP.

Chris Pickford netted on 48 minutes for the visitors, with John Watson levelling nine minutes later.

Star then collected the trophy thanks to an injury time winner from Tony Nelson - giving his side's assistant boss Steve Carney a happy return to his former club.

Team: Keen, S.Watson, R.Elliott, Roche, Dinning, M.Appleby, R.Appleby, J.Watson, Armstrong, Thompson (sub: Cormack), Stimson.

1999 Middlesbrough (h)
1-1 (0-0)
Premiership
45pts, 12th
Shearer(62pen)
Mustoe(59)
36,552
United's winless post-FA Semi Final run extended to four games, despite their dominance of this game against a Boro side who had just lost 6-1 at home to Arsenal.

Within three minutes of Robbie Mustoe beating Steve Harper though, Didier Domi tumbled in the area under Robbie Stockdale's challenge and Alan Shearer did the rest.

2001 Southampton (h)
1-1 (1-0)
Premiership
47pts, 10th
Gallacher(26)
Pahars(81)
50,439
Live on Sky, this game had been postponed earlier in the season due to heavy snow shower.

Leading through Kevin Gallacher's well-taken first half lob, the Saints grabbed a point with their first goal in six games to delight their caretaker boss Stuart Gray.
NUFC.com match report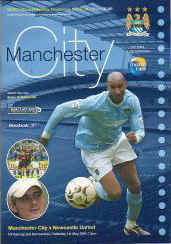 2004 Manchester City (a)
0-1 (0-0)
Premiership
53pts, 5th
Wanchope(59)
47,226
Our first visit to the City of Manchester Stadium came on a fine sunny day - but that was about as good as it got for United.

Having beat Chelsea 2-1 at home the previous weekend, United seemingly opted not to exert themselves in this game - six days ahead of a UEFA Cup semi-final second leg in Marseille.

A wretched 90 minutes from Bobby Robson's side saw Martin Brittain make his senior bow from the bench against Kevin Keegan's City.
NUFC.com match report

2011 Liverpool (a)
0-3 (0-1)
Premier League
41pts, 12th
Maxi(10), Kuyt(59pen), Suarez(65)
44,923
Relegation was still a possibility after this comprehensive defeat at Anfield, Andy Carroll facing his former employers for the first time since that big money transfer.

Joey Barton could have equalised shortly after the break but once that chance came and went, our goal famine at Liverpool was extended to a staggering 518 minutes.

Awful defending from Danny Simpson and Mike Williamson in particular though, gifted the victory to the Reds.
NUFC.com match report