Next Match
Birmingham City
Championship
St. James' Park
Saturday 10th December
Kick-off 3.00pm
Last Match
Nottingham Forest 2
Newcastle 1
Championship
City Ground
Friday 2nd December


Match report to follow

The Never-Ending Tour

Number of Newcastle
games attended by
NUFC.com in 2016/17:

57




Buy author-signed copies here
for £18.99 in hardback or from
MJS Computers at 30 Merton Way, Ponteland and the Post Office, 44
Earsdon Road, West Monkseaton.

Martin will be signing books at
Tynemouth Station Market
today (Sunday 4th).










Ticket news:
Birmingham City (h) Public sale now
Wigan (a) Public sale now
Burton (a) SOLD OUT
Sheff Wed (h) & Public sale now
Forest (h) Public sale now (online)
Blackburn (a) ST holder sale now (0 points)
Championship:
The Jerk

Nottingham Forest 2 Newcastle 1

Dirty Rotten Scoundrel
Referee Steve Martin took centre stage in a distinctly unfunny comedy with his pathetic performance for the Sky cameras at The City Ground on Friday night.

During an incredible 19 minutes of first half action, the bungling whistler awarded two penalties to the home side, dismissed two Newcastle players and disallowed a perfectly good Newcastle goal - having ignored our earlier spot kick claim for an obvious obstruction.

Despite the best efforts of Martin though, nine man United left the field with a 1-0 lead after Matt Ritchie slotted home - thanks in no small part to Karl Darlow making penalty stops before and after that goal.

Sadly though the loss of Jonjo Shelvey and Paul Dummett ultimately allowed Forest to claim what was an undeserved and unconvincing victory - six yard box scrambles on 52 and 86 minutes ending with Darlow beaten - fellow former Forest favourite Jamaal Lascelles getting the final touch for the winner.

The opening 30 minutes gave little hint of the madness that lay in store, as Newcastle dominated possession with some measured and purposeful play and looked significantly slicker than against Blackburn.

Ciaran Clark was held back right in front of goal by a defender whose clear foul went unpunished before referee Martin took centre stage with his antics.

The man-in-the-middle was following play and had his back to a flare-up between Shelvey and home captain Henri Lansbury as both went to ground on the edge of Newcastle's box.

However, the linesman in front of the Main Stand had a view and waved his flag; Shelvey soon on his way to the dressing room after a straight red card - which combined with the possible outcome of his FA hearing could see him out of action until well into 2017.

The Newcastle midfielder was undoubtedly in the wrong, but Lansbury's actions were pivotal in the decision-making process - initiating contact with Shelvey before dramatically rolling around following minimal contact in response - this was no re-run of Shearer versus Lennon....

Enter Karl Darlow, who guessed right and blocked Nicklas Bendtner's tame spot kick amid great celebrations in the away section at that end.

Referee Martin's next trick was to deny Clark a goal when he headed home a free kick, somehow being penalised for ignoring the blatant shirt-grabbing of Matthew Cash to reach ball and score. Incredible.
Into first half added time and Martin still had one more trick up his sleeve before the intermission, consigning Dummett to an early bath after he collided with Lansbury in the box - the Forest man waiting for a semblance of contact before crumbling.

It was a clear goal-scoring opportunity but under this season's regulations that does not necessarily mean a straight red card - Martin presumably determining that our left-back made no attempt to play the ball and deliberately halted the already stationary Forest man.

Wrong, wrong, wrong.
(Sky Sports later reported a claim that the United defence were distracted by a phantom half-time whistle from the away section. It's audible on the TV replays, which also show home coaches getting up out of their dugout seats at that point. Sadly that wasn't to be the only Toon own goal of the evening).

A second penalty was awarded by the whistler, who seemed intent on claiming pole position in the ever lengthening list of idiotic officials we've endured in Championship games this season.

Forest changed their taker and Lansbury himself took responsibility - only for Darlow to dive the opposite way this time to deny him and then prove equal to a second shot that came his way. Cue fan delirium.

In between the madness, ten-man United took the lead as Ritchie lashed home a deflected left wing centre from Isaac Hayden for his fifth goal in our colours.

That advantage only lasted for seven second half minutes though, Bendtner poking the ball home to end a goalmouth scramble during which Darlow had made another excellent instinctive stop to no avail.

United's nine men pressed as best they could, earned a few set pieces and saw their eagerness pass up the chance of a few others, but no real chance came.

Forest meanwhile huffed and puffed but all too often relied on unscientific lumped balls into the area - a tactic that betrayed their evident lack of quality.

Just when it seemed as if a famous point was within Newcastle's grasp though, a final sting in the tail came when Apostolos Vellios flicked the ball on in the box.

That evaded Assombalonga but not our captain, who could only help the bouncing ball over the line to give his former side a third successive league victory.

So not a vintage week for Rafa and his side: six points dropped, an EFL Trophy exit and two suspensions.

And for Shelvey it's been a wretched few days, his penalty miss on Tuesday and tonight's avoidable and costly sending off add to his charge of misconduct.

As his former boss Brendan Rogers once said of him, "you have all the tools, son" - he just needs to avoid being the biggest spanner in our particular box.

There have been positive elements evident in all three of the defeats suffered in the last seven days, both in terms of our approach and some of our play.

At times however we've shown ill-discipline and a lack of composure that has come back to bite us on the backside. Over-celebration of Diame's goal at Hull by the players is one example, our disgraceful no-show for the subsequent penalty shootout another.

The mentality isn't there yet. A collective mindset that needs to be both methodical and detached - albeit under the most demanding of circumstances when attention-seeking clowns with whistles appear.

Despite the chants from our own supporters, nothing has been achieved yet, nothing won. Losing these three games isn't the end of the world, in the same way that winning nine on the spin wasn't a reason to become overly excited and get carried away.

PS - a few words about substitute, Momo Diame who ambled around aimlessly and almost avoided the ball - arguably costing us the second Forest goal.
What on earth did he think he was put on to do other than run his b*llocks off for only 15 or so minutes and throw himself into challenges? Credit to colleague DeAndre Yedlin, who told him in no uncertain terms.

And similarly, the futility of Aleksandar Mitrovic was never more evident than when he took to the field in the final minutes - failing to shift his carcass for a slightly misplaced pass, then seconds later imploring away fans on to greater efforts before a free kick.

Full report to follow.

Team: Darlow, Yedlin, Lascelles, Clark, Dummett, Hayden, Shelvey, Ritchie, Gouffran (Diame 77), Perez (Anita 46), Gayle (Mitrovic 87).
Subs n/u: Sels, Mbemba, Tiote, Atsu.

Booked: Darlow, Yedlin, Gouffran.

Sent off: Shelvey(33), Dummett(45+2)

Goal: Ritchie 45.

NFFC: Stojkovic, Mills, Perquis, Mancienne (Assombalonga 45), Cash, Lansbury, Kasami, Lam (Carayol 65), Lichaj, Osborn, Bendtner (Vellios 79).
Subs n/u: Henderson, Grant, Vaughan, Hobbs

Booked: Mancienne, Lansbury.

Goals: Bendtner (52), OG (Lascelles) 86

Crowd: 21,317 including a sold-out 2,002 away fans.

The laughable home support were as embarrassing as their team, celebrating like the European Cup had returned to the City Ground rather than limping to a lucky three points against nine men via an own goal.

NB: that doesn't include the steady stream of alleged home supporters who sloped off before the end. Why?

Referee: Steve Martin (Staffordshire). Just like his namesake, a complete and utter comedian.

Martin joins Trelford Mills, Brian Coddington and Uriah Rennie in our refereeing hall of shame - really, he was that bad.

PS: After receiving some abusive tweets intended for the English Steve Martin, the American Steve Martin commented on Friday evening that:

"Evidently, there's someone who's a bad referee with my name, and now there are thousands of English who won't go see my films anymore."

Rafa:

"Everything was against us. You could see in the game we have a lot of things we can complain about. But I was really surprised with (Henri) Lansbury.

"The way he was acting, twice with the penalties and also with Jonjo Shelvey, but maybe he's proud of himself.
"If the referee cannot see that Lansbury was kicking Jonjo before, I will not defend Jonjo as he made a mistake, but (Lansbury) was kicking him before from behind. Sometimes the FA take action also on the players that are over-reacting, so (maybe that will happen here).
"(With Dummett's sending off) it was very clear the number 10 (Lansbury) was waiting for him. So maybe again the FA can analyse this and see the behaviour of the Number 10.

"I will not ask for anything. If they (the FA) want to do something, fine. If they do not, it is up to them.

"I haven't spoken to the referee, I don't need to do it, I've seen the images and it's obvious and clear to me.
"We did really well, we were doing what we had to do but it's a big difference when you have 45 minutes numerical inferiority it's not easy.
"We can also talk about the goal that was disallowed or the penalty that was not given.
"The first goal (from Forest's Nicklas Bendtner) was also maybe offside. We can talk about so many things, but that is not going to change the score at the end.
"We just have to praise the players for the effort and the work they were doing, and make sure that we do not make these silly mistakes in the future."
Stats:

The last Newcastle goalkeeper to save two penalty kicks during the same competitive match (excluding shootouts) that we can recall was Gary Kelly.

Preston-born Kelly was 21 when he denied Chelsea's Kevin Wilson and Mickey Hazard during a 3-1 home victory back in February 1988.

The Magpies ended a game with nine men for the first time since a 0-3 loss at Leicester City in the Premier League back in May 2015 - Mike Williamson (62) and Daryl Janmaat (90+1) both seeing red.

Tonight was reminiscent of our April 1992 game along the other end of the A52 at Derby County's Baseball Ground, when Kevin Brock and Kevin Scott's dismissal reduced United to nine men before half time.

That did descend further into farce when United went down to eight men following Liam O'Brien's sending off on 72 minutes as United were beaten 1-4.
Since losing 1-2 here in May 1987 (and then invading the pitch after full time), none of our subsequent eleven visits have been 3pm Saturday kick-offs.

Forest v United - last 20:
2016/17 lost 1-2 Ritchie
2011/12 won 4-3(aet) (CC) Lovenkrands 2,
2009/10 lost 0-1
1998/99 won 2-1 Shearer, Hamann
1996/97 drew 0-0
1995/96 lost 5-6 Ferdinand 2, Guinan,
Barton, KK (FR)
1995/96 drew 1-1 Beardsley
1994/95 drew 0-0
1991/92 lost 1-2 (ZDS) Scott
1990/91 lost 0-3 (FAC)
1988/89 drew 1-1 Brock
1987/88 won 2-0 Gascoigne, Mirandinha
1986/87 lost 1-2 Gascoigne
1985/86 won 2-1 Beardsley 2
1984/85 drew 0-0
1984/85 drew 1-1 (FAC) Megson
1977/78 lost 0-2
1974/75 drew 1-1 (LC) Macdonald
1971/72 lost 0-1
1970/71 lost 1-2 Robson
Other Championship results:

Thu 01.12.2016:
QPR 1-2 Wolves

Sat 03.12.2016:
Birmingham City 0-3 Barnsley
Blackburn Rovers 1-1 Huddersfield Town
Bristol City 2-0 Ipswich Town
Burton Albion 2-1 Rotherham United
Cardiff City 0-0 Brighton & Hove Albion
Fulham 5-0 Reading
Norwich City 5-0 Brentford
Sheffield Wednesday 2-1 Preston North End
Wigan Athletic 0-1 Derby County
Leeds United 2-0 Aston Villa

Proud sponsors of NUFC.com
U23s:
Set piece misery

Southampton U23s 3 Newcastle U23s 0




United's second string saw their five match unbeaten run in all competitions ended on Friday, as they were beaten for the first time in the Premier League Cup.

The Magpies fell behind after 26 minutes when Marcus Barnes was left alone to head in a corner kick and more slack marking allowed him to repeat the feat seconds before the half time interval.

Newcastle's best scoring chance of the game came early in the second period when Liam Gibson's centre from the left was met by defender Curtis Good. Sadly though his header was cleared off the goal line.

The Saints then wrapped up victory thanks to a 78th minute penalty conversion from Olufela Olomola after Good had impeded Lloyd Isgrove.

Peter Beardsley welcomed back midfielder Callum Smith after recovering from an injury sustained in pre-season while on loan at Blackpool, while there was a first U23 start for striker Tom Heardman since his ill-starred temporary stint with Hartlepool United.

Team: Woodman, Williams (Newberry 73), Gibson, Hunter, Good, Findlay, Roberts, Barlaser, Heardman, Ward (El-Mhanni 65), Smith (Wilson 58).
Subs n/u: Harker, Satka.

SFC: Lewis, Bakary, Wood, Slattery, Cook, Jones, Olomola, Little (Willard 73), Barnes (Johnson 78), O'Connor, Isgrove.
Subs n/u: Vokins, Parkes, Rowthorn.

U18s:
Old Gold double




Wolves U18s 1 Newcastle U18s 2

Returning to action after last week's game at Everton fell victim to fog, Newcastle's U18 side went in at the interval trailing to a 40th minute strike from Austin Sannels at Wolverhampton's Jack Hayward Centre.

They turned it round after the break thanks to goals from Kieren Aplin with a 63rd minute header and a Mace Goodridge shot four minutes later.

The Magpies team line-up is tbc but there was a competitive debut for striker Momo Sangare following receipt of his international clearance.

The first meeting of the two sides this season ended with a decisive 4-1 victory for United on Tyneside.


Loan lads:
Sammy stars on Sunday

This week's temp action:

Sammy Ameobi (Bolton Wanderers)
Sammy Ameobi fired in a spectacular strike for Bolton as the beat Sheffield United in the FA Cup on Sunday. His goal, a minute after the interval made it 2-0 and our man left the field in the 82nd minute with the score 2-1. It finished 3-2 to the Trotters.

Jamie Sterry (Coventry City)
Jamie wasn't in the Sky Blues squad as they were thumped 0-4 at Cambridge United in the FA Cup on Sunday.

Florian Thauvin (Olympique Marseille)
Florian started the goalless draw as OM visited Saint-Etienne on Wednesday in a Ligue 1 contest. He was replaced in the 76th minute.

Henri Saivet (AS Saint-Etienne)
Henri started the game as Marseille and Thauvin were in town for the Ligue 1 fixture on Wednesday. He was replaced six minutes earlier than Thauvin in the scoreless draw.

Emmanuel Riviere (Real Osasuna)
There was Copa Del Rey action for the beleaguered club on Wednesday but the misery continued with an away defeat against Granada. Riviere played the first 68 minutes of a 0-1 reverse.

Tim Krul (Ajax)
Game number four in the Ajax second team on Friday evening saw Tim complete another 90 minutes in a 3-1 victory away to Cambuur.

Paul Woolston (Blyth Spartans)
The green and whites are at home this Saturday to Buxton in the Northern Premier League.

Adam Armstrong (Barnsley)
Adam was left on the bench as Barnsley won 3-0 at Birmingham City in the Championship on Saturday.

Kyle Cameron (Newport County)
No place in the squad for Kyle as County got a goalless draw at Plymouth Argyle in the FA Cup on Saturday.

Macaulay Gillesphey (Carlisle United)
Macaulay was an unused sub as Carlisle lost 0-2 at home to Rochdale in the FA Cup on Saturday.

Alex Gilliead (Luton Town)
Alex started for the Hatters as Luton threatened to provide the shock of the FA Cup Second Round on Saturday, trailing 0-2 to Solihull Moors at the break. However, they ran out 6-2 winners with Alex subbed in the 76th minute when it was 4-2.

Ivan Toney (Shrewsbury Town)
It finished goalless at Greenhous Meadow as the Shrews drew 0-0 with Fleetwood Town In the FA Cup on Saturday. Ivan started the game and was booked yet again but being subbed in added time. Presumably before he picked up another caution....

Kevin Mbabu (BSC Young Boys)
Second-placed BSC entertained runaway Swiss Super League leaders FC Basel on Saturday night and our lad scored in a notable 3-1 victory for Young Boys. Kevin came on in the 77th minute and two minutes later he scored his side's third.

Siem De Jong (PSV Eindhoven)
Siem played the full game for PSV as it finished goalless at Roda JC in Eredivisie on Saturday.

PSV then conclude their unsuccessful Champions League on Tuesday night at home to FC Rostov.

Haris Vuckic (Bradford City)
A free weekend for the Bantams following their FA Cup First Round defeat by Accrington Stanley. They resume on Wednesday in a Checkatrade Trophy tie at home to Cambridge United. That'll be a gripper.

Signed:
Festive season



Desperately trying to avoid using the words "messiah" and "Christmas" in the same sentence, replica NUFC 1983/84 season home shirts autographed by Kevin Keegan are now available for home delivery

Each unframed shirt comes with a COA (certificate of authentication) and a photo of KK doing the deed and cost £69.99. Please note that framed shirts are now completely sold out.

Prices include UK P&P, with a four day turnaround.

Update:
NUFC abuse claims:
police investigation

Northumbria Police confirmed on Thursday that they have now launched Operation Tide to investigate claims of historical child sex abuse at Newcastle United, after receiving multiple reports.

Detective chief inspector Shelley Hudson:

"We have launched an operation into complaints of non-recent child abuse at Newcastle United in the 1980s and 90s.
These are some extremely serious reports of abuse and will be investigated with the highest of priority by the force.

"I have also met with Newcastle United officials who confirmed their full support and commitment to assisting the investigation in any way possible."
The Chronicle quoted former club Chairman Freddy Shepherd, who denied any knowledge of abuse and called the developments "very upsetting".

BBC Look North interviewed Sir John Hall and he expressed similar sentiments.

Two former Newcastle players have waived their right to anonymity, telling their stories in The Guardian and on the BBC's Victoria Derbyshire programme.

Thursday's edition saw ex-Magpie reserve David Eatock describe his experience at the hands of convicted abuser, George Ormond online here

Further claims from former Newcastle player Derek Bell also appeared on the same day online here
Tuesday's edition carried a harrowing interview with Bell, who recounted abuse by Ormond at a Tyneside boys club before joining United online here

Claims of abuse by an un-named former Newcastle player appeared in the Guardian last Thursday's. It appears that the player quoted in that article was neither Bell nor Eatock.
FAC3:
Come in number 27

Newcastle will take their place in this Monday's FA Cup Third Round draw, having been allocated ball 27. The draw is live on BBC2 and BT Sport at 7.10pm and ties are scheduled for the weekend of January 7th 2017.

Third Round Proper draw numbers:


1 AFC Bournemouth
2 Arsenal
3 Aston Villa
4 Barnsley
5 Birmingham City
6 Blackburn Rovers
7 Brentford
8 Brighton
9 Bristol City
10 Burnley
11 Burton Albion
12 Cardiff City
13 Chelsea
14 Crystal Palace
15 Derby
16 Everton
17 Fulham
18 Huddersfield
19 Hull
20 Ipswich
21 Leeds
22 Leicester
23 Liverpool
24 Manchester City
25 Manchester United
26 smoggies
27 Newcastle United
28 Norwich
29 Nottingham Forest
30 Preston
31 QPR
32 Reading
33 Rotherham
34 Sheffield Wednesday
35 Southampton
36 Stoke City
37 mackems
38 Swansea City
39 Spurs
40 Watford
41 West Brom
42 West Ham
43 Wigan
44 Wolves
45 Curzon Ashton/Wombles 46 Chesterfield/Wycombe
47 Millwall/Braintree Town
48 Macclesfield or Oxford
49 Bolton/Sheffield United
50 Blackpool/Brackley
51 S'bdge/Northampton
52 Notts County/ Pborough
53 Cambridge/Coventry
54 Port Vale/Hartlepool
55 Bristol Rovers/Barrow
56 Woking/Accrington
57 Lincoln/Oldham
58 Luton/Solihull Moors
59 Sutton/Cheltenham
60 Eastleigh/FC Halifax
61 Shrewsbury/Fleetwood
62 Charlton/MK Dons
63 Plymouth/Newport
64 Carlisle/Rochdale
2016/17:
Blackburn (a) update




Tickets for United's visit to Ewood Park on January 2nd are now on sale to season ticket holders with a zero loyalty point threshold.

Blackburn Rovers have confirmed that the whole of the Darwen End (pictured above) has been allocated to away supporters - some 7,000 places*.

While we've had some sizeable allocations at Ewood Park in recent seasons, our last following of that magnitude was for an FA Cup tie in January 2000.

* a capacity of 8.000 for that end is claimed by a number of online stadium guides, but the largest allocation given to any away side in the last two seasons appears to be marginally under 7,000.

NUFC are yet to specify the size of their allocation.

2016/17:
Dumb and Humber

Hull City 1 Newcastle 1 (AET)
(Newcastle lost 1-3 on penalties)


Match footage is online here

Match report


Fundraiser:
Flag night




As part of their efforts to raise funds for further flag displays at games, Gallowgate Flags will stage a Newcastle United Quiz at NINE Bar next week.

That's on Tuesday December 6th, when a variety of excellent prizes will be up for grabs. It's a 7.30pm start, up to four players per team are permitted and admission is £5 per person (plus a 90p booking fee).

Tickets can be ordered online here

2016/17:
Mulgrew a Dobbin doppelganger

Newcastle 0 Blackburn Rovers 1

Match report

Match footage is online here

2016/17:
Juanito for the future

Update: Local youth side Westmoor Juniors had an unexpected guest in the shape of Juanito for their training session on Wednesday night: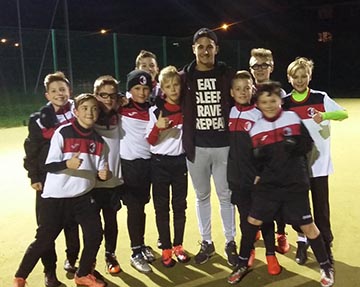 Spanish website huelva24.com report that Newcastle have concluded an agreement with third tier club Recreativo de Huelva to sign one of their teenagers.

The player in question is a 17 year-old striker Juan Jesús Núñez Cumbrera, also known as Juanito.

No fee has been specified for the youngster, who is anticipated to join United's development squad.

Assuming the report is accurate, Juanito will become our latest overseas recruit at youth level, following the arrival of Danish forward Elias Sorensen and Finnish goalkeeper Otto Huuhtanen.

The Magpies have also now belatedly received international clearance for youngster Mo Sangare, who agreed terms earlier this season following a trial.

The African-born but British-based attacker was previously with Accrington Stanley, Burnley and Bournemouth and had been due to debut at U18 level on Saturday, before fog saw the game postponed.

Update:
Colback fined

From the BBC, Monday:

Newcastle United midfielder Jack Colback has been fined £25,000 after accepting a Football Association misconduct charge related to betting.
He broke FA Rule E8 by placing a bet on a fixture that took place on 16 March*.
It was not related to a game involving the 27-year-old's own club.
FA rules prohibit people involved in the sport from betting, either directly or indirectly, on any match or competition that takes place anywhere in the world.

*Unless Colback was tempted by the Accrington Stanley versus Wycombe Wanderers game, it's a fair bet that he gambled on Champions League games: Bayern Munich playing Juventus and Barcelona entertaining Arsenal that night.

Former Magpie Dan Gosling admitted a number of similar offences back in 2014, receiving a £30K fine.
2016/17:
Birmingham City (h)

The Magpies return to Championship action on Saturday, when they face Birmingham in and old- fashioned 3pm kick-off. Limited tickets remain.

The visitors have sold their entire 3,100 allocation.

NUFC: To follow

Betting: To follow

BCFC: To follow

Referee: tbc

Travel:

Metro: No scheduled closures this weekend

Social: The matchday promotion from Pizza Express on Dean Street runs again this Saturday, giving a 30% discount on your total bill - as long as one diner has a valid NUFC season ticket or Birmingham match ticket.

The offer runs all day - no reservations are needed.

UK TV: None

Overseas TV: None

UK Radio: None

Local Radio: Live on BBC Radio Newcastle.

The official NUFC website has been relaunched in beta version at https://beta.nufc.co.uk and has free worldwide streaming of match commentaries.
(No commentary will be available via nufc.co.uk)

Stats:
Blues in Toon - last 20:
2010/11: Won 2-1 Ameobi(pen), S.Taylor
2007/08: Won 2-1 Martins(pen), Beye
2006/07: Lost 1-5 Milner (FAC)
2005/06: Won 1-0 Emre
2004/05: Won 2-1 Ameobi, Bowyer
2003/04: Lost 0-1
2002/03: Won 1-0 Viana
1992/93: Drew 2-2 Cole, Lee
1985/86: Won 4-1 Beardsley 2, Anderson, Whitehurst
1979/80: Drew 0-0
1977/78: Drew 1-1 Nattrass
1976/77: Won 3-2 Burns 2, T.Craig
1975/76: Won 4-0 Macdonald 2, Gowling, Burns
1974/75: Lost 1-2 Macdonald
1974/75: Drew 1-1 Macdonald (Texaco Cup)
1973/74: Won 3-1 Tudor 2, Clark (Texaco Cup)
1973/74: Lost 0-1 (League Cup)
1973/74: Drew 1-1 Robson
1972/73: Won 3-0 Macdonald, Howard, Gibb
1960/61: Drew 2-2 Mitchell, Scanlon

Fixtures, Tickets etc.
Season 2016/17

The stadium Box Office is located in the Milburn Stand, just up the slope from the Sir Bobby Robson Statue. The previous ticket desk in the club shop has now closed.

Paid-for matchday ticket collections take place from the windows at the back of the Gallowgate End Stand, above NINE Bar.

SJP Box Office phone: 0844 372 1892*
(7p per minute plus network charge)

* 0044 870 444 1892 from overseas
Online Box Office is here

SJP seating plan is here

On the opening day of ticket sales, they officially commence at 10am - with any points reduction for away tickets becoming effective at the same time.

Away tickets are sold only to season ticket holders and members*. All ST holders are automatically members (a non-negotiable fee is added annually by NUFC to each ST).

A £1 administration fee per ticket applies to away sales in all competitions, with no upper limit. In addition, non-NUFC members pay the same fee on home ticket sales.

*NUFC have announced that their members only away ticket policy will be relaxed for selected 2016/17 away games:

"Season ticket holders and members will continue to enjoy priority access to all away match tickets as normal, with demand expected to be extremely high for most fixtures.

"However, should away tickets not completely sell out during designated priority sale periods, the club will make them available to all fans where possible."
Heading to the Toon?

City guide
here

Geordie Map here

NE guide here
Mon 05.12.2016 FA Cup Third Round draw staged, 7.10pm live on BBC2 and BT Sport. Involves NUFC.

Wed 07.12.2016 U23s v Morpeth Town (a) @ Craik Park, 7.30pm. Northumberland Senior Cup Quarter Final.

Fri 09.12.2016 U18s v Portsmouth (a) @ Fratton Park, 7pm. FA Youth Cup Third Round.

Sat 10.12.2016 Birmingham City (h) @ SJP, 3pm. Championship. Public sale now.

Mon 12.12.2016 U23s v Aston Villa (h) @ St. James' Park, 7pm. Premier League 2.

Wed 14.12.2016 Wigan Athletic (a) @ DW Stadium, 7.45pm. Championship. Public sale now. £25 adults, £22 OAPs, £20 U18s, £10 U11s. Allocation: 4,800. Live on Sky Sports.

Fri 16.12.2016 U23s v Stoke City (a) @ Harrison Park, Leek, 7pm. Premier League 2.

Sat 17.12.2016 Burton Albion (a) @ Pirelli Stadium,3pm. Championship. SOLD OUT. Allocation: 1,600.

Tue 20.12.2016 U23s v Rotherham United (a) @ Roundwood Pavilion, Parkgate, 1pm. Central League Cup.

Mon 26.12.2016 Sheffield Wednesday (h) @ SJP, 7.45pm. Championship. Public sale now. Live on Sky Sports.

Boxing Day public transport:

Some bus services will operate before the game, with most finishing by 7pm and only a small number running after the game - check with local operators for full details.
X50 'Soccer Bus' to and from the Metro Centre will run before and after the game.

Metros will run before and after the game.

There are no local or national rail services.
Fri 30.12.2016 Nottingham Forest (h) @ SJP, 7.45pm. Championship. Public sale now.

Mon 02.01.2017 Blackburn Rovers (a) @ Ewood Park, 3pm. Championship. ST holder sale now, 0 points. £30 adults, £tbc other groups. Allocation: tbc.

Sun 07.05.2017 Championship season ends (all games kick off at Noon).

(Championship playoff final takes place at Wembley Stadium on Mon 29.05.2017)

Confirmed NUFC UK live TV coverage:

NUFC Live on Sky Sports:

Wed 14.12.2016 Wigan Athletic (a) 7.45pm
Mon 26.12.2016 Sheffield Wed (h) 7.45pm
Mon 02.01.2017 Blackburn Rovers (a) 3pm
Mon 16.01.2017 Brentford (a)* 7.45pm
Wed 01.02.2017 QPR (h) 7.45pm
*Dependent on neither side being in FA Cup Third Round replay action that week. If either side are, then the game reverts to a non-televised 3pm KO on Sat 14.01.2017.
(Live games selected up to and including Thu 02.02.2017).

FA Cup:
United enter in Round 3.

R3 07.01.2017
R4 28.01.2017
R5 18.02.2017
R6 11.03.2017
SF 22.04.2017
F Sat 27.05.2017

Northumberland Senior Cup:
Quarter Finals:
Blyth Spartans 11-1 Bedlington Terriers
North Shields 3-0 Heaton Stannington
Team Northumbria 1-2 Blyth Town

07.12.2016 Morpeth Town v NUFC U23s

Rugby League Magic Weekend 2017:

Saturday 20th May 2017:
Widnes Vikings v Wakefield Trinity (2.30pm)
Hull FC v St Helens (4.45pm)
Wigan Warriors v Warrington Wolves (7pm)
Sunday 21st May 2017:
Catalans Dragons v Huddersfield (1pm)
Leigh Centurions v Salford (3.15pm)
Castleford v Leeds Rhinos (5.30pm)

International Magpies
National Service

2016/17 international break:
Mon-Tue 20-28.03.2017

African Nations Cup Finals (Gabon):
14.01.2017 to 05.02.2017, in Libreville, France Ville, Oyem-Bitam and Port-Gentil.

Groups:
A: Gabon, Guinea-Bissau, Cameroon, B.Faso
B: Algeria, Zimbabwe, Tunisia, Senegal
C: Ivory Coast, Togo, DR Congo, Morocco
D: Uganda, Ghana, Egypt, Mali

Coxy's Cockup Corner
Whoops, He did it Again...

What's this all about then? Click here
for a rambling explanation of sorts....


On This Day in History
4th December

Born Or Died:
1899 Charles William Spencer born, Washington, County Durham (1921-28)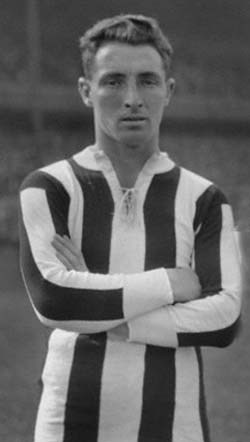 Picked up by United from local league football, half back Charlie was converted to a centre back at Gallowgate (although he'd actually begun his career as a goalkeeper).

Making his debut in a 2-1 home victory over Bolton in March 1922, the only goal of his Magpies career arrived against Stoke City at SJP just over a year later.

Capped twice by England in 1924 and 1925, Spencer made 34 league appearances in United's 1926/27 championship-winning season but exited the club in the summer of 1928, joining Manchester United for £3,250.

After departing Old Trafford in in 1930, Spencer later served as player/manager of both Tunbridge Wells Rangers and Wigan Athletic, before taking charge of Grimsby Town between 1937 and 1951.

After a brief spell with Hastings United, Charlie took over at York City in November 1953. However he passed away barely three months into his tenure at the Minstermen.

1900 Christopher Swan born, Byker.
(1919-23)

Inside forward who joined United after WW1 but struggled to hold down a first team place following his debut in a 0-1 reverse at Burnley in April 1920.

Departing for Stockport County on a free transfer, Chris later appeared for Hull City and Crystal Palace before ending his playing days with Scarborough in 1932.

Swan's death was recorded in Bournemouth, in 1979.

1943 Les O'Neill born, East Hartford.
(1961-65)
Former pitman who began his playing career with New Hartley Juniors and joined United from Blyth Spartans.

Les was a regular in the Magpies reserve side but made just one first senior appearance - a 5-2 loss at Portsmouth in October 1963.

Suffering a career-threatening injury that sidelined him for almost a year, Les left for Darlington in search of first team football and later joined Bradford City.

However it was a five year spell with Carlisle United that brought O'Neill to prominence, his goals helping the Cumbrians gain promotion to Division One in 1973/74.

Les then scored at Stamford Bridge and Ayresome Park (twice) in Carlisle's opening two top-flight fixtures the following season.

A knee injury curtailed his career although he later turned out for Queen of the South.

Following his retirement from playing, Les became a milkman in Carlisle, returning to Brunton Park as a coach and also enjoying spells in charge of Penrith and Workington.

In 1991 former Carlisle team mate John Gorman recruited Les to his backroom staff at Swindon and he remained there until sacked in 1998 from the post of chief scout.

Les then scouted for Blackpool before linking up once again with John Gorman to oversee scouting duties for Wycombe Wanderers.

Les later frequented the pro-celebrity golf circuit in Spain, along with fellow former Magpies Chris Waddle and Billy Rafferty - plus Stan Boardman. Calm down.

1962 Kevin Richardson born, Newcastle
(coach, 2011-present)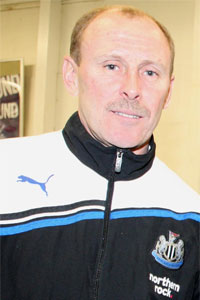 As a youngster, Kevin played for Montagu Boys Club in the West end of Newcastle but left as a teenager to join Everton.

The midfielder would enjoy a twenty year career with the Toffees, Watford, Arsenal, Real Sociedad (Spain), Aston Villa, Coventry City, Southampton, Barnsley and Blackpool - and also won a single senior England cap.

Backroom roles at the mackems (twice), Stockport County and Darlington followed before Kevin joined the Newcastle Academy coaching staff on a full time basis in 2011 - having worked with younger age groups since 2009.

Overseeing the U16 side, Richardson moved up to coach the U18s in early 2015 - after Dave Watson was promoted into the first team setup under Head Coach John Carver.

Watson subsequently returned to his U18 role, with Kevin assisting him.

What Else?
1897 Gainsborough Trinity (a)
3-1 (2-0)
Division Two
Campbell, Harvey, Ostler
Wigmore
700
One of only two visits to The Northolme for United, as Gainsborough enjoyed a two season spell in league football.
1909 Liverpool (a)
5-6 (5-2)
Division One
Shepherd 4, Howie
Stewart(2), Parkinson 2, Orr 2, Goddard
22,000
Unbelievably, United were 5-2 ahead at half time, but wilted under tremendous pressure, as former United player Ronald Orr hit two goals and Goddard headed a late winner for the home side.
1920 Aston Villa (h)
2-1 (1-1)
Division One
Seymour, Smailes
Kirton
25,000
One of only two runouts for reserve outside right, Andrew Gray.
1926 West Ham United (h)
2-0 (1-0)
Division One
Gallacher, Seymour
36,000
1937 Sheffield Wednesday (h)
1-0 (0-0)
Division Two
Mooney
9,500

1943 Middlesbrough (a)
1-1 (0-0)
Wartime
Stubbins
3,500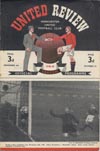 1948 Manchester United (a) 1-1 (0-0)
Division One
Stobbart(81)
Mitten(88)
70,787
With Old Trafford still unable to host games due to wartime bomb damage, this fixture was played at Maine Road.

The crowd for this game remained a record high for a league fixture involving Newcastle until 2006, when 75,664 fans saw the same two teams do battle - at Old Trafford.
1954 Sheffield Wednesday (a)
3-0 (1-0)
Division One
Broadis(20), White(52),
R.Mitchell(60)
15,000



1971 Chelsea (h)
0-0

(0-0)


Division One
37,586

1974 Chester (h)
0-0

(0-0)


League Cup 5th Round
31,656
Debut at right back for Peter Kelly.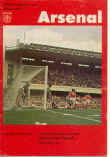 1976 Arsenal (a)
3-5 (1-3)
Division One
Burns(15,70), Gowling(69),
Ross(24), Macdonald(28,63,88), Stapleton(45+3)
35,000
A hat trick for Supermac against his former side on a frosty Highbury pitch.

The highlight was a much-repeated power header to finally kill the game off at 5-3, after a Magpie comeback was underway.

1982 Charlton Athletic (a) 0-2 (0-1)
Division Two
McAllister(40), Simonsen(49)
10,381
Without both Kevin Keegan and Imre Varadi (who had scored 16 of United's 25 league goals to date), Arthur Cox's side struggled at The Valley.

Liverpool loanee Howard Gayle moved out of midfield and into the number nine shirt, while there was a first outing of the season for winger Paul Ferris.

The Addicks were inspired by big money signing Allan Simonsen, who scored a fine second goal.
Youtube footage is online here
1988 At last a new manager, as Jim Smith agreed to leave QPR for Tyneside - ending a three month search for a successor to the sacked Willie McFaul.

The Bald Eagle too charge for the first time six days later, against Wimbledon at SJP.

1993 Tottenham Hotspur (a) 2-1 (0-0)
Premier League
Beardsley(55,90)
Barmby(61pen)
30,780
A league debut for Mike Jeffrey, as two pieces of Beardsley genius won it.

After being pegged back by a Nicky Barmby penalty, Mike Hooper made a crucial stop and Beardsley then jinked past three defenders to wallop home a memorable winner in the last seconds at White Hart Lane.
Youtube footage is online here

1999 Aston Villa (a)
1-0 (0-0)
Premiership
Ferguson(65)
34,531
Wind, rain, snow and hail made for miserable afternoon at Villa Park, with the onfield fare doing little to raise the temperature among fans.

Duncan Ferguson was to change all that however, getting on the end of a cross from Temuri Ketsbaia and out-muscling future Toon assistant boss Colin Calderwood to head in.

Completing a trio of future Magpie coaches, Alan Thompson appeared as a home sub and was then subbed himself, while Steve Stone sat shivering on the bench all game.
NUFC.com match report
2000 A desperate 1-2 home defeat at Kingston Park by Bradford City's Reserves. United led early on through a Shola Ameobi header but Giuseppe Lo Piccolo equalised on the half hour and Robbie Blake got an late winner courtesy of Ryan McGuffie's suicidal backpass.
NUFC.com match report
2003 Newcastle's Pontins league reserve side recorded their best win of the season and a fourth consecutive win, as a young Lincoln City were efficiently disposed of 6-0 at Whitley Park.
Striker Lewis Guy (2), midfielder Andy Ferrell (2), Robbie Elliott and an OG found the net.
NUFC.com match report

2004 Chelsea (a)
0-4 (0-0)
Premiership
Lampard(63), Drogba(69), Robben(89), Kezman(90pen)
42,328
Four second half goals made it a miserable day in South West London as defensive frailties once again undermined a promising first half display from Graeme Souness's side.
Defensive clangers from Laurent Robert, Ronny Johnsen, Titus Bramble and Shay Given made a difficult job mission impossible, leaving United with just four points from their last six games.
NUFC.com match report
2005 The draw for the Third Round of the FA Cup handed The Magpies a home tie against League Two strugglers Mansfield Town.

Ball number 27 was selected from the pot by Chelsea old boy Peter Osgood, while former mackem 'keeper (and Magpies coach) Jimmy Montgomery selected the Stags.
2006 Playing their final home league game of the year, Newcastle reserves were beaten 3-1 at Kingston Park by Middlesbrough -their first home defeat since April 2005.

After ten wins and eight draws, the table- topping Teessiders finally ended Lee Clark's side's run, despite United scoring first - thanks to a Carl Finnigan penalty.
NUFC.com match report
2011
United were handed their first FA Cup Third Round home tie since since 2006 when paired with fellow Premier League side Blackburn Rovers in the draw.

The two sides had already met in cup competition, Blackburn winning a Carling Cup tie 4-3 at Ewood Park two months earlier.



2013 Swansea City (a)
0-3 (0-1)
Premier League


Dyer(45+1), og(Debuchy)(66), Shelvey(81)
20,457
Our four-match winning run came to an abrupt halt, as just about everything went wrong in front of the BT Sport cameras.

The three-goal deficit was harsh on United as a combination of non-decisions from referee, Howard Webb and some bad luck undid the Magpies but form also deserted the visitors.

Webb avoided penalising Jonjo Shelvey for an intended head butt on Mathieu Debuchy and also overlooked three spot kick claims, but it was also a night to forget for Tim Krul who could look back at all three home goals with a sense of regret.