Ticket news:
Gladbach (h) Public sale now
Magpie Mover - renew here by Fri for first game
Southampton (h) Public sale now
Swansea City (a) ST holders now (0 points)
Man United (a) ST holders now (0 points)

2015/16:
York City (a)


United return to action this evening against the League Two Minstermen. Kick-off is at 7.45pm

.

United will occupy the Grosvenor Road uncovered terrace at Bootham Crescent which holds around 1,500* plus 280 seats in the Popular Stand (* The 1,500 figure was in the NUFC fans forum minutes, YCFC list capacity as 2,000).

Although we've visited York for reserve games in recent years, this will be the first time that our senior side have faced them since August 1992. That ended in a 3-1 away win, thanks to goals from Kevin Sheedy, Gavin Peacock and Franz Carr.

NB: our game and the Doncaster Rovers versus mackems friendly will go ahead on the same night, with additional policing on trains and stations.

NUFC: Fitness concerns were advanced for the absence of Fabricio Coloccini (Achilles) and Cheick Tiote (knee) at Bramall Lane on Sunday but both could feature at York.

Also on the injured list are Remy Cabella, Emmanuel Riviere, Sylvain Marveaux and Curtis Good, with Paul Dummett also yet to kick a ball yet in pre-season following hamstring problems earlier this year.

With a work permit hearing scheduled for Thursday, the earliest opportunity to see Chancel Mbemba will be the Gladbach home game, while fellow new boy Aleksandar Mitrovic is expected to debut in that game also.

The Chronicle predicts that Steve McClaren will give pitch time to the likes of Shane Ferguson, Mehdi Abeid, Gael Bigirimana, Lubo Satka and Freddie Woodman.

YCFC: York have played a trio of home friendlies already this season, losing 0-1 to Boro and drawing 1-1 with Leeds United and Sheffield Wednesday.


Proud sponsors of NUFC.com
2015/16:
Stuck in the slow Lane

Sheffield United 2 Newcastle 2

2015/16:

Sky Blues call AA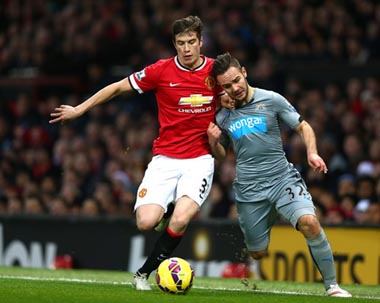 Update: Adam Armstrong's loan move to Coventry City was confirmed by NUFC on Tuesday evening and he'll be there until January 2016. However he's not involved in tonight's friendly at Cambridge although he is present.

The Coventry Telegraph claimed on Tuesday that a loan deal taking Newcastle striker Adam Armstrong to Coventry City next season is close to being concluded.

18 year-old England youth international Armstrong is set to make his first appearance for Tony Mowbray's League One side in a friendly against Oxford United on Saturday.

The Sky Blues begin their competitive games on Saturday August 8th when Wigan Athletic visit the Ricoh Arena, with a Capital One Cup trip to Rochdale and a visit to Millwall quickly following on (it's unclear whether Arma's loan terms would allow him to become cup-tied).

2015/16:
Second kit - no shock


Photos that did the rounds in May when our latest home kit was launched suggested that United's change clobber was a two-tone grey affair with blue details - and the appearance of photos such as the above on overseas websites appears to confirm that it was accurate.

There's no official release date as yet for this kit.

alternate:
Roots
Or if the thought of advertising Wonga across your chest is too awful to contemplate, this may be more for you:




Using the motto "be alternative be united", a group of fans have come up with this unofficial take on the iconic black and white striped shirt - complete with a Magpie caricature and the insignia from the city coat of arms.

More details http://themagpiebrand.co.uk/

Book out this week:
Touching distance


Thursday sees the publication of "Touching Distance" - a new book from local football writer Martin Hardy that recounts and reflects on the epic 1995/96 season that as the video review title reflected, we were "so close".

Interviewing major figures including Kevin Keegan, Sir John Hall and Les Ferdinand and unearthing some new tales in the process, Touching Distance costs £18.99 and author signed copies are available to order online here post free in the UK.

Signings will be staged in the region after publication and three launch events are now confirmed as follows:

Thu 13.08.2015 Benedictine Club, Cramlington
Fri 14.08.2015 42nd Street, Whitley Bay

Both launch events are talk-in format with former Magpie Keith Gillespie and the author. Admission is £10 - for further information contact the author details here

PS: Martin will also be signing copies at Waterstones by Greys Monument before the Southampton home game, between Noon and 1pm on Sunday August 9th.



2015/16:
Club confirm open day

There's a public training session and associated activities at SJP this coming Tuesday, August 4th from 9am.

Entry to the East Stand is free and here's the schedule:

9am: Fanzone and East Stand open
10am to 10.30am: NUFC Foundation training session
10.45am to 12.15pm: First team training session
12.15pm to 12.30pm: Penalty kicks/crossbar challenge
1.45pm: Competition winners' signing session
2pm: Fanzone closes

NB: due to the location of the fanzone for this event outside the Gallowgate end, Strawberry Place will be closed to traffic from 4am until 4pm that day.

2015/16:
Carver - I'll be back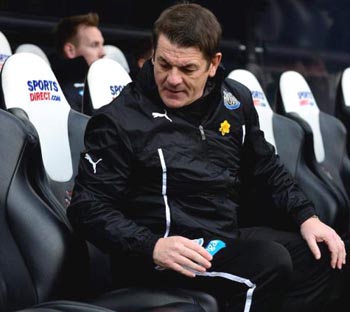 Having watched his former side in action on Sunday for the first time since leaving his post last season, former Newcastle boss John Carver came over all Arnold Schwarzenegger when speaking to the Telegraph:

"The best coach in the Premier League comment is something that has stuck. When I went on holiday and somebody shouted ĎBest coach in the Premier Leagueí I had just lost my job, but I waved and laughed. I know Iím going to get that from now on for a while and if thatís the worst stick I get, then Iíll accept it.

"I had to try everything I could. I brought in a motivational speaker, the guy from the Newcastle basketball team. I tried all the different team bonding things and I actually went to see someone myself, a psychologist, and this person was making me feel so important.

"I had never done it in my life before, never. I knew the person quite well. I went to him just after the Leicester game Ė probably the lowest time of my spell in charge.

"I had good people around me but I felt like I needed something different. We had a number of conversations which will not be repeated and I will never tell anybody who it was, but it put me in this positive frame of mind about how we could achieve the goal.
"Everybody outside Newcastle wanted us to be the big club that went down and I had to find a way of keeping a clear head. I only said I was the best coach in the Premier League to find a way for the players and myself to believe we could get over the line. If Iím asking the players to believe in themselves, then I had to show I believed in myself. If we hadnít been in the situation we were in, I would have never said it. It helped me achieve what I wanted to do, which was to get the team over the line.

ďThe players didnít know. I had two or three sessions, two or three hours a time. We had a whiteboard and talked through one or two things, and made a few notes.

"The information I got was so valuable, if youíre a head coach or a manager, you would be mad not to use somebody like this for the club.Ē

"I thought he (Mike Willamson) meant it (the red card at Leicester). I donít know why he would do it. It was just my thought, ĎHeís meant thatí. Iíve told him that. Iíve said it to his face. I donít want to go into what he said.

"Do you know what? Ninety-nine per cent of managers would love to do it. It was for a reaction. I wouldnít have done it, but I needed a reaction, I needed something to stimulate the group of players.
ďI embarrassed Mike Williamson and I embarrassed myself, but I still believe I did it for the right reasons and I embarrassed him into performing the next time he played. I apologised to Mike for going public. I had to go and find him to go through it.

ďI was at the football club when Ruud Gullit left Alan Shearer and Duncan Ferguson out of the derby game and Shearer was in at 8am to see Ruud. Duncan was in even earlier. Thatís the difference.

"But Mike was fine and after the two-match suspension, he actually played well.

"I have to tell the truth. As a manager, you are damned if you do and damned if you donít. If you give a load of spin then people donít believe you and if youíre honest, you get battered for it.

"Iíve seen a lot of things at Newcastle and one of the biggest things is the fans have always demanded honesty from the manager. If the manager doesnít speak in an honest and open way, they slaughter him and that was in my head.

"Next time it happens it will hurt me but I will keep quiet with a heavy heart. When youíve had a battering like Iíve had and if Iím going to be successful, then I have to adapt.
"Itís amazing how quickly your reputation can be tarnished. The biggest thing is me being able to get in a room with an owner or a chairman and convince them I am the right person for the job by showing them what my preparation is, how I work with the players, what Iím about, what my personality is all about and for them to find out a bit more about be as the person, rather than the perception.

"If I didnít have any confidence in what I was trying to do, then I would probably settle for being a coach or in the background. But I do. I do have the confidence.

"I donít want to take the easy way out and be somebodyís assistant unless I have to. I want to get into a football club and build a football club.

"Iíve got a point to prove, to myself and to the fans of Newcastle. Not all of them because the majority have been very, very good, but to the people who were critical. Iím a winner, Iím not a quitter.

"Why canít, in the future, I go away, be successful and return to Newcastle as manager under different circumstances? Iíve been back to the football club a few times and it would be a great story to do so again.Ē
2015/16:
Saints (h) - Magpie
Mover deadline looms

Magpie Mover - the annual discount travel scheme for Newcastle United season ticket holders - is now open for bookings again, with the price held from last season.

And applications received by this Friday, July 31st will be posted in time for the first home game of the season, when Southampton visit SJP on Sunday August 9th.

£20* gets you free travel on public transport in Tyne and wear for three hours before and three hours after each first team home game in the 2015/16 season.

Even without any home cup ties, travelling to and from 19 Premier League home games by public transport would cost over £87 buying an all zones Day Saver Ticket.

Buy Magpie Movers online here

(*Postal sales are available for £21 print form here)
Magpie Mover provider Network One ran a competition recently open to supporters who took advantage of the early bird Magpie Movers early, with three bicycles up for grabs.

The winners of those were Stephen OíBrien, Alison Mounsey and Marion Lee.

PS: Please be aware that Magpie Mover tickets are valid for competitive first team home games only, therefore cannot be used on Saturday for the Gladbach hame.

2015/16:

Gladbach (h)
United wind up their pre-season programme with the only home first team friendly on Saturday (3pm) when they face Bundesliga opposition for the first time since a 3-1 win away to Schalke 04 almost exactly a year ago.

In terms of German opponents on Tyneside, last season's third-placed finishers will be the first to visit Gallowgate since 2003, when just over 32,000 fans saw two Alan Shearer goals earn a 2-2 draw with Bayern Munich.

Only the lower sections of the stadium will be open and tickets are on public sale now priced at £15 adults and £5 for concessions, online, in person from the SJP box office in the club shop and by phone.

NUFC: to follow

BMG: Gladbach's domestic season league begins on August 15th with a visit to Borussia Dortmund but the DFB Cup sees them entertain St Pauli on August 10th.

Their visit to Gallowgate will end a six game pre-season that has seen them play two home games, bookending a trio of low-key fixtures on local grounds in Germany.

Drawing 0-0 with Hamburg at home, Gladbach then lost 4-5 on penalties before playing out a 1-1 draw with Swansea City and a 2-2 stalemate against Rennes.

A 2-1 defeat of Standard Liege was then followed by a return to their own Borussia Park last Friday for another 2-1 victory, this time over Portuguese outfit Porto.

Their Swiss-born coach Lucien Favre was in charge of Hertha Berlin in 2008 when they beat United 1-0 in a pre-season game staged in Palma, Majorca.

Last season's top scorer Raffael remains in the squad, but fellow forward Max Kruse has gone to Wolfsburg. Swiss -born Josip Drmic arrived from Bayer Leverkusen, while Chelsea sold them Thorgan Hazard - brother of Eden.

Our most recent dealings with Gladbach came when we took Luuk De Jong on loan in January 2014. He's since joined PSV Eindhoven and rediscovered his goal touch.

Ex-Mag:
Ewood opportunity
for old boy

Ex-Newcastle midfielder Danny Guthrie is on trial at Championship side Blackburn Rovers, as he attempts to find himself a new club.

The 28 year-old is a free agent following the expiration of his three year deal with Reading last month and failed to win a deal at Fulham following his loan stint there in the latter part of last season.

PS: Hull City have confirmed the signing of Ryan Taylor following a successful trial period, reuniting the Magpies old boy with his boss at Wigan, Steve Bruce. Taylor has agreed a 12 month contract at the KC Stadium.

Signing:
Visa wait for Mbemba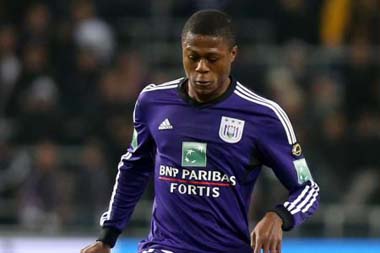 Update:

NUFC email sent to fans on Sunday:

Following an agreement between Newcastle United and Anderlecht for the transfer of Chancel Mbemba, the player has been in Newcastle and has agreed personal terms with the Club and undergone his medical.

The documentation in relation to the Club's application for a Governing Body Endorsement (GBE), required in order for Mbemba to obtain a visa, was submitted to the FA on Wednesday morning (22 July).

Unfortunately, the FA are unable to consider the Club's application until Thursday of next week (30 July). The FA advised the Club they were not able to convene a Panel any sooner.

The Club will provide an update for supporters at the earliest opportunity following the conclusion of the Panel hearing.

The fee is reportedly around £7m.

Earlier: A third close season acquisition now just awaits confirmation, with Chancel Mbemba set to follow club colleague Aleksandar Mitrovic from Anderlecht to SJP.

Central defender Mbemba flew into Tyneside on Thursday to complete the formalities of his deal and has gone on the record to confirm his future is in black and white.

Newspaper reports in Belgium have claimed that United saw off both Atletico Madrid and their upcoming friendly opponents, Borussia Munchengladbach to clinch a deal, after triggering a reported £7.5m release clause.

DR Congo international Mbemba made his senior debut in Belgium back in 2013 and according to Anderlecht's own website will celebrate his 21st birthday next month.

However, his age has previously been called into question, with clubs he played for in his home country registering him with a birth date of 1988.

And to further confuse matters, the Kinshasha-born player appeared on an international registration form for African Nations Cup duty with a 1991 birth date! He himself allegedly thinks he was born in 1990....


Should Mbemba end up at SJP, that "21 or 28" ditty that was composed for Obafemi Martins may need to be dusted off - and given an extended remix....

As well as Oba, the situation is reminiscent of our dealings with players from DR Congo in the past, with doubts over the details of both Lomana LuaLua and Calvin Zola - the latter requiring Home Office intervention.


Milk Cup:


Blown off course


Newcastle's U17 side are making their fourth successive appearance at the Milk Cup in Northern Ireland, kicking off with a 2-0 victory over Japanese side Higashi Fukuoka at Ballymoney's Riada Stadium on Monday. Goalscorers were Ben Pollock and Mackenzie Heaney.

Tuesday saw the Magpies get the chance to avenge last week's Gothia Cup exit at the hands of Right To Dream, when they faced them at the Showgrounds in Ballymena.

However the Ghanaian side again proved too strong for United, losing 1-3 - details to follow.

The Young Magpies wrap up their Premier Section group stage campaign against County Tyrone at Scroggy Road in Limavady on Wednesday at 7pm.

Squad:

Harker, Marrs, Aziakonou, Le.Gibson, Trodd, Pollock, Adu-Peprah, Kitchen, Aplin, Gallacher, Spooner, Lowther, Heaney, Long, C.Smith, McNall, Donaghey, Williams.

The competition then continues on Thursday and Friday with various competitions involving all 22 sides competing in our section, meaning every side plays five matches.

The Milk Cup involves teams placed 1 to 4
The Globe involves teams placed 5 to 8
The Vase involves teams placed 9 to 12
The Bowl involves teams placed 13 to 16
The Salver involves teams placed 17 to 22*

(*played on a league basis)

Match report


2015/16:


Ten goal thriller....

Sun: Ajax 7 Newcastle U21s 3

Mirroring our 2011 pre-season when the first team visited the USA and the reserves faced Dutch opposition, United U21s are in Holland for a quartet of friendlies against their "Jong" (aka Development) counterparts.

After two wins in their opening games though, Sunday proved to be a rather different matter against Ajax on training pitches adjacent to their Amsterdam ArenA.

2-0 ahead through Danny Bakker and Hendricks, United halved the arrears through Haris Vuckic before Donny van de Beek added two more for the Dutch side - one either side of the half time interval.

Further home goals from Cerny, Bakker again and Zakaria El Azzouzi saw Ajax lead 7-1 after 75 minutes, before they slackened off and allowed the Magpies to score twice more through Vuckic and Jamie Cobain.

Speaking after the game, the Ajax coach admitted to being disappointed with his English opponents after their wins over Vitesse and Utrecht and annoyed that his own side had failed to reach double figures!

Team: Pearson, Mbabu (Cameron 75), Laidler, Hunter, Williams, Gillesphey, Gilliead, Smith (Ward 75), Longstaff (Cobain 75), Barlaser, Vuckic.

Thu: Jong Utrecht 1 Newcastle U21s 2

Match report

Tue: Jong Vitesse 3 Newcastle U21s 4

Match report

Remaining game:

Wed 29.07.2015 AZ Alkmaar (a)
AZ list this game as a 2pm start on a training pitch adjacent to their home ground. There's no mention of whether spectators will be allowed in.

2015/16:


Train offer launched

Virgin Trains East Coast have come up with a brand new initiative aimed at getting Magpies season ticket holders and members to and from away matches in the London area at reduced prices using their services.

Individual bookings attract a 10% discount, while groups of three or more qualify for 25% off. And rather than waiting for confirmation of match dates - and watching cheaper advance tickets sell out - free rebooking of tickets is now possible if a game is rescheduled for TV.

In line with the current NUFC away ticketing policy, this offer is open only to those who qualify for away tickets (ie not the general public) and the scheme is partly motivated by a desire to address behaviour on trains, so there's what amounts to a code of conduct included.


Further details and bookings are open now here:

https://www.virgintrainseastcoast.com/footballtickets

This is very much uncharted territory and inevitably there will be issues that come to light now that the website is live. As one of the parties who put this together, we have a vested interest in seeing it work as well as possible, so any feedback (positive or negative) to Biffa is welcome.