In association
with NUFC.com



Date: Thursday 14th March 2013, 8.05pm GMT Live on ESPN

Venue: St.James' Park

Conditions: mild and memorable






Newcastle United

Anji

1 - 0

Teams
Half time: Newcastle 0 Anji 0

94 mins (93 mins & 2 seconds) With all 10 Anji players behind the ball, Jonas Gutierrez drove forward into the visitor's half, spraying the ball out to Sylvain Marveaux on the right. He stepped infield to avoid his marker and from about the same spot that Keith Gillespie centred for Tino Asprila to head home against Barcelona, unfurled a sumptuous cross.

Papiss Cisse had judged his run perfectly to find space behind his two markers and leapt into the six yard box to spear home a blockbuster header that Gabulov could only wave weakly at as it passed him en route to the back of the Leazes End net 1-0

Full time: Newcastle 1 Anji 0


Alan Pardew

(who will look like a member of ZZ Top if we make it to Amsterdam) said:

"We did a lot better in the second half and put them under pressure and when you put them under pressure something gives. We just squeezed over the line and I'm highly delighted. We've had a very, very tough two games.

"The question was asked to me yesterday and of course I think we can win it. But we can't get carried away. I do honestly believe that we have put one of the best teams out of this competition. If you ask me from the side of the pitch technically where do I pitch them, I would pitch them as a top-five team in the Premier League.

"They caused us a lot of problems. They have outstanding individual players in every area, really. We have beaten them, albeit with a slight bit of good fortune in this tie, so we can go on and win it.

"The one thing we do know is that the home tie here, whoever gets us is going to be in for another electric night. The fans played their part tonight, they really did.

"I have never experienced a game finish as late as that ever. John (Carver) came over and told me the game was over. I thought it was over before he (Cisse) scored, actually, for a horrible moment, so it was great that it was the last strike of the game.

"It's a chance (for Cisse) that he perhaps could have made too much movement with his head and got it wrong. But he just waited, he was calm and that's what goal finishers do. They are calm at that crucial moment."




Gus Hiddink came over all Simon Cowell to observe that:

"If we would have had a jury tonight we would have won unanimously. We needed to be more effective. Newcastle proved their effectiveness with their final chance.

"We created three to four open chances in the first half and could have killed the game within seventeen minutes. We can blame ourselves. We failed to have a lethal weapon.

"We were still organised after that (sending off). Of course it is bitter when you lose in the last minute. I wanted to sub the player (Gonzalez) but he got a second yellow before I could do it. I think the referee was influenced by the booing of the crowd. It was not a wise decision by Carcela.

"Playing like this gives us confidence for our future in the Russian Premier League."


United extended the unbeaten home record to 24 European games (excluding the Intertoto Cup*), winning 19 and drawing the other five ties staged at SJP since losing 0-1 to Partizan Belgrade in 2003. *if the Intertoto Cup defeat by Deportivo La Coruna is included, Newcastle's unbeaten home record is 13 games (nine wins and four draws).

Two unused subs with a multitude of European experience for United watched the tie from the bench. Shola Ameobi (31 starts + 18 sub appearances since Sporting Lokeren away in July 2001) shared the dugout with Steve Harper (17 starts + 3 sub appearances since CSKA Sofia away in September 1999). The latter was celebrating his 38th birthday.

Our first-ever competitive home fixture against Russian opposition was the third of all time:

1959/60 Torpedo Moscow drew 4-4 FR
1965/66 Dynamo Moscow lost 1-4 FR
2012/13 Anji won 1-0 EL

Europa League - Last 16, Second Leg results:

Rubin Kazan (0) 2 Levante (0) 0 (2-0)
Zenit St.Petersburg (0) 1 v Basel (2) 0 (1-2)
Inter Milan (0) 4 v Spurs (3) 1 (4-4)
Bordeaux (0) 2 v Benfica (1) 3 (2-4)
Chelsea (0) 3 v Steaua Bucharest (1) 1 (3-2)
Fenerbahce (1) 1 v Plzen (0) 1 (2-1)
Lazio (2) 3 v Stuttgart (0) 1 (5-1)
Newcastle (0) 1 v Anji Makhachkala (0) 0 (1-0)

Cisse's last-gasp interventions:

2011/12 Chelsea (a) 94 mins won 2-0
2012/13 West Bromwich Albion (h) 93 mins won 2-1
2012/13 Stoke City (h) 92 mins won 2-1
2012/13 Anji (h) 94 mins won 1-0

NUFC overtime strikes in European competition (90 minutes or later):

1996/97 Ferencvaros (h) Les Ferdinand 90*
1997/98 Croatia Zagreb (a) Temuri Ketsbaia 119
2001/02 Troyes (h) Robbie Elliott 93:08
2002/03 Feyenoord (a) Craig Bellamy 90:01
2004/05 Hapoel Bnei Sakhnin (h) Alan Shearer 90*
2004/05 Sochaux (a) Laurent Robert 90*
2005/06 Dubnica (h) Alan Shearer 90*
2006/07 Lillestrom (a) Emre 89:30

* exact time of goal not known, officially recorded as 90.

We've now played as many games as it took to win the Fairs Cup in 1969 (12) and will at least equal the largest number of European games we've ever played in a single season (14):

United's 132 European matches played - by season:

1968/69 12 matches played
1969/70 8 "
1970/71 4 "
1977/78 4 "
1994/95 4 "
1996/97 8 "
1997/98 8 "
1998/99 2 "
1999/00 6 "
2001/02 6 "
2002/03 14 "
2003/04 14 "
2004/05 12 "
2005/06 4 "
2006/07 14 "
2012/13 12 " (includes Anji but not Benfica)



Waffle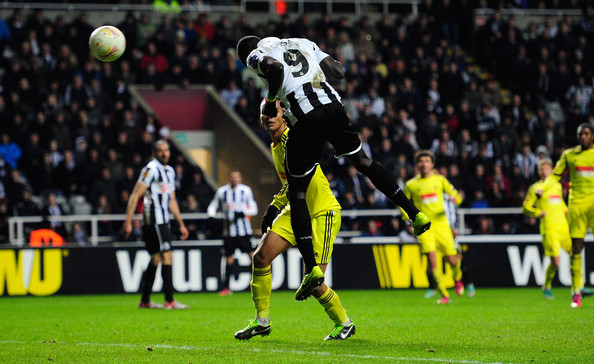 This is getting ridiculous.

Despite a rising tide of injuries to significant players and a more rarified level of opponent, United were again able to delight their followers and record yet another improbable last-gasp victory.

With both fans and players poised for an extra half hour after 186 minutes of play failed to produce a goal, the Magpies summoned up one more effort and found both inspiration in the form of a perfect pass and a classically simple finish. No wonder the opposition players sank to their knees.

While the recent late glory of seeing off Chelsea and Stoke here was massively satisfying, for sheer unadultered joy and wonderment this was on a par with Temuri Ketsbaia in Zagreb and Craig Bellamy in Rotterdam. Goals whose significance and timing far outweighed the manner of their conversion. To that list can now be added Papiss Cisse, inducted into our European Hall of Fame after tonight.

Absent from the first leg due to illness, the man from Senegal had largely been shackled during the evening and was visibly isolated from his team mates in the first half. However he was still on the field to make a memorable impression on the tie - and a Leazes End advertising board - with a Ketsbaia-esque celebration, delivering some hefty hoofs into the pitchside signage.

For much of the evening, it had been damn near impossible to see where a goal would come from - at least for the home side. Fortunate to go in on level terms at half time after allowing Anji to dominate possession to such an extent that we looked like the away team, although Rob Elliot had only been called up for routine work by that point.
Make no mistake, this was a one-off cup tie. The artificial surface in Moscow looked to have been every bit as much of a hindrance to Anji as Newcastle and the Russians were instantly more fluid when playing on the Tyneside turf.

That had the effect of quickly quietening the home crowd, who while not quite hushed in awe were perhaps intrigued by what they were seeing. That was a visiting team quite unlike anything we've seen here in domestic football, asking demanding responses from a Newcastle side of more direction and subtlety than merely "playing for the shirt".

It's too glib a comment to say that we were lucky, but fortune certainly favoured us with the absence of Willian through injury, the exit of Mehdi Carcela-Gonzalez for two avoidable yellow cards and the late free kick conceded by Cheick Tiote. That latter incident looked dangerously like the end of the road for us in the competition, but Mbark Boussoufa's effort rebounded off the Gallowgate crossbar after beating Rob Elliot and deflecting off him and mercifully away from the goal line.

As was the case in the first left, Anzi's lack of competitive games so far in 2013 must also have had some effect; with the wisdom of using only one of their permitted substitutions open to question.

Perhaps like Newcastle, they were holding back until extra time to make a change, with our final throw of the dice Shola Ameobi still on the bench when the winner went in. Passing a fitness test before the game, Shola warmed up but then saw Pardew replace Vurnon Anita with rookie Adam Campbell for the final 20 minutes. In our own world, that was also significant as the point at which Gabriel Obertan's career here ended - punished for his perfunctory non-performance in Moscow.

Already without a trio of big hitters in the form of Tim Krul, Fabricio Coloccini and Hatem Ben Arfa, the loss of Yohan Cabaye to a groin strain after half an hour threatened to make what was already shaping up to be a sizeable task possibly insurmountable for Alan Pardew's team.

In fairness to Jonas Gutierrez, he attempted and largely succeeded in giving a more up-tempo, high profile display in deference to the boots he was asked to fill. Our routine accusation that he's resting on his laurels wasn't applicable tonight. It's a pity though that the local telly collared him in the mixed zone and succeeded only in recording his thoughts on the election of an Argentinean Pope....

What did little to improve the mood of those present however was the ongoing unpredictability of Tiote on the ball, something that Anji had rightly picked up from their observations of our Ivorian and attempted to use to good measure by chasing him down and provoking him into further acts of random dribbling and passing. The second component to that pressing was a concentrated effort to shackle Moussa Sissoko, who as a result only rarely found both space and possession.

On a night when chances were at a premium, Steven Taylor made a string of vital blocks and interceptions to keep Anji and his old adversary Samuel Eto'o at bay (he was in the Real Mallorca side on the night that Tayls made his debut nine years ago). And in addition to being close enough to Cisse to join his goal celebrations, our number 27 also popped up right in front of the Anji goal to put a weak shot right down the throat of Gabulov.

In addition to Taylor, an unfamiliar-looking defensive lineup came through the night with credit - a welcome return to full backs kicking with the correct foot for their position resulting from the deployment of Davide Santon at right back and Massadio Haidara on the other flank. Meanwhile, another encouraging display from Mapou Yanga-Mbiwa inspired both confidence on the night and hope for the future, as the curtain begins to fall on Coloccini's five season career here.

Back to that last manic, magic Magpie moment though and what is now becoming a fixture of home games in 2013 saw crowd and fans salute each other at the end - both parties now firmly up for this elongated competition that began some seven months and twelve games ago in an Athens suburb in front of less than 5,000 punters.

To Setubal, Anderlecht, Monaco, PSV and Sporting Lisbon, Benfica can now be added to our list of European Quarter Final opponents. As a club, we have unfinished business on the banks of the Tagus, but return to Lisbon with a more united front than in 2005 here - and a better defence.
Biffa