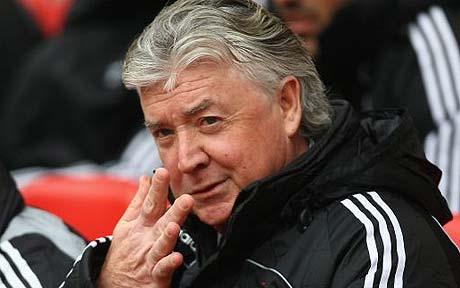 JFK #2 - what have we done to deserve this?
Timeline:

June 16th JFK proclaims himself NUFC Director of Football on Sky Sports News
June 17th JFK interviewed on talkSPORT
June 18th NUFC belatedly confirm JFK's new job
June 19th NUFC confirm that Derek Llambias has resigned, but Graham Carr hasn't
June 23rd Sunday Times publish JFK interview
June 24th JFK fails to appear at a NUFC fan meeting, sending a statement instead

Sky Sports News, Sunday 16.06.2013 - Joe Kinnear interviewed by telephone:

"It's absolutely done (I am Newcastle United's Director of Football).

I signed it (the contract) with Mike (Ashley) today and that's taken care of. I think it is a very interesting role for myself and I don't think I could be at a better club doing it.
"I have been in discussions with Mike and once we clarified the situation and what my role would be, ie. in charge of transfers and looking at the strengths and weaknesses of the side that we have got and to help out Alan Pardew in every possible way that I can and use all the experience that I have from the game.
"I intend to meet Alan either tomorrow (Monday) or within the coming week to discuss the future and go through the team itself. Our target is that we have got to push ourselves up and try and do as well as we did a couple of seasons ago.
"I am as fit as a fiddle now. I am in the best physical shape that I have ever been and I have been waiting for the opportunity. I have had a great football career and I think I am ideal for this situation and I am looking forward to it.
"What I can offer is that I believe that I am a very good judge of players, I believe that I am a good tactician and I believe that anything to do with football I have been involved in; I've worked with the best, I have been with the best and I intend to make Newcastle far better than they are now.
"I think I have got a bright head, I think I can see a good player and know a good player and get the right players in for us to be successful.
"I have no other agenda - that is exactly what I want to do - and if I see players at the club right now and I believe they are not good enough to be at Newcastle then I intend to move them on.

Asked who will decide over transfers:

"It will be me. If between the three of us (Kinnear, Pardew and Graham Carr) we sit down and iron it out and them two decide that he's not that good, then my ears will be wide open. It's not a case of lump it or like it.

"But if there is a close decision to be made and we are running out of time and it's something we have to do and I see a specific job. Footballers come in all shapes and sizes and if there is a specific job that we need to add some meat or beef to the team, we'll do it. I believe that's what we have to do.

"If there is somewhere that we're lacking pace in wide areas, then we'll add that to the team. If there is somewhere where we are short of people scoring goals, and we see people who will guarantee us 20 goals a season, then we will take that chance and I will buy those players.

"First and foremost, once I have clarified that with Alan - this is for the good of Newcastle, this is quite clear what needs to happen here - that will be the area I will work in, it's as simple as that.

"I'm going to do the best I possibly can to make Newcastle a far better team than they are now. The transfer kitty, I am going to assess that next week with Mike.

"I will sit down with Alan first and once I find out what needs to be shifted out of the club - maybe we can get some money back if we need to shift four or five of them, then so be it - we can then look at the targets and present a business plan to Mike to say 'This is what it's going to cost us, this will make us a better team and this will put us up in the top 10'."
"We (Newcastle) were third from bottom when I took over (we were second from bottom) and we were 12th when I had my heart attack (we were 15th).

"From there we got relegated. People were trying to implicate me when the club went down. That was a load of rubbish. I've never been a manager of a club that's been relegated (Luton Town were relegated from Division Two under JFK in 2000/01)."

Our reaction:

Shock news that Joe Kinnear has returned to Newcastle as Director of F*******.
That F-word is apparently Football but for most of us it was the other F-word that sprung to mind as the news broke that the foul-mouthed one had returned to Barrack Road.

Quite what Alan Pardew makes of all this isn't yet known but at least Kinnear has only been given a three-year deal, not the eight dished out to everyone else last year....

The relationship with the much heralded Graham Carr is going to be an interesting one - Kinnear already working directly with Mike Ashley and claiming some of the Director of Football / confidante-type roles that Carr had previously undertaken,

Were Carr, Pardew and his staff consulted at all? If not, the club risk a re-run of the Kevin Keegan/Dennis Wise farce that proved so catastrophic. And already Kinnear has managed to forget his boss' name - it's Derek Llambias, Joe, not Dave, David, or Larry the Lamb.

We wonder which of our recent acquisitions will follow Charles "Insomnia" N'Zogbia out of the door after Joe gets his name spectacularly wrong. Suggestions on a postcard (we have our own thoughts on Mapou Yanga-Mbiwa but good taste prevents us from sharing that).

Within 24 hours JFK had indeed started get player's names wrong, spectacularly wrong....

TalkSport interview, Mon 17.06.2013:

talkSPORT: Good evening Joe Kinnear. How are you?

JK: Yeah, I'm fine.

talkSPORT: OK Joe, I suppose the obvious question is: Newcastle are yet to confirm your appointment, why is that Joe?

JK: Cos I only signed the contract last night. So that was someone speaking to Mike but it's been on-going for the last three weeks. Derek Llambezee [Derek Llambias, managing director] was the director of football. Derek has resigned now.

talkSPORT: OK. Reaction has been negative from the fans. Has that been a surprise?

JK: Yeah but it's only a certain section. It was exactly the same when I got there. I got over 10k letters when I had my heart attack and that was a wonderful thing and I felt really proud of that. I thought I'd done an excellent job there and no way would we have gone down.

But the trouble is that there are a lot of Geordies up there who are influenced and upset and the fact is that because I stood up to about 100 journalists that night – you know, it was the night we beat Tottenham 2-1 (the interview transcript from that night is online here and it's all tame stuff. Presumably JFK means his explosive opening salvo over two months earlier online here)

and I suppose the journalists always had it in it. And I am not saying all of the Geordie fans but many of them were sucked into it. If they looked at my job, what I done, carefully they would have said I done a good job.

talkSPORT: Has it upset you?

JK: Look, it's part and part of the game today. You look at managers today over the last two seasons – the fans have feelings and if they aren't happy with what is going on the manager gets the bullet. Unfortunately for them I've never been sacked in my life. So you know, look at my record, they keep saying to me – what did I do? Where have these people been – have they been on another planet? I have played in five cup finals, I have won the lot. I had over 400 games for Tottenham Hotspur, been manager of the year three times. I have travelled all over the world as a manager. Now this job come up, which I thought was a fairly responsible job, but already they are jumping on the bandwagon. "Oh watch out Pardo, watch out", but that's the snidey press. That's the people up there or the people round that area that I have upset and they have a grudge so I expect it. It's water off a duck's arse.

talkSPORT: When did Newcastle first approach you about becoming director of football?

JK: About 10 days ago, when Derek resigned (at the time news of the Llambias departure hadn't broken)

talkSPORT: And that was the first you'd heard of it? You're on good terms with Ashley – you hadn't heard about it till then?

JK: Derek didn't resign until then. Derek has decided to go back and be in charge of finances. The job really is in detail that you've got to be in partnership with the manager and look at the strengths and weaknesses of the team. Look anyone who wants it. I had to do that as a manager with Bobby Gould beside me – look when you're at Wimbledon, there ain't no budget, you find the players yourself – there aint' no budget. We didn't have any scouts and Bobby will tell you and we worked there at Wimbledon – well I did – for over 10 years.

And if you look what we had to go out: we went to non-league clubs and found players. We trained and worked them and then sold them for millions, as simple as that. So they say I haven't had any experience in buying and selling players – sure I have. I bought Dean Holdsworth for 50 grand – sold him for £3m. I sold John Scales for £3m – he was a free transfer. I sold Robbie Earle for xyz. I sold Marcus Gale, Leonhardsen, Micky Hartford, John Hartson, Hans Segers, most of them were free transfers. And we sold to survive so I know exactly what type of players are needed and what type of players are needed to play. I played with some of the best players in the world at Tottenham, in the best team in the world in Tottenham, you know I have been through it every stage of my life.

Unfortunately for some reason when I went up there I didn't dance to the tune of the Geordie media. I took no notice, I just got on with it. So whatever they have got to say, fine, say it. I'm single-minded, I am not worried.

talkSPORT: Have you spoken to Alan Pardew since your appointment?

JK: I am meeting Alan tomorrow for lunch. I've spoken to him on the phone and we're having lunch tomorrow to discuss and have a game plan for the upcoming season.

talkSPORT: And to the best of your knowledge who has the final say on players coming into the club?

JK: We both do. We both do. He's the manager and we'll sit down and discuss it. We have Graham Carr up there, he also has a say in it – we'll discuss it. We will look at the strengths and weaknesses between us. No one's got an ego. I haven't got an ego. We will all sit down and discuss what's best for Newcastle football club. We'll discuss areas what's desperate – in my opinion we need a striker and I see that desperate – as my opinion. When I speak with Pards tomorrow he may see some other position that he wants to look better of or get a better player for that area.

talkSPORT: But will it be him instructing you or you instructing him?

JK: It will be "who have we got in mind". I shall ask Alan who he is seeing and I shall sit down with the scout – they seen those players, I want to cast my eye over them. It's as simple as that. I will have a look: if I say to them I've seen somebody better but what do you think? This is not about me coming in, not the crap that's being said, about me coming in taking over. It's absolutely nonsense.

And then I read another article recently that I am coming and watch over your shoulder Pards. I mean, what a load of crap. And this is what's going out there. Unfortunately they're feeding it to all the Geordie fans and I just hope they're not daft enough to believe it.

talkSPORT: The interview that you did once with very "limited English" in it, do you regret that?

JK: Not really, I meant it at the time. I was just so fed up with them wanting me to dance a tune and dance to everything they want to say. I wasn't having it, I am a football manager, I just want to get on with it. Look we beat Tottenham that night 2-1 and the first question I was asked was "how do you feel about everyone in the ground chanting there's only one Alan Shearer" – you know – and I don't think there was a person in the room that actually said well done. I think they were all gutted 'cos we won. And that's the way I see things and I'm not worried really.

talkSPORT: Have you seen much of Newcastle over the last season?

JK: Yes sure.

talkSPORT: And you mention they need strengthening up – is that the only area you think they need strengthening, up front?

JK: I think they've got some magnificent midfield players: Tioté. Ben Afri [Hatem Ben Arfa], Yohan Kebab [Yohan Cabaye], Sissoko are very solid.

Up front if you look at the goals tally last season: I think we lost our top goalscorer in Demba Ba when he went to Chelsea for £7.5m or something like that, he was the top goalscorer with something about 13 or something like that. Then you had somebody like Sissy (Papiss Cissé) he was the next goal scorer with something like eight. And then after that there was a big drop into midfield where Cabaye and Hatem Ben Afri – you know, he got four and then Sissoko got three – the total wasn't much neither. So we need a prolific goalscorer to come in there and assist Cissé and I think that's one of the areas, there might be other areas, I mean this is a side I haven't had the privilege to be with – a lot of players still there that were there when I was still there – I brought Krul to the club and I think he's a terrific goalkeeper.

Shola Amamobi [Ameobi] is getting better and better, he's a young kid (Shola is 31, his his younger brother Sammy is presumably who he means). Galteirez [Gutiérrez], and of course a lot of other players, Tayls is still there. Perch is still there. Ryan Taylor is still there (but unavailable due to injury for 18 months or so) so there's enough players still there but in my opinion, I still think we are short of quality players and we have to compete with the best in the Premiership but we need to be stronger.

talkSPORT: Do you think Newcastle will continue to buy French players or under you are you going to try and explore the UK market more?

JK: I think we will look at all the markets. I've got nothing against anybody as long as he's a decent player and he's quality player, it doesn't matter where he comes from, if he fits the requirements we're looking for. If he's the best right-back we've seen and he's better than what we've got then it makes sense to go and buy him.

talkSPORT: Graham Carr did a great job with the French lads, has there been a designated certain amount of money or will you have to go to Mike Ashley between the three of you and sort out what actual money is on the table for you to spend?

JK: I think Michael's a very generous owner and I think he's one of the best owners in the business to work for and I don't think Michael will mind when we give him our business plan. Of course it may mean that we make a decision between the three of us that we have players that we need to move on and they are not up to the Newcastle standards and then OK, we will look at that, if they are £2m plus, and we will move that around and three or four are going out and we will add that to the, excuse me, to the tally of what players we going to sell.

We'll make money on certain players, we know that, but we will be getting the finance to come in and take other players and if we spell out to Mike it's a serious situation where we do need a quality striker then I'm pretty sure he'll pay up. He wants us to be successful don't get me wrong, he doesn't even want us to be in the position that he found us. We finished fifth two seasons ago and last season we were something like 15th or 16th from the bottom and he doesn't want that.

I think the year we finished fifth we had something like 65 points and this year we have gone to 41 points and so there was a big deficit of 24 points, so that is a big loss, so I want to sit down with everyone who was involved with us last season and find out the reasons why and if can all put that knowledge together then we'll make sure that we mend that.

Maybe someone might not have come up to scratch or maybe we were weak in certain areas of the pitch or we may have been struggling on things but once we all sit down and all meet together in pre-season and then we get a game plan and get it going. There's lot to do. If you remember the last three home games we didn't score a goal. Liverpool, Sunderland, Arsenal, where's the goals coming from?

talkSPORT: Joe, listen, thanks for coming on. Before I let you go, is there anything you would like to say to the Newcastle fans who perhaps don't don't back this decision?

JK: To all the Newcastle fans who don't do this decision then shall I bring Lambezi back? What do you want, what do they want? I heard that silly comment what can I attract. I can open the door to any football manager in the world, anyone. That's the difference. I spend my whole life, picking up the phone, talking to Alex Ferguson, week in, week out, what would you do, what would you do? Pick the phone up at any time of day and speak to Arsène Wenger.

I can pick the phone up and speak to any manager in the league, any manager in all divisions. So I don't know what angle they've got. If they want to sit down and argue with me, some of them are talking out their backsides, a load of tosh and I'm not accepting it.

It's as simple as that. I've certainly got more intelligence than them, that's for sure.

Statement on NUFC official website, Tue 18.06.2013:

Newcastle United have appointed Joe Kinnear as the Club's new Director of Football on a three-year deal.

Joe will report directly to the club's Board as the senior executive in charge of all football-related matters. Chief scout Graham Carr and manager Alan Pardew will report into Joe.

Managing Director Derek Llambias said: "The board are pleased to welcome Joe back to the club. Joe has many years of experience working within the game, and this experience will be of great benefit to the Club in achieving our objectives over the coming seasons."

Joe Kinnear first arrived at United in September 2008, initially as Interim Manager, following the departure of Kevin Keegan.
Joe had previously had a successful seven-year management spell with Wimbledon and as a player enjoyed a fine ten-year career with Tottenham, during which time he won 26 Republic of Ireland caps.

Chronicle comments, Sat 22.06.2013:

"What I'm doing is overseeing everything at the club - i'm looking at the coaches and how they work.
"I'm looking at everything else that goes on in football. I'm going to sit down with the manager and see what can improve us."
"Two years ago we finished fifth - that was an exceptionally good year. What I want to know myself, when I sit down with Alan, is what was the cause of such a drastic second season. Instead of building on the first one, what was the drastic situation that got us to where we almost got relegated.
"Whether it was the Europa League dragging us into extra matches, I don't know. I'm going to sit down, and I want to hear it from Alan and other people connected with the club. I'll be the one who sits down with Alan Pardew and says 'let's get this guy'."
Sunday Times interview, Sun 23.06.2013:

Newcastle United's new director of football, Joe Kinnear, has launched a stinging attack on Alan Shearer and defended his own record in football after a week in which the club were widely ridiculed over his appointment.
In his first newspaper interview since getting the job, Kinnear, a former Ireland international, told The Sunday Times how the Newcastle owner Mike Ashley had turned to him and he revealed details of his meetings during the week with key Newcastle figures, including the manager Alan Pardew. He also apologised to Newcastle fans for derogatory remarks made during a radio interview last Monday, but the conciliatory tone ended when it came to Shearer.
The former Newcastle number nine, who holds the club and Premier League goalscoring records said last week that "right now people are laughing at the football club I support" and added the players were "downtrodden" when he took over briefly as manager in 2009 after Kinnear had suffered a heart attack. Kinnear has now hit back.
"What Shearer says is diabolical. This is a guy who hasn't got a clue about coaching. Good in five a sides, though, so they tell me. The last game of the season he came up with the master idea of playing Damien Duff at left back. Damien is one of the best left wingers in the business, but can't tackle. And we went down with an own goal from Damien. Shearer keeps slagging me off. He is being disrespectful to me, but I am entitled to fight back."
Kinnear also revealed he had a meeting with Pardew at a hotel in central London on Wednesday in which they discussed their roles. "He was looking for clarification about my role, not his own, and I explained my role to him in full," Kinnear said. "I said you are on an eight-year contract and my role is to support you and give you the best help possible. I have been informed that you found it difficult last season to speak to Mike or get messages to Mike about various things. I made it clear that I am not after his job."
Kinnear has also had a meeting with Graham Carr, the Newcastle chief scout, who came to his house last Monday to wish him well. "I have known Graham for about 20 years. There were rubbish stories that he was looking over his shoulder. This is the negativity I have had to face and hopefully it is behind me."
With Pardew on holiday, Kinnear will meet Carr again tomorrow after he and the manager identified that the club urgently needed a striker and a centre-half. "Alan decides who the centre forward is going to be. We have three lined up. Then, when the transfer window shuts it's back down to football and nothing else but results. I'm not going to interfere, but if I see something I am not going to be shy to say it."
Kinnear also apologised to Newcastle fans after saying in a radio interview last week that they were "talking out of their backsides".
"It is my own fault and I regret what I said about the supporters. I have a fiery nature and I sometimes lose the plot. There are 10% I'm never going to win over, that is the point I was trying to make, but I regret what I said and if I offended any Newcastle fans I apologise."

"I got a call from Bobby (Gould) and he said, 'I want everybody to know that you have got the job and we want to really look after you. I did it (the talkSport interview) as a favour and I am so disappointed. I was on air and he switched me to the other presenter - I thought I was going to speak to Bobby about the old days.
"Yohan is a brilliant player and I didn't pronounce his name right. But I didn't say "Kebab". I said "Keba" and they put the "b" onto it. They made a meal of it, no pun intended. Typical journalists, but it is my own fault and I regret what I said about the supporters."

Our reaction:

The latest utterances from Director of F*******, Joe Kinnear, have brought further embarrassment to Newcastle United.
Not only is his attack on Alan Shearer going to do him no favours, the attempt of an apology to the fans for Monday's broadcast comments is more like another insult.
The phrase "loose cannon" was invented for this idiot. Never mind whether the Shearer remarks are right or not, JFK is proving that he's out of control, as he was in 2008.
What happened to the club's media policy? Surely his thoughts and intentions should be emerging via the official website etc? In reality, the club are still to even confirm that this clown is on their payroll and not just telling (more) porkies on a grand scale.

Regardless of his garbled justification, the agenda seems clear, to force Alan Pardew out - and either take charge himself or preside over the appointment of a suitable patsy.
And once again we see that in times of trouble, The Sunday Times is Ashley's paper of choice rather than local publications. The owner spoke to the Geordie nation via them after relegation in 2008/09 and it's worth recalling some of his comments then:
"It has been catastrophic for everybody. I've lost my money and I've made terrible decisions. Now I want to sell it as soon as I can . . . advisers will be appointed shortly.

"Of course I regret it. I never said I was an expert in football clubs. I was just a fan – although a very wealthy fan. But I'm not so wealthy now. I put my money into it and I tried my best. But I accept my best was woefully short. I am genuinely sorry for everybody about what has happened.

"I personally thought Joe (Kinnear) put the club back on the right track. He took it from second bottom to thirteenth but things went against him."

Chronicle comments, Mon 24.06.2013:

"They are like me up there (in Newcastle). they appreciate hard work. I am from a council estate and I have been taught the values of hard work. A lot of the fans up there have that attitude.
"They want to see their team do as well as possible. When things are not going right they stamp their feet – and so they should. It is part of the culture up there and you have to take the criticism when you do not do well."
"When I was there as manager I was doing a great job. The team was away from the relegation area, but the media were on my back.
"At the end of the day I love the fans up there. I fell in love with them. None of the media liked what I said to them, but I tell you I did not say one bad word about the fans."
"You have to remember you are representing the fans up here. That is what I have to do. Work hard to get the club going forward again."

Chronicle comments, Tue 25.06.2013:

"I regret what I said to the supporters in the interview I did with fans on Talksport. I wish all the fans the very best at their meeting and I do hope to attend a meeting in future.
"Mike, the owner, came round my house and we had a chat. He asked me about my medical condition and how I was feeling and one thing and another. I said I've been cleared, medically, for the last four or five months."
"I'm coming off my treatment. I've lost a stone and a half of weight. I'm very fit, and I've been looking after myself. I have been going to the gym a lot and taking walks."