Date: Tuesday 21st July 2015, 7.30pm.

Venue: Providence Stadium, Portland, Oregon, USA.

Conditions: Perfect, 23 degrees at kickoff

Admission: Usual MLS prices of $37 and upwards. although first team season ticket holders were admitted free. T2 played a league game 48 hours earlier, entry $10.

Programme: Free


Portland Timbers 2

Newcastle United

4 - 3

.

Teams
7 mins Georginio Wijnaldum slammed home a left wing centre from Rolando Aarons for his first goal in a Newcastle shirt 1-0
13 mins Lubo Satka suicidally surrendered possession outside his own box and Fatawa Safiu netted after Karl Darlow could only parry Kharlton Belmar's initial effort on goal. 1-1
23 mins Goalkeeper Darlow hesitated as a right wing free kick from Michael Nanchoff was delivered into his box and Anthony Manning easily headed home. 1-2
30 mins A feeble attempt to defend a corner kick saw the ball fall to Taylor Peay, and he was able to swivel before forcing the ball home from point blank range. 1-3
Half time: Timbers 3 Magpies 1
70 mins Nick Besler headed in a deep right wing centre from Jeanderson. 1-4
75 mins Gael Bigirimana teed up Rolando Aarons to convert with a neat bicycle kick from 10 yards out. 2-4
76 mins Within seconds Rolando Aarons shot home via the crossbar from a central position some way out. 3-4
Full time: Timbers 4 Magpies 3
Steve McClaren commented: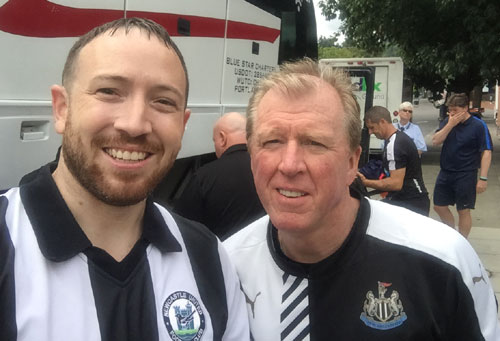 The Head Coach meets US fan Michael Held, who was seeing his first
game in 17 years, since taken to SJP by his Grandad for the last time

"I think we have 18 days before it (The Premier League) starts. This has been a tough trip. Portland has been excellent. It's a great city, a lovely stadium and a great game from them.
"I think when you come on these trips, 10-11 days is very tough. The last two were very, very tough, so it's proved and I think you saw that in the first half. Good response in the second half. Because we're only fresh in a few weeks ago we need to get to know the players.

"There is no better way of getting to know the players than when you come on tour and travel for 10-11 days together but the players have been tremendous. The staff here is absolutely fantastic, really. They make it so easy.

"We don't realize and the players don't realize the work that goes behind the scenes on a tour like this. They've been tremendous. So, just to come away with no serious injuries, I'm so pleased with that.
"We had six of seven who couldn't play on this surface, and quite a few played who we only wanted to have a small amount of time because of troubles they get. In that respect, the key thing was that everyone came through safely and no injuries. We've more or less done that.

"In the first half it was a makeshift back four. We had no centre-halves, really. They couldn't play on this surface. That was always going to be difficult.

On Rolando Aarons:

"He is only a young man, but he has done very well on this trip. He started at left-back and was very good, and crossed for the first goal. We moved him forward in the second half, and he scored two cracking goals and was always a threat. He's a bright one for the future."

T2 head coach Jay Vidovich said:
"I think it was just a great measuring stick for our guys, playing a quality team like that. On offense we got some goals but two of those came off restarts, so the defenders jumping on that scene as well. The work rate of the front runners to get the first goal with Kharlton (Belmar) winning the ball and then pushing through.

"To see how that happened and then in the final goal to see Nick Besler get that off a great play starting off the back with Rennico (Clarke) and with Rundell (Winchester) making a good play to push Jeanderson for a great header by Besler. So, very happy.
"The expectations were what a tremendous opportunity provided for our development team. We're the reserves, we're young guys, we're young professionals trying to get to the next level, and to play a quality team like this our expectations were we were going to get a bit of a lesson and it happened.

"Honestly, they're in preseason but in the first five minutes, maybe the worst thing that happened to them was they scored a quick goal. That happened out of nowhere. Somebody closed their eyes for a half second and the ball is in the back of the net and it happened two other times.

"I think to see how you can get punished by top players and top teams with the speed of play and athleticism, our expectations were to grow from that, and I think they did well."
"It's just another opportunity to get experiences they couldn't get anywhere else. I think what happened was that one, particularly at the end, they learned to absorb the play and hang in there and manage the game. That's crucial. That adds a lot to your confidence, to be pinned in and survive.

"I think there were times when our guys flat-out played, almost abandoned at times. But they were free to play and they had the confidence to do that against quality players and a quality team; that's tremendous for believing in your skills and your play. It's a dream to play against a Premiership team, so that was very important."


Pre-season pitch time (in minutes):



Rolando Aarons 45+18+21+90=174
Mehdi Abeid 0+0+0+65=65
Vurnon Anita 45+90+90+25=250
Adam Armstrong 45+18+0+45=108
Gael Bigirimana 45+18+0+90=153
Remy Cabella 0+0+0+0=0
Papiss Cisse 45+72+69+45=231
Jack Colback 45+90+90+0=225
Fabricio Coloccini 0+0+0+0=0
Karl Darlow 45+45+0+45=135
Siem De Jong 45+72+69+15=191
Paul Dummett 0+0+0+0=0
Rob Elliot 0+0+0+0=0
Shane Ferguson 45+18+0+90=153
Curtis Good 45+0+0+0=45
Yoan Gouffran 45+72+0+75=192
Massadio Haidara 45+72+65=182
Daryl Janmaat 45+72+90+45=252
Tim Krul 0+45+45+0=90
Jamaal Lascelles 45+90+45+0=180
Sylvain Marveaux 0+0+0+0=0
Gabriel Obertan 45+18+69+45=177
Ayoze Perez 45+18+21+45=129
Emmanuel Riviere 45+0+0+0=45
Lubo Satka 45+0+0+90=135
Moussa Sissoko 45+72+90+45=252
Steven Taylor 0+0+45+0=45
Cheick Tiote 45+0+0+0=45
Haris Vuckic 0+0+0+0=0
Georginio Wijnaldum 0+0+21+45=66
Mike Williamson 45+90+90+0=225
Freddie Woodman 45+0+45+45=135

The starting XI by birth country: England, Burundi, Jamaica, Northern Ireland, Slovakia, France, France, France, Senegal, Holland, Spain.


Waffle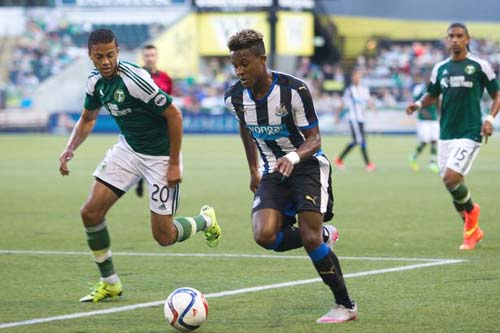 Newcastle's tour of the USA ended in slightly farcical fashion on Tuesday, as a makeshift lineup was deservedly eclipsed by the second XI of MLS side Portland Timbers.

Concerns over the effect that the artificial surface at Providence Park may have on our squad saw Steven Taylor, Mike Willamsion, Jamaal Lascelles, Massadio Haidara*
(suspended tbc) and Fabricio Coloccini left out and a back four in which Lubo Satka was the only recognised defender.

And despite taking a
n early
lead

through
Georginio Wijnaldum

, our glaring lack of physicality was exploited by TS (
who play in the same league as Sacramento Republic)
to score three times in seventeen minutes

- all three directly stemming from defensive errors or omissions.


The collapse of
a back four farcically featuring Shane Ferguson in

the
centre and a lack of urgency elsewhere

saw
Steve McClaren

swap
the stand

for
the touchline before the interval, as an unmarked Moussa Sissoko completely missed the ball in the box when a 44th minute free kick reached him.

Returning for the second period
without the listless Papiss Cisse and

recognised full back
Daryl Janmaat one of four substitutes used, little changed

though
with United failing to fashion anything resembling a scoring chance and T2 hitting the bar

through Michael Nanchoff.

What looked to be the final nail in our coffin saw Jeanderson
centre,

alleged marker Gael Bigirimana looking on in admiration as Nick Besler headed home with ease.
A fight back of sorts did materialise though, with

Rolando Aarons supplying two smart finishes within as many minutes to add an air of respectability to the scoreline. If there's one bonus from this tour, it's his evident fitness.

However there was no face-saving equaliser and United barely acknowledged their partisan support before disappearing from view with indecent haste. Although an enjoyable tour in terms of places visited and brilliant people encountered, the opposition and itinerary again looked poorly -conceived - th
e

Timbers farce echoing the Orlando
game in

2011 played on a
rotten artificial surface.


Maybe next time we embark on an overseas

schedule

, some work will be done to ensure that more than lip service is paid to fans attending and we manage to

arrange

matches
on a playing surface that we

actually
want to play on

- but I know that's an old-fashioned way of looking at things.


(The late announcement of our tour and the cobbled together nature of it looks to have been caused at least in part by a failure to secure our Premier League future until the last game - meaning that the US visit remained in doubt until that point and our options were reduced).


A manager stressing the bonding and group building element of this tour and paying tribute to his backroom staff for efforts in sorting the logistics betrays the fact that we could have stayed far closer to home and played equivalent levels of opponent in between a training camp for the end result here - except for boosting our Avios points.


If there was an upside to our American Trilogy, it was in revitalising a North American fanbase who were suffering like their UK equivalents from the diminishing returns of watching the team (the Leicester away game was also a particular low point for those on the other side of the Atlantic, not least because it kicked off at 4.45am for fans based on the West Coast).

The anticipation of this visit saw a rekindling of US interest aided by social media and new fan groups popping up from Rhode Island to Miami. And although these were no more than kickabouts, the pride and pleasure of seeing "their" team in the flesh was still evident in the lads and lasses.

Call them whatever you like, but the one thing they certainly aren't is glory hunters - and the bulk of them have made at least pilgrimage to SJP. One sob story: try the couple from Texas whose first visit was the Charlton game in 2005, called off at 25 minutes notice. They've been back since.


A big thank you is due to everyone who donned black and white
to support the lads in
Milwaukee, Sacramento and Portland. There are just too many folks to mention
who found their way into our company
, but the kindness and hospitality
they showed made it truly memorable. You guys rock.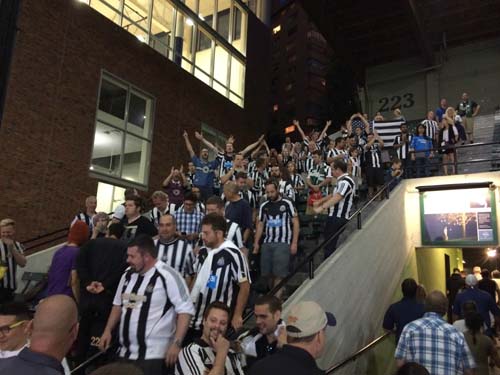 Going Home - local heroes

Biffa