Date: Saturday 1st August 2015, 3.00pm.

Venue: St. James' Park

Conditions: Sunny and warm, with the sort of clouds seen in Simpsons opening titles

Admission: £15 - lower areas only open

Programme:

£

3



(see explanation in
attendance below)
Newcastle United

Borussia M'gladbach

0 - 1

.

Teams
Half time: Magpies 0 Monchen 0
66 mins Rolando Aarons lost possession and attempted to make amends by barging into an opponent in his own penalty area. No spot kick award came from Jon Moss, but Steven Taylor's inability to clear the danger saw the ball fall end up at the feet of Thorgan Hazard.

Eden's brother was able to side-foot home past Tim Krul from the edge of the Leazes End box. 0-1
Full time: Magpies 0 Monchen 1
Steve McClaren commented:
"I suppose all clubs will be thinking that they could do with a bit more work.

We lost a week two weeks ago with travelling in the States and playing a game on astro turf and we are trying to get that back and recover from the travel.

"I am delighted where the players are considering that schedule.

"Do we need to do more? Lots more. We have to be patient. Itís a word I donít like but you canít force things but I am pleased with the development with the team have made.

"I have been frustrated all pre-season because our play has been good and we have built up well but our final ball and our final finish hasnít been there. You expect that will come with more work and as the season goes on.

"I was pleased in terms of controlling the game because generally when we have played other games it has been end to end and a bit open. It was more tactical and more cat and mouse today
and I
thought it was the best weíve done pre-season.

"


On Aleksandar Mitrovic:

"
Heís one of them old type of centre-forwards isnít he? And heís only 20 years old so heís still got a lot of potential to come. I wish heíd have just stuck the ball in the back of the net - that would have made the day perfect.Ē


Responding to questions about further transfers:

"Are we looking at more? There is a lot of speculation out there. Nothing is happening at the present moment, believe you and me.
There is a lot of work behind the scenes. Itís taken us quite a while to get the ones weíve got. We are pleased with them - very pleased - because of their quality.
"Will there be any more? I donít know, I always want more but are they available and can we get them? We donít know.
I am delighted with what I have got to work with now until the start of the season. Itís a big eight days for us. I would expect what weíve got to start

."


On alleged transfer target Charlie Austin:

"Thereís been a lot of talk about that throughout the weeks but we've not been in contact with QPR and theyíve not with us so no, thatís just a name that circulates and has been going around.Ē

Asked if Fabricio Coloccini would be staying he said:

"I donít see why not. Heís got a year left on his contract.
Iíve spoken to him several times

- heís been seven years at Newcastle.

"

Heís coming to the end of his career, and he wants to finish it here. Iíve said Ďgreat Ė thatíll do meí, because theyíre words I like to hear

, so letís just get on the field and play now.
"I know thereís been a lot of speculation, but my indication is that he wants to stay here and take the club forward. Iíve come in and they asked me to have a look at the players. Iíve looked and Coloccini is one player I said I want to be here.

"Colo has been training intermittently. We wanted him to play more games but we have not risked him. We would have liked to got more minutes against Gladbach (that's more than none) but I think he has probably now got a full week with us next week and to train with the team.
"That for me will be vitally important - he is still a big part of this football club. Iíve stressed how much I want him here and to be part of the team and squad and I have expressed that to him and the club."

Seven years to the day that he oversaw a 1-0 friendly win for his Hertha Berlin side over United in Mallorca, BMG Coach Lucien Favre said:

"It was not easy for us - they had two big chances, but it was OK. Newcastle played very well and we had a little bit of luck when they hit the bar and post. On two occasions we did not anticipate long balls, and second balls.Ē



There was a first outing in a Newcastle shirt for Chancel Mbemba, who became the 31st player to feature in senior pre-season games

this year (it was 31 in 2014/15 and 32 in 2013/14).

Having worn one-off "members" fourth kits for their pre-season home games in the last two seasons, United donned this season's newly-released second kit for this fixture.

A first return to SJP since the 2-0 win over West Ham on the final day of last season saw seven of the 12 players used that day in action (Krul, Janmaat, Williamson, Anita, Sissko, Colback, Cisse). Not featuring for a variety of reasons were: Coloccini, Dummett, Riviere, Gutierrez and Gouffran.

NUFC home pre-season friendlies - last decade:

2015/16 Monchengladbach lost 0-1 21,088
2014/15 Real Sociedad won 1-0 19,199
2013/14 SC Braga drew 1-1 16,187
2011/12 Fiorentina drew 0-0 12,656*
2010/11 PSV Eindhoven drew 2-2 16,118
2009/10 Leeds United drew 0-0 16,945
2008/09 Valencia won 2-1 31,494
2008/09 PSV Eindhoven drew 2-2 13,477
2007/08 Sampdoria won 1-0 23,078
2007/08 Juventus won 2-0 34,016
2007/08 Celtic won 4-1 30,225
2006/07 Villarreal drew 2-2 20,144
2006/07 PSV Eindhoven lost 2-3 20,175
2005/06 Yeading won 5-0 6,151

*abandoned after 63 mins

Pre-season pitch time (in minutes):



Moussa Sissoko 45+72+90+45+79+0+81=412
Mike Williamson 45+90+90+0+90+0+90=405
Daryl Janmaat 45+72+90+45+90+0+62=404
Jack Colback 45+90+90+0+88+0+90=403
Vurnon Anita 45+90+90+25+59+0+75=384
Papiss Cisse 45+72+69+45+79+0+62=372
Massadio Haidara 45+72+65+0+90+0+90=362
Siem De Jong 45+72+69+15+17+90+15=313
Rolando Aarons 45+18+21+90+45+58+28=305
Jamaal Lascelles 45+90+45+0+21+90+0=291
Yoan Gouffran 45+72+0+75+2+90+0=284
Ayoze Perez 45+18+21+45+45+90+9=273
Gabriel Obertan 45+18+69+45+31+0+62=270
Tim Krul 0+45+45+0+90+0+90=270
Gael Bigirimana 45+18+0+90+0+90+0=243
Shane Ferguson 45+18+0+90+0+90+0=243
Georginio Wijnaldum 0+0+21+45+73+90+0=229
Lubo Satka 45+0+0+90+0+90+0=225
Steven Taylor 0+0+45+0+0+69+90=204
Karl Darlow 45+45+0+45+0+45+0=180
Mehdi Abeid 0+0+0+65+11+90+0=166
Freddie Woodman 45+0+45+45+0+0+0=135
Adam Armstrong 45+18+0+45+11+0+0=119
Aleksandar Mitrovic 0+0+0+0+0+70+28=98
Emmanuel Riviere 45+0+0+0+0+0+0=45
Cheick Tiote 45+0+0+0+0+0+0=45
Rob Elliot 0+0+0+0+0+45+0=45
Curtis Good 45+0+0+0+0+0+0=45
Olivier Kemen 0+0+0+0+0+32+0=32
Chancel Mbemba 0+0+0+0+0+0+28=28
Lewis Suddick 0+0+0+0+0+20+0=20

Remy Cabella, Fabricio Coloccini, Paul Dummett, Sylvain Marveaux and Haris Vuckic all failed to get any senior side pitch time in pre-season - although Vuckic did feature the U21s.

Waffle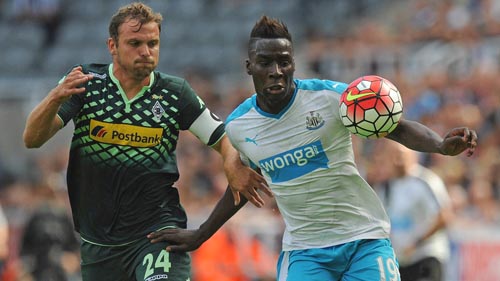 69 days after securing our top-flight status here under John Carver, a slightly less fevered crowd were present at St.James' Park to usher in the Steve McClaren era.

A scattering of new faces warmed up in unfamiliar white kits, while the PA supplied sunshine sounds including one by the Beach Boys featuring the lyric, "let's get back together and do it again."

And therein lies the first problem - familiarity. Parts of this team are like an old shoe, unattractive and lacking any grip. For anyone who suffered the appalling drop off in form and effort over the last two seasons, watching the likes of Mike Williamson, Steven Taylor, Vurnon Anita and Gabriel Obertan today will have do little to lighten their mood - or cause them to renew their season ticket.
McClaren's jocularity with journalists was an attempt to project a message that "I'm in control", but
frustration with our pre-season schedule was betrayed by his referencing jet lag and a dodgy US pitch for the third successive set of post-game interviews.

Yes there is £30m+ of new product, but what the new head coach hopes is a "work in progress" has also had to be fashioned by recycling some raw materials found in a shed at Darsley Park. Some higher quality parts remained beyond operational use for reasons yet to be fully disclosed....

Before a ball is kicked in anger, McClaren finds himself in an unenviable position - despite his obvious delight at making a return to Premier League management after a break of almost a decade.

Subject to the same constraints as his predecessors (all three new signings lined up while he was trying to convince Derby County fans of his loyalty to their cause), his initial task was akin to that of an X factor judge: separate the wheat from the chaff during some hastily-organised auditions.

If he'd borrowed the owner's helicopter, this could have become an updated version of that old Treasure Hunt telly programme. "We've got a striker! Stop the clock!"

The thankless task of squad selection in such a short period is a healthy argument for having backed McClaren by paying the money required to extricate him from the East Midlands in January. Faced with the same situation, Crystal Palace did just that (lining our pockets in the process) and giving Alan Pardew 21 games to evaluate the players available to him and lay plans to overhaul his squad with some expectation that his recommendations would actually be acted upon).

Instead we had to endure the public pain of watching a man disappear up his own jacksie (no shock to hear he sought the advice of a shrink) and his successor attempt to refashion a team against the clock. Sammy Ameobi was the first casualty, banished to Cardiff before any of the new lot saw him.

And what of the five new boys? English-speaking but without a second of Premier League experience to their name - and in the case of Georginio Wijnaldum, immediately looking like his favoured position is that which Siem De Jong was bought for (Gini looking singularly unimpressed here when pulled back into a deeper role to accommodate De Jong).

To our final pre-season outing then, following half a dozen games of which four at best were worthy of that description. We ended up with two wins - one courtesy of penalty and the other an OG, but the Gallowgate End goal frame and the brother of Chelsea's Eden Hazard, denied us victory here.

Aleksandar Mitrovic and Moussa Sissoko both struck the woodwork in the second period with the goal gaping while Wijnaldum and Chancel Mbemba also had their moments. Mitrovic should have buried his chance but added another half hour of pitch time after a 70 minute runout at York.

Having gained permission to play although his work permit application is still in progress, Mbemba appeared at right back, leaving Mike Williamson and Steven Taylor to complete 90 minutes. That centre back pairing was retained as Jamaal Lascelles dropped back to the bench and Fabricio Coloccini missed out again - although McClaren didn't rule him out of Sunday's season opener.

Last season's third-placed Bundesliga finishers snatched what proved to be the winning goal just after the hour, when some defensive slackness gave Thorgan Hazard a sight of goal.

Sissoko had earlier crashed an effort off the Gallowgate bar after controlling Anita's through ball but placed his effort past the 'keeper and off the woodwork with Papiss Cisse scuffing the rebound.

Wijnaldum saw a first half back heel saved and Williamson went close with a header but long shots from Obertan and Massadio Haidara were United's best efforts in an uneventful opening half.

There should have been an equaliser near the end for Mitrovic on his first home appearance when De Jong laid the ball back but the Serbian thumped his shot off the upright with 'keeper Yan Sommer only a spectator.

Attention now focuses on Sunday's visit of Southampton, who will have played two competitive games in the Europa League by then. And by the time the current transfer window closes we will have faced four sides that we managed just one point against in eight attempts last season. For once, Jim White & Co. may have something NUFC-related to report rather than inventing tales.

We may have hit rock bottom in the closing weeks of last season and begun to bounce back, but it remains to be seen how much the other teams in the division have upped their game - and whether the gap between us and them has actually shrunk.

Never mind talk of top eight finishes and open top buses, given the size of McClaren's task at this club, emulating last season's fifteenth place finish but reaching safety earlier would count as a fair return. Anything else is a pipe dream.

Biffa