Date: Saturday 15th August 2015, 3.00pm.

Venue: Liberty Stadium

Conditions: familiar

Admission:

£

35 - see notes below

Programme: £3





Swansea City

Newcastle United

2 - 0

.

Teams
9 mins Daryl Janmaat left a trailing leg that played Gomis marginally onside enabling the forward to latch onto Jonjo Shelvey's through ball before rounding Tim Krul and tapping home. 0-1

Half time: Swans 1 Magpies 0
52 mins Dangerman Montero found space down the City left to send over a centre that Andre Ayew headed firmly past Krul for his second goal in a many games since joining from Marseille 0-2
Full time: Swans 2 Magpies 0
Steve McClaren said after the game:
"We've learned nothing today apart from we need to keep 11 players on the field.
I don't think you can judge us on that game and that performance, which is a shame.
It's kind of a waste of a game when we need to learn about the players and how we go about things."
Responding to Garry Monk's criticisms:

"We haven't got a team capable of doing that and I don't think the game represents that now.

"Our team is a football team, not kickers, so I would dispute that. As always, you make your presence known to your opponent, which we did, but there was one tackle too many.

"I thought the red card was harsh, he was a long way from goal and it was a little tug. I thought the referee could have been lenient. Credit to the players - they kept going and kept their heads up, but the second goal killed us.

"Once we settled down we continued to play football, we were opening them up, had one or two opportunities and we felt going in at half-time we still had an opportunity, but it's difficult when you're down to 10."

Speaking about Aleksandar Mitrovic:

There was nothing in it, but there was a reaction from players and the crowd (that resulted in a booking). He's a physical player and we can't take that away from him. One thing we learned from Saturday, you've got to learn about emotional control.

Referees need to be more aware - not be lenient, but allow the game to go on."

Daryl Janmaat told the official website:

"I'm very disappointed. It was stupid of me and I have to apologise to my teammates, the supporters and everybody, because trying to win a game with ten men is very difficult.


"The first yellow card was clear. The second one, I lost the ball, he (Montero) ran past me and in a split-second I touched him. I pulled him back and that was stupid.


"With 11 men at Swansea it is already hard but with ten men it makes it almost impossible. We didn't give up though, and the rest of the team gave it everything, but it was a disappointing game.


"We started poor and they got an easy goal. We then came into the game a little bit our performance was not like last week and we have to improve.


"We will learn from this game - you always can learn from defeats - and hopefully we will go and get a result at Manchester United.
"I hope I can go there (Old Trafford) to help and support the team next weekend.


"And before the game, all week, I will give advice to anyone who needs it. I will help in any way I can, and I hope we can get a result."

Garry Monk commented:
"I talked to the players all week that good teams and good players are able to back up good performances with another one. We did that and we executed the plan very well.

"We looked dangerous at points of the game and showed maturity when they went to 10 men as we didn't force the game but took the openings when they came.
"You could see their tactics was basically try and kick him (Montero), and full credit to the referee for spotting it straight away. Quite rightly the player was sent off in the end.

"We talked before the game about Jeff being protected and that's important because it will be a tactic going forward.

"I talked to the players all week that good teams and good players are able to back up good performances with another one. we did that and we executed the plan very well.

"We looked dangerous at points of the game and showed maturity when they went to 10 men as we didn't force the game but took the openings when they came."

United lost the first competitive game played in this season's blue and pink third ensemble.



They remain without a victory against Swansea City home or away in seven attempts, having lost six and drawing one since a 2-0 victory in Wales back in April 2012.

Since a 1-1 draw at Crystal Palace in February, United have lost seven away games, conceding 18 goals and netting just once - Emmanuel Riviere's first half strike against QPR at Loftus Road.

The current squad still have some way to go though if they're to become the most travel-sick side in the club's history - the Magpies lost ten in a row on the road during the 1931/32 season.

Our last away win came at Hull City in January (3-0) and in league and cup fixtures away from Tyneside we have been now successful just once in 16 attempts.



This was the

sixth

time

we've

finish

ed

a man short in

ou

r opening P

remier League

away game:

1993/94

Coventry City

(P

avel Srnicek

)
1994/95

Leicester City

(

Pavel Srnicek

)
2005/06

Arsenal

(

Jermaine Jenas

- later rescinded)

)
2013/14

Manchester City

(

Steven Taylor

)
2014/15

Aston Villa

(

Mike Williamson

)
2015/16 Swansea City (Daryl Janmaat)

Our first Premier League away fixture of the season has resulted in eleven defeats, six draws and five victories as follows (final league position in brackets):

1993/94 Coventry City lost 1-2 (3rd)
1994/95 Leicester City won 3-1 (6th)
1995/96 Bolton Wanderers won 3-1 (2nd)
1996/97 Everton lost 0-2 (2nd)
1997/98 West Ham won 1-0 (13th)
1998/99 Chelsea drew 1-1 (13th)
1999/00 Spurs lost 1-3 (11th)
2000/01 Manchester United lost 0-2 (11th)
2001/02 Chelsea drew 1-1 (4th)
2002/03 Manchester City lost 0-1 (3rd)
2003/04 Leeds United drew 2-2 (5th)
2004/05 smoggies drew 2-2 (14th)
2005/06 Arsenal lost 0-2 (7th)
2006/07 Aston Villa lost 0-2 (13th)
2007/08 Bolton Wanderers won 3-1 (12th)
2008/09 Manchester United drew 1-1 (18th)
2010/11 Manchester United lost 0-3 (12th)
2011/12 mackems won 1-0 (5th)
2012/13 Chelsea lost 0-2 (16th)
2013/14 Manchester City lost 0-4 (10th)
2014/15 Aston Villa drew 0-0 (15th)
2015/16 Swansea City lost 0-2 (??)

Magpies @ Liberty Stadium:

2015/16 lost 0-2
2014/15 drew 2-2 Cisse 2
2013/14 lost 0-3
2012/13 lost 0-1
2011/12 won 2-0 Cisse 2
2009/10 drew 1-1 Carroll

Full record v Swansea:
| | | | | | | |
| --- | --- | --- | --- | --- | --- | --- |
| | P | W | D | L | F | A |
| SJP | 18 | 9 | 3 | 6 | 41 | 21 |
| VF/LS | 19 | 9 | 2 | 8 | 25 | 31 |
| League | 37 | 18 | 5 | 14 | 66 | 52 |
Waffle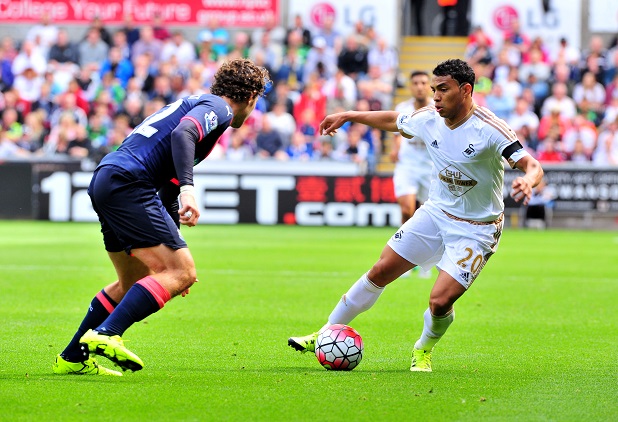 United lost their seventh successive away game on Saturday, as they were once again found out by a Swansea side who almost sauntered to victory after scoring within the first ten minutes of play.

Trailing to an early goal and showing virtually no sign of recovering, Daryl Janmaat evoked memories of last season's darker moments with a dismissal that was as brainless as his at Leicester had been. Unbelievably we ended our opening away game a man short for a third successive season.

Having already been booked for tugging back Jefferson Montero, quite what the defender was thinking is anyone's guess, but in the absence of John Carver, we don't mind saying that from our position he looked determined to get himself sent off all afternoon.

Janmaat's afternoon started badly when he played Bafetimbi Gomis onside for the opener, before the first of a number of reckless fouls that saw him booked then inevitably red carded on 40 minutes - our cynical post-match thoughts turning to whether he didn't fancy our next Old Trafford trip.

Steve McClaren left his seat in the stands to take over from Paul Simpson on the touchline and had already instructed substitute Steven Taylor to warm up when our kamikaze right back gave referee Mike Jones no alternative than to show Janmaat a second yellow.

To add to the misery, Moussa Sissoko then pulled up on the stroke of half-time and unsurprisingly failed to emerge for a second half in which City doubled their lead and sewed up the points - twice striking Tim Krul's goal frame as they sought to record a scoreline that their dominance deserved.

Former Toon transfer target Andre Ayew was able to seal the home victory shortly after half time as United conceded their third headed goal in just two games this season - this one coming from a left wing cross for a change....

Aleksandar Mitrovic again came off the bench and launched himself into a reckless challenge that could have seen a second sending off but he picked up a second booking in as many games - lasting two minutes this time. Home players also claimed that he led with an elbow in a subsequent clash.

United were almost non-existent as an attacking force with only a couple of angled drives from Gabriel Obertan disturbing Lukasz Fabianski from his slumbers. Having enjoyed a goalscoring debut last week, Gini Wijnaldum was unable to get into the game today and Papiss Cisse completely anonymous against opponents that he'd previously netted against four times in as many games.

It's easy to write off today as a bad day at the office and inevitable given the fact we were a man short for over half of the game, but it's important to state that United were woeful when at full strength and just content to look on as Swansea retained possession.

One point from the first two games leaves McClaren's side a miserable but familiar fifteenth in the table and although the manager came out and said he learned nothing, he must have discovered plenty about his squad's shortcomings and difficulties in playing to the desired standard - most notably at left back, where Massadio Haidara looked continually uncomfortable.

Further punishment on the road next Saturday against Manchester United seems likely with Sissoko presumably sidelined, no recognisable right back cover and a question mark over the viability of the occupant of the opposite side of the defence.

Maybe a good howking will kick start the second part of our desperately-needed transfer activity in this window, with any feelgood factor generated from that opening day point against Southampton soon eradicated and unwelcome reminders of last season very evident here, not least the fact that we looked both helpless and indifferent to our plight.

Early days yes, but with uncomfortably familiar echoes of previous misfortunes.

To quote the words of our glorious leader back in May:

"it's no good having the horse and cart scenario. And we may have the cart financially but we now need to bolt the horse on - and we're going to."

There's still time to get the spanner out and tighten some nuts round here....Seeing how we go and having another look at Christmas doesn't tally with the other quote from Mike Ashley that day about making our own luck now.

Unlike the team today, we need to take the initiative, and quickly.
Biffa