Date: Saturday 22nd August 2015, 12.45pm.
Live on BT Sport

Venue: Old Trafford

Conditions: Bright

Admission:

£

46 (£46 in 2014/15)

Programme: £3.50





Manchester United

Newcastle United

0 - 0

.

Teams
Half time: United 0 United 0

Full time: United 0 United 0


Steve McClaren

(who chalked up back to back 0-0 draws here in the Premier League, after guiding his smoggy side to a nowts apiece back in May 2006. Boro won the return game 4-1.......):

"We're disappointed. We knew the first 20 minutes would be theirs but we grew in belief and we should have scored.

The defending and discipline was superb but we really could have nicked it - we had the chances but didn't take them.

"We're far from where we want to be and there a lot of areas we need to improve on but we'll get better as the weeks go on.



"I think we did a very good job on him

(

Wayne Rooney). We did a good job on Januzaj too. I thought the front four were excellent, we had to deal with that.

"I thought (Fabricio) Coloccini and

(Steven)

Taylor were excellent.

You have to defend well and they were immaculate, they kept us in the game the first 20 minutes and in the last 10 minutes.

Colo was the leader out there, Taylor also.

"There was a point in the summer where we thought he (Coloccini) might well be going. Most definitely. There were offers on the table, but the club has done great to address that situation and keep him.

"We said, 'Sort him out, and get him back on board'. They've done that, and deep down, I think he always wanted to finish his career at Newcastle. I'm pleased he performed like he did - there's been a lot of talk about signings this summer, but for me, that (Coloccini) was the best one.

"We looked around at various defenders when his position was in doubt, but we quickly decided that none of them matched up. I quickly said, 'Look, we need to get him back on board' and the club has done that.

I think his relationship with the club and the seven years he'd already had here were important. He's got a real affinity with the club, and I think he just wanted to finish his career here.

Why not? We've come in, and he's probably had a little look at how we've been operating in the first three or four weeks too. He's obviously been happy with what he's seen, but it was also about the club rewarding him, and that's what they've done."

"I also thought (Chancel) Mbemba was superb. He's not a right-back, but he did a gallant job there. That back four – five with Tim Krul behind – is going to be important for us. You don't come to Old Trafford and get a result if you don't defend well, and that's what we did.

"We conceded two goals against Southampton and two more against Swansea, albeit with ten men, so it was important to keep a clean sheet. I thought we were excellent and that performance is a real platform.

"You look at our players and think they're still 20% or so down on where they'll eventually be. I look around our squad and think, 'Well he could be sharper, and he could be sharper'. It was a short pre-season and an early start, and that's what you're going to get.

"He (Aleksandar Mitrovic) was a real positive for us. He did what we wanted him to do, and that's why he played. We weren't keeping the ball, and we wanted him to be a physical presence. You need to have an outlet here, and he certainly put himself about. He won't give any centre-half in this league an easy game or a quiet afternoon.

"I thought he could have been better in certain respects and he gave the ball away too many times in the first 20 minutes, but he will improve, like all the players will.

"It was a big step forward. We were asking people like (Gabriel) Obertan, (Florian) Thauvin, who has just come in, and (Ayoze) Perez - who I thought was excellent - to run up and down that line all the game long.

"They were having to do more running than anyone else in the team, but to get that kind of result, you need that from them. They've shown they can do it, and that's what they're going to need to do now. To come and get a result here, you need to work hard and be disciplined, and keep your concentration for 90 minutes.

"Anyone coming in to succeed Sir Alex (Ferguson) would have found it difficult because Manchester United was an institution and it was run by him. I think Louis van Gaal is the best man to carry that on. I looked at it from the outside and felt that it needed someone of his stature and character to come in here. I have seen him do it in Holland and Germany.

"He started at Bayern Munich and the first six months were not very good but then he built and won the league. If anyone can turn it around he can. But there is a new philosophy here and that takes time to bed in.

"(Wayne) Rooney is very strong mentally with what he has been through. He won't be bothered because it will come. Look at the goals he has scored, anyone who thinks he has lost it just has to look at his record. He knows he's going to score again.

"This Manchester United team, in the first 20 minutes here could have been two or three up. We survived that and it made the game a different story."





Louis van Gaal commented:

"I think we can be satisfied about the performance but not about the result because we don't reward ourselves. I think we have created a lot of chances and we were unlucky. I think you also need luck in football and it's not only what you say about quality. I think the quality in the third phase in the crossing positions, we didn't do so good, we didn't make the right choices.

"Also we can do better with the speed of the ball and, of course, we had open chances, alone with the goalkeeper, and we have to score there normally. But I think we were very unlucky. But we played fantastic as a team and we have fought until the end and that's fantastic to see. I like this type of game, only the result was bad.

"It's a fantastic start (for the defence) and I think, also against Brugge, not one chance and then an unlucky goal so I'm very pleased with the clean sheets.

"As a fan, you have to see how we have played this match. The performance was good and the fans were always behind the players. It was a fantastic match to watch but we were unlucky. We have to score our chances and, in the next match, we shall score maybe a goal out of three chances and that is better. The performance today was better though.

"My worry is that we have to dominate the opponent and we did it today, we did it against Aston Villa, Tottenham and Brugge. I am satisfied with the performance and not with the result and that is different. We were unlucky with rewarding ourselves because we have created a lot of chances.

"Wayne (Rooney) scored - only it was not allowed. It is doubtful and the rules are that when it is doubtful, then do not flag. But it is also football and I have said already many times you need more equipment to help the referees and linesmen because it is not easy.

"I don't enter in this discussions. You can ask about all the players in the world and you are doing that every press conference and I always say the same, I have to protect the interests of Manchester United, the players in my selection and the people in my organisation."

Former Red Devils favourite Paul Scholes weighed in with:

"He said 'fantastic' a few times but I don't think there was anything fantastic about it at all,' observed Scholes. 'At home to Newcastle you are expected to win the game. Their goalkeeper has had one save to make, and that is not fantastic.

"With the money the manager has been given, he needs to produce and needs to do it this season."


Newcastle avoided defeat today and in doing so ended a sequence of seven consecutive away defeats stretching back to February 2015 when they played out a 1-1 draw at Crystal Palace.

Florian Thauvin, became the 198th player to feature for United in Premier League matches

and the 72nd to debut in that competition from the substitute's bench.

The Magpies collected their first point and kept a first clean sheet in four attempts

at Old Trafford

, since their 1-0 win here back in December 2013.

This clean sheet was the first we've managed on the road in nine attempts since the 3-0 victory at Hull City last January and only a second in 17 league and cup fixtures away from Gallowgate.

It's now Three games, three strips for Newcastle this season - with today seeing the competitive debut of the blue and white garb that is our nominal second strip.

Although we've won just once here in 22 Premier League attempts, we have now trailed at the interval just twice in our last eight visits (drawing in seven, ahead in one).

Season-opening winless runs (PL only):

2015/16: no win in three games
2014/15: won the eighth game
2013/14: won the third game
2012/13: won the first game
2011/12: won the second game
2010/11: won the second game
2008/09: won the second game
2007/08: won the first game
2006/07: won the first game
2005/06: won the sixth game
2004/05: won the fifth game
2003/04: won the seventh game
2002/03: won the first game
2001/02: won the third game
2000/01: won the second game
1999/00: won the eighth game
1998/99: won the fifth game
1997/98: won the first game
1996/97: won the second game
1995/96: won the first game
1994/95: won the first game
1993/94: won the fourth game

Magpies v MUFC @ Old Trafford - Premier League era:

2015/16 drew 0-0
2014/15 lost 1-3 Cisse (pen)
2013/14 won 1-0 Cabaye
2012/13 lost 3-4 Perch, og(Evans), Cisse
2012/13 lost 1-2 Cisse (LC)
2011/12 drew 1-1 Ba (pen)
2010/11 lost 0-3
2008/09 drew 1-1 Martins
2007/08 lost 0-6
2006/07 lost 0-2
2005/06 lost 0-2
2004/05 lost 1-2 Ambrose
2003/04 drew 0-0
2002/03 lost 3-5 Bernard, Shearer, Bellamy
2001/02 lost 1-3 Shearer
2000/01 lost 0-2
1999/00 lost 1-5 og(Berg)
1998/99 drew 0-0
1997/98 drew 1-1 Andersson
1996/97 drew 0-0
1995/96 lost 0-2
1994/95 lost 0-2
1993/94 drew 1-1 Cole

Full record against Manchester United:

P
W
D
L
F
A
SJP
76
30
17
29
138
118
OT
77
10
21
46
82
170
League
153
40
38
75
220
288
SJP(FA)
1
0
0
1
2
3
OT/W/MS
3
0
0
3
1
7
SJP(LC)
1
1
0
0
2
0
OT
2
0
0
2
3
9
Cup
7
1
0
6
8
19
OT/W(CS)
2
0
0
2
2
8
Tot
160
41
38
81
228
307
Waffle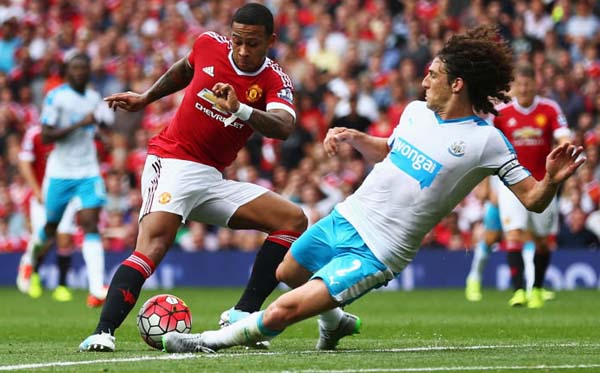 Steve McClaren's return to Old Trafford proved to be an enjoyable one as his current side battled hard, rode their luck and took a point that could even have been three from the lunchtime game.

Despite the absence of both Moussa Sissoko and Daryl Janmaat, Newcastle posted a performance that was both convincing and committed -and virtually unrecognisable from their lack-lustre display at Swansea a week earlier when we had to check to see whether John Carver was in our dugout.

The confidence and organisation sadly missing at the Liberty Stadium was evident in all areas of the pitch here; the blue and white clad visitors ultimately ending the home side's 100% record this season and halting our horrendous run of seven straight away losses stretching back to February.

Having rather overcooked himself while waiting for a call from the bench in his first two games, there was a first start for Aleksandar Mitrovic who put in an excellent shift and provided a physical presence up front that has been lacking since Andy Carroll's departure.

The Serbian did got away with one reckless early challenge but was otherwise disciplined until the closing stages when fatigue prompted him to berate officials for ignoring apparent fouls on him.

Chancel Mbemba meanwhile showed no sign of being overawed by his surroundings as he appeared at right back, while Gini Wijnaldum linked up well in midfield and Florian Thauvin came off the bench to show some good touches in his maiden outing. He crucially lost possession on a few occasions and allowed the home side to press on but thankfully nothing came of those.

The man of the match plaudits though went to a player who had made his own bow at this venue seven years ago and turned back the clock today with some well-timed interventions and assured work - welcome back Fabricio Coloccini (with a mention in dispatches for partner Steven Taylor).

In truth the Red Devils misfired and aside from an early effort rightly ruled offside, their main strike threat Wayne Rooney had little influence until dropping back deeper in the closing stages.

Newcastle's main focus was on containment and the statistics show that they failed to register a single effort on target. However Mitrovic did hit the crossbar with a fine 24th minute header from Mbemba's cross and Thauvin was just a long stud away from connecting with a Papiss Cisse cross cum shot after the visitors broke and were three on two in added time.

The Red Devils also hit the goalframe when Chris Smalling's header bounced back off the post in second half added time, Tim Krul deserving that piece of good fortune after earlier making vital blocks to preserve his first clean sheet of the campaign.

Inevitably the final 15 minutes saw Louis van Gaal's side pile on the pressure and Krul did well to deny substitute Hernandez while Steven Taylor got his frame in the way of a Rooney volley.

On a day of positives for our Head Coach, he also saw Ayoze Perez respond to his recall with an industrious display and Vurnon Anita play as well as he's ever done in almost 100 Newcastle appearances - hassling and harrying opponents with relish. Maybe McClaren's Dutch accent is more convincing than we gave him credit for....

Despite this slightly unexpected point, Newcastle dropped down a place to sixteenth and after Sunday's results sat just above the bottom three in seventeenth. The look on McClaren's face afterwards though confirmed that he'd won more than a point today.

Margins remain very fine - and had the linesman's flag stayed down on 18 minutes then this could have been very painful. But if nothing else, Newcastle began to distance themselves from the disasters of last season and restore some pride and positive energy. It's a start.


Biffa