Date: Saturday 29th August 2015, 12.45pm.
Live on BT Sports

Venue: St. James' Park

Conditions: Eventful





Newcastle United

Arsenal

0 - 1

.

Teams
Half time: Magpies 0 Gunners 0
52 mins Aaron Ramsey's effort was parried by Tim Krul, only for Alex Oxlade-Chamberlain's off-target follow-up to hit the inside of Fabricio Coloccini's leg and go in via the far post at the Gallowgate End. 0-1

Full time: Magpies 0 Gunners 1
Steve McClaren said:
"All we could do is show spirit and fight and they were magnificent. What a crowd as well. It was a harsh red card. It was more clumsy and he stood on his foot.

2I just felt early on there were too many yellows and it was a rod for the referee's back. (Moussa) Sissoko had a similar one just before, and that was given a yellow.

"I've seen it over and over (the red card) - it's come over his head, he's looking at the ball, there is no intent, there is no maliciousness, it's just coming down and he's just stamped on his foot.

"It definitely was not dangerous. It was clumsy, but I have seen plenty of clumsy challenges. Football is a contact sport, it's a physical sport and we cannot take that away.

"And I don't think any of the tackles - and don't get me wrong, the seven yellows and red card... It was not a dirty game and we've not kicked them off the park.

"They were fouls and I think the ref has reacted too harshly with every one of them - a bit too soon, a bit too rash.

"I hope I can (appeal). No doubt we will lose it. You can gauge a lot from the players and even the Arsenal players looked surprised, they weren't appealing.

"I wouldn't say it was a dirty game and we haven't kicked them off the park, there were fouls and the referee has reacted too harshly with all of them - he was rash."

Arsene Wenger commented:
"Honestly during the game, I didn't see it. But I have just seen it again on television and unfortunately it was a red card. He didn't play the ball at all.

"I think yes, the referee did all right, but Newcastle maybe wanted to stop us from playing, from moving the ball quickly to stop our game - they tried that from the start on.

"(Aleksandar) Mitrovic went a bit overboard. It was maybe a bit unlucky as well, I don't know - did he do it on purpose or not? I don't know.

"I must say that Newcastle decided from the start on to make the game quite physical, and we had to keep our nerve and not become a little bit aggressive as well, so I thought we did that well.

"You play away from home 11 against 10, you know that they play 15 yards deeper. You play 10 against nine in the final third, the crowd is behind their team - that puts pressure on the referee - and then it's very difficult. We didn't find the space.

"They defended well - they showed why they didn't concede at Manchester United as well - and in the end, we are happy to have the three points and to win 1-0."

Aleksandar Mitrovic became the second United player to be shown a red card this season following Daryl Janmaat at Swansea City and the sixth in our last 13 Premier League games (following on from Fabricio Coloccini at Everton, Moussa Sissoko at Liverpool, Mike Williamson and Janmaat at Leicester City).

Colo registered his second
own goal for the club, the first coming during a 1-3 home loss to Manchester City on Boxing Day 2010 - that one was at the Leazes End.

Looking for green shoots, we've improved on our return from last season's opening four games and also bettered the like for like results in the corresponding fixtures:

2014/15 after four games: 2 points, GD of -6
2015/16 after four games: 2 points, GD of -3

2014/15: 1 point, GD of -3
Southampton (h) lost 1-2
Swansea (a) drew 2-2
Manchester United (a) lost 1-3

Arsenal (h) lost 1-2

2015/16: 2 points, GD of -3
Southampton (h) drew 2-2
Swansea (a) lost 0-2
Manchester United (a) drew 0-0

Arsenal (h) lost 0-1

The Gunners haven't
lost on Tyneside since Nobby Solano netted to give us a 1-0 win in December 2005. Since then we've lost six and drawn the other four of the ten meetings on Barrack Road.


We're currently in their worst-ever run of form against Arsenal, losing eight games in succession since a
0-0

draw at
SJP

in August 2011.
And it's now ten meetings anywhere without a Toon victory since Andy Carroll struck at the Emirates in November 2010 to secure a
1-0 win.

Long-suffering
fans have now seen just two victories in twelve PL home games during 2015.


Papiss Cisse's substitute appearance meant that he completed a century of Premier League appearances for the Magpies (76 starts, 24 as sub, 35 goals).

Five bookings is a relatively common instance for United
in the PL era, but the only instance we can find of six yellow cards came back in November 2001 in a 1-3 loss at Fulham.

Whistler Eddie Wolstenholme disciplined Robbie Elliott, Nicos Dabizas, Laurent Robert, Andy O'Brien, Rob Lee and Alan Shearer at Craven Cottage that day.

Gunners in Toon - Premier League era:

2015/16: Lost 0-1
2014/15: Lost 1-2 Sissoko
2013/14: Lost 0-1
2012/13: Lost 0-1
2011/12: Drew 0-0
2010/11: Drew 4-4 Barton 2, Best, Tiote
2010/11: Lost 0-4 (LC)
2008/09: Lost 1-3 Martins
2007/08: Drew 1-1 S.Taylor
2006/07: Drew 0-0
2005/06: Won 1-0 Solano
2004/05: Lost 0-1
2003/04: Drew 0-0
2002/03: Drew 1-1 Robert
2001/02: Drew 1-1 Robert (FAC)
2001/02: Lost 0-2
2000/01: Drew 0-0
1999/00: Won 4-2 Speed 2, Shearer, Griffin
1998/99: Drew 1-1 Hamann
1997/98: Lost 0-1
1996/97: Lost 1-2 Shearer
1995/96: Won 2-0 Ginola, Ferdinand
1994/95: Won 1-0 Beardsley
1993/94: Won 2-0 Cole, Beardsley

Full record against Arsenal:
| | | | | | | |
| --- | --- | --- | --- | --- | --- | --- |
| | P | W | D | L | F | A |
| SJP | 82 | 40 | 19 | 23 | 143 | 94 |
| H/Em | 81 | 22 | 17 | 42 | 86 | 141 |
| League | 163 | 62 | 36 | 65 | 229 | 235 |
| SJP(FA) | 2 | 0 | 2 | 0 | 4 | 4 |
| H/Em/W/VG | 8 | 4 | 0 | 4 | 7 | 12 |
| SJP(LC) | 1 | 0 | 0 | 1 | 0 | 4 |
| H/Em | 3 | 0 | 0 | 3 | 0 | 8 |
| Cup | 14 | 4 | 2 | 8 | 11 | 28 |
| Tot | 177 | 66 | 38 | 73 | 240 | 263 |
Waffle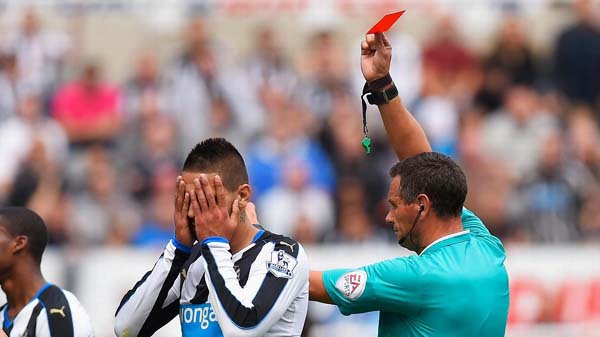 Maybe it was the return of Joey Barton to Gallowgate today that prompted a temporary outbreak of insanity, but whatever the trigger, there was definitely something in the air.

Sadly for Steve McClaren though it proved to be toxic to his hopes of rounding off a positive week at his latest club, as referee Andre Marriner took centre stage with a card-happy display that ultimately dictated the destination of the points.

However United were equally culpable as they registered numerous own goals, culminating in an unlucky deflection off Fabricio Coloccini that ultimately decided the contest in favour of Arsenal.

The major incident of the game had already happened by then though: striker Aleksandar Mitrovic continuing a brainless start to his Toon career with a dismissal that has looked inevitable since he took out a Southampton player within seconds of his competitive debut for Newcastle.

Handed he task of facing the Gunners a man short for 75 minutes, the Mission Impossible theme rather than Local Hero would have been a more appropriate soundtrack as we self-destructed and were left grateful that Arsene Wenger's side weren't in a goal grabbing mood - reducing Olivier Giroud's chances of continuing his scoring run against us by giving him just a 20 minute runout.

Unless an optimistic appeal is lodged by United, the Serbian will now miss league games against West Ham and Watford plus the Capital One Cup visit of Sheffield Wednesday, returning for the Chelsea home game. And even if an outbreak of clemency saw Mitrovic reprieved, then severe doubts over his temperament have been raised - and noted by the rest of the Premier League.

Marriner was only too keen to reach for his cards, while Francis Coquelin contributed massively to a card count of one red and six yellows - the Frenchman rolling and tumbling in a manner reminiscent of Steven Taylor but receiving every encouragement to do so from the referee's reaction. There was more squealing here today than in the whole of the Women's World Cup Final.

An ill-disciplined start by the home side saw Moussa Sissoko booked inside the first three minutes for leaving his foot in on Nacho Monreal. But the referee looked to be unsighted when Florian Thauvin clumsily challenged Hector Bellerin in the box and failed to award a penalty.

Minutes later the game's turning point came when Mitrovic scraped his studs down the shin of Coquelin and Marriner swiftly reached for his back pocket to show the striker a straight red card.

Bookings for Chancel Mbemba and Thauvin swiftly followed as Marriner threatened to join Trelford Mills and Brian Coddington as Tyneside's least favourite officials.

Theo Walcott should have put the Gunners ahead when he followed up a parried shot from Alexis Sanchez but skied his close range effort into the Leazes End when it seemed almost impossible not to hit the target. Walcott also failed to convert a near post cross as the ten men made it to the break still on level terms, but having only managed one off-target shot from Sissoko.

Vurnon Anita was next into the book after receiving a series of warnings before the break and when an Arsenal player was finally punished, Marriner also showed Gini Wijnaldum a card - presumably for passing comment.

Minutes later Arsenal took the lead and although United defended resolutely from then on and brought on Siem de Jong, Papiss Cisse and Ayoze Perez, we failed to register a single shot on target for the second successive game - Petr Cech not even having a corner to test him.

Krul pulled off some excellent stops, notably from Giroud who should have scored to finish off the game in added time but saw his limp lob juggled and caught by the United 'keeper.

Some free-kick opportunities were wasted by the black and whites but a famous comeback never seemed likely as our winless start to the Premier League season was extended to four games - it took eight attempts last season to register a maximum point return.

As was the case a week earlier, there was no lack of spirit and commitment from the team, with home fans continuing to offer support - acknowledging if nothing else that there has been an improvement in our play from last despite results in the opening weeks suggesting otherwise.

Keeping 11 men on the park though is becoming a major concern for McClaren, whose side currently have the worst red card record in the division and are also collecting yellow cards at a rate of knots.

The antics may be different - lunging and hoofing rather than hockling and elbowing - but the effect on the side is the same as the self-inflicted absences of fellow striker Papiss Cisse last season.

And having confessed to learning nothing about his team in the loss at Swansea, McClaren remains no wiser about how his side are shaping up in an attacking sense after the Manchester United and Arsenal displays.

The defeat and Saturday's results put us third from bottom, with Southampton's resounding win over Norwich on Sunday leaving only the mackems below us. And our Monday night TV billing when hostilities resume in a fortnight could see us head down Green Street bottom of the pile.

Biffa