Date: Monday 14th September 2015, 8.00pm.
Live on Sky Sports

Venue: Boleyn Ground

Conditions: uncoordinated

Admission:

£

25 due to a reciprocal pricing agreement between the clubs. The tickets were printed with £45 on (last season: £43)

Programme: £3.50 - like NUFC, West Ham's current cover designs are based on previous seasons - this from the 1-8 loss here in 1986.






West Ham United

Newcastle United

2 - 0

Teams
9 mins Daryl Janmaat's throw in to Vurnon Anita just outside the Newcastle box was intercepted by Mark Noble. After a neat exchange of passes with Diafra Sakho that drew the entire visiting back line into their own box, Dimitri Payet had acres of space in which to find the net from the edge of the box with a clinical right-footed finish in front of the away section.

(The above was compiled from TV footage as your correspondent had an obstructed view - being on nearby Tudor Road when he heard the roar of the crowd. Thank you, Transport for London). 0-1

Half time: Hammers 1 Magpies 0
48 mins An awful attempt at free-kick into the box from Florian Thauvin was easily cleared upfield, with Victor Moses setting off in pursuit down the left flank. Reaching the ball on the halfway line, his first touch was a forward header that took him away from Anita and left Massadio Haidara to cover.

Debutant Moses left Haidara on his derriere as he reached the box, hitting a shot that bounced back off the bar. With another home player lying in wait, Thauvin's former Marseille colleague Payet arrived to knock the ball home from eight yards, past Krul and Anita on the line 0-2
Full time: Hammers 2 Magpies 0

Steve McClaren said:
"We can make excuses and say the preparation wasn't ideal, but it's no excuse. We felt the preparation wasn't long enough and asked the referee to put it back.

"I've been in football long enough, and it's usually permitted. It wasn't. We had to deal with that. I think it was the Premier League that made that call.

"We said before 'deal with it' but maybe we didn't deal with it. It is a wake up call for everyone. In this Premier League you need to be 100% and if you aren't you get beat.

"But we didn't do tonight what we have done for the previous four games in terms of organisation, discipline and being hard to beat, we lacked that.
We shot ourselves in the foot, especially for
the second goal.

"It's a learning process and we've learned a lot tonight. You don't like going through nights like tonight, it's painful, but sometimes you have to.


"
Our platform has been hard to beat, disciplined, and this was a wake up call. If we are not right we will get beat. I am not blaming the coach journey, you have to deal with that and we didn't deal with it very well.
"This is a journey and it is two steps forward one step back, today was two or three steps back. Saturday is very important for us. Our final ball was poor.
"We did not do what we have been doing for the first four games when we looked organised, disciplined, won our duels, competed. (He's obviously forgotten the Swansea game).

"Could we come away and create chances tonight? Our final ball wasn't of the quality of West Ham which is why we lost. It is in the heart and the head and we need a reaction.
"You need these games, they hurt like mad, but you need them to get the message across.We've got talented players.

"It's a process, this is normal. These type of nights and games, you don't like going through them. It's painful, but sometimes you have to learn about your individuals and your team. We have to learn and move on, and make sure we give a reaction on Saturday.

"We don't want them (the players) to do that (be over anxious), they're talented players, they've got ability, they've got quality. That's what we've got. They've shown that for four games, they haven't tonight. They've been told it's disappointing, they're disappointed."


Slaven Bilic commented:
"They were late, and we were expecting the game to be put back for 15 minutes. I think they had enough time. I don't know, to be fair, but... we didn't say, 'Go at them from the start'.

"I mean, we said (that), but we would have even said that if they had (stayed) a night at Upton Park last night. It would be the same plan.

"It is very important for him (Andy Carroll). It is very important for the club. We are all delighted - it's almost like signing a new player. It was a really good night.

"We fully deserved the three points, we were better from the start and we scored at the right time. Newcastle put us under a bit of pressure as we were defending too deep. In the second half I was proud, because we were solid, good at keeping the ball and great at counter attacks.

"It's small proof that we really did well in the transfer window. (Dimitri) Payet is a player I wanted from the start - I've known him for a long time, he is one of those players who is not only a great player who scores goals and makes goals, but he also makes the players around him play better.

"I didn't set targets in terms of finishing in the top ten; our target is that we want a good team that can defend with numbers and can attack with numbers, a team who can keep the ball.

"If we succeed in that that should give us more points. But I don't know if we will be fifth, or fifteenth."

Now just one point and one goal (Emmanuel Riviere v QPR) from our last nine away trips.

In 2015 Newcastle have recorded just three wins in 24 Premier League fixtures and it's 402 minutes since our last goal, when Georginio Wijnaldum headed in against Southampton.

Magpies @ Upton Park: Premier Years:
2015/16: Lost 0-2
2014/15: Lost 0-1
2013/14: Won 3-1 Cabaye 2, Remy
2012/13: Drew 0-0
2010/11: Won 2-1 Nolan, Carroll
2008/09: Lost 1-3 Owen
2007/08: Drew 2-2 Martins, Geremi
2006/07: Won 2-0 Duff, Martins
2005/06: Won 4-2 Owen 3, Shearer
2002/03: Drew 2-2 Bellamy, Jenas
2001/02: Lost 0-3
2000/01: Lost 0-1
1999/00: Lost 1-2 Speed
1998/99: Lost 0-2
1997/98: Won 1-0 Barnes
1996/97: Drew 0-0
1995/96: Lost 0-2
1994/95: Won 3-1 Lee, Mathie, OG
1993/94: Won 4-2 Cole, Lee 2, Mathie
Total record against West Ham:

| | | | | | | |
| --- | --- | --- | --- | --- | --- | --- |
| | P | W | D | L | F | A |
| SJP | 61 | 32 | 20 | 9 | 117 | 63 |
| BG | 62 | 16 | 15 | 31 | 68 | 106 |
| League | 123 | 48 | 35 | 40 | 185 | 169 |
| SJP(FA) | 3 | 3 | 0 | 0 | 7 | 3 |
| BG | 2 | 0 | 2 | 0 | 2 | 2 |
| Cup | 5 | 3 | 2 | 0 | 9 | 5 |
| Tot | 128 | 51 | 37 | 40 | 194 | 174 |
Season-opening winless runs (PL only):
2015/16: no win in five games
2014/15: won the eighth game
2013/14: won the third game
2012/13: won the first game
2011/12: won the second game
2010/11: won the second game
2008/09: won the second game
2007/08: won the first game
2006/07: won the first game
2005/06: won the sixth game
2004/05: won the fifth game
2003/04: won the seventh game
2002/03: won the first game
2001/02: won the third game
2000/01: won the second game
1999/00: won the eighth game
1998/99: won the fifth game
1997/98: won the first game
1996/97: won the second game
1995/96: won the first game
1994/95: won the first game
1993/94: won the fourth game
NUFC games on a Monday night - last 10:

2011/12: Arsenal (a) lost 1-2
2012/13: Everton (a) drew 2-2
2012/13: Wigan (h) won 3-0
2012/13: Fulham (a) lost 1-2
2013/14: Manchester City (a) lost 0-4
2013/14: Everton (a) lost 2-3
2013/14: Arsenal (a) lost 0-3
2014/15: Stoke City (a) lost 0-1
2014/15: Liverpool (a) lost 0-2
2015/16: West Ham (a) lost 0-2

(NB: bank holiday Monday 3pm games excluded)

Last Stand - farewell visits to PL stadia:

2015/16 Boleyn Ground (West Ham) lost 0-2
2005/06 Highbury (Arsenal) lost 0-2
2002/03 Maine Road (Manchester City) lost 0-1
2001/02 Leicester City (Filbert Street) drew 0-0
2000/01 Southampton (The Dell) lost 0-2
2000/01 Coventry City (Highfield Road) won 2-0
1996/97 Baseball Ground (Derby County) won 1-0
1996/97 Roker Park (mackems) won 2-1
1995/96 Burnden Park (Bolton) won 3-1

Waffle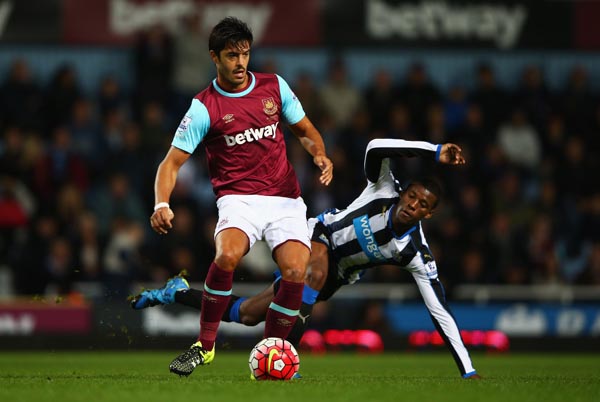 Five games in then and evidence in abundance that the task in hand is more root and branch than mere pruning and trimming, as the country's lowest scorers slipped to the bottom of the top flight.

Seven of the starting lineup that secured Newcastle's last league win in May started tonight, but they encountered a West Ham side with just three survivors - and rather more commitment and spirit than was evident in the away dressing room at Gallowgate four months ago.

In many ways - not just the scoreline - the boot was on the other foot for our final scheduled visit to the Boleyn Ground, as our sloppy and unfocused performance was duly punished. The boots in question may have seemed to be of the steel-toed variety given the apparent damage caused to home players, but in terms of what we achieved as an attacking force, it was a soft shoe shuffle.

A lack of care and a failure to take responsibility were the hallmarks of a beaten West Ham team in the last meeting, but that coincided with the end of the Allardyce era and nothing to play for.

What then are we to make of our much-vaunted new coaching collective, who have so far failed to inspire their new charges to mastering the trick of scoring goals or stopping them?

Without absolving McClaren, Simpson, Cathro et al, it's tempting to look at the hollow displays of "big" players like Moussa Sissoko and Fabricio Coloccini, and conclude that they are repeating the feat of undermining Alan Pardew and John Carver in the latter part of the last two seasons.

Certainly Sissoko has an arrogance totally out of keeping with his contribution and value to the team; a notable absence of blocks, tackles, passes, headers, crosses and shots giving a lie to grandiose claims of Champions League suitability.

Something is seriously awry when your main goal threat is playing at right back, but Janmaat has more of a claim to the right midfield spot - at least making an attempt to get into the final third.

On easy street with his national team (hosting Euro 2016 meaning no qualifiers and a strong bond with the coach), does a situation reminiscent of Michael Owen see Sissoko less concerned with what happens next May in comparison to what begins in June?

First from the field on Monday, he had to be ushered back out to rejoin his colleagues, not even having the good grace to look gutted about losing as he glad-handed members of the opposition.

And with Florian Thauvin still finding his feet in similar fashion to his predecessor Yohan Cabaye (who took until late October in his first season to silence doubters), the unproductive central midfield pairing of Jack Colback and Vurnon Anita failed to shield the defence or prompt attacks.

All that adds up to a big fat zero in terms of goalscoring possibility - Papiss Cisse again ineffective as a lone striker without support but hardly aiding his cause in terms of movement and position. It's hard not to think that a lack of concentration belies the fact he just doesn't want to be here.

Georginio Wijnaldum meanwhile played - and had the demeanour of - someone who just starting to realise what he's let himself in for, having been persuaded to swap the top of the Dutch League for the bottom of its English equivalent.

"Het is niet zoals het was in de brochure" as Kevin Keegan almost once said in 1992.

Before we go totally off the deep end though in comparing and contrasting these two Uniteds, it's worth recalling that West Ham's Europa League involvement meant they were playing competitive games of a sort before we kicked a ball of pre-season.

Bilic's mob have also been inconsistent and remain a work in progress - nonetheless, his arrival appears to have had a positive impact on his team. Sadly for us, the lack of pace and invention allied to naivety in what has to be called cheating have remained constant despite a managerial change, along with a lack of basic passing ability and our old friend slapstick set pieces.

It's easy to overlook how much of an easy ride we gave the Hammers here - as unthreatening as were at Swansea, although we at least had the partial excuse of being a man short at the Liberty.

Two goals from Dimitri Payet secured a comfortable victory against a side whose first priority - and sole game plan - was avoiding defeat. As a result, indifferent performances came from disinterested players and the game was effectively over in 10 minutes. If that's our approach at Upton Park, it doesn't bear thinking about what delights are in store for us at the Etihad? two goalkeepers?

There were few visiting players that enhanced their reputations, including substitutes Ayoze Perez, Siem de Jong and Rolando Aarons who all showed some neat touches but rarely looked like giving their side any late hope. It remains to be seen whether any or all of that trio can force their way into the starting lineup for Saturday's must-win home encounter with Watford.

The visit of the Hornets becomes a massive test of McClaren's managerial credentials, not only in organisational terms but also motivating his troops against a side who come north having broken their own winless run.

Anything less than three points will mean that subsequent games against Chelsea and Manchester City could leave us firmly rooted in the relegation zone as optimism caused by new arrivals rapidly dissipates. Defeat would also sadly render the League Cup superfluous to our season if one looks in purely pragmatic terms.

PS: Hammers fan Billy Bragg was doubtless in his Dorset dacha rather than in E13, but to dip into his song book, it's fair to say that Newcastle fans are still waiting for the great leap forward....

Here's the Bard of Barking showing his colours on Monday, but rather than gloating over the win, he's actually promoting a plea for football fans to donate unwanted team scarves, hats and gloves to migrants/refugees in mainland Europe ahead of the winter. Find more details online here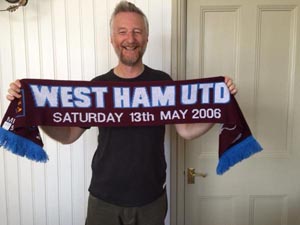 Biffa