Date: Saturday 19th September 2015, 3.00pm.

Venue: St. James' Park

Conditions: Excruciating





Newcastle United

Watford

1 - 2

.

Teams
10 mins Massadio Haidara lost the ball down deep into United territory down Watford's right and some swift (and unchallenged) passing fed Odion Ighalo on the left of the box. He took a touch before firing past Tim Krul with Daryl Janmaat's half-hearted block proving ineffective. 0-1

28 mins Troy Deeney's through-ball split a static home defence and Ighalo ran through to round the stranded Krul and finish, Fabricio Coloccini in particular looking totally nonplussed. 0-2

Half time: Magpies 0 Hornets 2
62 mins Daryl Janmaat ran on to Florian Thauvin's ball and exchanged passes with Moussa Sissoko before rifling the ball inside the far post at the Gallowgate End 1-2

Full time: Magpies 1 Hornets 2
Whiplash victim
Steve McClaren said: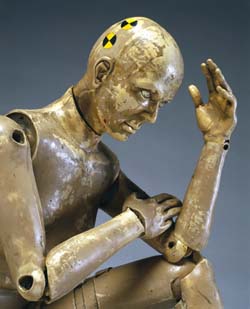 "No-one said this job was going to be easy, we didn't think it would be. I am trying to change a lot and being here two and a half months, it's very difficult to change things quickly.

"Certainly, it involves hard work and sticking together and keeping calm and that is what we have to do. It is a long season, and we have come in and in the last week learned a lot about our team.

"There are a lot of things - mentality, getting a bit more belief, so there are things to work on. Things we knew before and now have just been confirmed.

"We will lick our wounds and work hard on the training field as normal. There are a lot of things to do, there are things wrong but there are things right.

"I have seen enough and know enough. I know this Premier League to know what it takes.

"We have to find a way to win - after six games thatís what we are trying to do.

"You are where you deserve to be. Thatís where we are. I said judge us after ten games and I would still say the same now. The next two are tough but this is a tough job.
ďThere was no way we were thinking we could come in and turn the page and things would change. We are changing a lot of things and we have had good, bad and indifferent so far. I said it was hard and it is.
ďI can understand the fansí reactions and I think the majority understand. Itís not a crisis, itís not a time to panic. We wouldnít do that anyway no matter what stage we were at because we have too much experience to know that. We have to stick together.
ďWe will get a lot of criticism, not just from media but from fans. We have to be calm and together. I know, they know, there is a lot to do.

ďWe have to look forward to Wednesday and want to play in that Capital One Cup tie, the players should want to play and we will go again then in to Chelsea and Man City in the league.

"Itís a challenge. Itís a great club, huge club. When you are trying to turn things round itís never easy.

"Can we be free-flowing? Can we be this or that? What identity have we got?
"And we are still searching for the best team. We are also still searching for the best identity within the personnel we have got here.
"Itís about results, and we have to try to find a way of playing. We have to be pragmatic.

"I donít think we have an identity yet. I have seen enough in those first four games Ė the attitude and the spirit. At times, we were a little bit naive in terms of losing our shape and wanting to win things and do things.

"Thereís enough in that dressing room. We have seen enough not to panic and to stay calm. There is no crisis, but only we can turn it round. We must keep working.

"Papiss (Cisse) is our only available, recognised striker Ė I know Ayoze (Perez) can play there, too.

"Strikers need service and we didn't give him any at West Ham. I thought we did here, and even in the second half we had chances, but we are simply not taking them.

"There is no problem with Papiss, we just felt we had to change something. He was unfortunate today. He's here, and he's part of the squad, and he's a player who can score.

"He needs service for that, and we had some crosses in the first half and some opportunities which we'll look at, but really the game, for us, was too open."

Speaking before the game, McClaren said:

"In the process of a new team, and new players in the Premier League, and in trying to change things around in a football club, during that process it is a little bit like a car crash.
"You know it is going to happen, and you canít do anything. You just wait for it to happen".

Quique Sanchez Flores (who from a distance looked like Hugh Laurie) commented about two-goal Ighalo:
"He took a decision two months ago to stay here at Watford - he had offers from other teams.

"He decided to stay here with us, so it's clever because he saw something in the football that is good for him. He is involved a lot with the team in training during the week, so for us, he is a very important player.

"But I like to talk about the full squad because they are fighting like heroes every single week, they are playing really, really well. They try to improve every time and give the best they have, so it's not only one man.

"It was nice for Ighalo, but it was a very good performance from the whole squad.

"I am really happy with the performance of the players. I think we deserved the result. We respect Newcastle - they tried to play well, strong and tried to give their best, but I am really happy with the performance."


Hornets in Toon - all time:

2015/16 lost 1-2 Janmaat
2009/10 won 2-0 Lovenkrands, Pancrate
2006/07 won 2-1 Martins (2)
1999/00 won 1-0 Gallacher
1992/93 won 2-0 Peacock, Lee
1991/92 drew 2-2 Hunt, Clark
1990/91 won 1-0 Quinn(pen)
1989/90 won 2-1 Quinn, Gallacher
1988/89 drew 0-0 (FACR)
1988/89 drew 0-0 (FAC)
1987/88 won 3-0 O'Neill, Wharton, Tinnion
1986/87 drew 2-2 Anderson, McDonald
1985/86 drew 1-1 Gascoigne
1984/85 won 3-1 Megson, Cunningham, Reilly
1981/82 lost 0-1
1980/81 won 2-1 Hibbitt, Shinton
1979/80 lost 0-2
1931/32 won 5-0 Allen 3, Boyd, Richardson (FAC)
Full record v Watford:
| | | | | | | |
| --- | --- | --- | --- | --- | --- | --- |
| | P | W | D | L | F | A |
| SJP | 15 | 9 | 3 | 3 | 24 | 14 |
| VR | 14 | 3 | 7 | 4 | 16 | 20 |
| League | 29 | 12 | 10 | 7 | 40 | 34 |
| SJP(FA) | 3 | 1 | 2 | 0 | 5 | 0 |
| VR | 3 | 1 | 1 | 1 | 3 | 3 |
| SJP(LC) | 0 | 0 | 0 | 0 | 0 | 0 |
| VR | 2 | 0 | 1 | 1 | 3 | 4 |
| Cup | 8 | 2 | 4 | 2 | 11 | 7 |
| Tot | 37 | 14 | 14 | 9 | 51 | 41 |
Newcastle's awful home record in 2015 has seen them take just 10 points from a possible 39, thanks to four draws and wins over Aston Villa and West Ham.

Daryl Janmaat's second
Premier League

goal
halt

ed
our
PL scoreless run after 464 minutes.
He's now netted three times for the Magpies, with all three at the Gallowgate End (v Crystal Palace in Aug 2014, v Northampton Town in the Capital One Cup in August 2015 and today)


Season-opening winless runs (PL only):
2015/16: no win in six games
2014/15: won the eighth game
2013/14: won the third game
2012/13: won the first game
2011/12: won the second game
2010/11: won the second game
2008/09: won the second game
2007/08: won the first game
2006/07: won the first game
2005/06: won the sixth game
2004/05: won the fifth game
2003/04: won the seventh game
2002/03: won the first game
2001/02: won the third game
2000/01: won the second game
1999/00: won the eighth game
1998/99: won the fifth game
1997/98: won the first game
1996/97: won the second game
1995/96: won the first game
1994/95: won the first game
1993/94: won the fourth game
Waffle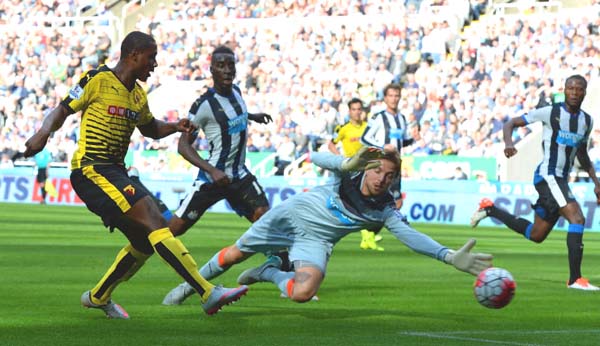 Having compared his new side's season thus far to a car crash, Steve McClaren looked on in horror as his side caused another pile up at Gallowgate on Saturday.

A Newcastle side lacking confidence, ideas, belief and energy started where they'd left off at West Ham by offering only token resistance to their opponents. The bloke behind me summed it up aptly, as "total sh*t".

Breaking their own seasonal duck by beating Swansea last week, the Hornets team seized the gifts on offer to seal their first win on Tyneside in fourteen attempts stretching back to 1981.

The outcome was well on the way to being decided before the half hour mark, as Nigerian forward Odion Ighalo twice shot beyond Tim Krul in the Gallowgate End goal - aided by some ponderous defending.

Dropping Vurnon Anita to the bench in favour of Ayoze Perez brought no discernible improvement to a United side without a goal in their previous four league games.

Aside from a Moussa Sissoko volley that flew into the Leazes Lower though, Newcastle were unable to make any headway and looked in vain for inspiration from either Florian Thauvin or Georginio Wijnaldum.

And anyone looking for evidence of a return to form for Papiss Cisse will have had to be content with one shot wide of the goal from a good position - plus various examples of his inability to understand what offside is.

Almost twelve months to the day, our number 9 had struck twice to deny Hull City victory here after taking a two goal lead, sadly though that looks an age ago.

The introduction of Siem De Jong for Cisse at half time brought slightly more poise to our midfield and the ball started to stick at the feet of Wijnaldum as United belatedly spent some time in the opposition third.

That also coincided with a welcome surge of effort from Sissoko, who combined with Daryl Janmaat down the United right to good effect. The grass was allowed to grow unmolested on the opposite flank....

That French/Dutch combination saw Janmaat net on 62 minutes, but that goal failing to provide the springboard needed to salvage a point despite the late (make that overly late) introduction of Rolando Aarons, who came on in a virtual left wing back role.

Watford themselves soaked up that pressure before looking to poach a third in final stages, before saluting their exultant away support at full time - deserved winners after showing far greater levels of guts, organisation, character and imagination.

The displays of Janmaat, Chancel Mbemba and Jack Colback showed no lack of effort, but the whole left flank was a disaster zone in defence and attack - a casual observer in Level Seven concluding that Remy Cabella was still here rather than back in France. And when your full backs are a major source of attacks, it's a given that others have to fill the gaps they leave - surely?

This latest failure apparently came after a week of specialised training in the art of attacking. You wouldn't have known it from the mind-numbingly awful start to the game - lacking any sort of urgency or intensity. It's almost a waste of a sentence to report that our set pieces were pathetic - people take that for granted.

If the coaching had concentrated on forward play, then it certainly explained the inept defending that allowed Ighalo his brace - poor marking and gifting possession enabling the spirited visitors to quickly improve on a record of just one goal in their previous four outings.

Ahead of games against Chelsea and then Manchester City this latest defeat leaves us in danger of being cast adrift at the bottom of the league with any pre-season optimism firmly extinguished.

The only small consolation was that a 0-2 loss for the mackems at Bournemouth took them below us on goal difference. As a neutral observer said recently though, Newcastle and sunderland fans laugh at each other, while the rest of the league laughs at them both...

Nothing has changed, nothing has been learned, the lack of leadership remains glaringly evident, the absence of enthusiasm and interest mystifying. Losing is one thing, being beaten with barely a whimper quite another.

Don't leave this all at McClaren's door though - the rot that had set in before he arrived is still evident. Blame those 'gutless foreigners', but also blame the Geordie super scout / Director of Football and blame the Geordie motivational guru (is Colback's improvement due to Steve Black, because he's the only active squad member who listens or understands him?)

The pundits of course (Garth Crooks the latest) claim that it's all due to the unrealistic expectations of Newcastle fans, who dare to express discontent when presented yet again with a rabble laughingly called a team who lack basic skills and a shred of integrity.

This isn't a bad start, it's a continuation of the dross that passed for football previously - and that's what is getting people wound up before the clocks go back.

Such is the level of disunity in the dressing room that we've even been denied the short term uplift in results that the arrival of a new coach routinely brings.

If the club do one thing this week, let it be working with Aleksandar Mitrovic on and off the field ahead of his return to the squad for Saturday's game - learn how to provide him with service and get it into his head how to stay on the pitch. He may be our only hope.

"Judge my side after 10 games" said our head coach - meaning that a verdict is due after this lot:

Sat 25th September Chelsea (h)
Sat 3rd October Manchester City (a)
Sun 18th October Norwich City (h)
Sun 25th October mackems (a)

In fairness though, it doesn't really who we play and where we play them; every other team in the league will relish facing us in our current pitiful state.

Biffa