Date: Wednesday 23rd September 2015, 7.45pm.

Venue: St. James' Park

Conditions: Indescribably dreadful

Admission:

£

15







Newcastle United

Sheffield Wednesday

0 - 1

.

Teams
Half time: Magpies 0 Owls 0
76 mins A hopeful punt forward was allowed to be brought down unchallenged in the box and laid off to midfielder Lewis McGugan. His 25-yard effort took a deflection that saw the ball squirm past Tim Krul in the Leazes End goal who should have saved it comfortably. 0-1
Full time: Magpies 0 Owls 1
Steve McClaren said after the game:

"Is the job harder than I thought? Absolutely. Without a doubt. People say it's a crisis and it's getting very close to it. We deserve to be criticised.

"I've been in football too long to be embarrassed. I'm angry, disappointed. The longer the game went on there was a nervousness around the stadium, on the pitch.

"Things like that can happen in football, we said that beforehand, and yes, it's a very disappointing result and evening for everybody.


"The booing? Deservedly so. That is what happens when you lose games you should win, and donít score goals. You have to ride the lot, deservedly so. No excuses. The criticism since West Ham has affected us. Confidence is draining out and we canít have that. We have to draw a line in the sand.


"We have said to the players, 'You can't feel sorry for yourselves. You have got to come out on Saturday and be a fighter or a victim', and it's one or the other, and we can only have fighters on there now.

"We say how far do we have to go before we turn it around, because the players are capable of doing that. We can't talk about it, we have to do it.

"There's not a lot you can say. There are no excuses - back in tomorrow morning, Chelsea Saturday, it's the fighting mentality we need.
"We were solid and looking for that quality that would open things up and get us that first goal, but it didn't come. We are still trying - that's the story of our season so far.

"We are getting in the areas but there's not enough scoring and that's creating a nervousness and that's getting through to the players and the fans and that's affecting our performances."
"Whatever I say, it won't be enough".


Carlos Carvalhal said:

"We played very solid, very compact. Tactically, my players were 200 per cent, they played absolutely fantastically. They did exactly what we planned for this match.

"We blocked the way that Newcastle usually play to attack and at the same time, we tried to create problems for the Newcastle defence. We created some problems during the match for the defensive part of the Newcastle team.

"We could have scored a second goal - we had a clear chance to score a second goal - but I think 1-0 is a score that I accept and I think is the correct score because we worked a lot.

"Newcastle had more of the ball, we know, but we picked these players to show a different face in relation to the last three matches. We tried to play more compact, block all the ways for Newcastle and tried with four very quick attackers to disturb Newcastle, so I am very happy, of course.

"I am very happy with the players. They were perfect in the strategy that we brought top this match. They gave 100 per cent to the team and to our strategy, so I am very happy with them.

"I recognise a very good coach, I recognise very good players. It's very easy to recognise - that's why our victory means much more than a normal victory, because we know we beat a very good team with a very good coach in their stadium, so of course we are very happy about that."




United exited from the League Cup at the hands of a lower league side for the first time since October 2003, when West Bromwich Albion recorded a 2-1 win at SJP in a Third Round tie.

NUFC - last 10 home League Cup ties:

2015/16 Sheffield Wednesday lost 0-1 (33,986)
2013/14 Manchester City lost (33,846)
2013/14 Leeds won 2-0 (36,220)
2010/11 Arsenal lost 0-4 (33,157)
2009/10 Huddersfield Town won 4-3 (23,815)
2008/09 Spurs lost 1-2 (20,577)
2007/08 Barnsley won 2-0 (30,523)
2006/07 Chelsea lost 0-1 (37,406)
2006/07 Portsmouth won 3-0 (25,028)
2004/05 Chelsea lost 0-2 (38,055)

There was a first competitive outing for right back Kevin Mbabu, a Swiss-born 20 year old who joined the club from Servette in January 2013. His debut in senior football came for Servette in September 2012, injury seeing him to the U21 side during his loan spell at Ibrox last season.

Owls in Toon - last 20:

2015/16 lost 0-1
2009/10 won 1-0 Ameobi
1999/00 won 8-0 Shearer 5, Hughes, Speed, Dyer
1998/99 drew 1-1 Dalglish
1997/98 won 2-1 Asprilla 2
1996/97 lost 1-2 Shearer
1995/96 won 2-0 Ferdinand, Clark
1994/95 won 2-1 Watson, Cole
1993/94 won 4-2 Cole 2, Mathie, Allen
1990/91 won 1-0 Brock
1988/89 lost 1-3 Mirandinha
1987/88 drew 2-2 Goddard 2
1986/87 lost 2-3 Allon, Scott
1985/86 won 4-1 Stephenson, Gascoigne, Beardsley, Whitehurst
1984/85 won 2-1 Beardsley, Wharton
1983/84 lost 0-1
1982/83 won 2-1 Varadi, OG
1981/82 won 1-0 Varadi
1980/81 won 2-1 Waddle 2 (FAC)
1980/81 won 1-0 Shinton

Full record v Sheff Wed:
| | | | | | | |
| --- | --- | --- | --- | --- | --- | --- |
| | P | W | D | L | F | A |
| SJP | 60 | 39 | 9 | 12 | 128 | 66 |
| H | 60 | 13 | 21 | 26 | 63 | 90 |
| League | 120 | 52 | 30 | 38 | 191 | 156 |
| SJP(FA) | 3 | 2 | 0 | 1 | 6 | 4 |
| H/HP | 4 | 3 | 1 | 0 | 7 | 3 |
| SJP(LC) | 1 | 0 | 0 | 1 | 0 | 1 |
| H | 0 | 0 | 0 | 0 | 0 | 0 |
| Cup | 8 | 5 | 1 | 2 | 13 | 8 |
| Tot | 128 | 57 | 31 | 40 | 204 | 164 |
Waffle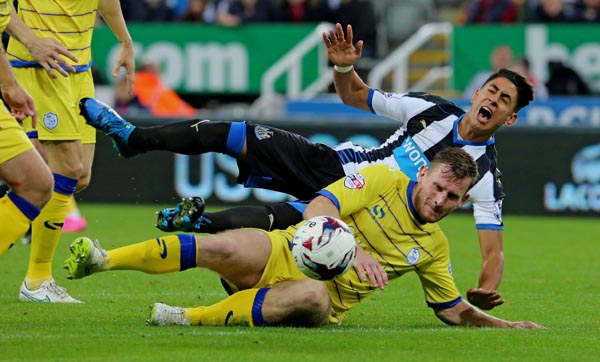 Diabolical, deplorable, dreadful, shocking, pitiful, pathetic, embarrassing, unbelievable, dismal, feeble, useless, awful, appalling, abysmal, shameful, astonishing, staggering, atrocious, inexcusable.

That was the opening paragraph of our match report for a 0-1 League Cup loss at Wigan Athletic back in November 2005 under Graeme Souness. We hoped we'd never have to revisit it again....

This time it wasn't 5,000 travelling fans who were shown utter contempt by United though; instead the victims were around 29,000 home supporters who by their presence more than demonstrated the "blind faith" called for by Steve McClaren in his pre-match platitudes.

Unfortunately the "team" on the pitch heeded that call for obscured vision, the nearest they came to any sort of discernible tactic aimed at depositing the ball in the opposition net for 85 minutes.

Having failed to find the target against both Manchester United and Arsenal already this season, a similarly arid evening had unfolded before Gini Wijnaldum's powder-puff effort almost reached the visiting goalkeeper - a clear case of the blind leading the blind.

The Owls fielded a shadow Championship XI including a rookie teenage goalkeeper while McClaren used many of his Premier League first team squad in a bemusing 4-6-0 line-up - because cups are now a priority allegedly.

In the absence of an available forward, Siem de Jong was played in what may be described as a "false number nine" role, although our description is unprintable. Put it this way, Shola Ameobi would have boosted us tonight.

That masterstroke dispelled any notion that the head coach has retained any tactical nous from previous high-profile roles, while raising more questions about a flawed recruitment policy and the evaporating mood in the dressing room (Papiss Cisse apparently has a bad back - McClaren can sympathise, with his bad side).

The malaise has spread to his players, Gabriel Obertan reprising all that's been wrong with his career here in the last four years, Moussa Sissoko in complete meltdown and Vurnon Anita trying to initiate attacks in the face of a completely static set of players in front of him.

Of Florian Thauvin and Georginio Wijnaldum meanwhile, we're awaiting French and Dutch translations of the word hapless. Talk of being played out of position is valid, but to be devoid of basic skills raises severe questions as to their suitability for where we are.

The match-winning strike was a fitting comedy of errors as a hopeful punt forward was allowed to be brought down unchallenged in the box and laid off to midfielder Lewis McGugan - playing his first game for a month. His 25-yard effort took a deflection that saw the ball squirm past Tim Krul in the Leazes End goal who should have saved it comfortably.

Worse should have followed a few minutes later but Lucas Joao's header hit the bar and then somehow substitute Sergiu Bus smashed the rebound against the goal frame with the goal gaping.

De Jong screwed a 91st minute shot wide and then wafted a cross from debutant Kevin Mbabu over the bar as United created more in added time than they had in the previous 90 minutes. But it was far too little too late as Wednesday hung on for a deserved win in a banana-coloured strip that stirred memories of Gary Shelton scoring at the same end of the ground almost thirty years ago.

For McClaren and his alleged coaches, it's a second outbreak of yellow fever on Barrack Road in a week - with self doubt and self pity at epidemic proportions. If the Watford result was one of our worst in the Premier League then this has to be one of the most shocking in the League Cup - any cup - and for them to come just four days apart is a diabolical double whammy.

For all the hype, the brave words (and emails), this new era is uncannily like the old one; a lack of belief in the stands mirrored by lack of belief in the dressing room. And as for leadership, the labour party are more united.

It seems inevitable that Chelsea and Manchester City will feast on our carcass before the trip to the dark place, when that "blind faith" may translate itself into following lemming-like over the cliffs at Marsden...

The players are doubtless mystified as to what the big deal is and why people are being so horrible to them. It's because the fans still care, unllike these expensively imported and rewarded mercenaries with no soul, no wit and no conscience.

Highly rated only by themselves, legends in their own minds and apparently impervious to instruction and encouragement. They've got one thing right though, sauntering round in tuxedos - the preferred dress code of the rat pack....

PS: Returning to the above rant 48 hours later, there's not really anything else to add - or tone down. This was an absolutely scandalous non-performance, a real blood boiler to endure.

On a purely practical level though, not having the task of facing Arsenal here in late October does at least mean that we have a week between the mackem away game and the visit of Stoke City - while the Potters head to Tyneside after home games against Watford and Chelsea. That could theoretically tip the balance slightly in our favour, assuming we don't need snookers by then....

Biffa