Date: Saturday 26th September 2015, 5.30pm. Live on Sky Sports

Venue: St. James' Park

Conditions: resurgent(ish)





Newcastle United

Chelsea

2 - 2

.

Teams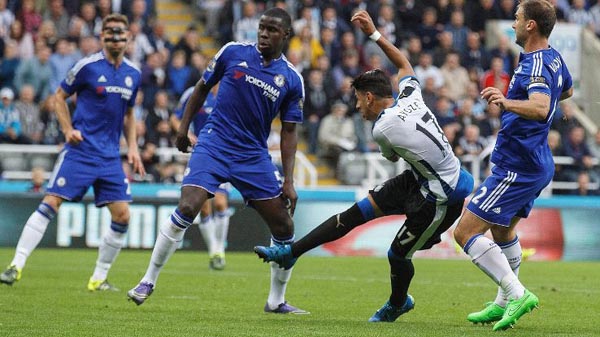 42 mins A deep cross from Vurnon Anita on the United right dropped in the Chelsea box but evaded Kurt Zouma and fell nicely into the path of Ayoze Perez. His first touch on his right foot killed the pace of the ball and as it bounced, the Spaniard swung the same boot to volley in from 12 yards via a post. That sparked wild celebrations: the scorer treated to a whip-lashing jolt from Mitrovic. 1-0

Half time: Magpies 1 Chelsea 0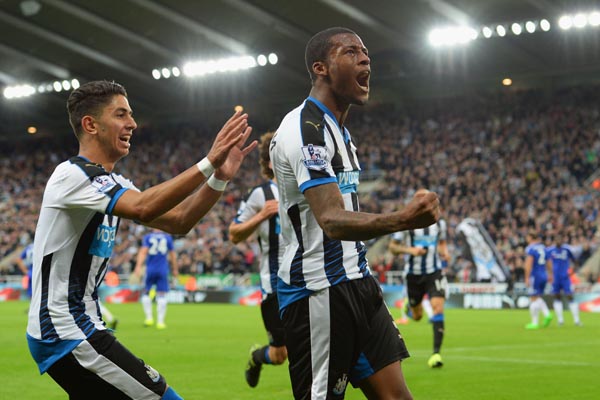 60 mins Ayoze Perez whipped over the second of two quick flag kicks over from the South East corner and the unmarked Georginio Wijnaldum arrived on cue to head into the far corner of the Gallowgate net in an echo of his debut goal against Southampton. 2-0

79 mins The ball was played infield by Eden Hazard to Ramires and without further ado he unleashed a simply unstoppable strike that flew into the top corner of the goal from 25 yards. 2-1

86 mins A tired challenge from Moussa Sissoko on Willian won a free kick outside the United box. The same Chelsea played then curled a right-footed free-kick into the path of Ramires but it was missed by everyone - including Krul - and went straight into the goal. 2-2

Full time: Magpies 2 Chelsea 2
Steve McClaren said:
"It's difficult to know what to think after that, and then you have got to try to come back down and put it into some kind of perspective, and that's what we must do, put it in perspective in terms of performance, in terms of reaction and in terms of what we have got.

"What you got was a collective togetherness, which we talked about a lot, and that wasn't just the players and the dressing room and the staff, that was the supporters because after this week, the supporters could have just waited and seen what was going to happen.

"But they didn't, they responded from the first whistle and that's what's unique about this football club, this set of fans, and the players responded and gave a performance which was more like what we want - attitude, character, organised, really disciplined and courage to play, and we played some good football.

"In the end, we could have won it; in the end, we could have lost it. With five or six minutes to go, the momentum had swung and to hang on in there.

"Yes, it was a good display, but that's the benchmark now, that's the standard.

"Before the international break, Arsenal here, the spirit was good. The last 10 days it's been like world war three."

On Mitrovic:
"He gives us identity as well as physical presence. They were screaming he was so tired that I had to take him off. Yes he was tired but he was just a talisman for us out there. We have missed him.

"The way we want to play we need a damn good centre-forward. He showed what he brings in terms of being a team player. We can build a team around him. I think he has learnt a lot (since his red card against Arsenal). He's going to be a good player.
"People tend to overreact. People forget we've missed Mitrovic for three matches. We didn't have a centre forward because Papiss Cisse was injured and Ivan Toney is still a young boy. You need that target man to play off and we've not really had that.
"We've tried to play through but it's not been successful whereas today we had a target. Mitrovic was a constant thorn in the side of Chelsea's back four.

On Perez:

"I don't see why he does not stay in the team. I think Mitro helped him but he is a good player and will score goals for us. He is tough. And he works hard. Sometimes you can have players like that but they do not work. We can't have any of that here with the way we are."

On Mbabu:

"We didn't have a left-back and we didn't want to move Chancel out of the middle – I thought he was excellent with Colo today. We just thought, 'Well, give Kevin (Mbabu) a chance'. He did well at right-back (on Wednesday night in the League Cup).
"We asked him yesterday, 'Have you played left-back?', and he nonchalantly said, 'Yeah'. We said, 'Any problem?', he said, 'No'. He didn't know until an hour before the kick-off. He responded and the crowd also gave him a huge lift."

Jose Mourinho:
"I could perfectly read the game and understand why we were so poor. It is easy to analyse the game and all the items that make a football game, that is completely clear for me. The reason why we did that, or didn't do that – that's the question mark. And I have to understand why.

"I think maybe one of the reasons why Newcastle over the years doesn't get good positions is because of this mentality, it's because they choose some matches to sweat blood and in other matches, they don't. This is an attitude typical of a team that wins nothing.

"It's bad for them because if they play like this, they win many matches at home, and they don't. But this is their problem. The reality is that they fought hard, they gave everything, they followed a line that many pundits gave straight away - you have to fight, you have to kick, you have to tackle, you have to run, so they were exactly that, and they fought for a point, and I think they deserved a point the way they fought.

"I have played so many matches with Chelsea over seven years and we have had some bad performances. I remember one at Middlesbrough in 2005, 2006, something like that, we were losing at half-time 3-0, so we have had a few. (it was actually 0-2 at half time in February 2006, with McClaren's Boro side running out 3-0 winners).

"But this first half, I can rate as one of those performances, yes. I put it down to awful individual performances. When you have so many bad individual performances, it's impossible for a team to be a team.

"I am concerned - I do not understand it and I do not accept it. The reason I did not make substitutions at half-time was because I did not know which decisions to make. There were six players I could have taken off. I wanted to make six substitutions. That is how bad we were.

"I sat there trying to work out what was best for the team and had so many doubts. I decided to wait to see what happened in the second half."
Punts - in association with FREEBETS.com

Given our

poor form going into this game, we avoided enhanced prices for a home win

- even though we'

d

somehow beaten Chelsea three times in a row here

before today.



Instead, we took Betfair's offer of 3/1 on two or more goals being scored - something that has happened in the last 12 league &

cup meetings between ourselves and Chelsea.

Make that 13.....

Find all the latest offers for new punters online here


It's now no win in seven Premier League games now for United
this
season to date, one less than the worse start we've ever made to a season in that competition (in both 1999/00 and 2014/15).


I
ncoming manager Steve McClaren has also amassed the same number of PL games without a victory, a record exceeded only by Kevin Keegan's return in 2008 (who won his ninth PL game).

There were Premier League debuts for Kevin Mbabu and Ivan Toney - the latter becoming United's 200th different player in that competition. That total comprises of no less than 46 different nationalities as follows (calculated by birth country):
England 77
France 28
Scotland 8
Ireland 6
Netherlands 6
Spain 5
Argentina 4
Northern Ireland 4
Senegal 4
Switzerland 4
Wales 4
Nigeria 3
USA 3
DR Congo 3
Australia 2
Brazil 2
Cameroon 2
Czech Republic 2
Denmark 2
Germany 2
Greece 2
Italy 2
Jamaica 2
Angola 1
Belgium 1
Burundi 1
Canada 1
Central African Republic 1
Chile 1
Colombia 1
Croatia 1
Cyprus 1
Georgia 1
Ivory Coast 1
Kosovo 1
Norway 1
Paraguay 1
Peru 1
Portugal 1
Serbia 1
Slovenia 1
South Africa 1
Sweden 1
Trinidad & Tobago 1
Turkey 1
Uruguay 1


(Had we used all of our named substitutes, that 200 would have become 233 and the nationality count would be 48 - Tamas Kadar's Hungary and Lubo Satka's Slovakia the extra ones)

Ayoze Perez scored his eighth goal in our colours, while Gini Wijnaldum's second of the season was our first from a corner kick since Steven Taylor headed in against Everton on New Years Day at the other end of the ground.

Jose Mourinho has visited Gallowgate six times in the Premier League as Chelsea boss and is still to finish on the winning side here (three losses, three draws).

Encouraging though the final scoreline was, this result meant that Newcastle have collected just 11 points from a possible 42 at Gallowgate in 2015 (5 draws, 2 wins).

Blues @ SJP - Premier League era:
2015/16 Drew 2-2 Perez, Wijnaldum
2014/15 Won 2-1 Cisse 2
2013/14 Won 2-0 Gouffran, Remy
2012/13 Won 3-2 Gutierrez, Sissoko 2
2011/12 Lost 0-3
2010/11 Drew 1-1 Carroll
2008/09 Lost 0-2
2007/08 Lost 0-2
2006/07 Drew 0-0
2006/07 Lost 0-1 (LC)
2005/06 Won 1-0 Bramble
2004/05 Drew 1-1 og(Geremi)
2004/05 Won 1-0 Kluivert (FAC)
2004/05 Lost 0-2 (LC)
2003/04 Won 2-1 Ameobi, Shearer
2002/03 Won 2-1 og(Hasselbaink) Bernard
2001/02 Lost 1-2 Shearer
2000/01 Drew 0-0
1999/00 Lost 0-1
1998/99 Lost 0-1
1997/98 Won 3-1 Dabizas, Lee, Speed
1996/97 Won 3-1 Shearer 2, Asprilla
1995/96 Won 2-0 Ferdinand 2
1995/96 Drew 2-2 Albert, Beardsley (FAC) (2-4 pens)
1994/95 Won 4-2 Cole 2, Fox, Lee
1993/94 Drew 0-0
Full record v Chelsea:
| | | | | | | |
| --- | --- | --- | --- | --- | --- | --- |
| | P | W | D | L | F | A |
| SJP | 71 | 37 | 18 | 16 | 108 | 76 |
| SB | 70 | 11 | 19 | 40 | 72 | 134 |
| League | 141 | 48 | 37 | 56 | 180 | 210 |
Waffle
200,000 people may have visited Banksy's Dismaland attraction over the last month, but Tyneside's favourite bemusement park welcomed two thirds of that number in barely a week - providing them with some equally bizarre and unexpected entertainment in the process.

The quirky statistic that we were seeking a fourth successive home win over Chelsea was rendered irrelevant by the unadulterated misery of Wednesday and Saturday, raising bleak thoughts that the likely scoreline was more likely to be a foretaste of the Rugby World Cup ties to be staged here.

Contrary to the last though, a performance of rare coherence from Newcastle breathed new life into a stadium and a support that had taken on the air of a graveyard and mourners lately. For once, the actions of those in black and white provoked spontaneous displays of support rather than disgust and an unexpected feeling of two points dropped rather than one won persisted until closing time.

Attempting to answer the question why is as difficult as rationalising the awfulness of the last two games. Only the players will know just why they were so bad against Watford and Wednesday - but roused themselves to memorable levels against the reigning Premier League champions.

Settling well, not conceding in the opening minutes keeping eleven men on the field and creating some scoring chances were all comparative novelties for toon watchers, as was returning at half time a goal to the good after Ayoze Perez capped a good half with a great strike that emphasised Chelsea's below-par defending.

Only able to make rare excursions upfield after the interval, a second goal was greeted almost by disbelief but prompted Chelsea to raise their game - the listless Loic Remy going off as South America trio Falcao, Ramires and Willian entered the fray.

Their introduction was a pertinent reminder of the difference between the sides, with Ivan Toney covering back up striker duties despite never having played in the top flight. A lack of forward cover of course proves that there's nowt new under the sun - our 1996/97 UEFA Cup campaign and the following season's Champions League quest similarly floundering (remember Rob Lee as sole striker?)

The latter two duly netted to restore parity and went close to winning it. But while may not have found that elusive way to win, the resilience demanded by a club email was visible - at least until the replacement of Jack Colback (who had come through a fitness test to play) and a collective tiredness almost submerged us.

And even then, some never-say-die defending and net minding challenged recent presumptions that commitment and spirit were both lacking in the home dressing room, along with that necessary slice of fortune that seems to continually elude us.

Moving into the final moments of the second half, United's time-wasting corner ploy incensed some fans (who justifiably pointed out that we'd already scored from one) but can be seen as a measure of our desperation to take something more tangible from the game then platitudes.

At least we gave ourselves some chance of scoring a goal today though - not relying therefore on a clean sheet to get anything from the game - thanks to a new partnership between Aleksandar Mitrovic and Perez. The former made a welcome return after his three game ban to provide a physical presence up front that had been glaringly absent. Thankfully the Serbian also combined that with some self-control to remain on the pitch despite some bruising contests with the visitors.

Fitness problems meanwhile saw Kevin Mbabu appear in an unfamiliar left back role in place of Massadio Haidara - having made a senior debut on Wednesday deputising for the indisposed Daryl Janmaat on the opposite side of defence. The Swiss-born player was both fearless and inspired, occasionally prompting heart failure but doing much to secure only our third point of the season.

That's one more than the mackems who remain below us after they were thumped 3-0 at Old Trafford but the league table still makes painful reading ahead of next week's visit to the Etihad Stadium - statistically our least favourite Premier League venue.

But if United can build on this performance then their awful start to the season can still be put behind us. Emulating our League Cup victory there remains a pipe dream despite's City's recent loss of form, but the real tests lie on the other side of the international break.

The intensity and effort of this performance needs to be repeated then during what should be winnable fixtures against less exalted teams: Norwich City, the mackems, Stoke City and Bournemouth.

Pull that off and the corner may just have been turned.


Biffa