Date: Saturday 3rd October 2015, 3.00pm.

Venue: Etihad Stadium

Conditions: abused

Admission:

£

42 lower / £44 middle & upper

Programme: £3.50






Manchester City

Newcastle United

6 - 1

Teams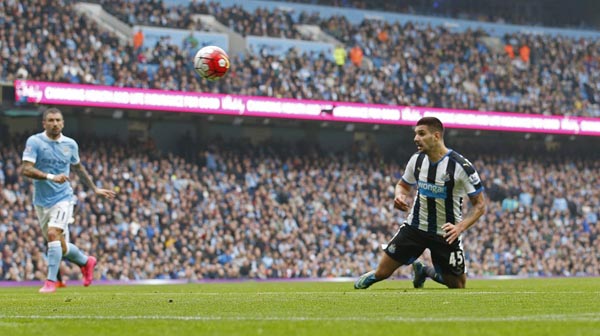 18 mins Kevin Mbabu surged down the left flank as Pablo Zabaleta committed himself and when his cross was cleared by Mangala, it fell to Georginio Wijnaldum who cleverly clipped the ball with the outside of his right foot over to the unmarked Aleksandar Mitrovic.

He headed well past Joe Hart from eight yards at the North End of the ground for a goal not unlike the one Alan Shearer scored to give us our last Premier League away win against City in 2000. 0-1

42 mins A short corner routine eventually resulted in David Silva chipping over a cross to the back post. With another colleague shadowing him, that was nodded back across goal by an onside Fernandinho for Sergio Aguero to head past Tim Krul. 1-1

Half time: City 1 Magpies 1
49 mins Chancel Mbemba mis-kicked he attempted a pass outside his own box to Vurnon Anita that Kevin De Bruyne reached and poked forward to the advancing Silva. He in turn found Aguero in acres of space on the edge of the box and he had time to steady himself as Fabricio Coloccini retreated before side-footing a shot that deflected off Yoan Gouffran sufficiently to wrong-foot Krul. 1-2

50 mins A neat passing triangle ended with De Bruyne slotting a pass through for Aguero, whose run saw him bisect Coloccini and Mbemba. The Argentinean was then able to dink the ball over Krul who had rather rashly rushed off his line, the goal coming 73 seconds after the previous one 1-3

53 mins Janmaat backed away from Jesus Navas on the right touchline, allowing him to centre and set up a third goal in as many Premier League games for De Bruyne, who used the outside of his right boot to volley first time over Krul and into the far corner of the net. The Belgian later admitted his effort had elements of good fortune to it - not least the fact that his alleged marker Gouffran failed to follow him into the box 1-4

60 mins City attacked once again straight down the middle of the field, Silva unfurling a wonderful pass to Aguero who had timed his run perfectly. Checking back inside he curled a low right footed shot beyond Krul into the far corner, Mbemba in the vicinity but helpless to stop him doing so 1-5

62 mins A throw in for the home side on the United right led to Silva running sideways across the edge of the box before passing to De Bruyne on the left edge. He hit a first time cross to the far post where Aguero arrived and slid the ball home -with messrs Lascelles, Coloccini and Mbemba all looking on in admiration 1-6
Full time: City 6 Magpies 1

Steve McClaren said:

"You are coming up against a top-quality team - Aguero was world class. He is getting back to form and we were punished by a really high-quality opponent.

"It was such a magnificent performance in the first half. it was same against Chelsea last week but in 13 minutes we got beaten by world-class individuals. We probably frightened them into life and they killed us for it.

"We have had a tough eight games but I have seen enough in the last two weeks that we can win football matches.
We were unlucky last week and this week. There is enough in there, we just need consistency. Our season begins now.

"We came here to win. We were bold in our 4-4-2 in the first half we really shook Man City, and scored the first goal.

"The second goal that was disallowed was onside, so we should have had that and we had other opportunities. It could have been a different story.

"The goal before half-time just gave them a lift and in the second half we just got done by mistakes by ourselves and Aguero's world-class finishing, which he is well capable of doing to any team.

"We have to toughen up and get ready for the next spell of games. The first eight have been tough. Itís bound to be an issue, you concede five goals in 13 minutes, so you have an issue there (in defence).
"We have shown what our strengths are, and what our weaknesses are. We have shown what we arenít capable of doing.
I watch Man City a lot and they can score eight to 10 goals every week. The goals were disappointing and in that respect we caused our own problems.


We did score first, we should have had a second, that keeps you in the game but once the second or third goal goes in we have to deal with that better. We carried on the level of performance from last week. We came here to win with a 4-4-2. In that first half we really shoved Man City.
"We scored the first goal and had a second disallowed, which was onside. We had other opportunities too
a
nd it might have been a different story, the goal just before half-time was the kind of goal that gave them a lift."

Manuel Pellegrini commented:
"It's more important to win before the international break because now we have 15 days without playing. It's important to return from a victory, to play the way we did and to win.
"We'll see what happens with Manchester United tomorrow but really I am not worried about that. It is more important to see our team play in the way we did today.

"He (Aguero) had a serious kick from Wednesday in Germany. He was having some treatment during half-time.

"To give him more minutes, maybe he would have scored one or two goals more, but we need more to take a precaution about his kick because he could get injured. Maybe it was very good treatment!

"He had a kick in his hamstring, so it was important just to relax him a little bit because he was not 100 per cent comfortable.

"I am very happy for Kun. He deserves it. He is always a player who makes a difference.

"For different reasons in the last few games he missed important chances, but he was calm. That was very clever from him.

"To see him play at the level he played today, not only must I be happy but all the fans because he is a different player."
Punts - in association with FREEBETS.com

Our predictions of a penalty to be

converted in the game or the same number of goals to be scored in each half may have been wide of the mark, but Betway's bespoke bet on Alksandar Mitrovic scoring in a United defeat came in at 9/1.

Find all the latest offers for new punters online here

Heaviest NUFC PL defeats:
2007/08 0-6 Manchester United (a) (0-0 HT)
2012/13 0-6 Liverpool (h) (0-2 HT)
2015/16 1-6 Manchester City (a) (1-1 HT)
2000/01 0-5 Arsenal (a) (0-2 HT)
2003/04 0-5 Chelsea (a) (0-3 HT)
2011/12 0-5 Spurs (a) (0-4 HT)
2014/15 0-5 Manchester City (a) (0-3 HT)

Magpies @ Etihad:
2015/16 Lost 1-6 Mitrovic
2014/15 Lost 0-5
2014/15 Won 2-0 Aarons, Sissoko (LC)
2013/14 Lost 0-4
2012/13 Lost 0-4
2011/12 Lost 1-3 Gosling
2010/11 Lost 1-2 Gutierrez
2008/09 Lost 1-2 Carroll
2007/08 Lost 1-3 Martins
2006/07 Drew 0-0
2005/06 Lost 0-3
2004/05 Drew 1-1 Shearer
2003/04 Lost 0-1

Full record v Manchester City:
P

W

D

L

F

A

SJP

79

48

15

16

149

83

MR/CoM

80

16

20

44

80

155

League

159

64

35

60

229

238

SJP

(FA)

6

3

2

1

8

5

MR/W

4
3
0
1
10
7

SJP

(LC)

2

0

0

2

0

4

MR/W/E

3

1

1

1

4

3

Cup

15

7

3

5

22

19

Tot

174

71

38

65

251

257
This is now our worst start to a season in the Premier League era:

Season-opening winless runs (PL only):
2015/16: no win in eight games
2014/15: won the eighth game
2013/14: won the third game
2012/13: won the first game
2011/12: won the second game
2010/11: won the second game
2008/09: won the second game
2007/08: won the first game
2006/07: won the first game
2005/06: won the sixth game
2004/05: won the fifth game
2003/04: won the seventh game
2002/03: won the first game
2001/02: won the third game
2000/01: won the second game
1999/00: won the eighth game
1998/99: won the fifth game
1997/98: won the first game
1996/97: won the second game
1995/96: won the first game
1994/95: won the first game
1993/94: won the fourth game

United's worst-ever start came in 1898/99 when they were winless in ten games (six losses and four draws) before finally breaking their duck by beating Liverpool 3-0 at SJP on Bonfire Night.

In 2015 our away record is a pathetic five points from a possible 39 - ten defeats plus a 3-0 victory at Hull in January, a 1-1 draw at Palace in February and a 0-0 at Manchester United last month. In terms of goals, it's 29 conceded and six scored (three scored in one game at Hull).

Aleksander Mitrovic's goal was our first on the road this season - until that point we were the only side in the top five divisions not to have found the net away from home in 2015/16. The first Serbian to score for United became our 123rd different scorer (excluding OGs).

He scored to end a 354 minute barren run since Emmanuel Riviere netted at QPR in May, a goal that itself was our first in 522 minutes away from SJP since Papiss Cisse at Palace in February.
Since Michael Owen scored in a 1-0 home win in September 2005 we've failed to beat City in 18 PL games (16 losses, 2 draws). That remains the worst sequence in the Premier League.

Mitrovic became the first Newcastle player to score against Manchester City in the Premier League since Demba Ba at SJP back in 2012 - a run of 507 minutes.

There was a PL debut for Jamaal Lascelles, who was the 201st player to appear for us in that competition and the 77th English-born one. Until his arrival, our XI had no English players in it.

Sergio Aguero had scored five times in eight games against us before today's haul made it ten from nine.

City's feat of netting three times in just five minutes was slower than Portsmouth's scoring run at SJP in November 2007 - notching three in four minutes (Pamarot 8, Benjani 9, Utaka 11).

Aguero became the fifth player to score five in a PL game, after Andy Cole (Man U v Ipswich 1995), Alan Shearer (Newcastle v Sheff Wed 1999), Jermain Defoe (Spurs v Wigan 2009) and Dimitar Berbatov (Man U v Blackburn 2010). Aguero's haul was the fastest of all, at 20 minutes.

The previous highest tally against us in the PL had been the four that Andy Cole grabbed against us for Man U at Old Trafford during a 1-5 defeat in August 1999.

Aguero's treble was the first to be registered against us in the Premier League since Eden Hazard for Chelsea in 2014 and the fifteenth in all:

Teddy Sheringham (Spurs 1994), Dwight Yorke (Villa 1996), Michael Owen (Liverpool 1998), Andy Cole (Man U 1999), Ray Parlour (Arsenal 2000), Michael Owen (Liverpool 2001), Ruud van Nistelrooy (Man U 2002), Paul Scholes (Man U 2003), Cristiano Ronaldo (Man U 2008), John Carew (Villa 2008), Somen Tchoyi (West Brom 2011), Clint Dempsey (Spurs 2012), Theo Walcott (Arsenal 2012), Eden Hazard (Chelsea 2014), Sergio Aguero (Man City 2015).


Waffle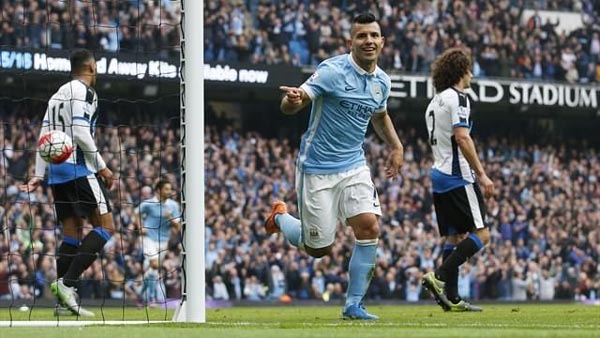 On the face of it, this wasn't much different to our last visit here, when seven of today's starting lineup were also beaten by a five goal margin.

But whereas we were behind within 90 seconds of the first whistle to a Sergio Aguero goal back in February, this time round things were radically different - at least until the 42nd minute.

A first half display that exceeded the opening period against Chelsea in confidence and competence brought the reward of Aleksandar Mitrovic's first goal for the club. And incredibly, only a linesman's flag and the right boot of Joe Hart prevented the Serb from completing an eight minute hat trick.

Reality sadly intervened just before the break when Aguero levelled, but United were still applauded off by an upbeat following pleasantly surprised by what they'd just witnessed. Winning here in the League Cup a year ago was the sort of thing that happens once in a blue moon, but a third successive league loss for City certainly wasn't out of the question, even at 1-1.

What followed in the second half from Steve McClaren's side though was a capitulation that was both spectacular and distressing. Three more goals in a five minute spell turned the game on its head and two more soon after raised thoughts that our record defeat (0-9 in 1895) was in danger.

Thankfully, City boss Manuel Pellegrini took pity on us and substituted Aguero within five minutes of him grabbing his fifth and his side's sixth. Home and away fans applauded as he departed, having missed out the chance to become the first Premier League player to notch a double hat trick (it later emerged that Aguero had been less than 100% fit after being kicked in midweek).

The arrival of a semi-fit Wilfried Bony meant that the punishment thankfully stopped at six, but the damage to hearts and heads had already been done. If we were collectively in a delicate condition before, then the club medical staff may now be diagnosing post-traumatic stress disorder in addition to strained groins.....

Whatever defensive solidity we'd shown in the first half had melted away during the interval, with injury concerns on both flanks hardly helping. Daryl Janmaat had needed treatment before the sides changed ends and Kevin Mbabu (making only his second senior start) pulled a hamstring at 1-3.

Mbabu's replacement Jamaal Lascelles may have hoped for a less traumatic introduction to life in the Premier League, but the real disconnect came in the central defence as Fabricio Coloccini and Chancel Mbemba became perfect strangers - not aided by the yawning chasm in front of them where midfield should have been.

Injury to Jack Colback and Cheick Tiote's lack of match fitness resulted in the baffling selection of Yoan Gouffran in a central role and he was predictably pedestrian, while Moussa Sissoko seemingly stayed in the dressing room for the second time. Sadly his heart isn't as big as his mouth - the only way he'll end up appearing in the Champions League is if he becomes one of those extra officials.

This game of two halves ranks alongside the six second half goals conceded at Old Trafford in 2008, when Nigel Pearson was briefly in charge following Sam Allardyce's departure. That trauma at least came with the prospect of an imminent new start under a new manager - we'll doubtless have to endure more McClaren rhetoric, although that line in the sand is now starting to look like a trench.

Two more weeks at the bottom of the table before our next game is bad enough, but the Sunday TV visit of Norwich opens up the prospect of starting that game eight points from safety - and like Watford, the Canaries are no mugs with points taken from both Anfield and Upton Park so far.

Defeat here today was expected and the margin of that loss hardly a shock. It's the damage done by the second half horror show though that threatens to overshadow what comes next, in games against sides less talented than City but more organised and spirited than our motley crew.

For every set piece routine or defensive drill, the motivational tactics used to instill belief and responsibility in in the squad are now as important - but if the players don't respond to the flip charts, mantras and mottos, then what chance have we got? Self-respect is in short supply.

The abiding memory of today was seeing the side disintegrate with barely a whimper and no hint of gamesmanship or leadership. Nobody took a tumble to break up play as it started to rain goals and allow for some much-needed regrouping, nobody ranted. We just seemed resigned to our fate.

By contrast at 0-1 down, an incident in our own half saw Joe Hart sprint upfield to harangue the referee - trying to make something happen for his side, irritating but committed. We could do with some of what he's got, and I don't mean shampoo.
Biffa