Date: Sunday 25th October 2015, Noon
Live on Sky Sports

Venue: stadium of plight

Conditions: abused

Admission:

£

39 - unchanged for the fourth successive season

Programme: £3






mackems

Newcastle United

3 - 0

Teams
45+3 mins A prod forward by Jermain Defoe to Steven Fletcher should have been intercepted by Rob Elliot but the 'keeper was slow to come off his line. Fabricio Coloccini was equally slow to react and allowed Fletcher to get ball-side but should still have been able to shepherd the ball back.

A slight shove was made to look much worse by the tumbling Fletcher who had little chance of getting to the ball. The referee gave the spot-kick and dismissed Coloccini* before Johnson hit the penalty with power past Elliot who had guessed correctly to dive to his left. 0-1

* the red card was later withdrawn by an FA commission on appeal.

Half time: mackems 1 Magpies 0
65 mins A corner from the north east corner of the stadium was hit long to Yann M'Vila who hit a grass-cutting volley on target, Billy Jones turning it in from a yard out for only the second top-flight goal of his career - the first coming against Newcastle for West Bromwich Albion in 2013 0-2

86 mins Florian Thauvin lost the ball allowing the mackems to break upfield. Defoe played it out to Younes Kaboul down the left and he chipped over a cross to Fletcher who volleyed past Elliot using what looked like his shin. 0-3

Full time: mackems 3 Magpies 0

Steve McClaren said:

"When I look at it again, he's got two wrong (the referee).
"Just before the penalty Wijnaldum turned Cattermole and he dragged him back. I thought that was a penalty, then straight up the other end I think Colo just leaned into him - he (Fletcher) was never going to get the ball.
"So, those decisions have cost the game. We talk about defining moments......
"You don't win games with 10 men. You might draw them, and I still felt that we were going to.
"I was so positive about the performance of the players and the way we played. Even with 10 men we passed the ball, controlled the game, created chances - it just wasn't our day.
"I'm not frustrated, I'm angry, I'm disappointed.

"Two decisions have cost us a game in which we were dominant. It was the perfect performance. I have never controlled a derby as much as that.

"We should have had a penalty and games can change in that. It went from control to catastrophe.

"Then the penalty against us was wrong. I have seen lots of challenges like that and they're never given, so it's a double whammy (the spot kick and the sending off). It was not a scoring opportunity.

"The referee is wrong. We talked about it before and we said we needed an experienced referee - he was a little bit too quick to make the decision.

"It was one the angriest I have been and there is a massive feeling of injustice in the dressing room.

"I've never seen (Fabricio) Coloccini so angry, he knows whether you're in control of a challenge or not.

Rob Elliot:
"The ball got played through. I was sort of waiting for the ball to get past Colo and Fletcher. It went straight through to me. I jumped on it and Fletcher's gone over.
"The ref's decided to give a foul, I couldn't believe it really. In my understanding it has to be a clear goal scoring opportunity. I didn't think it was at all.
"For a decision like that to lead to a sending off and a goal, it doesn't seem fair."
Daryl Janmaat:

"I think we were by far the better team in the first half, and then we get a red card like this Ė it was unbelievable.

"I donít like to blame referees, but that was not a penalty. I think everybody saw it Ė and a red card is crazy in my opinion.
"It kills the game. I donít like excuses, but I think we had 70 per cent possession in the first half and were far better than them.
"In the second half we lost the game with 10 men. It disappointing, because in the first half we played well.

"I think it was nothing (neither a penalty nor a red card). Itís a contact sport.Ē
Paul Dummett:

"We had complete control of the game, they never looked like troubling us until right at the end (of the first half) when a huge decision changed the game.
"I havenít seen it again but from my view on the pitch it looked harsh. It should never have even been a foul, in my opinion."


Cranially-abundant Sam Allardyce commented:
"We have taken full advantage of a piece of good fortune. I did think it was a foul, personally.

"I have had a look at it and I think if he hadn't have made contact with him, Steven Fletcher would have scored on his left foot, on his better side.

"It's a bit harsh, sending him off, though, but that's the rule, sadly, and we have taken full advantage of that today.

"We got a harsh decision last week against us; we've got one that perhaps has gone for us this time. But the big thing is that we have taken advantage of it.

"When the Sunderland fans wake up tomorrow, they won't be worried about that, will they? Because we have won and we have kept the record going.

"Six wins on the trot, the fourth manager to be in charge of the club on his second game and beat our local rivals - I find that a bizarre statistic, but it's very nice to have kept it going."



Six successive defeats is the worst run by either side in the history of this fixture.

It's now eight derby games without a victory for the Magpies - our worst ever run of form, surpassing the seven we managed between 1958 and 1963.

The winless record is nine
games, recorded by the mackems between 1967 and 1978.

The worst derby scoring record of four successive games is now held jointly: this was our fourth failure, matching the mackem record between 1901 and 1903.

Sam Allardyce became the first manager to take charge of both sides in the derby (having been United boss for a 1-1 draw in November 2007.
He also emulated predecessors Dick Advocaat, Gus Poyet and Paulo Di Canio in getting off the mark as mackem boss against us in his second game.


United made it 11 winless games away from home, since a 3-0 victory at Hull City back in January 2015. We've gone five away games without a victory this season, still some way off their worst Premier League run in 2012/13 when it took them 12 games to win anywhere other than SJP.

Those five games (one draw and four losses) saw just a single goal scored (Mitrovic at Man City - meaning we're way behind our lowest PL away tally of 13 goals in 1997/98 at this point.

Fabricio Coloccini became the third Magpie sent off this season following Daryl Janmaat away at Swansea and Aleksandar Mitrovic at home to Arsenal. Like Colo's they all came before half time.

That's now seven red cards in our last 20 games - a figure that became six when the FA rescinded Colo's sending off upon appeal two days later.

Coloccini's early bath had been his fourth* in our colours, after dismissals in a 1-5 loss at Bolton in November 2010, a 1-1 draw at Liverpool in November 2012 and a 0-3 defeat at Everton back in March. All four were straight reds and the first three resulted in three match bans, with this the first to have been appealed.

(* he was also sent off in a pre-season game against Portuguese side Pacos de Ferreira in 2013)


Dismissals per season (Premier League only):
1993/94: (1) Srnicek
1994/95: (4) Srnicek, Albert, Lee, Srnicek
1995/96: (1) Beresford
1996/97: (2) Batty, Gillespie
1997/98: (3) Batty, Batty, Batty
1998/99: (4) Dabizas, Pearce, Hamann, Dabizas
1999/00: (3) Shearer, Dabizas, Barton
2000/01: (5) Barton, Solano, Dyer, Solano, Speed
2001/02: (2) Bellamy, Shearer
2002/03: (3) Dabizas, Robert, Griffin
2003/04: (3) Robert, O'Brien, O'Brien
2004/05: (5) Bowyer, S.Taylor, Dyer, Bowyer, Ameobi
2005/06: (8) Jenas, Parker, S.Taylor, Bowyer, Babayaro, Boumsong, Elliott, Carr
2006/07: (1) Bramble
2007/08: (1) Smith
2008/09: (8) Guthrie, Beye, Bassong, Butt, Nolan, Barton, Bassong, Edgar
2010/11: (2) Colo, R.Taylor
2011/12: (2) Jonas, Gosling
2012/13: (4) Tiote, Colo, Debuchy, Elliott
2013/14: (6) S.Taylor, Yanga, Debuchy, Remy, Ameobi, Dummett
2014/15: (7) Williamson (2), Sissoko (2), Taylor, Colo, Janmaat
2015/16: (3) Janmaat, Mitrovic, Coloccini
Total: 78 (6 of which were rescinded)

(NB: this total doesn't include Stephen Carr v the mackems in 2005/06, when a yellow card given in the game was later followed by a retrospective second booking that earned him a suspension as if he'd been sent off during that game).
NUFC last eight PL seasons after ten games:
2007/08: 17 points, 8th (scored 17, conceded 13)
2008/09: 9 points, 15th (scored 12, conceded 18)
2010/11: 14 points, 7th (scored 19, conceded 14)
2011/12: 22 points, 3rd (scored 15, conceded 7)
2012/13: 14 points, 10th (scored 12, conceded 14)
2013/14: 14 points, 9th (scored 14, conceded 16)
2014/15: 13 points, 12th (scored 11, conceded 15)
2015/16: 6 points, 18th (scored 12, conceded 22)
Magpies @ monkwearmouth:

2015/16 lost 0-3
2014/15 lost 0-1
2013/14 lost 1-2 Debuchy
2012/13 drew 1-1 Cabaye
2011/12 won 1-0 R.Taylor
2010/11 drew 1-1 Nolan
2008/09 lost 1-2 Ameobi
2007/08 drew 1-1 Milner
2005/06 won 4-1 Chopra, Shearer, N'Zogbia, Luque
2002/03 won 1-0 Solano
2001/02 won 1-0 Dabizas
2000/01 drew 1-1 A.O'Brien
1999/00 drew 2-2 Domi, Helder
All Time Tyne-wear stats:
| | | | | | | |
| --- | --- | --- | --- | --- | --- | --- |
| | P | W | D | L | F | A |
| SJP | 70 | 31 | 18 | 21 | 118 | 105 |
| SoS/JP | 71 | 20 | 25 | 26 | 92 | 105 |
| League | 141 | 51 | 43 | 47 | 210 | 210 |
| SJP(PO) | 1 | 0 | 0 | 1 | 0 | 2 |
| JP | 1 | 0 | 1 | 0 | 0 | 0 |
| SJP(FA) | 5 | 1 | 2 | 2 | 5 | 9 |
| NR/JP* | 3 | 1 | 1 | 1 | 3 | 2 |
| SJP(LC) | 1 | 0 | 1 | 0 | 2 | 2 |
| JP | 1 | 0 | 1 | 0 | 2 | 2 |
| Cup/PO | 12 | 2 | 6 | 4 | 12 | 17 |
| Tot | 153 | 53 | 49 | 51 | 222 | 227 |
It's 393 minutes since the Magpies last scored in this fixture at home or away, when Mathieu Debuchy shot home in a 1-2 away loss during October 2013.

Moussa Sissoko has now faced the mackems six times - and lost the lot.

Chancel Mbemba suffered at the hands of the shirt printers, as dirty Don Hutchinson had during his days at the mackems: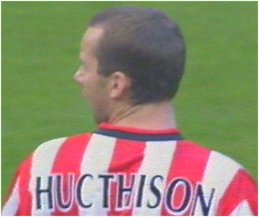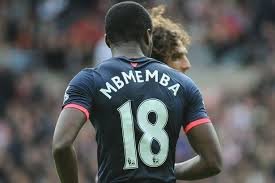 Derby dunces - this time it was us....
Waffle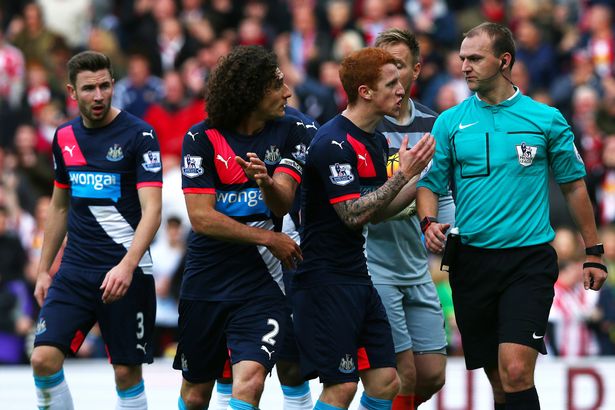 Another new mackem manager used the wear-Tyne derby to register their first victory and again Newcastle were on the wrong side of a 0-3 defeat that simply defied logic and belief.

The fact that it was our former boss, fat-headed Sam Allardyce, made it even more galling but it was a game that United dominated from start to finish and should have won comfortably.
The derby Gods once again conspired with the forces of darkness and turned referee Bobby Madley into the biggest homer since the Iliad; a trio of assaults on visiting players during the opening 90 seconds setting the tone.

Madley's decision to dismiss Fabricio Coloccini and award a penalty in first half stoppage time was absolutely staggering and completely changed the course of the game that seemingly had only one conclusion.

Magpies 'keeper Rob Elliot was slow off his line and Coloccini's shoulder charge was unnecessary but how the officials managed to decide that the diving Steven Fletcher had been denied a goalscoring opportunity was scandalous.

Adam Johnson - currently awaiting trial after being charged for sexual activity with an underage girl - dispatched the spot-kick to give the mackems an interval advantage that couldn't have been less-deserved. For anyone who didn't see this game live or on the box, this was easily Newcastle's most dominant first half display on record here, including the 4-1 success in 2006.

With the referee still choosing to overlook the home side's thuggish tactics after the break - Lee Cattermole somehow avoiding even a caution when he should have seen red - Jack Colback was a victim of one of the midfielder's numerous assaults.

Colback had already been booked for protesting about the goal and would have missed Saturday's home game against Stoke City for reaching five yellows. Instead though he faces a longer period out through injury, boarding the team bus using a pair of crutches and with a murderous expression that suggested he'd happily have waded into the window lickers who had gathered to mock him.

The ineffective Cheick Tiote had also been cautioned and failed to reappear after the break for the second Sunday in succession, Jamaal Lascelles coming off the bench to partner Chancel Mbemba in central defence.

Even with ten men (nine while Colback was off the pitch injured), United continued to dominate and Aleksandar Mitrovic had a golden opportunity to level the scores but allowed Costel Pantilimon to save after side-stepping a defender. Had our options not been severely limited by the incorrect sending off, then Perez could also have been stood down; the Spaniard looking slightly fearful of what was going on around him and the lack of protection he was being afforded.

Madley continued to look completely out of his depth, even calling Cattermole over at one point to indicate his previous assaults, before failing to show a card and restarting play. Incredible.

Billy Jones bundled home a second from inches out just after the hour to all but seal the result but even then, there were chances for Georginio Wijnaldum, Ayoze Perez and substitute Florian Thauvin before Steven Fletcher finished off a breakaway by volleying home a third.
At least on this occasion the travelling fans' anger wasn't directed against their own club, although Thauvin's substitute appearance was pathetic, particularly in losing possession for the third goal.

And apart from Mitrovic still looking sluggish on occasions it was a performance that had numerous positives for Steve McClaren's side, although not many Toon followers will share his description of a scoreless 45 minutes as perfect though....

As always in this fixture though, the result is the only thing that matters and unfortunately McClaren has followed in his predecessors' footsteps - and in the process complicated the too Geordie/not Geordie enough debate that had been advanced as a reason for our lack of success.

Of more immediate concern though is the lack of away goals and the fact that his side completely dominated proceedings here but couldn't score against the last winless side in the land this season. That not insignificant fact shouldn't be obscured by any amount of justifiable rage over referees.

Cold comfort it may be - and not received well by the jubilant red and whites - but this is as good as it will get for them under Sham. Trust us on this, we know. And not long before the fateful penalty incident, rumblings of mackem discontent at their total lack of enterprise were growing.

(Incidentally, our lofty away fan perch gave a good view of those home fans who had sloped off early for pies and pees dashing back to their seats. Sunlun 'til half time eh?)

Given the awfulness of the mackems, there may only be one more opportunity to halt this run of derby defeats. March can't come quick enough for that particular piece of business, but aside from the provincial power struggle, the rather larger question of our survival remains in the balance.

If nothing else, there's some evidence to give credence to our hopes of not ending up as one of the worst three teams in the league. However the need to accumulate points grows ever more acute: relying on some sort of January transfer window salvation is only a goer if we remain in touch with the rest of the strugglers in the next nine games - preferably by beating most or all of them.

The head coach and his staff may well share our reservations with the flawed transfer policy that has left us with half a dressing room unfit for purpose, but by fair means or foul he's got to keep this team plugging away on the front foot. If nothing else, the miscarriages of justice today seem to have aroused some feelings of grievance in the squad - get to work on that, Blacky.

McClaren deserves sympathy and support rather than abuse for that. Drive him out and Heaven only knows what sort of clown would replace him.

PS: quote of the day from an un-named away fan: "six in a row eh? If they beat us again they'll have to raise two hands to count on their fingers...."


Biffa